Shopee, Southeast Asia's own e-commerce site, is a trailblazer. Shopee now appears to hold the lion's share of the market.
>>Read more: Why is Shopee successful in the whole SEA region?

>>Read more:The competitive advantage of Shopee in SEA: Shopee supply chain strategy

>>Read more:Entering the Southeast Asia E-commerce market: Why Shopee?
Sea Limited (NYSE: SE), its parent business, is the region's largest tech corporation, with a market capitalization of almost USD 130 billion.
Shopee seems to exceed Lazada in many terms, especially in the battle of the marketing strategy of Lazada and Shopee. Shopee has outperformed Lazada in recent years to win over the unicorn position of e-commerce marketplaces in SEA.
>>Read more:Shopee trumped Lazada in Southeast Asia E-commerce market: A lesson of localization
Marketing strategy of Lazada and Shopee – What Works Best for Southeast Asian Sellers Parameters to consider choosing
Lazada has a massive client base of 560 million users, and last year's 11.11 festival was a major success for 350,000 retailers. During the 12.12 sale of 2020, one of Shopee's top sellers received 75,000 orders in just 24 hours.
>>Read more:How Shopee's marketing strategy steps up in the SEA sales event 2020

>>Read more:Why is Shopee successful in the whole SEA region?
Let's look into some more interesting figures.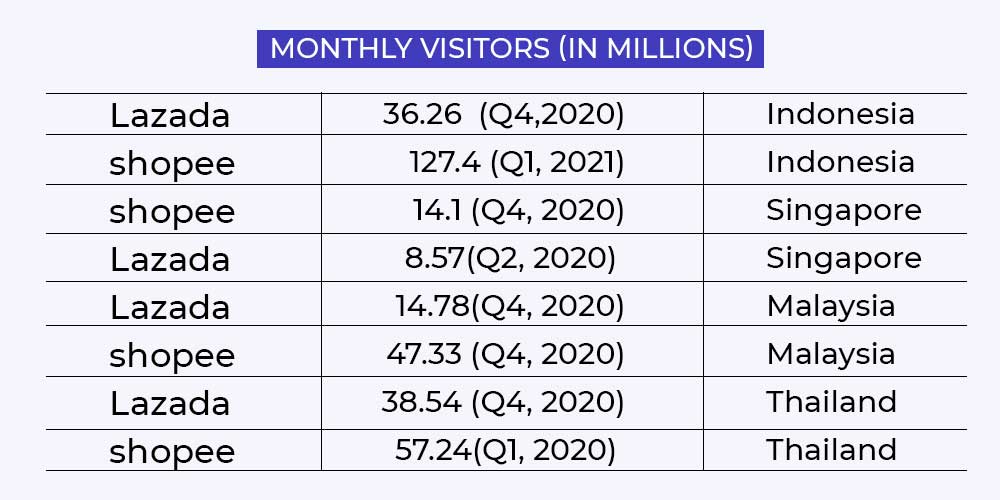 Ads, Entertainment, and AI
Google Ads with Shopee is a benefit for Shopee merchants that Lazada sellers lust over. It's one of the most effective methods for boosting sales. Furthermore, it is the biggest difference in marketing strategy of Lazada and Shopee 
Shopee vendors can use it to market products to customers who are most likely to buy them. As a result, the store's visibility among potential buyers will improve. It allows vendors to put their goods in front of the appropriate people at the right moment.
Even during the pandemic, Shopee kept its consumers entertained. Another difference in marketing strategy of Lazada and Shopee . They collaborated with celebrities, singers, KOLs, and dancers to create material that buyers enjoyed and valued. As a result, they are skilled at influencing customer purchasing decisions by exceeding expectations.
Lazada uses AI-assisted search recommendations and AI-assisted translations. As a result, there is a robust strategy in place to offer a tailored purchasing experience. This method, from the seller's perspective, highlights the goods to the most suited buyers. As a result, the conversion rate has risen to new heights.
Finance, Payment, Categories, and Age Group
For Lazada clients, financial reconciliation for damaged and missing in transit merchandise is faster and easier than for Shopee customers.
In terms of payment, Shopee outperforms Lazada by reducing the time it takes for merchants to get payment by 2-3 days. Shopee, on the other hand, costs $0.20 for each withdrawal.
Shopee has the distinction of being the most downloaded shopping app in the second quarter of 2020. Shopee, the most popular app among shoppers, has seen an increase in time spent on its mobile app.
Do you intend to market to customers aged 18 to 34? It would be better if you avoided Shopee entirely. On Shopee, this age group accounts for 80% of all purchases.
Try Lazada if you're interested in fresh food. The discrepancy of marketing strategy of Lazada and Shopee that Lazada can outrage Shopee is the feature of LazMall (launched by Lazada during covid-19), you can use the fresh food category to attract a large number of potential customers.
Shopee vs Lazada: Payment, Shipment, and Buyer's Protection
On either platform, there are a plethora of payment methods. Lazada, on the other hand, falls short when it comes to collecting payments via over-the-counter bank deposits, coins.ph, remittance centers, and payment centers.
Lazada takes over Shopee in the marketing strategy of Lazada and Shopee in terms of speedy delivery, with delivery periods as little as 24 hours. Customers on Shopee, on the other hand, are dissatisfied after waiting 7 to 15 days for their orders to arrive. Shopee's unique logistics partners are to blame for the long delays.
Lazada's quick delivery comes at the cost of a very expensive shipping fee (upto 4X than Shopee for the same product). Customers, on the other hand, will not be resentful of paying a premium if the item can be delivered in as little as one day.
Buyer protection is a crucial factor to consider when selecting whether or not to purchase a product. Shopee's Shopee Guarantee program offers additional protection. Customers will never receive counterfeit goods and will be more likely to trust the store as a result. Payment protection is available on Lazada to ensure secure purchases. As a result, shoppers will opt to shop on Shopee rather than Lazada for pricey items.
Shopee vs Lazada: Who is more courteous and helpful to customers?
The marketing strategy of Lazada and Shopee in luring shoppers keep coming back to the site is a great to focus on customer service 
>>Read more:HOW TO IMPROVE THE CUSTOMER RETENTION RATE IN E-COMMERCE

>>Read more:Seize the opportunity and shift of customer's needs of Malaysia in 2021
The number of channels via which consumers may reach you without issue and the speed with which a solution can be supplied are both important factors in providing excellent customer service. Every day, Lazada provides 15 hours of chat help (6 a.m. to 9 p.m.). The Lazada staff is also ready to answer quickly on Twitter.
On weekdays and weekends, Shopee's phone support window is open for 12 hours and 9 hours, respectively. Customers of Shopee can communicate with one another via chat at any time. Another alternative is to ask questions over Facebook Messenger, which has a very high response rate.
Shopee has a little advantage over Lazada in terms of responsiveness.
Shopee vs Lazada: How Shoppe Aided Sellers in Surviving the Pandemic
The Seller Support Package by Shopee, which covered 300,000 small and medium-sized businesses developing an online presence, was a major sigh of relief in the pandemic. Shopee's Seller Education Hub was a well-received project for the following reasons: It allowed 6000 sellers to gain a solid understanding of the fundamentals.
>>Read more: Top e-commerce trends in Thailand post Covid-19 ( 2021 edition)

>>Read more:What is Shopee business model: new initiatives in 2021

>>Read more: Uncover Shopee pricing strategy for retailers 2021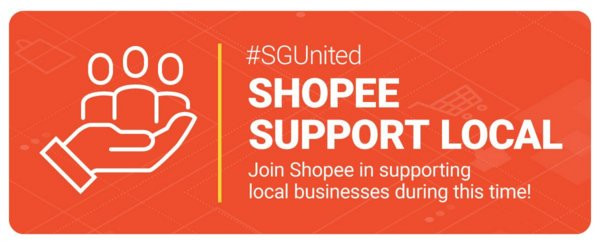 Advanced topics, such as 
live streaming, were covered in the Shopee Masterclass.
Low operating costs.
Excellent support for marketing and sales
How Lazada Helped Sellers Recover and Rise After the Pandemic
Lazada, which was not far behind in the race, offered stimulus initiatives to help 150,000 Southeast Asian SMEs.
>>Read more:Become a Top Seller on Lazada: Tips and Tricks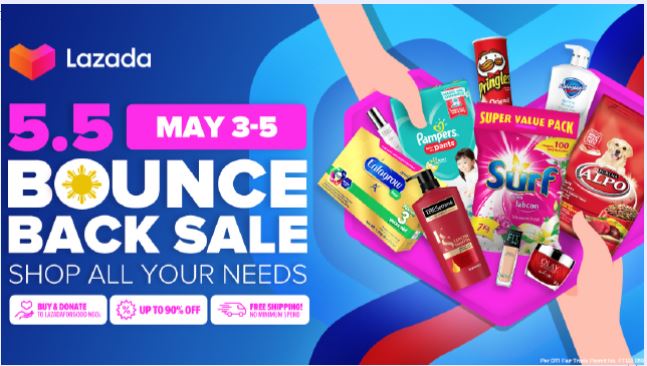 Its Bounce Back Together program, which included various campaigns, aided 7000 merchants in their post-pandemic business rehabilitation. As a result, retailers saw a 5X boost in sales compared to before the Covid era.
Their Bounce Back Sale aims to restore normalcy to micro, small, and medium-sized companies in the Philippines following COVIID-19.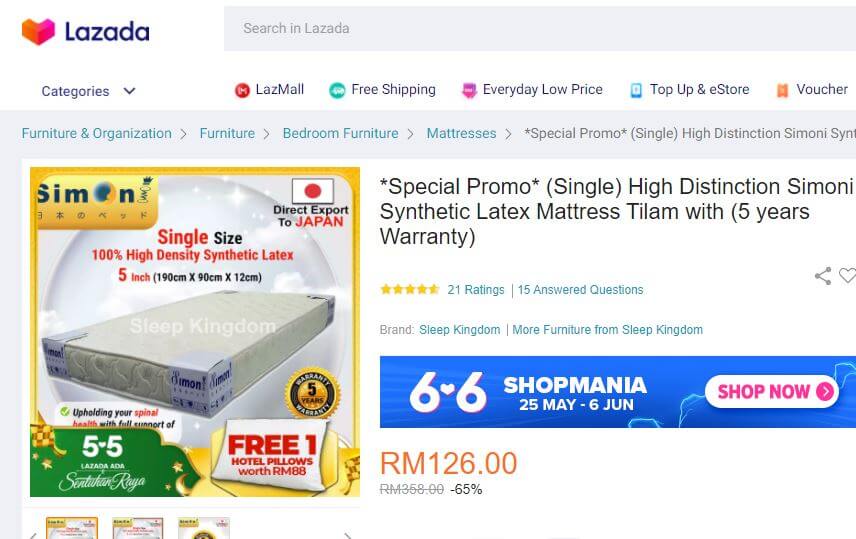 More readings?
>>Read more:Shopee trumped Lazada in Southeast Asia E-commerce market: A lesson of localization

>Read more:Shopee's marketing mix strategy helps change the game;

>>Read more:What is Shopee business model: new initiatives in 2021