According to a report by Google & Temasek, it stated that the internet economy will rapidly grow to become a US$240 billion industry with e-commerce as a key driving force and is estimated to garner as much as US$102 billion by the year 2025.
>>> Read more: [Infographic] Vietnam E-commerce landscape 2020
          >>>Read more: The map of Vietnam Ecommerce (statistics from iPrice)
Among all e-commerce marketplaces, Shopee – stands out as a popular name – is thriving in all aspects of e-commerce in SEA.  Although being a late comer in the e-commerce game, Shopee is not behind and currently being the unicorn reinventing Asian e-commerce. Why is Shopee successful in the whole SEA region?
In this article, let's together with Boxme find out more about this question.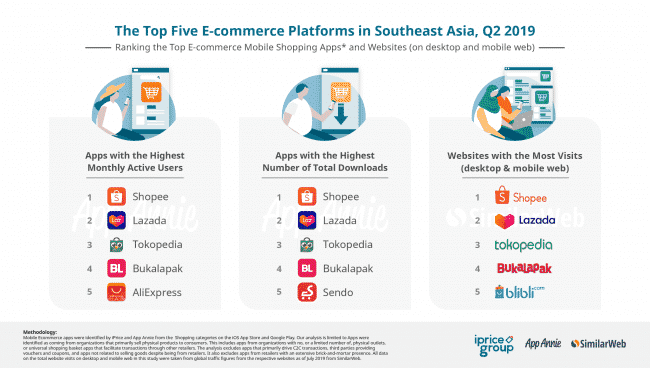 This is according to the Map of E-commerce report done by iPrice Group in partnership with app intelligence and data provider App Annie along with web analytics service provider, SimilarWeb.
The report covers the six nations where the e-commerce market is fast booming: Indonesia, Malaysia, Singapore, Thailand, Vietnam, and the Philippines.
 It is obvious that Shopee outrages other competitors in various aspects such as monthly active users, number of downloads and monthly traffic. Although being superior compared to Lazada in the 1st quarter of 2019, stepping into the 2nd quarter, Shopee had turned the table and had tied it up and been the leader in all charts of all e-commerce aspects. 
      >>> Read more3 key factors that contribute to Shopee's success
The e-commerce company also saw improvements on its website as Shopee saw an increase in traffic by 11% when compared to the previous quarter, garnering more than 2.8 million average visitors in Q2 2019 in Singapore alone.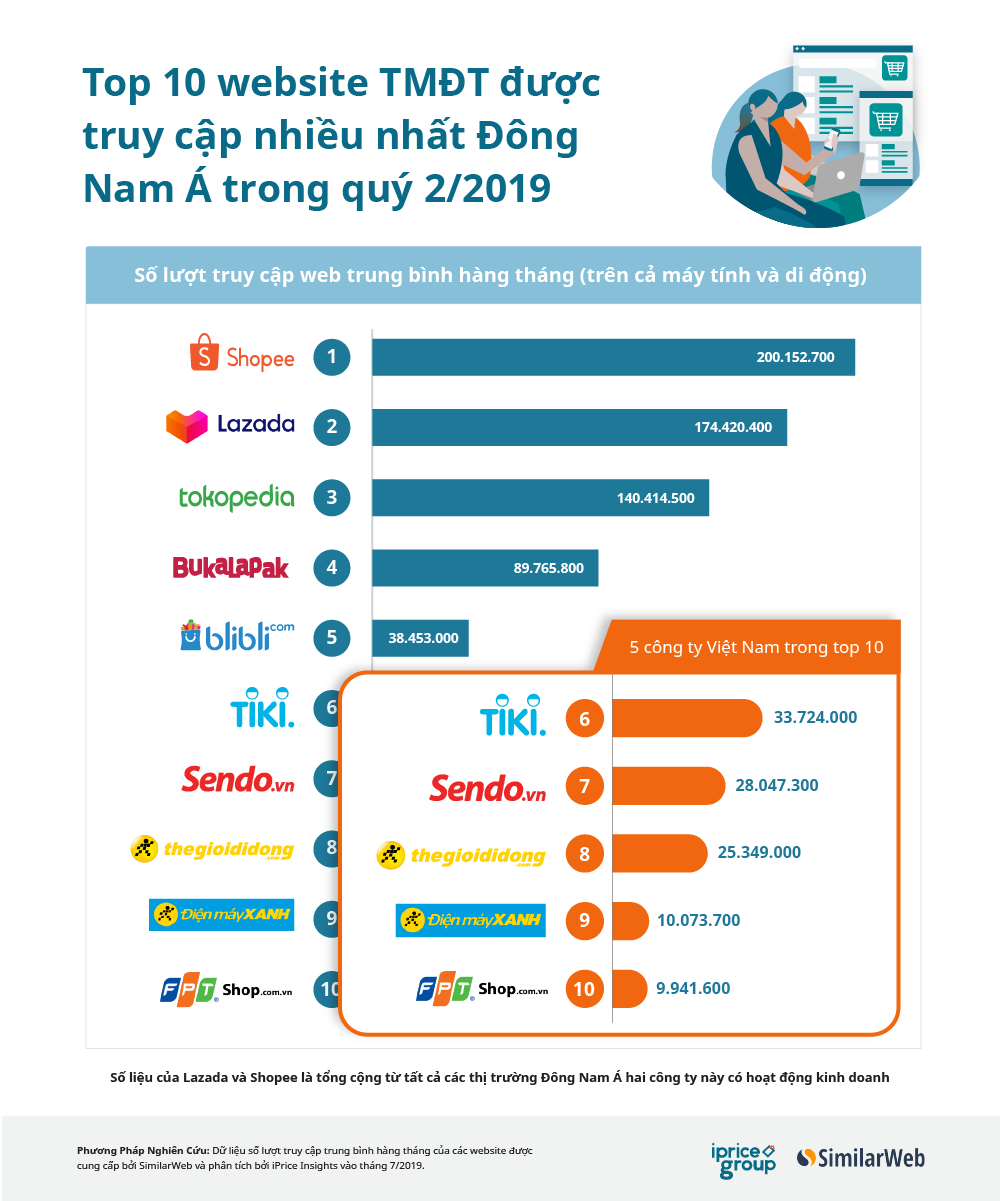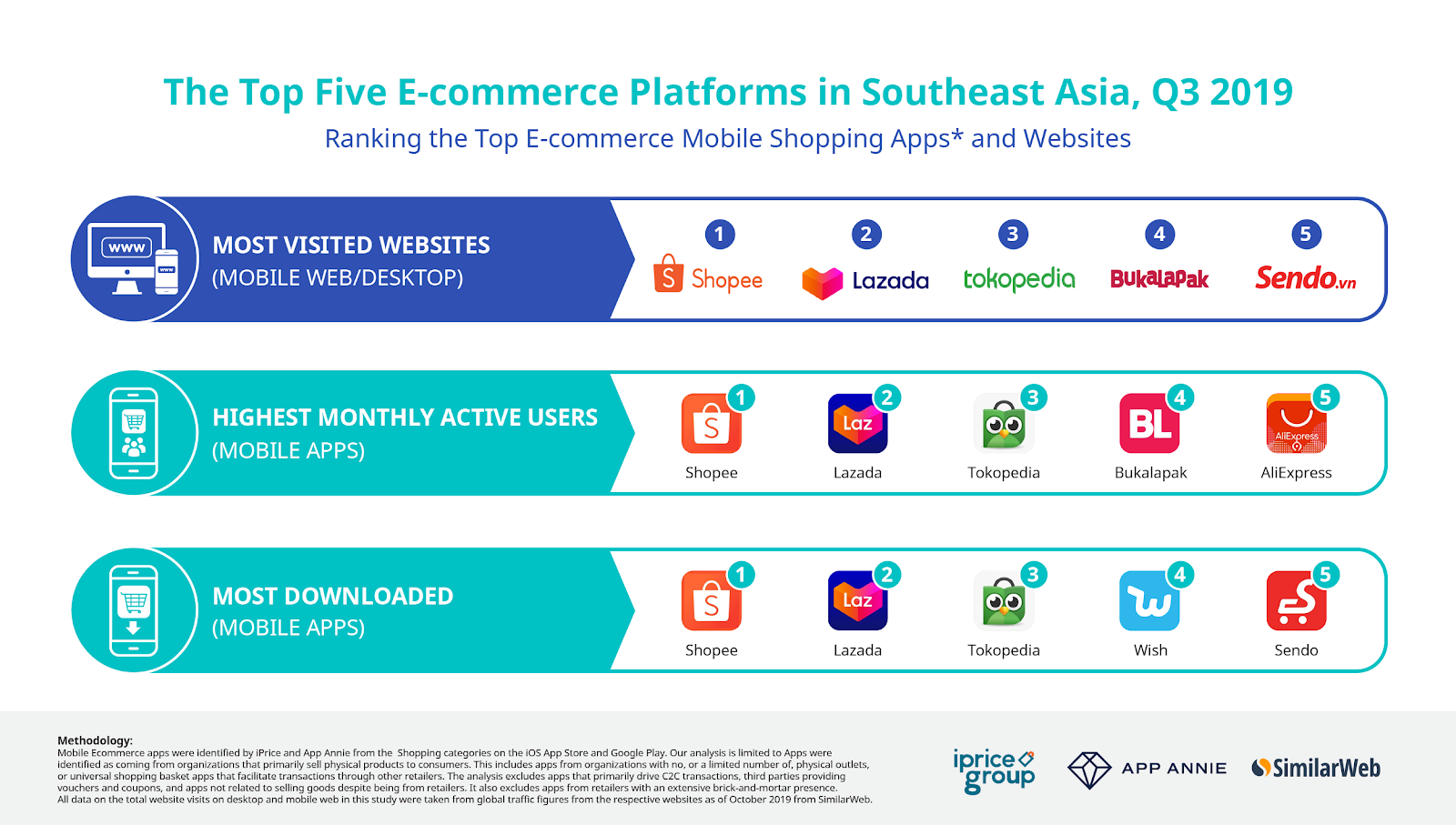 Moreover, Shopee continues to pave the way to continuously dominate all five countries in the SEA e-commerce throughout the year 2020.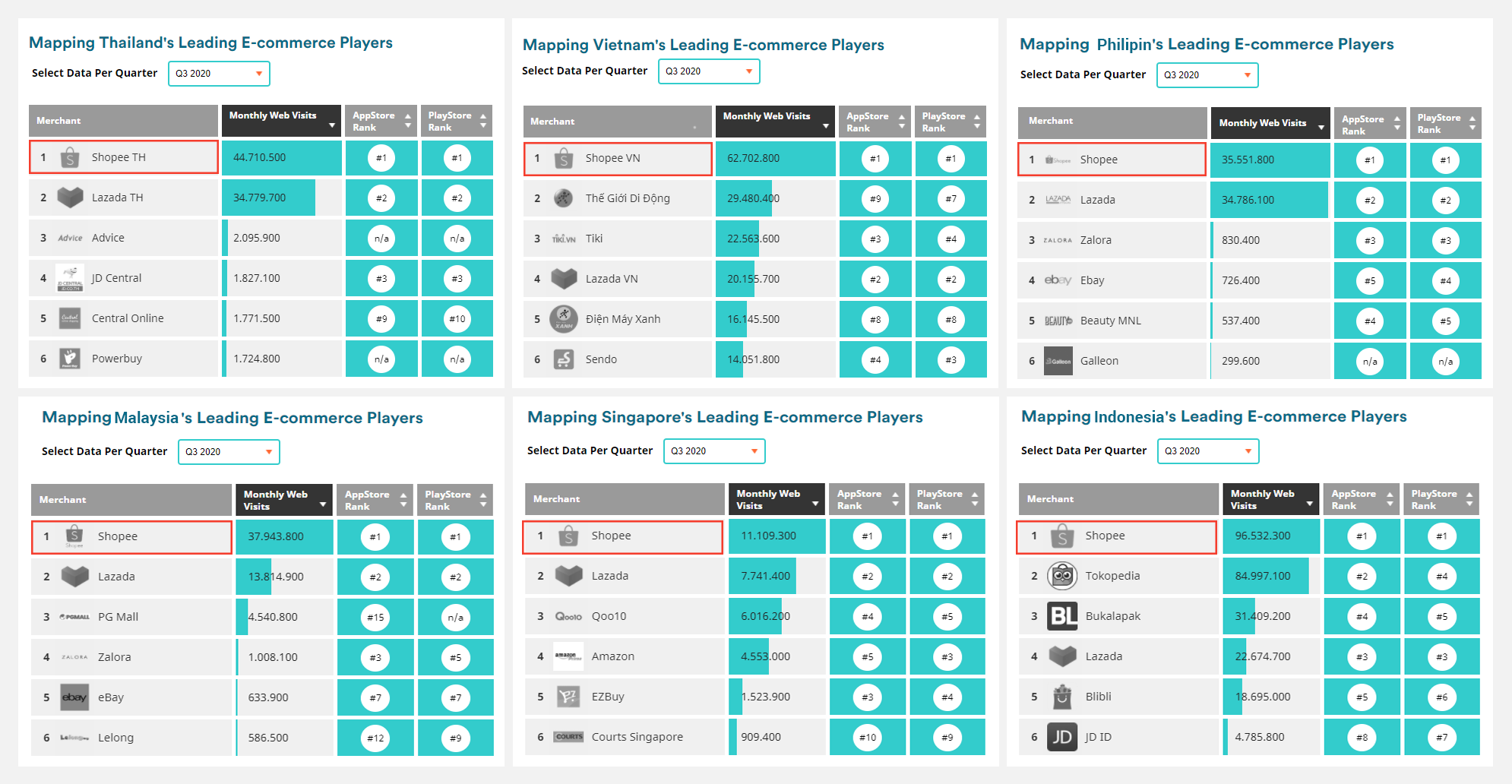 Why is Shopee successful – investment and great revenue  
Shopee's GMV grew from $41MM in the last quarter of 2015 to reach $3.4Bn in 2018's last quarter. By the start of 2019, Shopee was the clear leader in Southeast Asia's E-commerce mobile shopping.
Just after 3 years of launch, it completed 2018 with a $10Bn GMV mark. Unsurprisingly, it had become the market leader of the South-East Asian E-commerce economy. An economy, which doubled year on year between 2015 and 2018 and is expected to $100bn+ by 2025.  
Given the demography in South-East Asia, the average order value (AOV) for Shopee is ~$14 (~INR 1000), about double the AOV for e-commerce in India
Additionally, Shopee is operating under the parent company Sea group and receives tremendous support from Shopee's sister company – Garena. This gaming company is said to generate a significant amount of revenue to subside Shopee. The asset-light strategy of the marketplace helps him avoid the risk of managing inventory, that's why Shopee is successful, unlike Lazada that has 30+ warehouses across South-East Asia. Its command over the market is evidenced in not just its growth but also the kind of markets it has been able to successfully scale in. 
Localization and engagement
Shopee is proud to be a customer-oriented company with the strong philosophy of customer first. Shopee has successfully provided a customized online shopping experience to both retailers and customers, creating a proficient and friendly buying and selling environment. 
   >>>Read more: Guides on how to build a successful Shopee business model in 6 steps
Furthermore, one of the competitive advantages of Shopee is the customization in each market. In each market, Shopee operates unique features in culture, language, and marketing strategy which enable the company to leverage data science in an effort to grow sustainably. 
These are two significant factors explaining why is Shopee successful in the whole SEA region and eventually replace the leading position of fellow competitors 
    >>> Read more: Shopee trumped Lazada in Southeast Asia E-commerce market: A lesson of localization
Shoppertainment
According to the shopping aggregator, 'shoppertainment' is a marketing strategy which is gaining popularity in recent months. This strategy includes entertainment features such as streaming events, in-app games, Livestream and so much more.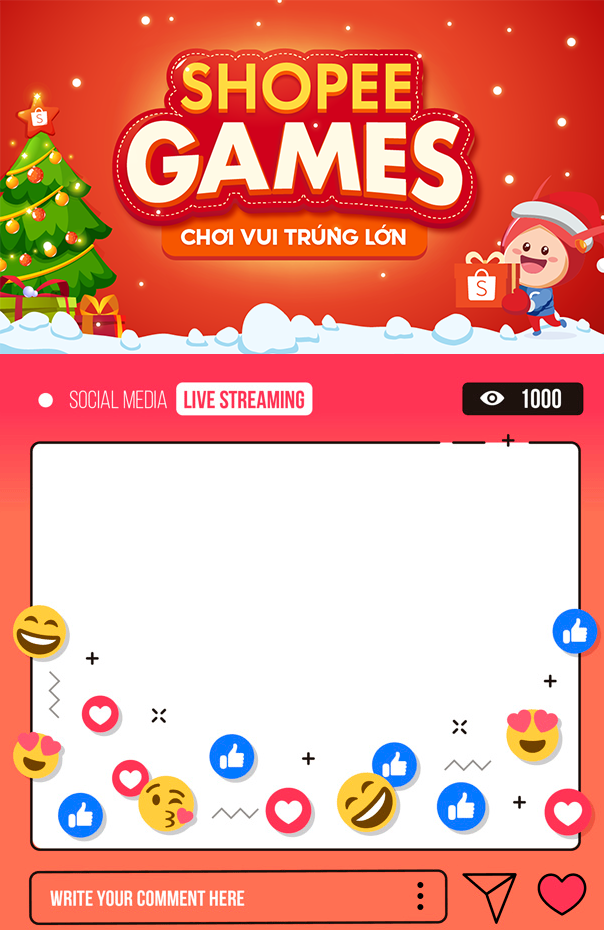 This strategy has been rolled out serving the purpose of increasing traffic into the website and enhancing engagement on e-commerce marketplaces. 
   >>> Read more: How Shopee's marketing strategy steps up in the SEA sales event 2020
Why is shopee successful in this segment. In recent years, Shopee has been utilizing this method to good use and we'll possibly see others follow suit as well. Consequently, this action has brought in a substantial amount of traffic and monthly active users for Shopee.
To sump up 
Despite being the late comer in the eCommerce game, Shopee has revolved significantly over the last few years and successfully replaced the biggest competitor – Lazada to become the dominant leader of e-commerce in the whole SEA region. Why is Shopee successful? It might mention the strategy of focusing on the local market, localizing and customizing the app to each specific market. Furthermore, constantly updated technology as well as entertainment feature in conjunction with financial support from the parent company, has enable Shopee to step up in the e-commerce game and take the lead.  
More readings?
About Boxme: Boxme is the premier E-commerce fulfillment network in Southeast Asia, enabling world-wide merchants to sell online into this region without needing to establish a local presence. We deliver our services by aggregating and operating a one-stop value chain of logistic professions including: International shipping, customs clearance, warehousing, connection to local marketplaces, pick and pack, last-mile delivery, local payment collection and oversea remittance.