2019 is a pivotal year for the entire Vietnam eCommerce industry  when there are specific signs that the market is gradually maturing in many aspects. In 2020, the e-commerce market is met with many changes due to the Covid-19 epidemic. Please read through some information about the e-commerce market in Vietnam 2020. In this article, Boxme accumulates data and information from The map of Vietnam eCommerce report by Iprice, SimiliarWeb and AppAnie to provide readers with the overview of Vietnam eCommerce in 2019, additionally indicators for 2020.
1. E-commerce marketplaces website traffic in 2019
Four dominant leading Vietnam eCommerce marketplaces which are Shopee, Lazada, Sendo, Tiki on the roll with stable position throughout the year. Following on the fifth position is Adayroi, however, this eCommerce marketplace faces a rough time in the middle of the year and finally comes to an end at the end of the year 2019. Therefore, here comes the take over of Aliexpress from sixth place rising to the fifth position since the first quarter of 2019. Aliexpress has maintained its position until the end of the year.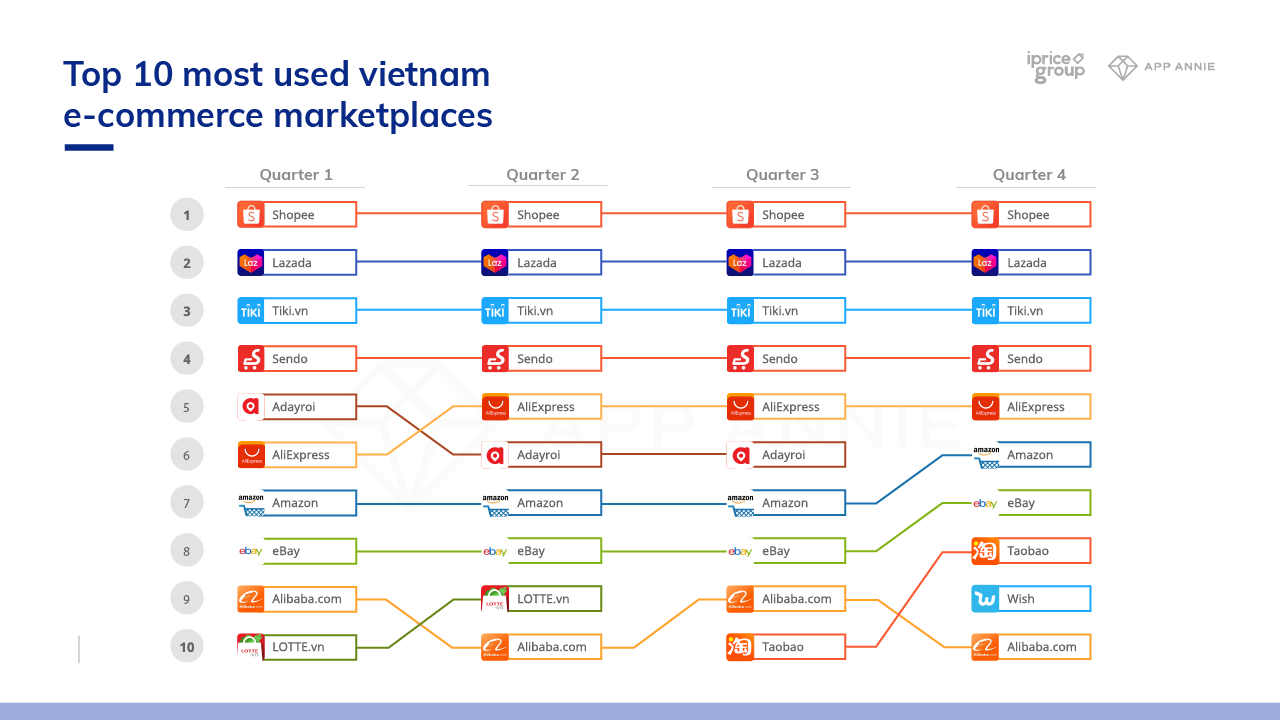 In the eighth position of Vietnam eCommerce map for all three quarters is Amazon of America. In the IV quarter of 2019, thanks to the withdrawal of Adayroi, Amazon had jumped in the sixth position. The next position is quite stable for eBay (US). The remaining locations are less familiar apps: Lotte.vn, Wish, Taobao, Alibaba.com
Due to the steadiness of four leading Vietnam eCommerce marketplaces in 2019, it is quite obvious that Vietnamese users tend to be stick and be loyal to one specific e-commerce marketplaces.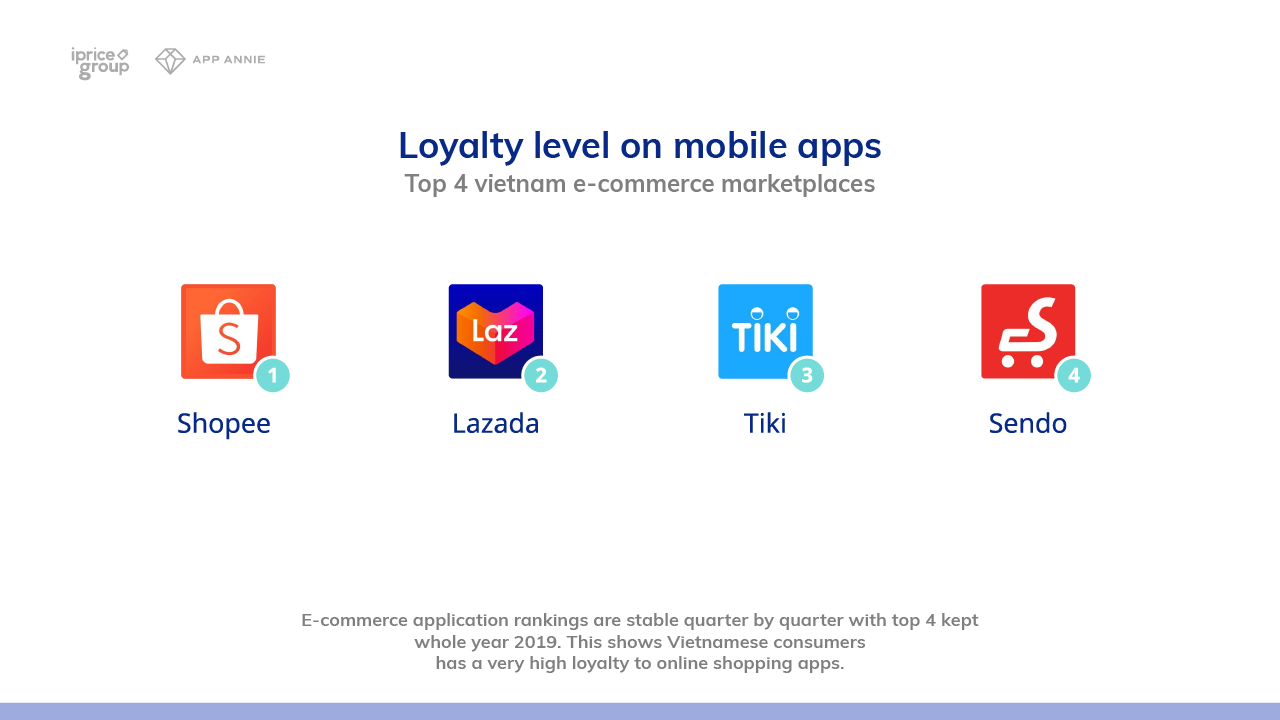 2. Most visited Vietnam eCommerce marketplaces 2019
According to the data, Shopee has been skyrocketing Vietnam eCommerce, leading the whole year 2019 in terms of website traffic with an average of 33,6 million visits per month.
Thanks to the extensive focus on online and offline marketing strategy, the widespread of Shopee's ambassador, clear customer segment identification, and attractive, user-friendly website design has enabled further expansion of Shopee's popularity among Vietnam eCommerce marketplaces.
Despite not being the regular trading platforms like other competitors, Thegioididong remains the top running eCommerce marketplaces owing to the core strategy " focus on customers"  with roughly 30 million visits/month. Although the selling price is always "marginally" than other parties, however, Thegioididong is still selected by customers for its quality products and dedicated care services. Each of the CEO's staff has well implemented the company's development orientation.
With the primary strategy of drawing new buyers, Sendo's website traffic witnesses an enormous jump of 24% from the 1st Quarter to the 2nd quarter of 2019, while ranking in the 2nd place on new downloads.
On the other side, Tiki has chosen a different business strategy by slowly yet steadily introduce the new feature to customers called TikiLive, improve warehouse capacity, and integrate speed delivery within two hours in central. As a prompt consequence of this new strategy, Tiki has gained a significant amount of positive response from users which enable Tiki to land 2nd place as the most popular eCommerce in Vietnam in 2018.
>>> Read more: Tiki and Sendo: Vietnam's two biggest local E-commerce platforms in merger talks
Lazada has spent an entire year focusing on delivering various entertainment shows, shopping events such as Lazada Super Party, Guess It gameshow, and the Lazada Music Festival. By virtue of this, Lazada has stepped back from other competitors and stayed at fifth position with 23.8 million visits per month.
>>> Read more: Become a Top Seller on Lazada: Tips and Tricks
In accordance with the data report by Iprice, it has clearly shown that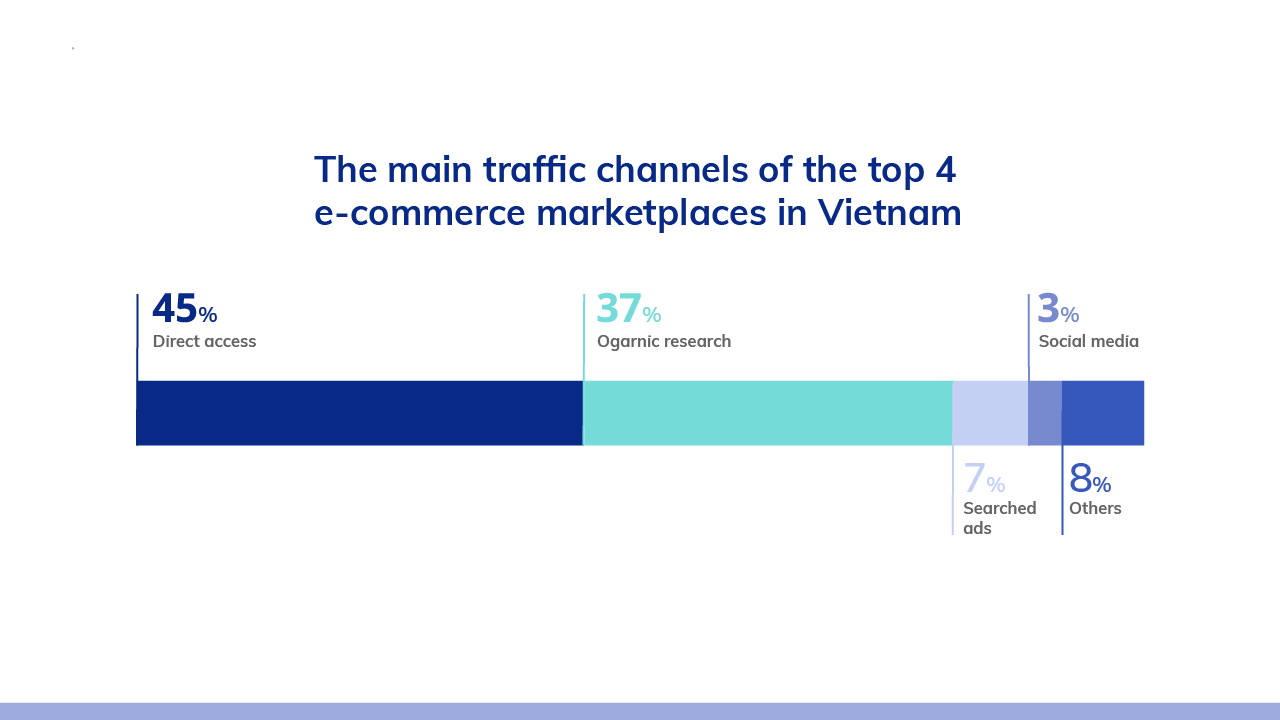 Nearly half of the online access has stated the growth of online shopping behavior as well as the potential development of Vietnam eCommerce marketplaces
The rate of traffic from social networks is higher than the average of Southeast Asia (5.9%), partly explaining the e-commerce marketing efforts of e-commerce platforms in Vietnam.
       >>> Read more: Social Commerce: The next big thing in Southeast Asia E-commerce
The significance of Search engine optimization to Vietnam eCommerce since organic traffic is a critical yet primary channel to attain traffic.
3. Heading to the year 2020.
2020- the year full of the possibility of development, great prospective for Vietnam eCommerce. iPrice has noted three predictions for Vietnam eCommerce marketplaces in 2020
Swifted focus towards profit:

Market movements at the end of 2019 show that long-term profitability will play an important role in e-commerce companies in 2020.

Great investment in infrastructure: With the aim to quickly adapt to constantly changing customer's requirements, the logistics, delivery service, as well as payment method of eCommerce marketplaces, are in high demand for advancement.
Possibility for SMEs: In response to the whopping rise in online shopping demand, SMEs are more open and welcome to join in Vietnam eCommerce market.
4. A quick summary
Facing the new challenges, Vietnam eCommerce marketplaces quickly adapt by launching new Livestream features, updating infrastructure capacity, racing with instant and same-day delivery in 2019.
By doing so, eCommerce marketplaces are aiming at delivering a new and more realistic value proposition to sustain customer engagement while cutting back on reliance on promotional events. This business strategy is believed to be used and to further strengthen in 2020. 
5. More readings
       >>>The landscape of eCommerce in Vietnam in 2020