Due to the outburst of technology and extraordinary development of Vietnam eCommerce, retailers and business owners are stepping outside of the box by starting to invest in pushing business model towards online-based. Therefore, for the sake of developing an online business, it is such a crucial step for retailers to choose the appropriate eCommerce platform in Vietnam as it follows along your business journey.
There is a great number of eCommerce platforms in Vietnam making retailer's choices even more complicated. Boxme here to help. In this article, Boxme will provide readers with an insight into all the current positions, leading eCommerce platforms in Vietnam in both eCommerce marketplaces and eCommerce supporting websites.  From this article, retailers will be able to identify the most advanced, popular, and appropriate eCommerce platform in Vietnam to choose from.
         >>> Read more: Vietnam Ecommerce platform: Who to choose?
1.Shopee – still the dominant ecommerce marketplaces in Vietnam
In the whole year of 2019, according to the eCommerce report by Iprice, SameWeb, and App Annie Shopee had completely predominated Vietnam eCommerce marketplaces with more than 33.6 million visits monthly.
     >>> Read more: The map of Vietnam Ecommerce (statistics from iPrice)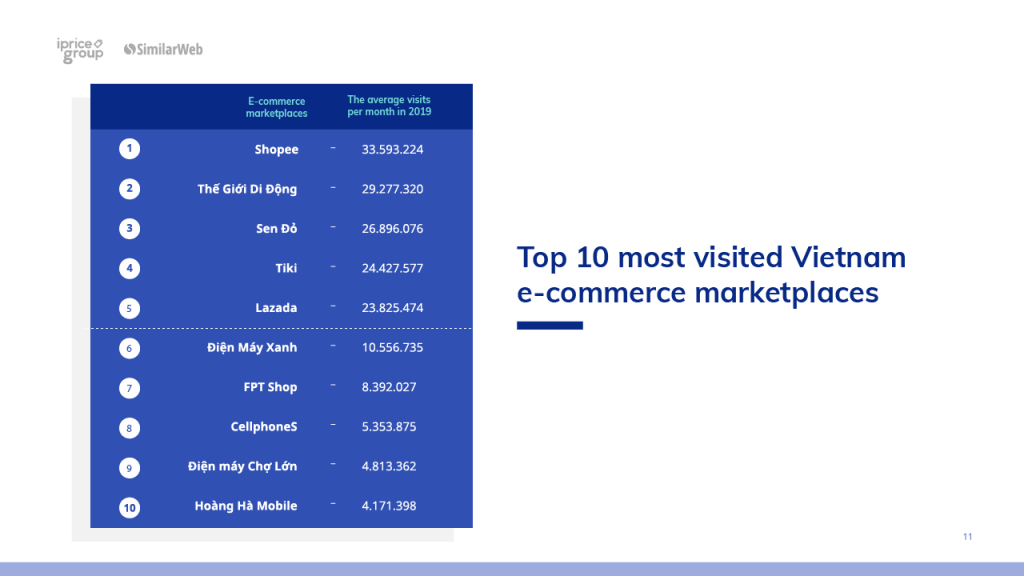 Based on the analysis of Iprice, Shopee takes control over other competitors on all fronts. This also thanks to the enormous financial support from the parent company Sea Group which has enabled Shopee to gain ground on the eCommerce marketplace leaders. Shopee said to forward focusing on maximizing its regional market with the expected revenue in 2020 is up to 1.7-1.8 billion USD.
In the same report by Iprice, in the ranking of the most used and popular eCommerce marketplaces in Vietnam in 2019, there are 4 outstanding faces which are Shopee, Lazada, Tiki, and Sendo respectively. In agreement with the aggregation, all eCommerce platforms in Vietnam remain at a stable level throughout the year. Which further claim the loyalty of Vietnamese customer in using one particular, favorite eCommerce app.
Moving towards 2020, the report 2020 of Iprice has announced the traffic of all Vietnam eCommerce marketplaces from January 2019 to January 2020.
      >>> Read more: The landscape of eCommerce in Vietnam in 2020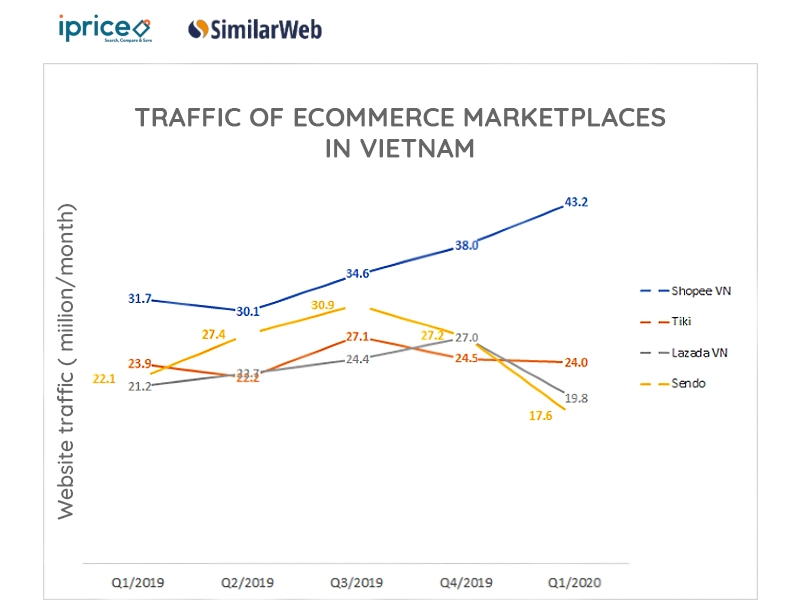 The data shows that the number of visits to websites of e-commerce platforms (excluding Shopee) in the first quarter of 2020 decreased by an average of 9% compared to the same period in 2019. However, Shopee is still a skyrocketing e-commerce marketplace as the monthly visit per month has increased roughly 11.5 million visits from 31.7million in 2019 to 43.2 million in the 1st quarter of 2020.
After the first 3 months of the year, the e-commerce marketplaces has undergone many changes due to the effects of global pandemic Covid-19. This both brings new opportunities and poses challenges in terms of changes in customer shopping behavior. Shopee is still stepping high in the game post-pandemic with a stable number of visits.

The data illustrate the traffic of all eCommerce marketplaces in Vietnam till the third quarter of 2020 and Shopee still skyrocketing with outstanding visits per month creating a huge gap with other competitors.
    >>> Read more:How Shopee's marketing strategy steps up in the SEA sales event 2020
Founded in 2015, Shopee joined Vietnam eCommerce as a late-comer. Nevertheless, owing to the appropriate business strategy identifying good customer segment, target customer's insight, strongly focus on retailers and young generation shoppers. Besides, the website's interface is designed with eye-catching, easy to use and the function of order processing quickly, smart product filter is also add in an advantage for Shopee.
To conclude, with the impressive record on many fronts, the potential range of customers, and a clear development path. Shopee currently dominates the Vietnam e-commerce market and furthermore is promising land of profitability for any retailers, new businesses.
     >>> Read more:Boost Your Sales On Shopee With 16 Following Tips (Part 1)
      >>> Read more: Boost your sales on Shopee with 16 following tips (Part 2)
2. The best ecommerce suppporting website in Vietnam
Another eCommerce platform in Vietnam is eCommerce supporting websites. The emergence of the web platform has allowed countless businesses to access a vast market in Vietnam and further on a global scale. Not merely expanding sales channels, but also helping Vietnamese businesses increase sales exponentially if they know how to exploit them effectively. Building an eCommerce website pose a lot of challenges and difficulties for any retailers, notwithstanding, nowadays out in the market, there is a various option of eCommerce supporting websites which lessen the trouble in building one.
       >>> Read more: Vietnam Ecommerce platform: Who to choose?
The purpose of an e-commerce supporting website is to provide businesses with functions such as product management, interface design, integrated e-payment, delivery, logistic and customer management, and additional application to increase the conversion rate.
There are platforms that are capable of providing more sophisticated functions, such as features related to online marketing (Email Marketing, SMS, Chatbot …), the ability to manage and integrate with systems. other systems via API protocol (eg POS machine, CRM, ERP …).
In this section, we will provide readers with an overview of the best-supporting website in Vietnam in recent years, which is Haravan. Here is the few information on why Haravan is the best e-commerce platform in Vietnam
The highest-ranking on all fronts: As stated by Datanyze website ranking table of the eCommerce platform in Vietnam.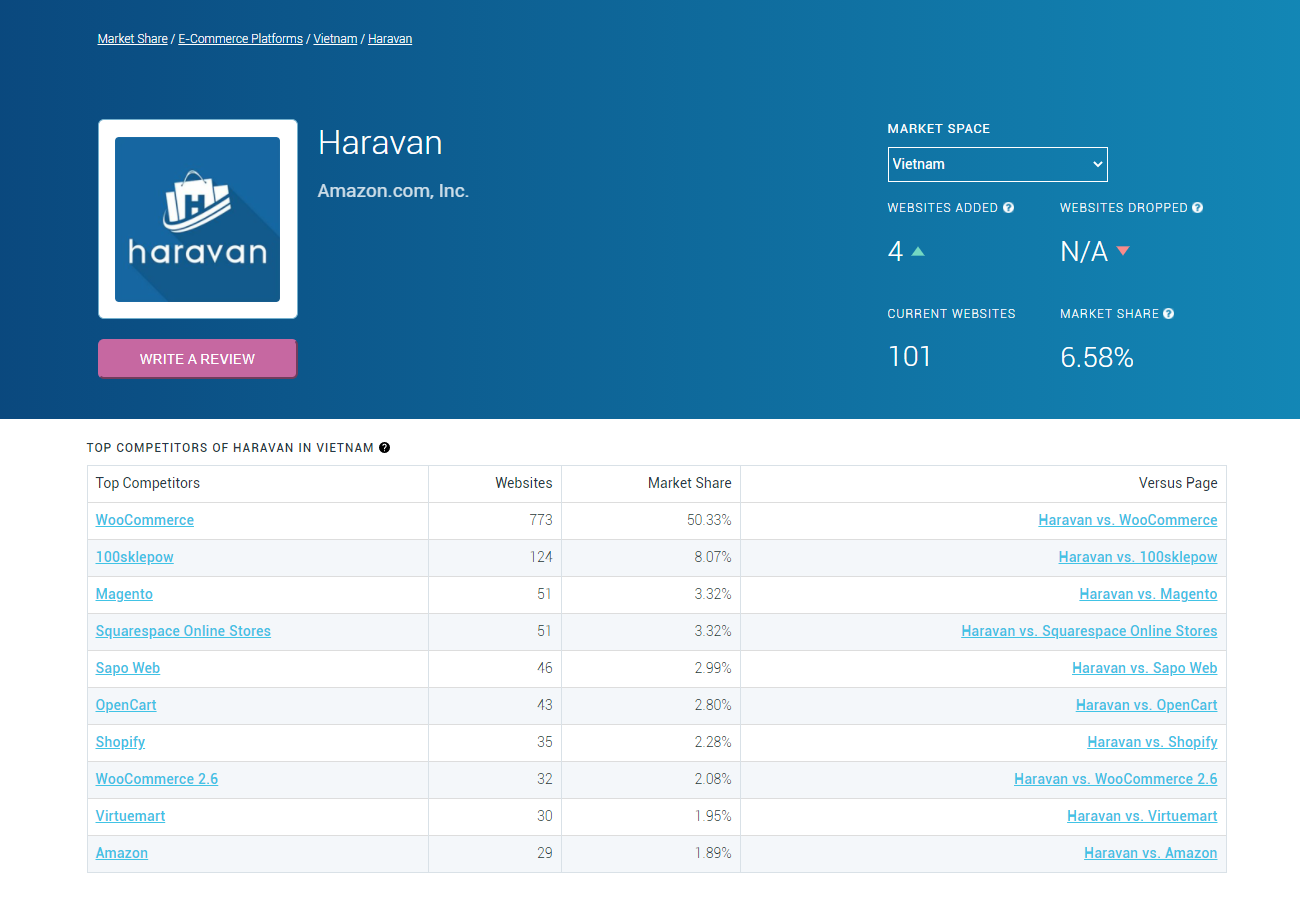 Haravan is currently ranked #3 out of 45 E-Commerce Platforms technologies in Vietnam. Following behind is Sapo and Shopify respectively
Market share: Highest market share of 6,58% among other competitors, Sapo web is 2.99% and Shopify is 2,28%.
Feature overview: Shopee's report of the multi-channel supportive website has stated the superior performance in many aspects and feature such as interface design, CRM, product management, payment method,… over other competitors
Whenever you decide to start an e-commerce business or embarking on an online business. It is vital for investing in a supporting website to assist along the journey. With the help of an effective, strong-based website as Haravan, your e-commerce will be easier.
      >>> Read more: 6 Ways You Can Make Your Website More Trustworthy
3. To sump up
The article had delivered a general yet objective overview of the eCommerce platform in Vietnam in both eCommerce marketplaces and e-commerce supporting websites with a detailed illustration of the current dominant platform in the Vietnam market. Boxme readers are expected to further understanding of current trends in Vietnam e-commerce have a better understanding of each platform in order to make a wiser choice of choosing the most appropriate eCommerce platform in Vietnam.
4. More readings?
About Boxme: Boxme is the premier E-commerce fulfillment network in Southeast Asia, enabling world-wide merchants to sell online into this region without needing to establish a local presence. We deliver our services by aggregating and operating a one-stop value chain of logistic professions including: International shipping, customs clearance, warehousing, connection to local marketplaces, pick and pack, last-mile delivery, local payment collection and oversea remittance.