1. Main takeaways of eCommerce in Vietnam
The year 2019 continues to witness the strong and diverse development of online businesses in Vietnam. Along with the rapid and stable development of the economy with the growth rate of gross domestic product (GDP) of 7%, eCommerce in Vietnam has become popular and become a regular shopping channel of a significant proportion of consumers, especially the 9x generation in the two largest cities in the country.
eCommerce has driven significant growth in Vietnam, at 46%, alongside strong growth across most sectors except for Travel. Overall, 2020 GMV is expected to reach a total value of US $14B in 2020, having grown at 16% . Looking at 2025, the overall e-conomy will likely reach US $52B in value, re-accelerating to ~29% CAGR.
Boxme Vietnam has collected various critical information and data on eCommerce in Vietnam in 2020. Let's take a look at the key takeaways Boxme has accumulated.
 1.1 The rise in number as well as shopping frequency of online shoppers
According to White Book eCommerce in Vietnam 2020, the year 2019 witness a blistering space in the number of online users with more than 4.9 million users compared to last year. Which add in 2.02 in revenue for eCommerce in Vietnam in 2019.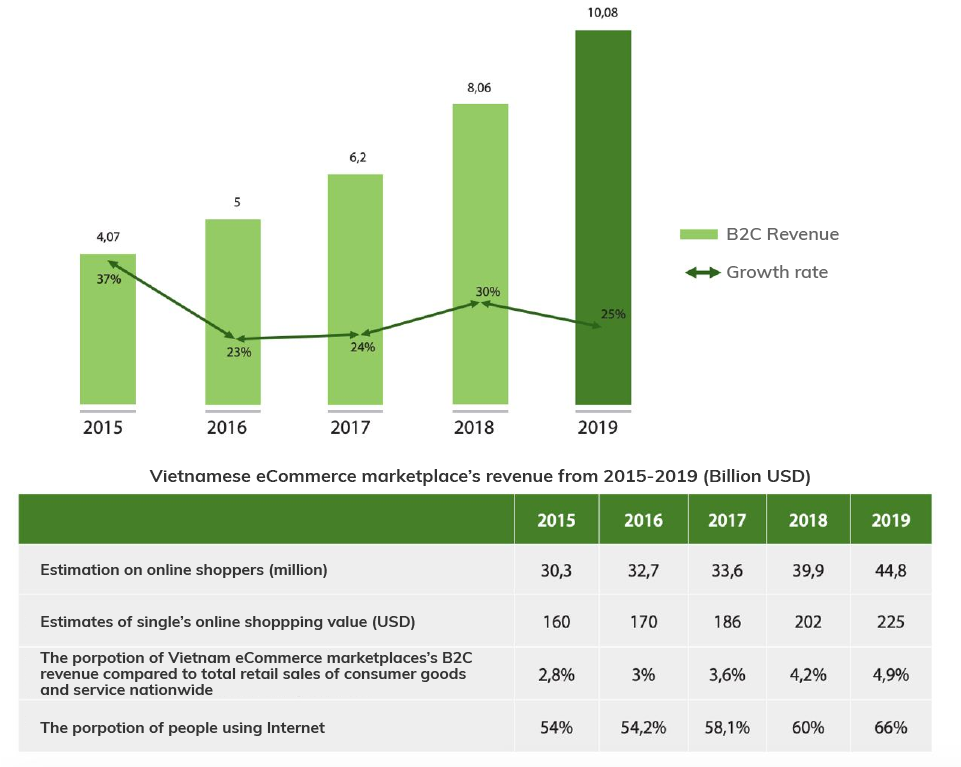 With every year passing by, there is an stable rise in the percentage of Vietnamese use Internet from 54% in 2015 to 66% in 2019, around 1,2 times over the last 5 years. The average online spending of one person has reached 225 USD, which 8.6% higher compared to the year 2015 and 1.2% higher compared to the year 2019.
>>> Read more:3 online sales channels that guarantee success in Vietnam
>>>Read more: E-commerce Insights: How Southeast Asians shop online
1.2
The increase use in shopping online apps
Along with the rising in online shopping trend is the surging in mobile applications. Nowadays, mobile app is still being the dominant shopping platform for users to buy from. Mobile app usage surge dramatically from only 81% in the year 2018 to over 90% in 2019, while the usage in other devices such as laptops, computers, tablets decreased roughly 25% in 2019.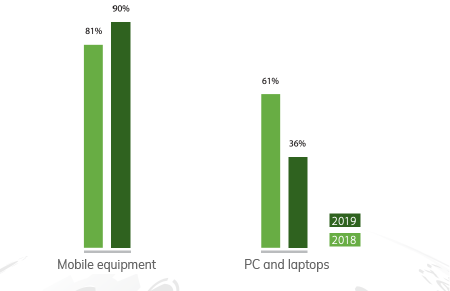 1.3
Increase non-cash payment
In conjunction with the speedy growth of eCommerce in Vietnam is the development of electronic payment. With the undeniable benefit and convenience electronic has brought, the eCommerce in Vietnam witnesses remarkable and fast growing expansion of e-payment. 
Specifically, revenue from the electronic payment market in 2020 has grown by 14.2% over the same period last year, the revenue achieved is the US $ 8,904 million. 
The number of users also grew to 36.2 million, up 12.1% from last year. Starting from the time when banks implemented the plan to issue bank cards, up to now, the users of bank cards have also achieved a staggering growth. It can be said that the trend of electronic payment has changed the consumption habits of Vietnamese people. Currently, there are the following types of electronic payments:
•           Bank Cards payment
•           Payment Gateway: ayoo, vnpay, vtcpay, Nganluong…
•           E-wallet: Momo, Smartpay, Payoo, Airpay….
•           Mobile banking app.
>>> Read more: 8 E-commerce trends that will continue its success in 2020
1.4
The traffic of eCommerce channels
In the report of Iprice.vn collaborate with SimilarWeb, YouNetMedia, AppNie has stated the Shopee is the leading eCommerce marketplaces in Vietnam in both 2019 and 2020 with the traffic and monthly active online users 33,6 million access per month. Following is Thegioididing, Sendo, Tiki, Lazada respectively.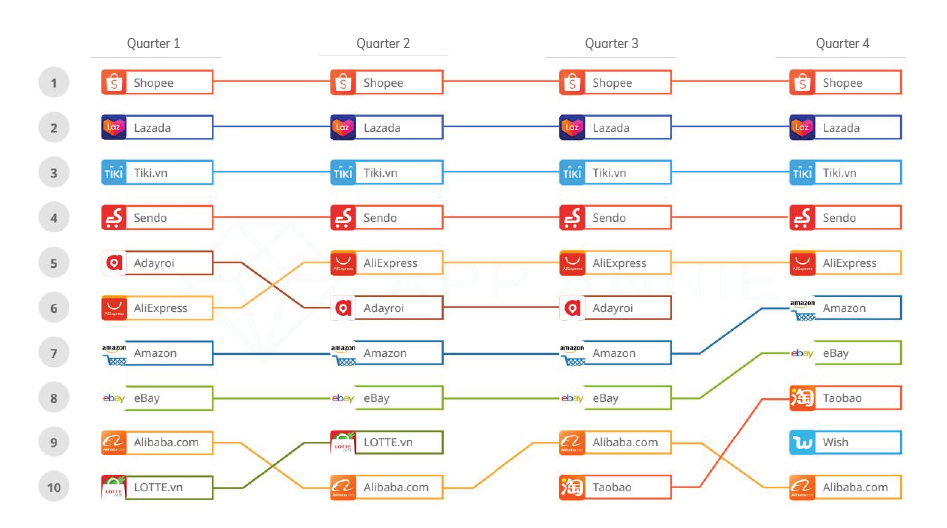 Till the latest data released on the last quarter of 2020, Shopee still dominate eCommerce in Vietnam with over 62,7 million users access per month and the behind competitors are Thegioididong, Tiki, Lazada, Dienmayxanh, and Sendo
As stated by Iprice.vn, the most used eCommerce marketplaces in Vietnam chart has been consistent without any changes in the last 2 years with a popular name, yet Shopee is still at the head of the game with a striking gap in the numbers of user's access among other contestants.
2. E-commerce in Vietnam after Covid-19
From the beginning of February to April 2020, the economy in Vietnam in general and specifically the eCommerce in Vietnam has been critically affected by the global pandemic Covid-19. It was expected for eCommerce in Vietnam to bloom during the national lockdown as people spend more time at home and online.
However, it seems that the Covid-19 pandemic has offered no help in increasing the Vietnam eCommerce marketplace's revenue as planned.
On the contrary, the competition in eCommerce in Vietnam is becoming more and more fierce, not only at fast delivery or cheap product prices but also in the need for changing strategies if businesses do not want to be rejected.Approximately, there are a huge number of eCommerce marketplaces in Vietnam underwent a reduction in the figure of sellers compared to the same period last year.
Particularly, during the peak period of the pandemic, it is reported that the orders have been dropped down drastically in comparison with February-April 2019.

          >>>More readings: The landscape of eCommerce in Vietnam in 2020
>>> More readings:[Infographic] Vietnam's E-commerce landscape 2020
About Boxme: Boxme is the premier E-commerce fulfillment network in Southeast Asia, enabling world-wide merchants to sell online into this region without needing to establish a local presence. We deliver our services by aggregating and operating a one-stop value chain of logistic professions including: International shipping, customs clearance, warehousing, connection to local marketplaces, pick and pack, last-mile delivery, local payment collection and oversea remittance.