Vietnam media landscape 2020 – 5 changes to notice
While some other countries are facing problems with workforce and social issues, Vietnam is enjoying its steady development. Even though the GDPs of neighboring Southeast Asian nations dramatically contracted in Q1 and Q2, Vietnam still experienced growth.
The year 2019 witnesses more than half of the world's population is connected to the Internet. Media and the Internet continue to pave the way for innovation, creating a series of trends that shape the world and forever changing the way businesses and customers interact with each other.
Below is the report of Vietnam media landscape 2020 with 5 noticeable changes
1. Vietnam media landscape 2020 – Television
In Vietnam, television is still one of the leading and the most powerful, effective form of mass media with 85% of the national population watching Tv daily based on the research carried by Kantar Media's TNS Media Vietnam. In the same report, Kantar noted the television is also the most common household appliance and communications vehicle in Vietnamese families. Despite the slight decrease since December 2019, Tv is still the flavored means of media among other competitors such as online, print newspaper, and radio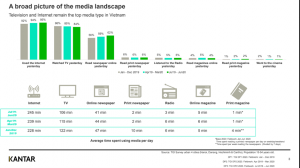 2. Customer spending and customer behavior
According to Kantar's WorldPanel Insight Handbook 2019, there is an increase in the disposable income of Vietnamese people as well as consumerism. The rise in the consumerism of the Vietnamese population present in primary categories such as fresh food &FMCG, education, eating and drinking out, entertainment and traveling, etc Kantar's WorldPanel also stated the five changes in customer's buying preference which follows the hierarchy of needs of Maslow. Respectively, home, kitchen, health, beauty, and personal budget. As a consequence of digitalization and internalization, drastic changes take place in many aspects of Vietnamese spending behaviour and preferences.
 So what are the trends leading the changes?
Convenience store: Local traditional markets are gradually giving up market share to rising convenience store competitors such as VinMart, Circle K, Family Mart, B's Markt…. Thanks to the advantage of localization and the repaid expansion, the convenience store model are flavored much by Vietnamese shopper with more the 76% reported to choose a convenience store over the traditional one. The penetration of mini-marts reached 53% in 2018. The key strategy is this business model is the dense presence along main streets in Vietnam. 
Spending behavior: Back in time, when millennials spent most of their money on assets, investments, stocks. Nowadays, generation prefers the experience more which leads to the growth in education and traveling.
Raising health awareness: Vietnam media landscape 2020 noted various cases nationally concerning the level of unqualified, poison, and sanitary of local food, vendors, and stores. Customers start to be more aware and careful of the food ingredients as well as the origin of their raw food which promotes the competitive advantage of mini-marts and supermarkets over traditional ones. Furthermore, Fitness and wellness are also trending among Vietnamese people.
3. Digital marketing landscape in Vietnam
The total population of Vietnam is around 96.9 million people with Internet penetration up to 70%.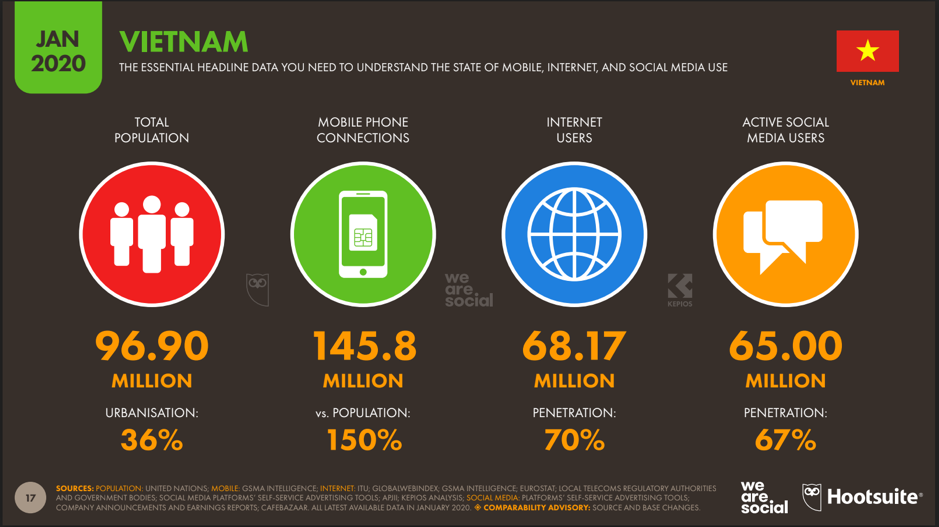 Reported the daily usage of Vietnamese people, more than 6 hours spent on the Internet and in the second place is Tvs with 2-hour-watching daily.
Apart from the high spending time on videos, watching videos is the most popular online content activity in which 95% of users watch online videos each month.
As one of the fastest blooming countries in the Southeast Asia region, Vietnam holds a lot of potentials, business opportunities for investors and brands. Vietnam media landscape report can help you take full advantage of the blooming market in Vietnam with recommended digital marketing opportunities in Vietnam
      >>> Read more: [Infographic] Vietnam E-commerce landscape 2020
      >>> Read more Beginners' guide to digital marketing for E-commerce in Vietnam
Video marketing: With the reproted number above of online content activity, 95% of users watch online video each month, espically high user in Youtube platform.
This number strongly stated the popularity of video among Vietnamses wathchers. It is recommeded for business owner to take this opportunity and further expand marketing activities on video. Consequently, media planners need to be sensible and quick update to the current trends on video marketing platform by using up-to-date, on trend video content for delivering in-house marketing.
Social media marketing: There are 65 million active social media users in Vietnam which equates to 67% market penetration.
Obviously, social media platfroms such as facebook, instagram, Zalo are gaining siginificant influence among Vietnamese users. Marketers should create interesting and valuable content to attract potential customers to engage with your social media account and increase engagement rate.
         >>> Read more: Social Commerce from the view of Southeast Asian online sellers
          >>> Read more: Facebook Shop turning social media to a real E-commerce platform
KOL and ambassodors marketing in Vietnam: Alongside the booming of social media is the emerging of new online marketing platform – KOL and influencers. By simply sharing personal perspectives, lifestyle and experience on media, influences gain in a significant number of followers and have a power of spearing words. This opens up a new door of marketing, and promoting products which enable enterprises to target the appropriate customers, accordingly enhance the brand awareness, image in a soft yet effective way.
Up till now, Video, social media and influencers marketing are the most preferable trends and effective forms of marketing that any business retailers, brand should be aware of and make good use of. It is crucial for enterprise's media planner to stay ahead in the marketing game to develop more analytical skills, stay updated wit changing trends and be sensible to customer changing behaviour to be able to deliver the most effective marketing campaign.
        >>> Read more: Beginners' guide to digital marketing for E-commerce in Vietnam
4. 
Social
media penetration in Vietnam
In this section, Vietnam media landscape 2020 will highlight the significance for enterprises in Vietnam to understand how national citizen use and lean on social media.
Media usage habbit: Vietnam is an emerging market of social media where western platform such as Facebook, Instagram, whatssap are mainstream media platform together with local ones such as Zalo.
          It is crucial for business planner to have a long-term media picture in Vietnam by                      closely monitor the media trend of both international and national platforms.
          >>> Read moreSocial media is still a major shopping platform in Vietnam
Local and western social media platforms: Unlike western region, Vietnamese internet users tend to use Facebook as a search tool instead of using popular search engines such as Google. This has concluded a fact that applied in Vietnam market only, enterprises should not depend too much on paid advertisement on Google, on the other hand, consider to invest more on running advertisement and paid marketing campaign on social platforms.
Young internet users: Most of internet users belong in younger generation, millennials group in Vietnam.
Brands must be aware of their purchasing power, as well as disposable income when they look to market their product/service to this country
>> Read more: How Gen Z shops online using social media

>> Read more:Social Commerce from the view of Southeast Asian online sellers

>> Read more:Social Commerce: The next big thing in Southeast Asia's E-commerce
5. Vietnam media landscape 2020 – eCommerce
In e-commerce White Book 2020 stated the tremendous growth of Vietnam e-commerce in 2019 through 2020 despite the after effect of the global pandemic with sales amounted to 10.08 billion USD and 13 billion USD in 2020 with the growth rate of 30%, and will continue expand even further toward 2025. Consequently, thanks to drastic expansion of Vietnam ecommerce, Vietnam is the third fastest growing e-commerce market in SEA.
     >>> Read more:[Infographic] Vietnam E-commerce landscape 2020
The Vietnam media landscape 2020 will hightlight the most notable changes in Vietnam in terms of media
88% of online shoppers choose cash payment. While there is a slighly increase of 2% of non-cash payment such as e-wallet, credit card and debit card in both 2018 and 2019.  Vietnam media landscape 2020 declared this downward trend due to the skepticism on product quality, privacy problem, concern in security and subqpar customer service
Nevertheless, the impacts of COVID-19 are growing more visible, causing major stirs in the industry, including buying patterns, the adoption of contactless payment options.
Vietnamese Internet usage behaviors: Reading news and surfing social media are the two most common reasons Vietnamese Internet users go online, followed by watching movies, enjoying music, and doing research. 
        >>> Read more: 5 critical things to look for in the Vietnam Ecommerce report 2020
About Boxme: Boxme is the premier E-commerce fulfillment network in Southeast Asia, enabling world-wide merchants to sell online into this region without needing to establish a local presence. We deliver our services by aggregating and operating a one-stop value chain of logistic professions including: International shipping, customs clearance, warehousing, connection to local marketplaces, pick and pack, last-mile delivery, local payment collection and oversea remittance.