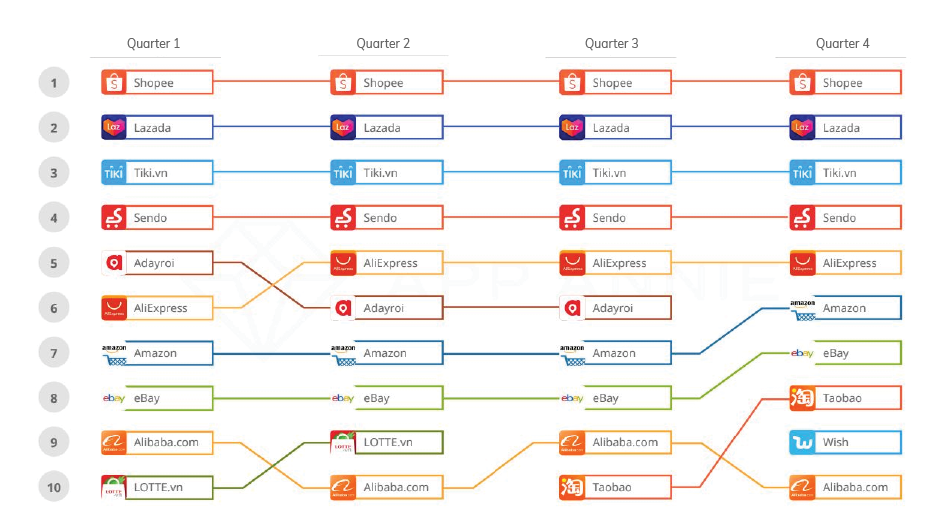 Of all eCommerce markets in Southeast Asia, we can say that Vietnam is a country with a relatively fast economic growth rate and superior to other countries. Vietnam is becoming an attractive market targeted by brands, retailers and investors. And what are the primary aspects of Vietnamese eCommerce that need attention in 2020? Look no further. This article will exploit 5 facts about Vietnam eCommerce report 2020.
1.   Vigorous growth of Vietnam eCommerce
According to the report of eConomy SEA 2019 by Google and Temasek, the size of Vietnam eCommerce marketplaces at the beginning of 2020 has reached 5 billion USD with the drastic growth rate up to 81%. Notably, Vietnam eCommerce report 2020 by the White book of Vietnam eCommerce marketplaces has stated the highest state of Vietnam growth rate in the last three years.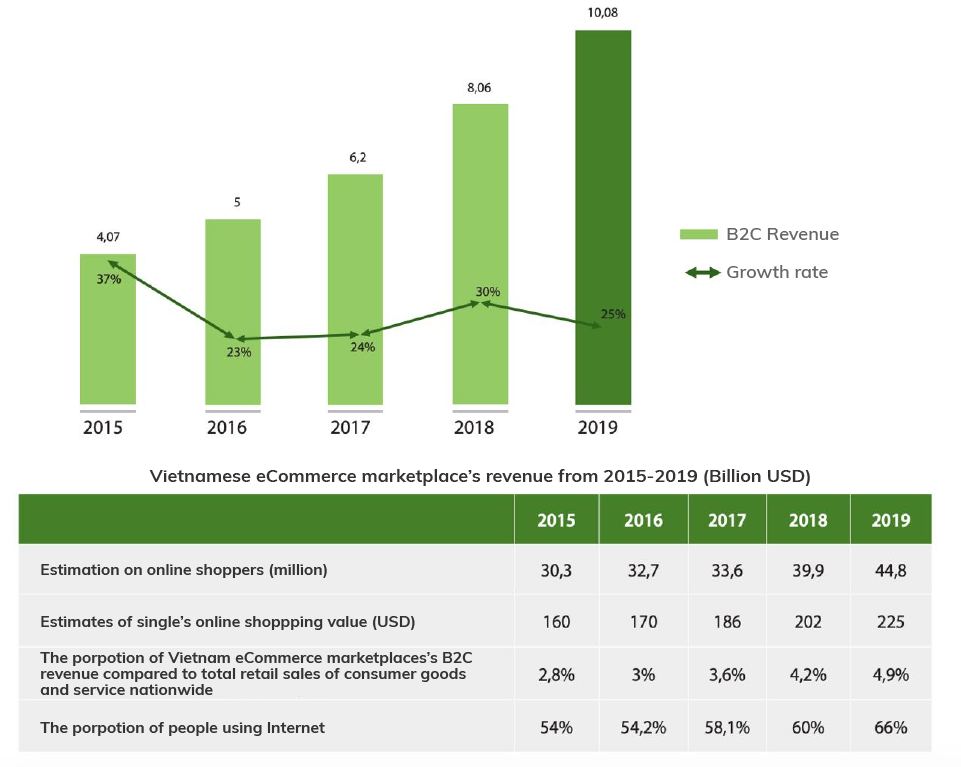 There are some crucial highlights of Vietnam eCommerce report 2020, listed as:
·  Following the increase in the proportion of e-commerce revenue on the total retail sales of goods nationwide in 2019 reached 4.2%, up 0.6% compared to with 2018 is the importance of eCommerce.
·  Vietnam is considered to be one of the fastest growing eCommerce marketplaces in Southeast Asia with an average annual growth rate of more than 25% and is forecasted to have a market size of up to 13 billion USD by year 2020.
·  It is evitable for the outstanding and remarkable enlargement of Vietnam eommerce which enable Vietnam to be one of the most potential market in SEA.
·  Vietnam eCommerce report 2020 witnessed a skyrocketing rise in the number of online shoppers. 2019 with 33,9 million people which increased by 11,8% compared to 2018 and tripled after three years. Value of online shopping per capita reached 202 USD, up 8.6%.
·  Stated in iPrice insights, Shopee Vietnam dominated the market throughout the year 2020 with monthly average traffic of 38 million.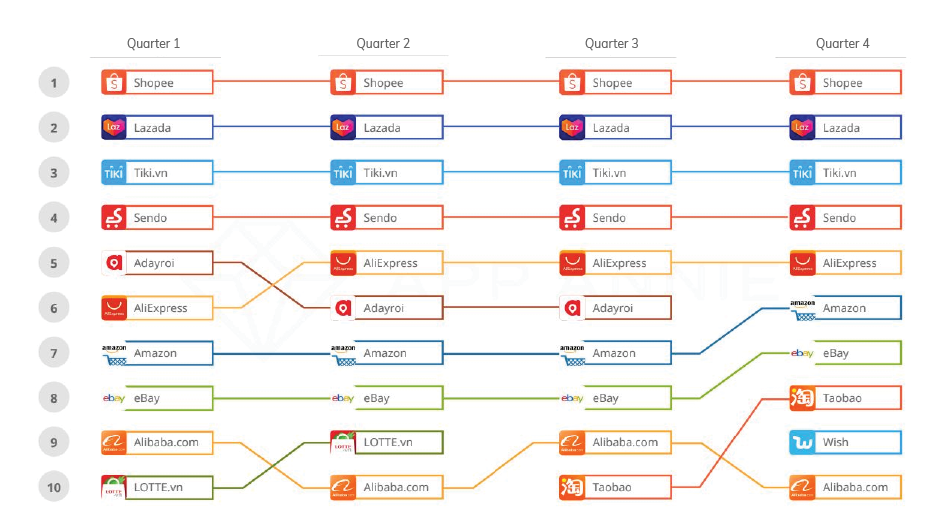 On overall overlook, Vietnam eCommerce marketplaces have a successful year with flowing revenue and undergone much changes especially during the covid-19 period and when customer demands fluctuate, changing in buying priorities. In this regard, Vietnam ecommerce report 2020 the need for market sensitivity and better grasp of current trends.
>>> Read more: Vietnam eCommerce marketplaces mark massive records on Single's Day sale 2020
2.   Vietnam eCommerce report 2020 trends
Statistics show that up to 70% of Vietnamese people access to the Internet this year will become the driving force behind the strong development of e-commerce.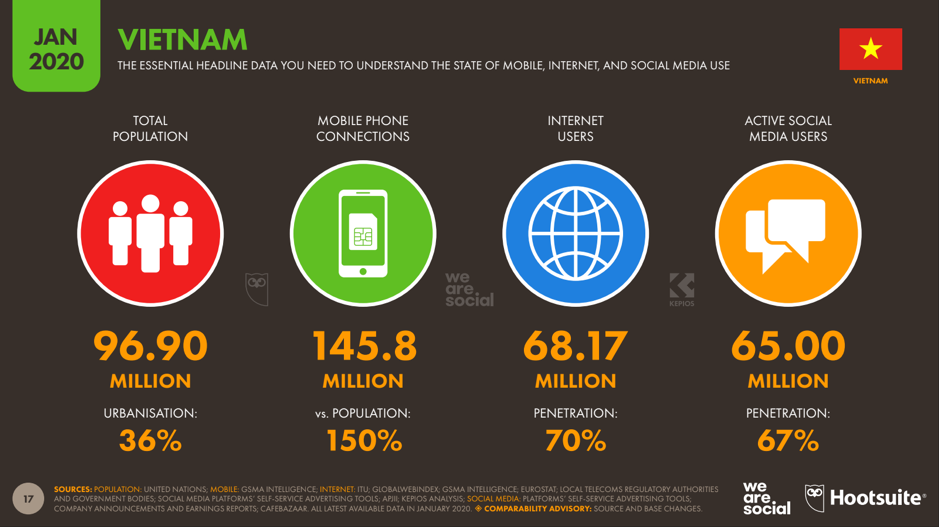 Customers' online shopping channels started to be more diversified thanks to contributions from e-commerce platforms (68%), social networks / forums (51%) and mobile commerce (41%) (figures from Vietnam E-Commerce Whitepaper 2019). Buyers have many choices and they also require sellers to show up in multiple sales channels to maximize consumer demand.
Vietnam eCommerce report 2020 results show that social media continues to be the most popular marketing channel for businesses. At the same time, the rate of businesses evaluating selling via social networks with high efficiency is 26%, while this rate for selling via websites is 28% and via mobile applications is 59%.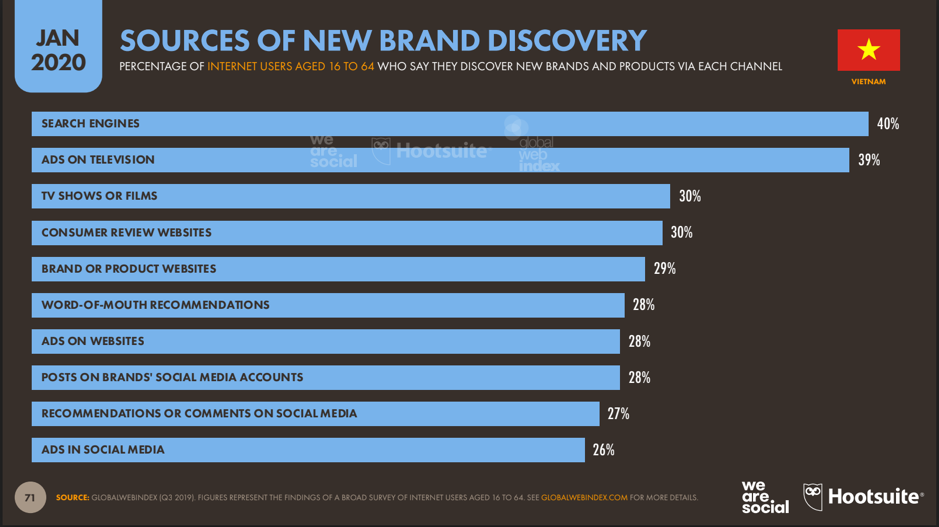 In 46.000 consumers joined the survey of reviewing experience on multichannel of online stores. The result came back with more than 73% satisfied with the experience.
This has proven the importance of multichannel in modern retail market. As a matter of fact, the multi channel business model has been present on the market for years, by now the convenience of this model has been reached by retailers and businesses.
>>> Read more: Multichannel vs. Omnichannel retail: The differences
2020 is expected to be a budding year for social media commerce, however with less chance of booming. Mr. Le Hai Binh – expert from VECOM (Vietnam E-commerce Association) assessed that social commerce contributes to help traditional eCommerce become more popular.
3.   2020: More focus on customers
Starting from the year 2019, Vietnam eCommerce marketplaces mark their stepping step in the game by rolling out new feature – Livestream on mobile phones in parallel with infrastructure development and competition for fast delivery in 3 hours, 2 hours and even 1 hour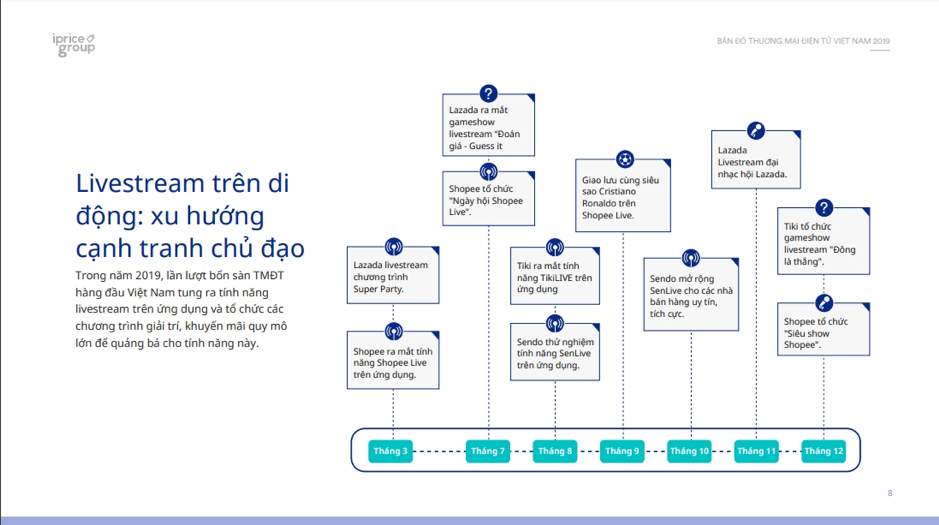 Vietnam eCommerce report 2020 an increasing trend on establishing new, more substantial values to retain customers, while mitigating dependence on discounted events. As a consequence, there will be room for advancement and future development for Vietnam eCommerce marketplaces in the long run.
For example of customer-oriented company's philosophy, in the 2020 and future plan of Shopee, stated by the CEO of Shopee in Vietnam Mr. Tuan Anh declared " Acknowledging the emerging trend of personalization and interaction online shopping in 2020. Consequently, Shopee will place more focus on this matter with the introduction of new feature in order to bring in a more customized and entertaining online shopping experience for buyers"
>>> Read more: How Shopee's marketing strategy steps up in the SEA sales event 2020
Vietnam eCommerce report 2020 with growing maturity in many aspects.
4. Accelerated after the COVID-19 pandemic
At "Vietnam E-Commerce Overview Forum 2020", a strong statement is made that due to the impact of the COVID-19 epidemic, most economic, social, and commercial activities … were stalled, many businesses cut down their production and business activities, even lice closed, dissolved.
In the light of global pandemic, customer buying habit and shopping preferences quickly change. People are more on the theme of online shopping. Subsequently, Covid 19 has posed a great hit on Vietnam eCommerce marketplaces, pushing more businesses go online.
However, in that daunting picture, COVID-19 seems to be a catalyst to drastically change consumer behavior, creating a "kick" to break through in eCommerce.
·  Based on the VECOM report, 2019, Vietnam eCommerce growth rate will reach over 32%. The average growth rate of a 4-year period (2016 – 2019) is about 30%. Vietnam eCommerce report 2020 growth rate is over 30%, reaching over 15 billion USD.
·  Google, Temasek and Bain & Company 2019 report predicts the average growth rate for the whole period 2015 – 2025 of Vietnam's e-commerce is 29%. At that time, the scale of Vietnam's eCommerce will reach 43 billion USD and stand at the 3rd position in ASEAN.
·  Vietnamese consumers remained optimistic and quickly switched to online shopping
·  Businesses on eCommerce marketplaces almost retain human resources during the 3 month period  
·  Many experts believe that the COVID-19 translation is the incentive that helps consumers realize the practical benefits of non-cash payments.Facing challenges of the epidemic, the digital transformation problem has been accelerated from the Government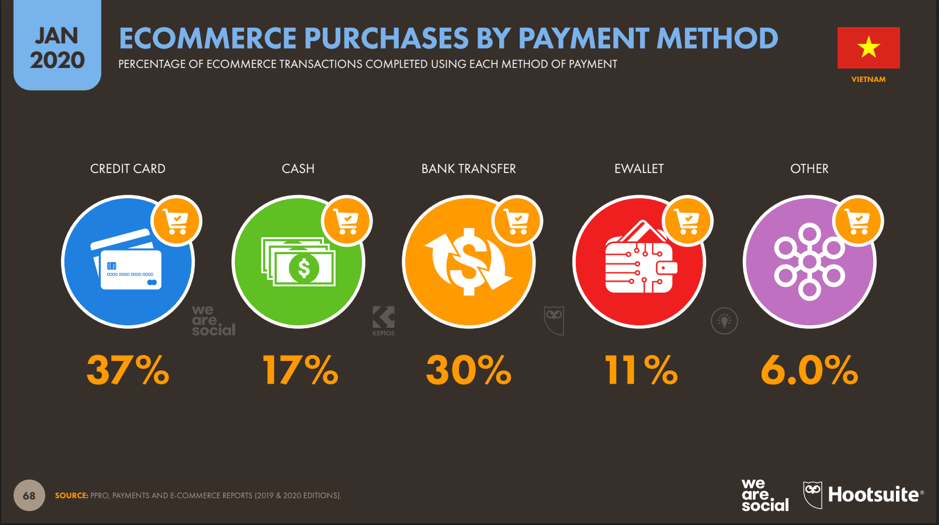 >>> Read more: What E-commerce consumers are buying amid the coronavirus pandemic
5. Challenges of Vietnam eCommerce 2020
Besides the remarkable achievements of e-commerce in Vietnam, the report of the Vietnam E-commerce Association in 2019 also pointed out that there are still many obstacles for a breakthrough in the coming period.
·  The logistics service – last mile delivery – order fulfillment has many limitations: Orders placed across the region, based on local reports, it usually takes around 3-7 days for customers to receive.
·  Customer's faith in conducting online purchases is low: There is a fact that the proportion of customers preferring Cash-on-delivery method is still a majority with nearly 88%. This matter is due to the lack of trust in product quality and faith in the seller's themselves.
·  Lack of network security: This is one of the biggest problems that Vietnam eCommerce marketplaces have little to no response with. Personal information security of consumers and cybersecurity force in Vietnam is pretty poor and should be prioritized for comprehensive improvement to avoid causing damage on both sides businesses and consumers
·  The flavor of international eCommerce marketplaces over national ones: The rising competition of internationally well-known brands entering Vietnam market such as Amazon, Taobao, Ebay,.. pose a great threat on local eCommerce marketplaces. Addiotionally, Vietnamese sentiment of foreign brands over local ones also adds to another challenge.
Despite the hard time of Covid-19, Vietnam eCommerce 2020 reports a blooming growth in many aspects and future development, Vietnam eCommerce marketplaces are still on the road of advancement and improvement from certain difficulties and challenges in order to achieve more success.
To sum up
The article provides a thorough overview of Vietnam eCommerce marketplaces in 2020. E-commerce is definitely one of the most fast-growing, advanced aspects of Vietnam's digital market. With stable growth rate and impressive figures, revenue and development each year, there is a likelihood that Vietnam's eCommerce will soon dominate SEA region. However due to some existing challenges and barriers that obstruct Vietnam eCommerce marketplaces from exploiting potentials. To solve this problem the State and enterprises together need to come up with practical measures to improve technology infrastructure, protect consumers, and improve consumer confidence with purchasing activities.
More Readings? 
>>> The landscape of eCommerce in Vietnam in 2020
>>> 10 Things About Vietnam Ecommerce You Have To Experience It Yourself
>>> Southeast Asia $200B Internet Economy and Huge Opportunity for Ecommerce
About Boxme: Boxme is the premier E-commerce fulfillment network in Southeast Asia, enabling world-wide merchants to sell online into this region without needing to establish a local presence. We deliver our services by aggregating and operating a one-stop value chain of logistic professions including: International shipping, customs clearance, warehousing, connection to local marketplaces, pick and pack, last-mile delivery, local payment collection and oversea remittance.