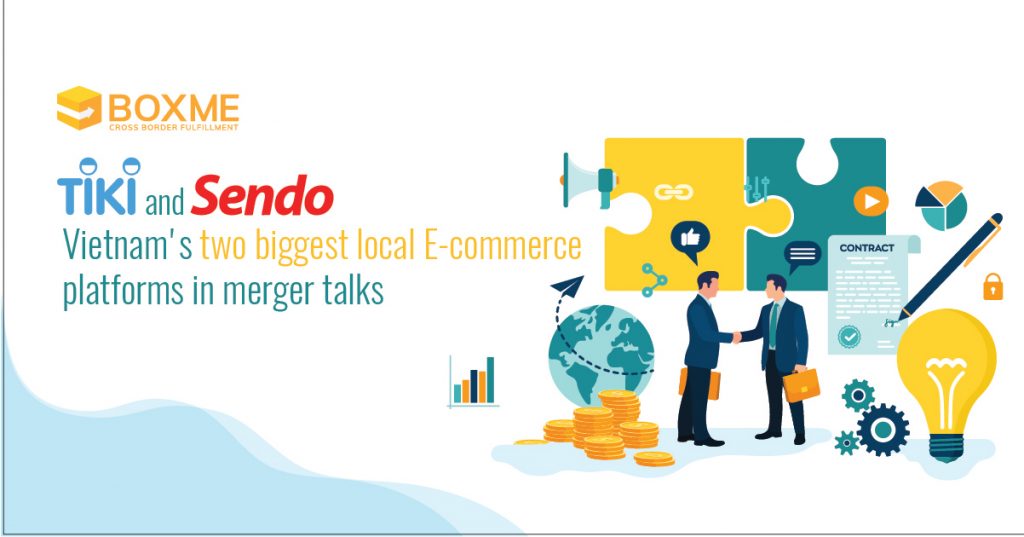 A possible merger
After the departure of Vingroup's Adayroi, Vietnam-based E-commerce platforms are left with only two significant names: Tiki and Sendo. Recently, a source from DealStreetAsia revealed that these two companies have met to negotiate a possible merger in the future, which can turnaround the E-commerce race in Vietnam thoroughly.

As of now, both parties refused to make any comment regarding the matter. However, another source confirmed with KrASIA that the two companies have consulted the Ministry of Industry and Trade's competition authorities as a part of the merger talks.
->> You might be interested in: After The Exit Of Adayroi And Lotte, Who Can Survive Vietnam's E-Commerce War In 2020?
Local players: Tiki and Sendo
In 2019, Vietnam's E-commerce sector is dominated by four names: Shopee, Lazada, Sendo and Tiki. While Shopee (Singapore-based) and Lazada (China-based) are global corporations with wide coverage across Southeast Asia, Tiki and Sendo are local companies that rely on investment to keep the operation going.
Founded in 2010 as an online book store, Tiki is the first established E-commerce platform out of the big four. As the sector started growing, Tiki ventured out to sell more products across many categories. With dynamic logistics and product screening process, customers place high confidence when buying from the site. In March 2019, Tiki was able to raise $75 million lead by Northstar Group.

Under FPT corporation, Sendo came to the race 4 years later but was able to pull ahead through reaching to customers in all regions, especially rural areas. After Series C funding last November, Sendo banked in $61 million from investors all over the world.

According to iPrice's Q3.2019 statistics, Tiki ranked #4 in website traffic and #3 in applications download. The stagnation is attributed to the company's recent focus on improving infrastructure. Sendo surpassed Lazada to become the second most-visited website as well as downloaded app.

Therefore, if a merger is to happen, the integrated platform can benefit from Tiki's top-notch logistics network and Sendo's nationwide coverage.
->> Read more: E-Commerce Platforms That Are Dominating Southeast Asia
Money-burning E-commerce race
As a sector predicted to worth $23 billion in 2025 (Google, Temasek, Bain & Company – e-Conomy SEA 2019), Vietnam's E-commerce has been a money-burning race between players to acquire customers. While people are still skeptical about E-commerce's reliability, a huge amount of money is being poured into advertisements and promotions.

E-commerce platforms are accepting a very small profit margin compared to sales, marketing, and logistics costs. Anyone who cannot afford this financial race, in the long run, will end up empty-handed. In 2016, E-commerce's "Big 4" total loss was VND 1700 billion. The number doubled in 2017 and reached VND 5.100 billion in 2018. Shopee and Lazada lose over VND 2.000 billion, while Tiki and Sendo's figures are VND 1.400 billion and VND 1.300 billion respectively.

VNDirect's E-commerce report emphasizes that in order to gain 1% of market share from other competitors, a company has to spend around VND 142 billion. Local-based companies have to keep seeking for investment as there is no sign of the race ending any time soon. On the other hand, regional giants Shopee and Lazada only have to focus on operation and market growth as investment comes from parent companies. Alibaba invested USD 2 billion more for Lazada in 2017, raising the amount of total investment to USD 4 billion, and Shopee's funding from SEA Group is USD 800 million.

Both Tiki and Sendo are considered future unicorn startup companies (valued above USD 1 billion). If both can come to an agreement, a brand new unicorn startup will emerge with enough potential to compete with two foreign companies.
Boxme is the premier cross-border e-Commerce fulfillment network in Southeast Asia, enabling world-wide merchants to sell online into this region without needing to establish a local presence. We deliver our services by aggregating and operating a one-stop value chain of logistic professions including: International shipping, customs clearance, warehousing, connection to local marketplaces, pick and pack, last-mile delivery, local payment collection and oversea remittance.