Looking back at the year 2019 with many surprises for the Vietnam e-commerce sector, while there are various big brand companies suddenly leaving the game, new ambitious players join the heated competition. Overall 2019 witnesses a positive movement of big brands.
Taking advantage of 2019, eCommerce Vietnam 2020 promised to be an outburst of advancement and development. This article will cover 5 insights about e-commerce Vietnam 2020.
>>>Read more:5 critical things to look for in the Vietnam Ecommerce report 2020
>>>Read more:[Infographic] Vietnams E-commerce landscape 2020
1. Shifting emphasize on cost-effective rather than growth
In 2019, as a consequence of constant changes in economy and customer behavior, the business world witnessed the corruption of business unicorns such as: WeWork, Ola- online ride hailing app in India, start-up business names Oya in India. Accordingly, investors become more cautious than ever and more focus on long-term sustainability.
This creates a trend among the business world that companies now place more emphasis on profit. Stated by Teddy Oetomo, chief strategy officer of Indonesia start-up "Our focus is no longer growth, but to build a sustainable company".
Vietnam also followed this path in 2019 with the closure of two online e-commerce marketplaces which are Lotte.vn and Adayroi. These two companies decide to change their business strategy to move towards a new retail model instead.
The remaining e-commerce marketplaces in Vietnam listed Shopee, Lazada, Tiki and Sendo are great reliant partners in both international and national budgets. According to the report from Iprice Group: eCommerce Vietnam 2020, all four leading e-commerce marketplaces suffer a huge loss in 2018 and are currently under a recovery stage in 2019 by keeping on asking for investment from foreign shareholders.
2. Enhancing infrastructure capability
A recent research conducted by IPrice and Parcel Perform on 34.2% of e-commerce users pointed out the missing piece of eCommerce Vietnam 2020 of the dissatisfaction in terms of delivery experience. Leading e-commerce marketplaces in Vietnam are racing to enhance customer's satisfaction ratings by focusing on improving the quality and the speed of delivery service.
>>> Read more:Vietnam media landscape 2020; 5 changes to notice
For example, the top e-commerce marketplace in Vietnam, Tiki has been pioneer as one of the first companies to introduce the TikiNow – fast delivery within 2 hours. In order to execute the strategy, Tiki requires sellers to keep all items at its warehouses for quick delivery. Tiki is also investing their money into warehousing by signing a deal with Unidepot, a logistics provider which has 35,000 square meters of warehousing space in the country.
Following Tiki's example, other competitors start pushing out various instant quick delivery such as Sendo, Shopee with GrabNow,…
>>> Read more:Who is the leading eCommerce platform in Vietnam?
It is likely that Vietnam e-commerce 2020 will witness an emerging trend of e-commerce marketplaces racing to build and enhance delivery infrastructure.
3. Increasing demand for convenience stores
As stated by the international grocery research organisation IGD, while Asia is said to be the largest market for grocery market and convenience stores, Vietnam stands as one of the fastest-growing regions in terms of convenience stores. It is forecasted that Vietnam's convenience market growth by 2017-2021 is 37.4%
The outstanding growth of this market thanks to the increasing young population, disposal income and rapid urbanisation. Furthermore, convenience stores offer various utilities, near location, great service, excellent choice of products, well-organised shelves, longer service time which are practical, advantageous.
>>> Read more:The map of Vietnam Ecommerce (statistics from iPrice)
Additionally, among brick and mortar stores, mini mart business models are gaining market share with penetration, frequency and most spending.
4 Mobile use and e-payment are gaining quickly in eCommerce Vietnam 2020
Mobile commerce is expected to grow faster than overall e-commerce, at a compound annual growth rate of 18.6 percent to 2023, by which point it will represent a VND235,895.1 billion (US$10.2 billion) market in sales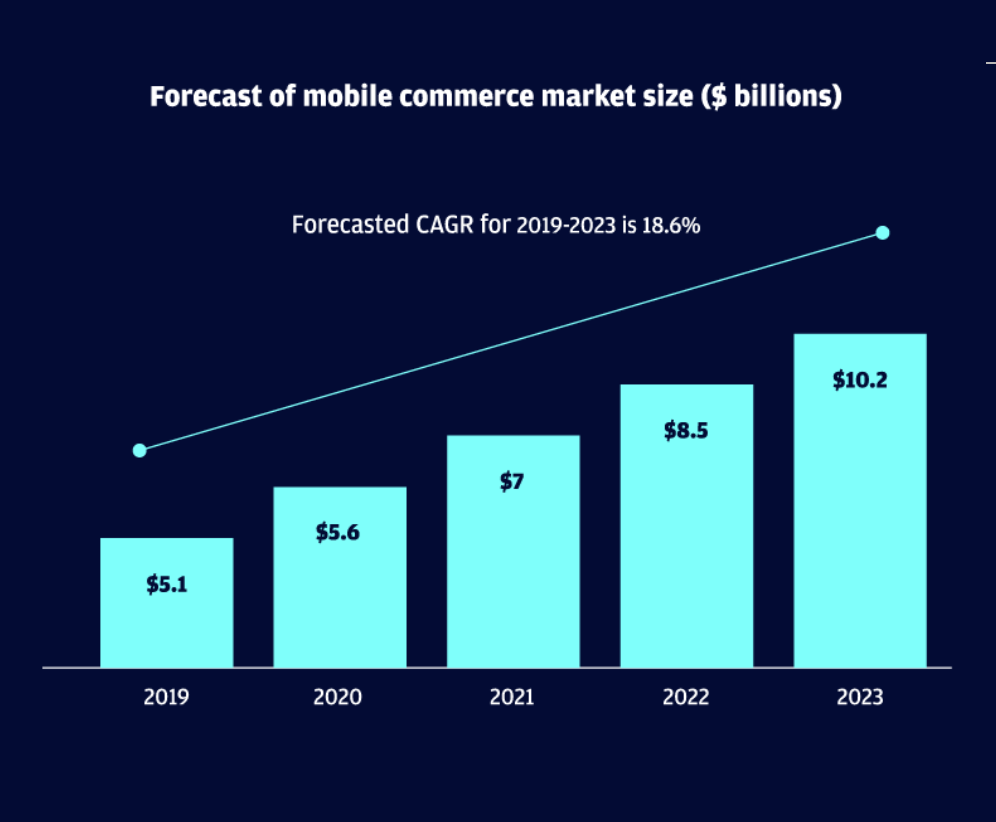 Accordingly, social e-commerce also shows a surge in a number of users with a penetration rate of 83 percent among the younger generation group.
Cash payment is still a mainstream in eCommerce Vietnam 2020 as well as cash on delivery service which takes up to 26% of all payments. However, till 2026, card payment is expected to take over traditional one and become the primary method of shopping in Vietnam as more and more people open bank accounts.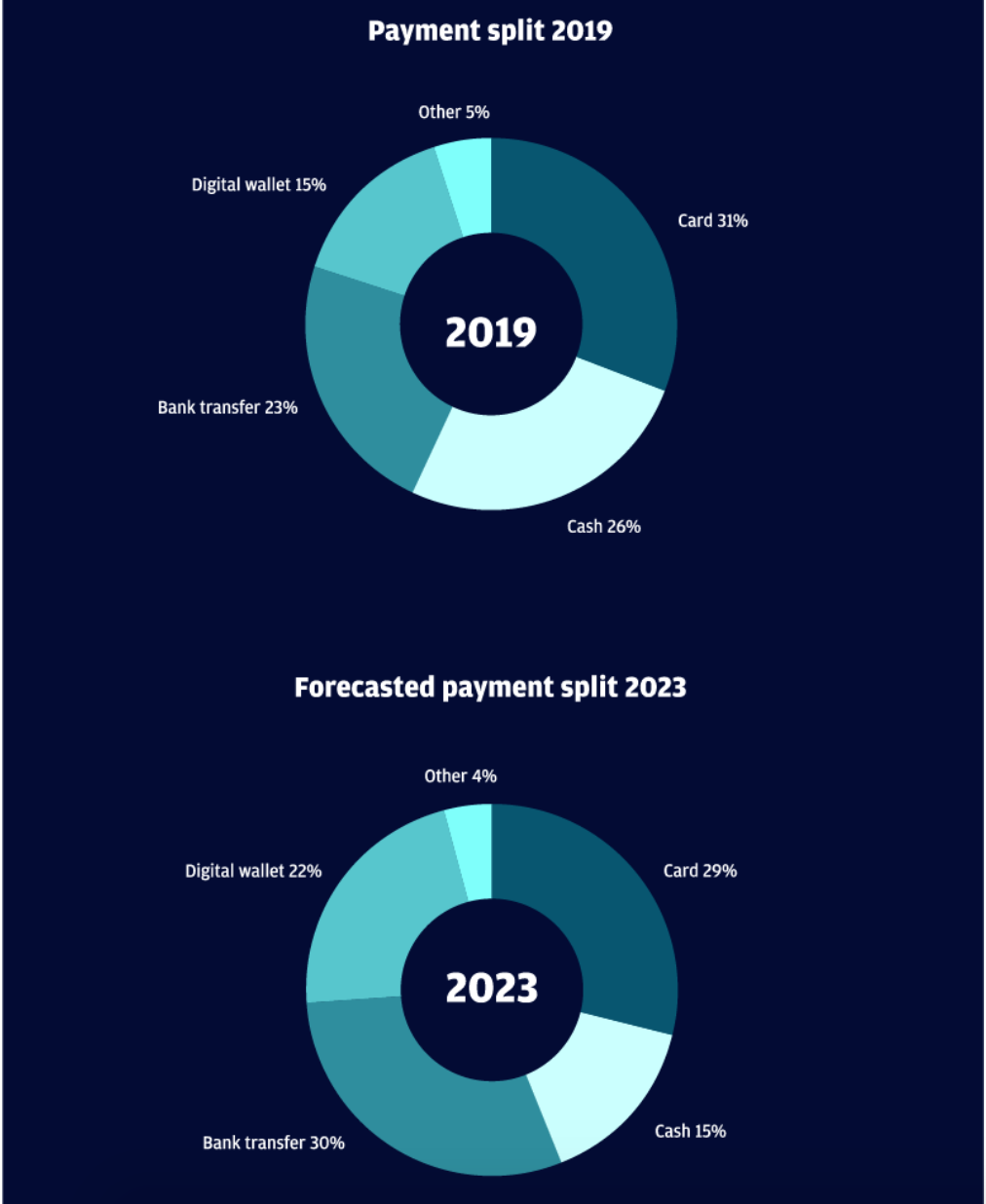 >>> Read more: Vietnam media landscape 2020; 5 changes to notice
>>> Read more:Vietnam eCommerce is heading for the period 2021 – 2025
5. Rising market share for SME e-commerce businesses
Since 2009, in contrast with the downfall of big e-commerce businesses in Vietnam is the advent of start-up e-commerce businesses. Listed as Lozi, Vietnam's one-hour-delivery e-commerce company had successfully entered Vietnam's market with the enormous funding of eight-digit numbers. Telio, a B2B platform using technology and data.
Technologies and infrastructures supporting e-commerce, such as online payments, logistics and customer relationship management tools are becoming more advanced and accessible. Which facilitate small and start-up e-commerce businesses easily and effectively enter Vietnam market
Supplementary factor that contributes to the rising opportunities for SME e-commerce businesses is the ever-increasing demand of Vietnamese population in online shopping ( Cited in IPrice's map of e-commerce)
6. More readings?
>>>[Infographic] Vietnams E-commerce landscape 2020

>>>10 Things About Vietnam Ecommerce You Have To Experience It Yourself