On the occasion of the Tiger's New Year 2022, the Boxme team compiled the Southeast Asian E-commerce Calendar 2022 as well as a gift for you.
Introducing Southeast Asia E-Commerce Calendar 2022
The Southeast Asia 2022 E-commerce calendar summarizes important holidays in the region, compiled by Boxme Global with the aim of helping businesses and sellers create appropriate and effective E-commerce campaigns in 2022.
To know all the shopping events coming up in 2022, download the free Southeast Asia E-Commerce Calendar 2022 here, or download the File at the end of the article.
This E-Commerce calendar provides a lot of information about the most important shopping days of the year, along with useful tips to prepare for eCommerce stores.
The below article is some information summary of the E-commerce Calendar 2022 which is compiled by Boxme.
>>> Read more: The Best Ecommerce List in Indonesia 2021
January
January is a festive month when Southeast Asians celebrate the New Year and prepare for the 2022 Lunar New Year.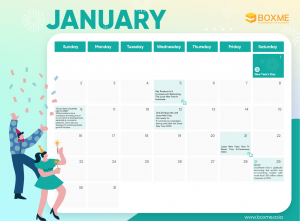 Do you have a business plan for 2022?
2022 promises to be a continuous booming year of e-commerce in Southeast Asia, especially e-commerce platforms. Don't miss any strategy for boosting business growth this year.
 >>> Read more: Top 6 Best Ecommerce Websites in Malaysia 2020
February
Thailand's Buddhist holiday is coming – one of the biggest holidays of the year in Thailand. Products related to Buddhism can help you increase sales in this market.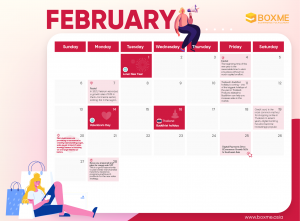 Top Tip: Many businesses are promoting e-commerce by creating many landing pages, sales pages to launch sales strategy instead of focusing on one large website as before.
 >>> Read more: Digital payments drive ECommerce growth 162% in Southeast Asia
March
Megasale E-commerce platform 3/3 is a great opportunity to plan winter merchandise inventory clearance programs and launch products for the new sales strategy.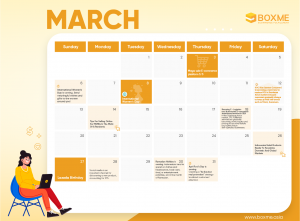 Don't miss the great sale of Lazada's Birthday 27/3. There will be many special promotions for sellers increasing sales for their Ecommerce stores.
 >>> Read more: The Most Effective Online Selling Tips for Finding Customers!
April
Traditional Thai New Year – Songkran takes place from April 13 to April 15. This is the official New Year of the Thai people, also known as the Water Festival.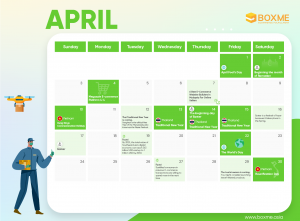 This year, the month of Ramadan begins from April 2 to May 3. This is the holiest month for Muslims. This month, Muslims plan to spend more on clothes and headscarves, body care products, food, or leisure activities.
 >>> Read more: The Best Ecommerce List in Indonesia 2021
May
Top Tip:  For an e-commerce business, quality delivery service with reasonable cost is a leading factor to success. So many companies have switched to Automated Fulfillment to save time and capital to focus on increasing sales.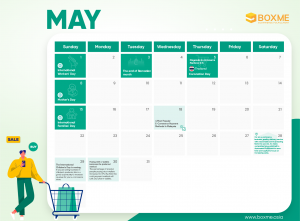 Facts: Paying with e-wallets becomes the preferred method
The percentage of popular people paying via e-wallets increased to 37%. By 2022, the cash payment method will rank 2nd after e-wallets.
 >>> Read more: Indonesian Ecommerce Association Handles Many Counterfeit Products Circulating in E-commerce
June
International Children's Day 1/6. If you are doing business in children's products, this is a good opportunity to increase revenue for your e-commerce store.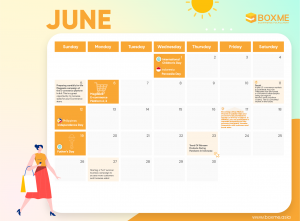 Preparing carefully for the Megasale campaign of the E-commerce platform in 6.6. This is a great opportunity to increase sales for your Ecommerce store.
 >>> Read more: Why Vietnam is your next E-commerce stop
July
Eid al-Adha is coming – the festival ends the month of Ramadan. On this day, Indonesian Muslims decorate their homes, buy new furniture, visit relatives and friends and give each other gifts.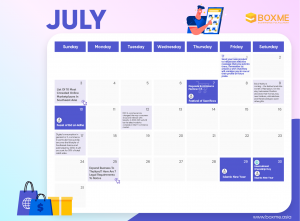 Top Tip: Sending your new product to influencers with the message that you admire them. Remember to attach a wish that they will mention you in one of their profile or forum posts.
 >>> Reading more: Indonesian Ecommerce Association Handles Many Counterfeit Products Circulating in E-commerce
August
Facts: 86% of Southeast Asians said they shop online more on "double e-commerce days". These iconic days also attracted 43% of first-time online shoppers, the highest consumers from Thailand and Vietnam.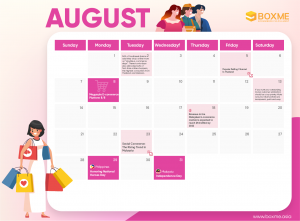 If you want your outstanding brand, customer satisfaction should be a top priority. Make sure your return policies are transparent, quick and easy.
>>> Read more: Social Commerce: The Rising Trend in Malaysia
September
Top Tip: Regular customer surveys are indispensable in marketing to help you understand more your products in the customer's eyes, then giving directions for changes, cross-selling other related products in a more reasonable way.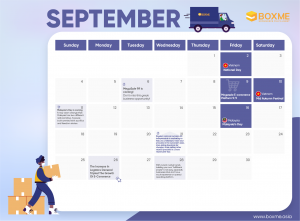 Malaysia's Day 16/9. It may seem strange that Malaysia has two different national days, however, both are tied with sacrifice and freedom stories.
 >>> Read more: Top 10 Best Courier Services in Malaysia 2021
October
Top Tip: Three important indexes when doing E-commerce business: Traffic, Conversion rate, AOV (Average Order Value)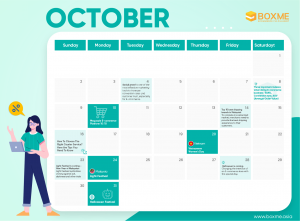 Light Festival – New Year of Malaysian takes place on October 24
The Light Festival symbolizes victory against evil, darkness and other challenges.
 >>> Read more: Tips for Selling Online for MSMEs in the Midst of a Pandemic
November
Singles' Day 11.11 is a holiday that originated in China and has gradually become an important sales campaign of Southeast Asian e-commerce. Megasale Singles' Day Ecommerce Platform 11/11 becomes Biggest Megasale.
Black Friday – Black Friday is considered the opening day of the Christmas shopping season.
Cyber Monday – Cyber Monday is known as the online shopping day with attractive promotion.
 >>> Read more: 6 Best E-commerce Website Builders In Malaysia for Online Sellers
December
The last month of the year is a booming time for shopping online. Decoy products are a business strategy to help shops attract customers effectively. Take advantage of this method to increase traffic to your e-commerce stores.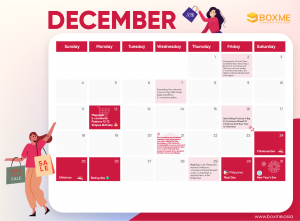 Megasale E-commerce Platform 12/12 as well as Shopee Birthday a great opportunity to increase sales and reduce inventory.
 Read more: Houseplant Trend Grows In Malaysia
Conclusion
Hopefully, the Southeast Asia 2022 e-commerce calendar compiled by the Boxme team will help you summarize the important holidays of the year. Then, e-commerce businesses and sellers can plan appropriate and effective Ecommerce campaigns in 2022.