Vietnam, an S-shaped country in the Southeast Asia region, is often imagined through the lens of war by many foreigners. However, after more than 40 years of reunification and development, the country is consistently ranked among the fastest-growing countries in the world with a high GDP growth rate. As the 15th populous country in the world (95.5 million), Vietnam is experiencing a golden population period with the majority of its being under 30, which explains the bursting Internet and smartphone penetration rates. 
According to Southeast Asia's 2019 Internet Economy study, Vietnam is bolting ahead in growth rate, with E-commerce as a key driver. Being the third most-funded country in the region after Indonesia and Singapore, investors are optimistic about the country's E-commerce future as a top destination for global sellers.
A booming market
The total gross merchandise volume (GMV) of Vietnamese E-commerce in 2019 is $5 billion, setting the compound annual growth rate (CAGR) of the sector to 81% in the 2015-2019 period – among the region's highest. By 2025, GMV is expected to reach a bold amount of 23 billion, while the CAGR slowed down to 49% reaching the mature point. There is plenty of room for Vietnam's E-commerce sector to grow, and a piece of the pie for any players who know to invest wisely.
In terms of spending, a typical Vietnamese shopper spend $54.14 for online shopping in 2019, 28% more than the amount in 2017 ($42.3).
This tremendous growth is largely contributed by the high Internet penetration rate and the heavy promotions from E-commerce platforms. The sector has attracted investors from all over the world, especially Japan and Korea. The list of investors includes several big names from tech giants, venture capital firms and investment companies like Alibaba, Tencent, Temasek Holdings, Dragon Capital and IDG Ventures Vietnam.
Young & tech-savvy population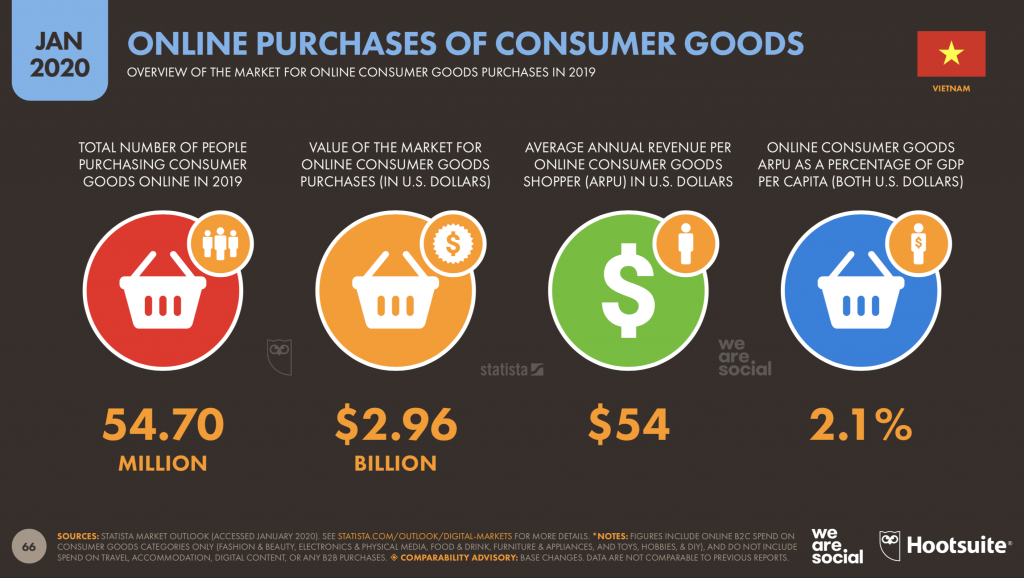 User scale
Statistics show that Vietnam's flourishing market brought in $2.96 billion in 2019 in revenue. Out of 68 million internet users in Vietnam, 54.7 million of them are already making purchases online.
Demographics
Vietnamese spend an average of 7 hours a day online, which is slightly longer than the world average. Merely more than one-third of Vietnamese live in urban areas, however, they are the main users of E-commerce due to technology and logistics advancement. 90% of the urban population has at least one smartphone while the figure for the rural population is only 50%.
Young people aged 25 to 34 years old are the most active shoppers with nearly one-third of the total amount, followed by the 35-44 (25%) and 18-24 (20.1%) age groups. The percentage of participation is evenly divided between genders and income groups.
Payment
Cash on Delivery (CoD) is still the main payment method. Most people aren't exposed to online payment or consider it troublesome, thus it only accounts for 25% of online transactions. Nevertheless, Vietnamese are quick to adopt new technologies like mobile banking, QR codes or E-wallets with strong growth in recent years.
Various products to sell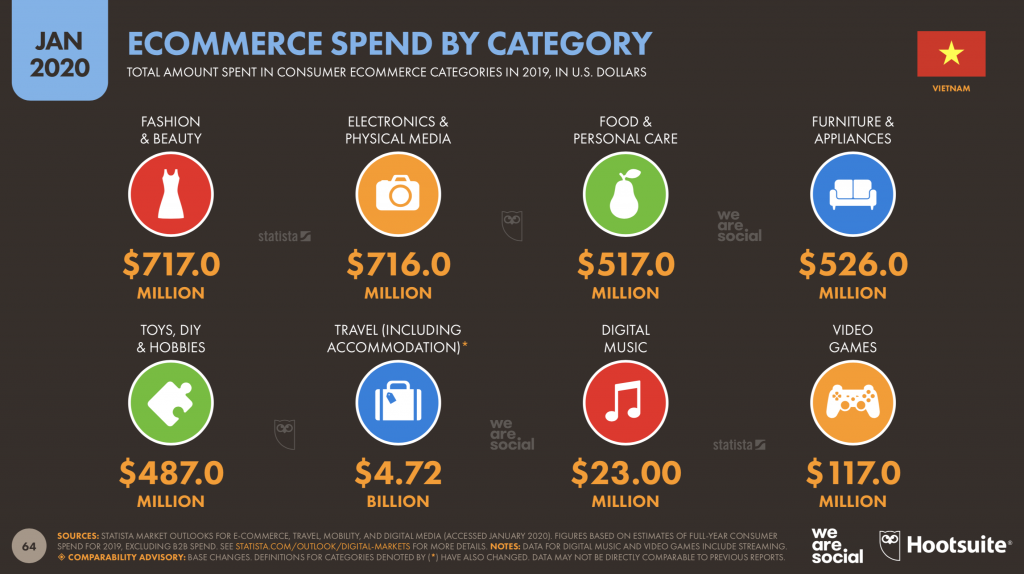 Figures from Jan 2020 indicate that the most profitable categories for E-commerce are travel ($4.72 billion), fashion & beauty ($717 million), and electronics ($716 million). Vietnamese values precise product information such as origins and quality, and they are willing to pay more for premium products.
Multiple marketplaces
E-commerce platforms
Most recent statistics revealed top E-commerce marketplaces in Vietnam, with a mix of regional local players.
Shopee dominates in both areas: websites and mobile devices. Sendo made a breakthrough in 2019 as the second most-visited website, the second most-download application and the fourth app with most active users. Other significant names are Lazada and Tiki.
Shopee and Lazada: Singapore-based marketplaces with Southeast Asia coverage
Tiki and Sendo: Local companies with foreign fundings
–> Read more: Top E-commerce platforms in Vietnam to sell cross-border
Social media
Surprisingly, the number of active social media accounts is equal to the number of internet users: 59 million, which is already two-thirds of the population. Due to consumer's constant presence on social media, it has become the second-biggest marketplaces for online stores, after E-commerce platforms.
A survey by Q&Me research firm confirmed that Facebook is the primary platform for online shopping, followed by Instagram and Zalo. The most common products are fashion, beauty and tech gadgets. Additionally, what customers value the most from social media shopping is the one-app experience and instant support from sellers.
–> Read more: Social Media Is Still A Major Shopping Platform In Vietnam
Affiliate program
Affiliation refers to the action of paying commission to external websites for traffic or sales generated from its referrals. Since E-commerce entered the country in the early 2010s, Vietnam has developed a widespread affiliate network for product marketing. By using affiliate programs, brands can easily kick-start their business and popularize their products.
Supporting regulations
E-commerce is strongly supported by the government to boost consumer consumption. The government issued Decree No.52 on E-commerce in 2013, creating favorable conditions for more businesses to enter and expand. Businesses also have to comply with rules and regulations as stated in the Decree in order to ensure fairness between E-commerce and traditional commerce.
However, the rapid rise of E-commerce also comes with violations that the outdated Decree has yet to address like counterfeit products, cross-border transaction or personal data protection; which calls for new action from the government.
–> Read more: What To Know About Vietnam's Import Tax & Regulations
Boxme solutions

As the premier cross-border E-commerce fulfillment network in Southeast Asia, businesses that consider expanding to Vietnam can consult with us in order to draw out the perfect market entry strategy. 
Using Boxme's global drop-shipping platform Netsale, selling to foreign countries has never been easier. Businesses don't have to build a local presence as Boxme will handle all logistics matters for you with the most optimized time and cost.
With the mission of enabling international trade between the local region and the global market, Boxme has partnered up with various E-commerce platforms and shipping couriers throughout 4 years of operation. Via Boxme, businesses can find the most suitable solution to their logistics matters, from fulfillment, transportation, import/export to last-mile delivery.