The COVID-19 pandemic struck Malaysia with such severity that it led to a country wide lockdown and Movement Control Order (MCO) that came in phases depending on the severity of new cases in each state.
Green Fingers During Lockdown
While being homebound as a means to stay safe and help curb the spread of the virus, Malaysians found themselves without much human interaction and had limited activities. As a way to occupy themselves, many Malaysians started a new hobby and interest in taking care of houseplants and gardening.
The trend started from the US and slowly gained popularity across the world and in Malaysia, particularly in the heavily populated areas that were most badly affected by the COVID-19 pandemic. A growing trend of 'plantfluencers' where social media influencers talk and share information about houseplants and gardening is also gaining traction as more people want to learn about plants and gardening techniques, as well as watch and admire aesthetic looking plants.
Among some of the reasons the hobby became popular was because it is believed to help improve indoor air quality. Malaysians who stayed in apartments were quick to purchase houseplants that were easy to maintain and tend for. Some plant owners also drew similarities to pets like dogs and cats, saying that houseplants are the perfect pets for Malaysians who are busy with work.
Not only that, plants and nature have a positive effect on mental health. Some new plant owners keep plants as a means to help improve living conditions as the pandemic and countrywide lockdown caused many Malaysians to experience anxiety and stress. It has been scientifically proven that plants and greenery have a soothing effect on human minds, boosting moods and helps people feel more relaxed and calm.
Most of the trending houseplants are low maintenance species that only require minimal light, space and water. Some of these plants are easy to take care of because they do not require a lot of space and do not grow too big. They also do not require too much light whereby simply keeping them next to a good light source such as the side of a window or on a balcony would suffice. Some examples of these plants are snake plants, photos plants, succulents and cacti.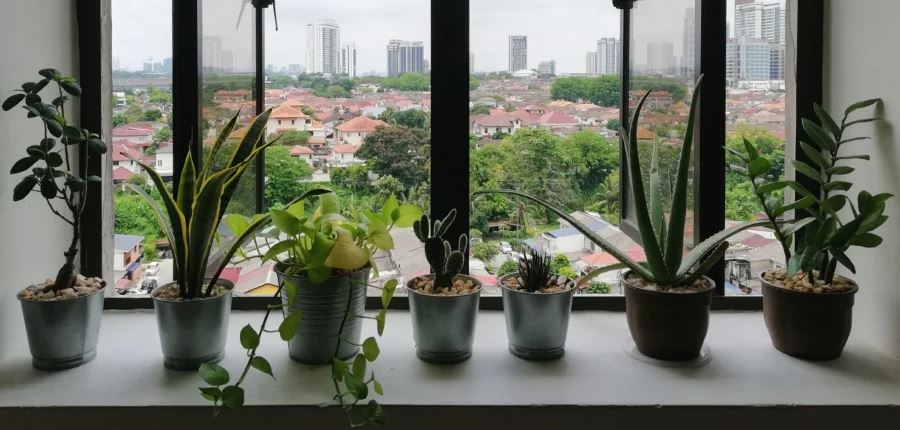 Recently there has also been a trend and subsequent demand for houseplants that have unique decorative properties that are also low maintenance such as staghorn fern and monstera plants.
Other popular plant species are carnivorous plants such as pitcher plants and venus flytraps that snag and eat insects like mosquitoes and flies. These types of plants can help to reduce and keep away pests that are unwelcomed.
Aside from houseplants, Malaysians also developed interest in gardening. Making full use of their gardens at home, Malaysians have learned and tried planting all kinds of vegetables, fruits, and herbs. Among the popular species include curry leaves, mint, cilantro, tomato, okra, chilli, and spinach among others. Most of these plants were grown with the intention to harvest the produce for personal consumption as a means to cut down on spending at the supermarket during the midst of the pandemic.
Some Malaysians even went the extra mile to learn how to grow their own papaya trees, cempedak trees, mango trees and even durian trees. 
Keeping Nurseries Afloat
Due to the increase in demand for houseplants, nurseries and gardening equipment suppliers were able to sustain their business during the nationwide lockdown in Malaysia.
Local nurseries saw an increase in demand for their products from seeds, seedlings and a wide range of gardening tools and equipment during the MCO.
The MCO set by the Malaysian government only permitted essential services to operate and thus nurseries were forced to suspend their business. However, as demand came pouring in, most nurseries learned to set up their store online and adopt e-commerce to reach their customers. Using e-commerce platforms and local courier services, the nurseries were able to meet demand and continue to keep their business afloat during the lockdown period.
Some SMEs, independent plantfluencers and entertainment portals extended their help by sharing details about nurseries that are able to deliver during the MCO, and also offer a platform to spread awareness of these nurseries..
How To Sell Houseplants Online
As houseplants and gardening are becoming the trend in Malaysia, it would be an opportunity for related businesses and business models to seize the opportunity for revenue and growth.
During the midst of the lockdown period, businesses will need to set up their online store to keep up with the times, especially so when certain business sectors are either restricted or forced to close during MCO in Malaysia.
Social media platforms such as Instagram works in the favour of plant nursery businesses. Businesses can showcase their range of houseplants and gardening products on the photo and video preferred platform. As Instagram now has an online shop feature, businesses can make use of the feature by directly communicating with customers and making transactions on the platform itself.
Businesses will also need to be able to ensure that their products are delivered safely and carefully. Plants require nourishment such as water and sunlight, and will require to be handled carefully to avoid snapping or breaking. If they are delivered using stand courier services, they could be damaged during transit and the customer would be dissatisfied with their purchase.
By working with same day delivery services such as Lalamove or Grab Delivery, customers will be able to receive their houseplants hours after their order, ensuring that the plants do not die from the lack of nourishment. Customers can also rest assured that the plants they ordered will be transported carefully with personalised delivery services as instructions can be given to the drivers to take additional care for the package.
> Read more: Social Commerce: The Rising Trend in Malaysia
Planfluencers
One of the contributing factors of the surge in interest for houseplants and gardening is the rising trend of social media influencers who have great interest in plants, also known as 'plantfluencers'. These plant fanatics dedicate themselves to transforming their homes into urban jungles or personal plant nurseries, caring and tending to a variety of plants.
The trend has been around since 2018, but it only recently erupted during the peak of the COVID-19 pandemic around the world when several countries were in lockdown and people around the globe had nothing much to do. Google trends registered a huge growing increase in searches related to plants and gardening with its peak in April of 2021.
Final Words
Keeping plants in homes has numerous benefits. Aside from being inexpensive pets, gardening and looking at plants is good for morale, mental health, and can improve living conditions.
This trend of houseplants and gardening also has good implications for the economy and nature as it promotes awareness in the importance of caring for nature and the environment. Plant owners have been known to adopt and take care of abandoned plants or stray plants found in unsuitable environments.
As the trend continues to be in demand in Malaysia, nurseries that are not online yet should learn to adopt and expand their online presence to seize the opportunities of growth and revenue.
With the awareness of various nurseries and local brands selling houseplants and gardening paraphernalia, as well as the onboarding of various plant nurseries onto e-commerce platforms, the agricultural and e-commerce industries in Malaysia are expected to grow and contribute to the country's economic recovery from the impacts of the pandemic.
More Reading
>> Online Grocery Rising Trend Amidst COVID-19 in Malaysia

>> Malaysia's Ecommerce Economy Thrives During COVID-19