Social media has become an integral part of everyone's life in the 21st century, especially among millennials, students, academics, and also practitioners. Part of the main reason is that social media lets people share their daily activities, keep up to date with the news and trends, and tap into markets or communities.
With such a growing adoption of social media among communities across the globe, social commerce becomes one of the top channels for businesses to connect with consumers and sell their products and services to their customers. In simpler terms, social commerce is the act of doing e-commerce activities on social media platforms. Some primary examples of social commerce tools today include Facebook business pages, Instagram shopping and many more.
Social Commerce In Malaysia
Malaysia is the fourth largest market in the world for social commerce adopters, with social media users who are highly likely to convert into paying customers.
The country places itself in such an advantageous position because of the country's large population of around 32 million people, of which approximately half are digital savvy consumers aged between 18 to 54 with a internet penetration rate of 83%, whereby roughly 26 million are active social media users. To top it off, e-commerce adoption is high with more that 70% of its consumers already shopping online in 2020.
> Read more: How Malaysians shop online
Social Media For Product Research
Malaysians don't just use social media as a means for communicating and sharing content. When looking for information about potential purchases, most Malaysian consumers would turn to social media.
A survey conducted by Econsultancy and Magento found that more than 8 in 10 Malaysian consumers use Facebook to look for recommendations and reviews and around half do the same via Instagram and YouTube.
Using social media, consumers would share their thoughts, opinions and reviews about their purchases which in turn would influence their peers' purchasing decisions. BigCommerce reports that 23% of online consumers are influenced by social media recommendations, and 84% of online consumers would check reviews on at least one social media website before purchasing.
Not only that, 7 in 10 Malaysian consumers agree, either strongly or somewhat, that they would purchase a product online after seeing them on social media, either as an advertisement (alternatively known as sponsored post) or as a content shared by their peers.
> Read more: How Gen Z shops online using social media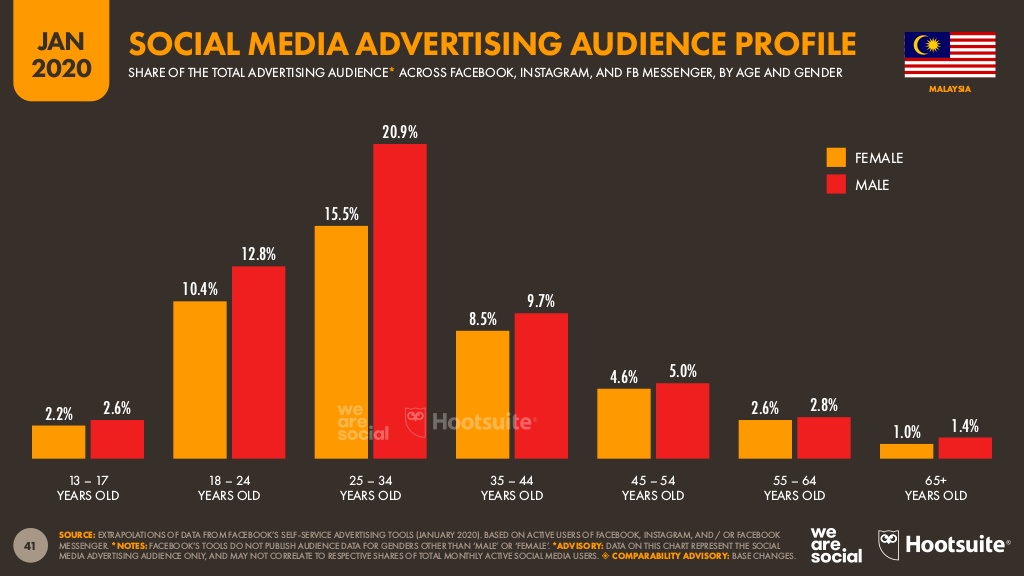 Influencer Marketing
With the increasing popularity of social media in Malaysia, there came the boom of social media influencers who promoted and marketed sponsored products and services from brands and businesses to their followers, fans and peers.
Businesses and brands that have seen the impact of social commerce offer sponsorships and endorsements in hopes of borrowing the reach and credibility of popular social media influencers. In recent years, influencers have evolved into more modest content creators who share and produce content that revolve around a specific passion such as food or fitness. Using this trend, it has become easier for businesses and brands to decide on which social media influencers to reach out to.
Not skipping out on the viral impact of social commerce, businesses and brands have started to take notice of smaller scale influencers, or "micro influencers" as their followers are often niche consumers who seek very specific content. Doing so, brand awareness would be able to reach all if not most corners of their potential market.
> Read more: 3 Predictions of the e-Commerce Market in 2021
Entertainment In Social Commerce
Aside from relying on the "word of mouth" element of social commerce, entertainment is also a crucial feature of online shopping. Promotional content needs to keep up with the trend of short, engaging and eye-catching content that can be relevant to the target audience.
Given the fast-paced nature of the current generation, photos and short videos are the kings of social commerce. Consumers on social media are quick to skip forward to the next social media post or video if the content they're looking at is uninteresting enough to capture their attention. Businesses and brands would need to be specific and creative to produce content that will be able to draw the attention of their target audience as social commerce should be done selectively and tastefully, and should not be a blanket strategy for all products.
With the aid of targeted advertisements, effective social commerce will be able effectively convert social media users into potential customers.
Aside from short videos and photos, another social commerce element is livestreaming. What originally started off as a means for social media users to share their livestream for socialising became an outlet for businesses and brands to share and talk about their products and services that they offer. With the help of social media influencers, businesses and brands can tap into their existing fanbase and followers.
Fans and followers would tune in to watch these livestream sessions to learn more about products and services that they have interest in. During the livestream, the presenter can interact and engage with their audience in real time, providing them with more information, instructions and promotions.
> Read more: Facebook Shop – turning social media to a real E-commerce platform
Overview of Social Commerce
In the present digital savvy generation of Malaysians who spend an approximate average of 2 hours and 45 minutes a day on social media, social commerce is the trending driving force that will help shape the e-commerce economy in Malaysia.
Most Malaysian businesses strongly believe that social media is a strong medium that helps drive online sales and spread brand awareness. Despite many Malaysian consumers not actually purchasing directly from social media platforms, it is undeniable that social media plays a vital role in the discovery and research phases for most Malaysian consumers before purchasing a product or paying for a service.
Given the current e-commerce economy development in Malaysia and the adaptation of more online shopping technologies, the influence of social commerce and social marketing will continue to grow and become an important factor in the Malaysian e-commerce market.
More Reading