On the shopping event 11.11, three dominant Vietnamese e-commerce marketplaces listed Lazada, Shopee, Tiki, and Sendo had rolled out various promotional events, musical live shows, and integrated game discount vouchers. Consequently, this has brought in an extraordinary and stimulating shopping experience for customers. Furthermore, live music shows captivate remarkable users, traffic to the three Vietnam eCommerce marketplaces. Lazada's live stream had broken the Vietnam Livestream record with over 380.000 people watching.  
On the 1st hour of Single's day
Shopee stated that there are over 20 million visits across the region.
Lazada and Tiki also doubled their sales record last year on October 10.
The Vietnamese Minister of Industry and trade had reported the surge in online shoppers on eCommerce marketplaces over the year from 2016 to 2019 and further predicts the figure to continue at the growth rate of 30%  in 2020 and the scale of eCommerce will exceed 15 billion UDS.
Overall the festival 11.11 has not only brought in shopping at value prices for customers but also enable sellers and brands to upsurge their sales. After the Single's day event, the three biggest Vietnam eCommerce marketplaces have marked their impressive sales, and Let's have a closer look at what each eCommerce marketplaces had accomplished this Single's Day sale 2020.
1.1  Vietnam eCommerce marketplaces-  Lazada
Lazada has always on the lead of the most " discounted" Vietnam eCommerce marketplaces with heavy investment from all range of discounts events from logistic to promotional policy to live show music on 11.11. In particular, in the Vietnam market, Lazada generously invested double times on marketing campaigns, discount codes, freeship vouchers compared to last year's program. At the same time, in terms of shop entertainment, Lazada continues leading the Vietnam eCommerce marketplaces with the larges scale of music festivals hosted by A-class Vietnamese celebrities. With such great effort, Lazada had accomplished massive sales and the new record on Single's day 11.11
Number of orders and buyers: LazMall reports the number of successful orders and shoppers across eCommerce marketplaces double than last year
On the first 2 hours: The number of product shoppers put in the shopping cart doubled from the same period last year during the first two hours of the holiday. Lazada launched a total of 11 million products with discounts up to 50%, the total value of discount codes was 22 billion VND.
Livestream segment: From 1/11 to 11/11, on LazLive Livestream platform has reached a 20 times higher number of online viewers than in 2019. Moreover, there is an increase of around 120% in the number of sellers, brands joining the Livestream platform on Lazada. Especially with Laz 11.11 Super Show had witnessed more than 10 million views with the peak of over 350.000 live watchers on the app which broke the record of Vietnamese live stream of a national streamer.
LazGame platform: According to statistics, players had spent nearly 175.000 hours interacting here and generating thousand of vouchers.
Bestsellers products: Numbers reported from Lazada has shown tremendous sales revenue on various items such as cosmetics, baby diapers, fresh food, electronics. Lazada said that he sold 20,000 smartphones, 3,000 TVs, and 50,000 dining coupons for 1,000 VND in the first 2 hours. Lazada's data also demonstrates that the number of lipsticks sold on 11/11 was enough for 8,000 women to use it for three years. The number of phones sold in the first 2 hours was enough to build a straight line of 9.2 km. Meanwhile, with detergent, the amount sold is enough for 5 million households to use in a day. The amount of meat and vegetables consumed at the Shopping Festival alone is estimated to be enough for all 5,000 households to use within 1day.
Following the 11.11 sale day, many retailers, sellers, and brands on Lazada eagerly show off their successful accomplishment of sale with the revenue up to millions VND in just in one single day. Indicated by the marketing leader of Lazada in Vietnam, Miss. Thuy Hang, that Lazada will surely come up with a more attractive, beneficial promotional program awaiting on 12.12 and final year-end sales. Benchmark of Lazada on this year Single's Day sale has assured the predominant position and role of leading platform in Vietnam eCommerce marketplaces, additionally, the continuous credit in shoppers as well as sellers.
>>> Read more: Become a Top Seller on Lazada: Tips and Tricks
1.2  Shopee
Shopee- one of the foremost Vietnam eCommerce marketplaces that heavily focus on delivering the strongest marketing message to customers on Single's Day together with the biggest Shopee Super Sale 11.11 of the year. Shopee has further created a new milestone in the eCommerce marketplaces which encourages customers to spend more through the Super Sales 11.11. Shopee has noted 10 times higher in the volume of orders placed and sold in one day only. Alongside, Shopee had accomplished many sales targets and records listed below
Bestsellers product categories: Shopee saw a sharp increase in product categories such as health and beauty products, smartphones, and motorbikes. Specifically, Vietnamese shoppers tend to hunt cosmetics on Shopee during sales making over 4,500 beauty products, 16.000 micellar water sold only in the first 8-hour. Smartphones are also a favored choice with 8,000 Xiaomi phones sold during the Sales Event.  Lastly, Shopee buyers utilize attractive discounts to buy high-value items like motorbikes with recorded highest transaction worth 100million VND.
Several popular brands at Shopee recorded a spike in sales with the average total order increasing by more than 1,731 times and the average total visits by more than 1,626 times.
Shopee Live: Over 20 million hours spent on watching ShopeeLive, around 2,5 billion play rounds on Shopee in-app game from users are recorded. This number additionally mark the growing popularity of the in-app game
Shopee has set a new benchmark on the 11.11 Single's Day Sale event with remarkable sale revenue, breaking last year's records and set their name bright on the Vietnam eCommerce marketplaces map. All these thanks to the constant support from Shopee consumers and sellers across 7 markets. Shopee witnessed a sharp growth in revenues, sales, and orders number which has fueled the growth of businesses in Vietnam eCommerce marketplaces. Also, Shopee has opened up new opportunities for sellers as well as small and medium enterprises when participated in the 11.11 event for the first time.
>>> Read more: Boost Your Sales On Shopee With 16 Following Tips (Part 1)
         >>> Read more: Boost your sales on Shopee with 16 following tips (Part 2)
1.3 Tiki
Thanks to the efficacy of Tiki's marketing strategy for the Single's Day super sale event, Tiki notices the spike growth in revenue which is over 50% compared to the sale event on 10/10, three times higher than the same period last year, 7 times than normal day sales revenue. Besides, there outstanding milestone of Tiki's sale after this 11.11 event listed 
TikiNow and TikiPRO, TikiNGON (fresh food delivery): indicated a dramatic rise in orders respectively 5 times, 7 times, and 10 times higher compared to orders placed daily.
Vouchers, coupons: At the same time, 100% of discount codes that were released in 2 days of peak 10 and 11.11 were used. This again shows that the deals and programs that Tiki offers on this occasion have attracted great attention from customers.
Revenue: In just a single morning of 11.11 day, Vietnam eCommerce marketplaces Tiki has collected profit twice as on the 10.10 day, simultaneously the sum of delivered orders and orders in process of 11.11 are the combination of both 10.10 and 9.9
Popular products: Electronics (Samsung, Apple, Laptop, computer, television, tablets), beauty, cosmetic, household equipment.
At Tiki, the chosen solution is to launch a platform that integrates multiple experiences, including live music shows with major artists, on-app games for buyers to operate, earn points, and collect vouchers. Based on the report by the representatives of Tiki, all deals and coupons that customers are keen on all used up in the first 30 seconds at the beginning of the live show music. This further enhances the benefits of shopping integrated entertainment has brought not only an exciting shopping experience for buyers but also promoting and reinforce sales for vendors on Tiki eCommerce marketplaces.
Strongly stated by the CPDO of Tiki, the positive outcome of Tiki on 11.11 has one again claim the economic recovery after the Covid 19 at the same time is a strong proof of the satisfaction, quality guarantee of Tiki's products, service, and events delivered to customers.
Read more: Tiki and Sendo: Vietnam's two biggest local E-commerce platforms in merger talks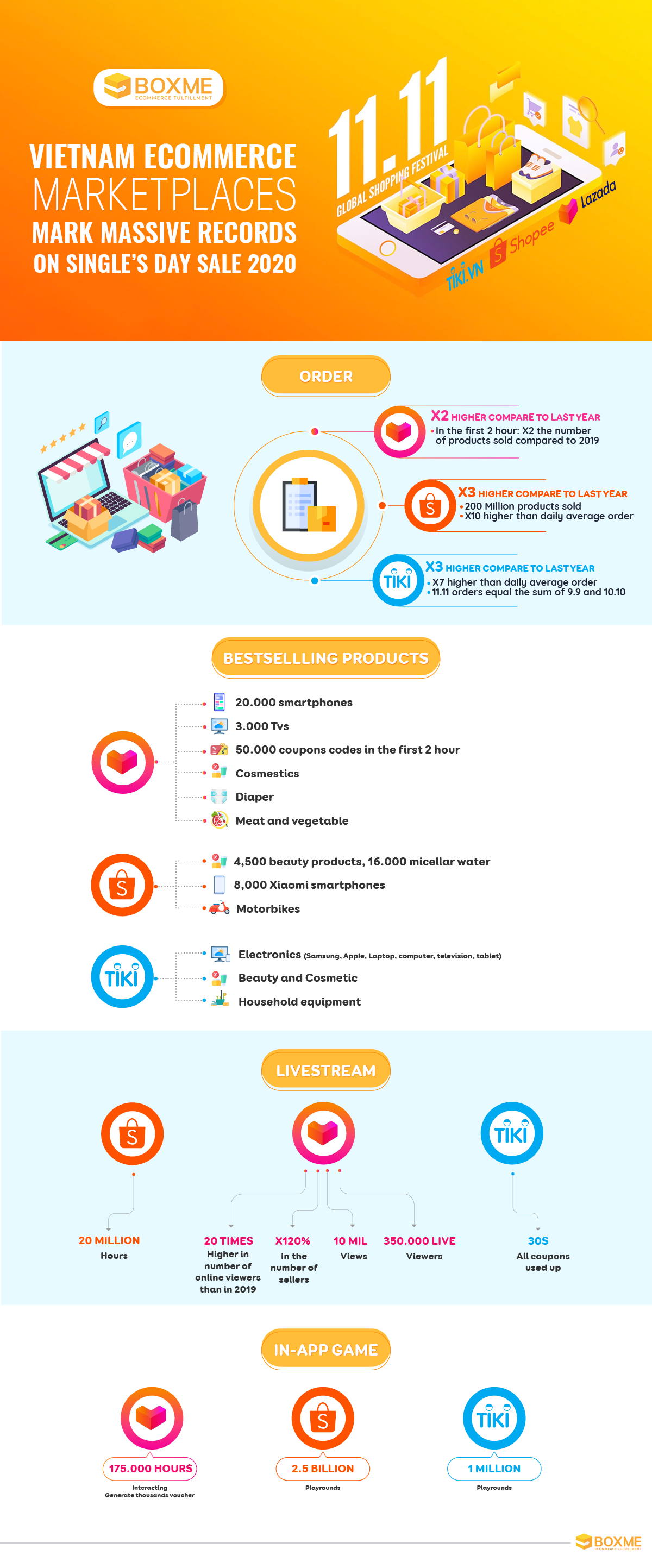 1.4 To sum up 
The reported sales of all Vietnam eCommerce marketplaces on this year Single's Day sale event witness a substantial rise owing to the great effort of heavily release new promotional programs, discount codes and increase customer's interaction. In agreement with Google and Temasek's statement, the size of Vietnam's e-commerce marketplaces in 2020 will reach 7 billion USD, up to 46% compared to 2019. This also explains the the positive effect from this shopping festival.
The magazine Criteo further strengthen the power of 11.11 day sale on boosting sale across Vietnam eCommerce marketplaces, this day continues to be the biggest sale event in Vietnam and SEA region.
About Boxme: Boxme is the premier E-commerce fulfillment network in Southeast Asia, enabling world-wide merchants to sell online into this region without needing to establish a local presence. We deliver our services by aggregating and operating a one-stop value chain of logistic professions including: International shipping, customs clearance, warehousing, connection to local marketplaces, pick and pack, last-mile delivery, local payment collection and oversea remittance.