The e-commerce industry in Malaysia is steadily growing with the increasing rate of digitisation of local businesses, small to medium enterprises (SMEs) and micro to small and medium enterprises (MSMEs).
Mobile phone and internet penetration rates skyrocket as more and more Malaysians are shopping online. The penetration rate is also propelled from the effects of Malaysia's Movement Control Order (MCO), a safety measure to curb the spread of the COVID-19 virus in 2020. Malaysians across the country stayed at home during the lockdown and had to purchase their daily essentials and groceries from e-commerce platforms and websites.
As a result of the adaptation of online shopping among Malaysian consumers, online sales saw a rise of 28.9% in April 2020. The rise suggests the expansion and demand of e-commerce in Malaysia as a lucrative market.
Throughout the multiple implementations, relaxing and reimplementing of MCOs (1.0, 2.0 and 3.0), Malaysians' shopping habits took multiple changes as priorities shifted during each phase of the COVID-19 pandemic.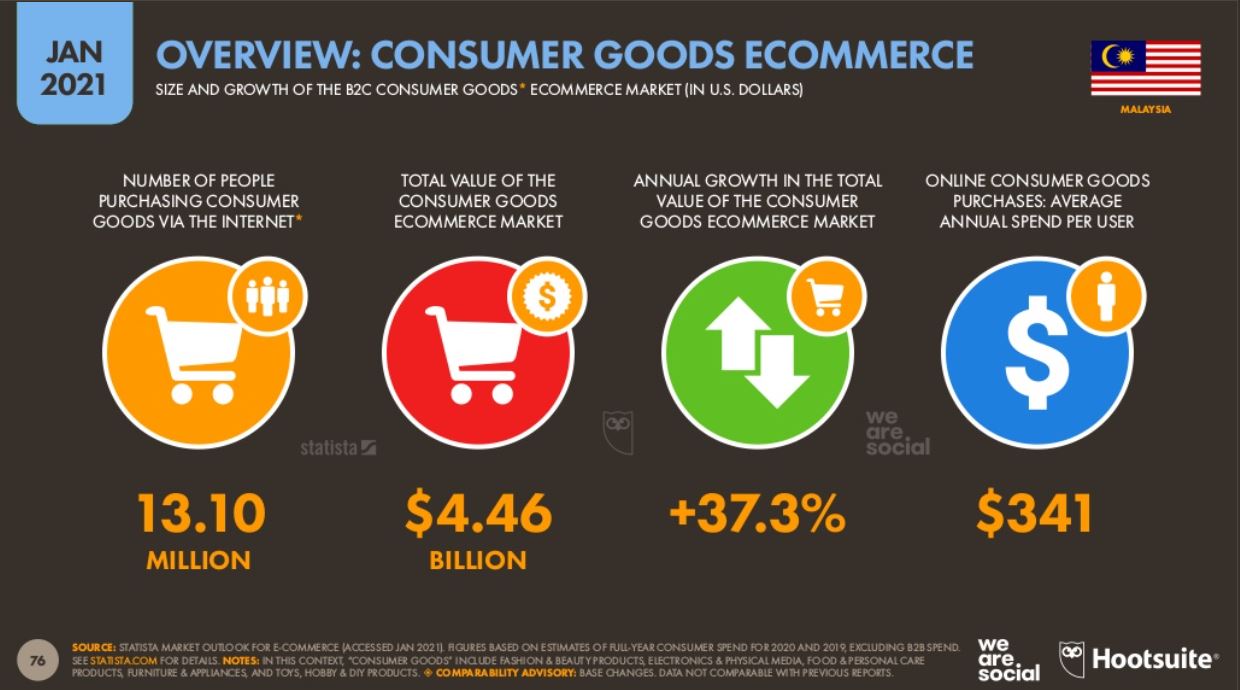 Top Products Of 2021
As an online merchant, it would be beneficial to assess and know if one's product is in demand in the country's market they wish to enter. Malaysia's e-commerce market has a wide range of demand depending on season, however it is generally notable that the top three most popular product categories are electronics, fashion, and personal care.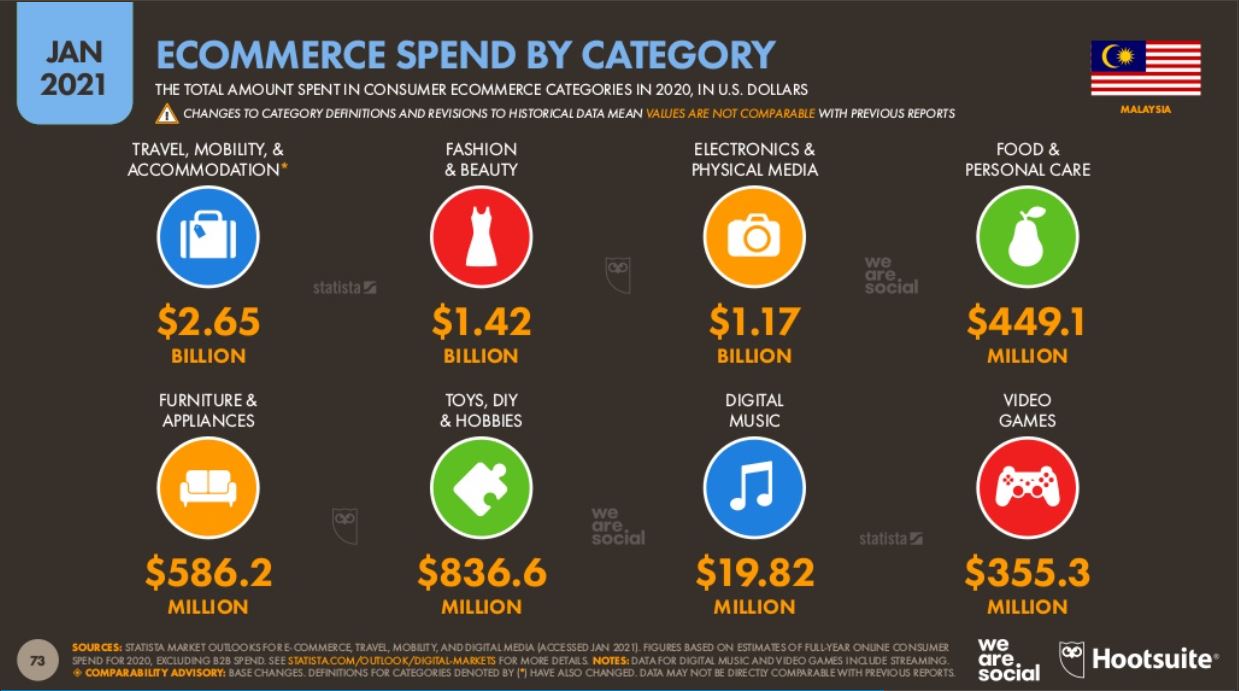 Electronics
According to Hootsuit and We Are Social on Data Reportal, "electronics & physical media" is the third most purchased product category in Malaysia's e-commerce spending at US$1.17 billion after "travel, mobility & accommodation" and "fashion & beauty". Statista predicts that the market revenue is  to hit US$1.131 million in 2021.
According to a report by iPrice, Malaysian e-commerce consumers are purchasing electronics items for both personal and office use such as smartphones and tablets, cable and converters, and computer parts or laptops, among other electronic home appliances like pressure cookers, air fryers and electric ovens.
Fashion
Malaysians are spoilt for choice when it comes to fashion. iPrice reports that most e-commerce websites have fashion items as their top selling products almost perpetually. Furthermore fashion sales would increase during the months leading up to cultural holidays like Lunar New Year and Hari Raya despite restrictions on these celebrations.
The report on Data Reportal shows that Malaysians spent a total of US$1.42 billion on fashion and beauty products in 2020. Statista also reported that fashion is expected to achieve US$1.83 million in revenue in 2021. Despite the negative impact of the COVID-19 pandemic causing the overall growth rate of the fashion sector to dwindle by 12.5% in 2020, fashion products are still in high demand as Malaysians seek comfortable home attires and athleisure when working from home.
A study by EasyStore on Lazada's fashion sales suggests that local Malaysian brands tend to be more popular than regional and international brands. A good factor that contributes to this study is the demand for Muslimah fashion and hijab fashion among the Muslim population.
> Read more: E-commerce Fashion Industry in Malaysia 2020 – 2021
Personal Care
When the COVID-19 virus first broke out, Malaysians were actively seeking for health supplements and vitamins to help boost their system's immunity as a means to combat the risks of virus transmissions. Pharmaceutical brands online like Guardian, iHerb and Esyms experienced surges in online traffic during MCO.
Despite being stuck at home during the partial lockdown, Malaysians are still shopping online for personal care and beauty products. Over 155,000 personal care and beauty products were sold during Shopee's 11.11 sales campaign in 2020 which took place in the midst of the MCO 2.0 when Malaysians were still restricted from going out freely.
Cosmetic products were surprisingly still in demand during MCO. Search traffic for cosmetics in Sephora remained stable apart from a small dip in March when the pandemic first hit the country. The launch of Shopee Premium, a dedicated section on the e-commerce platform selling authentic premium products like branded cosmetics is an indication that the usage of cosmetic products is still prevalent and demonstrates the sustainability of the product category in Malaysia.
> Read more: 3 E-commerce Cosmetics Market Trends in Malaysia 2020
Groceries
During the country's partial lockdown, operating hours for most services were reduced and restrictions were made as an effort to combat and reduce the spread of the COVID-19 virus. During this time, Malaysians were also advised against going out too often and also to reduce the amount of time taken to buy their daily essentials.
To get their groceries, Malaysians turned to online platforms which resulted in a surge in demand on e-commerce grocery websites. MyGroser, a local online grocery platform saw an increase in demand for groceries delivery by 1000% in 2020. MyGroser and other local online grocery platforms saw an opportunity to grow and expand their businesses during this time as demand continues to spike.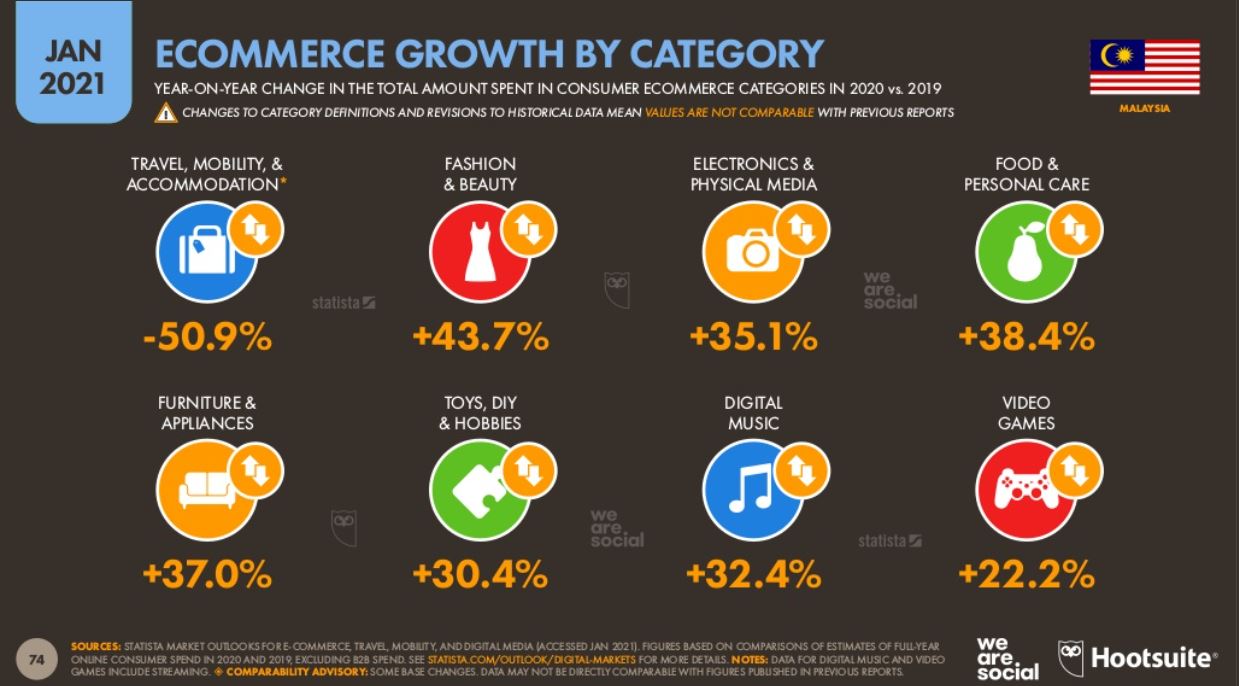 > Read more: Popular Product Categories in Malaysia of 2020
Final Words
During these uncertain times, most Malaysians are taking their shopping habits more seriously and making priorities when it comes to shopping online.
While COVID-19 continues to be prevalent in the country, shoppers are also putting into consideration the effects of retail therapy as a means of trying to cope with the fatigue of staying at home. Despite this, the top product categories in Malaysia will continue to mostly be dominated by electronics, fashion and personal care products.
Some experts suggest that e-commerce grocery will continue to be a top product category long after the pandemic subsides as some Malaysians have grown accustomed to doing their grocery shopping online during the partial lockdown.
More Reading
>> Malaysia in 2021: Current trends, growth, and opportunities

>> Malaysia: The Dominating Ecommerce Market in SEA