Hari Raya Eid al-Fitr, or locally known as Hari Raya Aidilfitri (or Hari Raya Puasa) in Malaysia is a religious holiday celebrated by Muslims worldwide that marks the end of Ramadan. Lifestyle changes and preparations take place among Malaysian Muslims as they observe the sacred month of Ramadan. This month tends to be the busiest and most lucrative period for brands that primarily target the Muslim market.
How Ramadan Was Celebrated in 2021
Last year Malaysians celebrated Ramadan and Hari Raya differently as compared to the years before due to the COVID-19 pandemic. All festivities were on hold as the country was on lockdown to curb the spread of the coronavirus.
This year, Malaysians were able to celebrate Ramadan despite the frightening number of new COVID-19 cases daily. Depending on the state, the Malaysian government allowed Ramadan bazaars to operate and mosques opened for prayers in accordance with SOP guidelines to attempt to prevent the spreading of the virus.
Malaysians who were still weary of the coronavirus continued to stay at home and shopped online for festive apparel, goods and decorations. Families planned to hold virtual reunion dinners over social platforms like Zoom.
However, Malaysia saw a huge spike of new COVID-19 cases at a staggering 4,765 new active cases one day right before the Raya holidays. Following the failure of containing the spread of the virus, the Malaysian government implements MCO 4.0 (4th Movement Control Order) with a set of revised SOP guidelines. Malaysians celebrating Hari Raya Aidilfitri once again were not able to reunite with their families and have big holiday celebrations.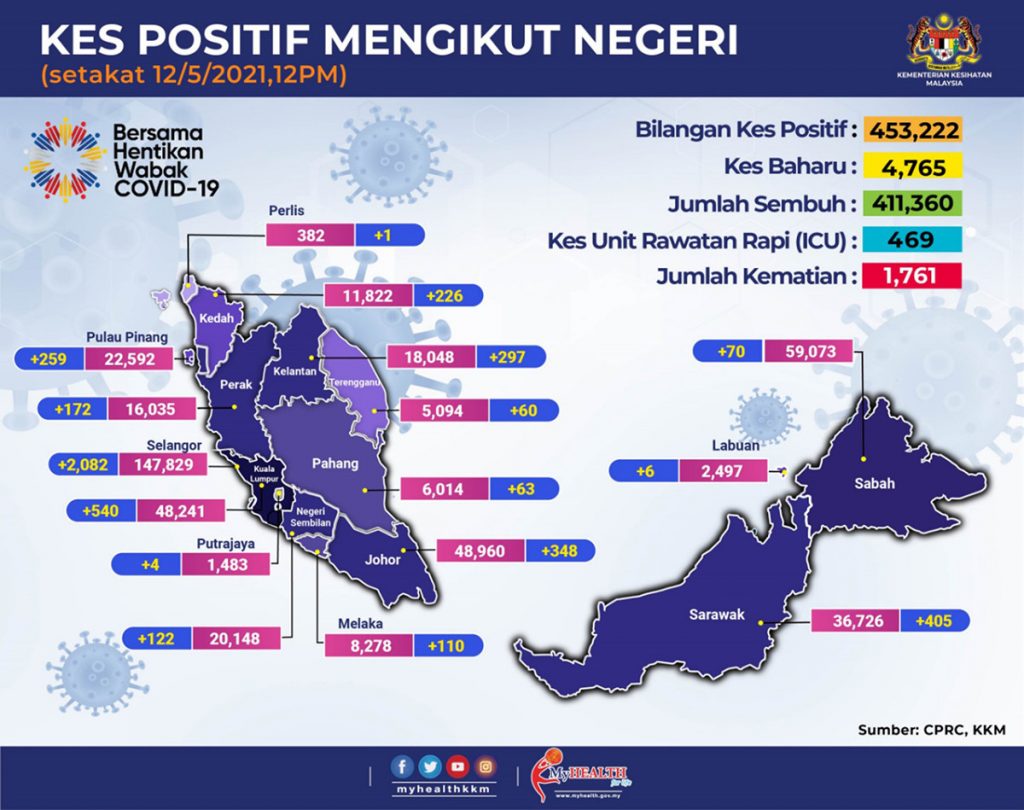 In light of the new partial lockdown, the e-commerce economy is expected to face another boom as Malaysians are once again forbidden from interstate travel to visit their families, and eat out at restaurants, among other social restrictions.
E-commerce Platforms Prep For Raya & Ramadan
Seizing the e-commerce opportunity, new platforms and stores that specialise in products targeted towards Muslim demographics began appearing and growing during this period.
Dewan Perniagaan Melayu Malaysia (DPMM; Malay Chambers of Commerce Malaysia) set up Souk Asia as a platform for Muslim merchants and vendors to easily sell their products and services online. The website saw good online traffic as Malaysians flocked to the website to support local merchants and businesses for their Hari Raya shopping.
As usual, Shopee and Lazada rolled out with their Hari Raya and Ramadan promotions.
Shopee curated the 'Raya Bersama Shopee' (Raya With Shopee) campaign that will enable Malaysians to purchase everything and anything they need for their Ramadan and Raya preparations, staying true to their campaign tagline 'Raya Ini Shopee Di Sisimu' (Shopee Is By Your Side This Raya).
The campaign offered daily essentials as low as RM10 for a variety of every necessities from Milo drinks, dates, meat products, rice and cooking oil, to home appliances such as blenders, and clothing such as telekung. At the same time, customers also get to enjoy free shipping with their purchases of over RM19. The campaign also featured special sales days, Jualan Hebat Raya (Great Raya Sale) and Pesta Jualan Raya (Raya Sale Party) which occur over two days each.
To help Muslim customers navigate their e-commerce platform with ease, Shopee debuts their all new Salam by Shopee feature to make browsing and shopping for halal products, prayer items, wudhu-friendly cosmetics and Muslim fashion a lot easier.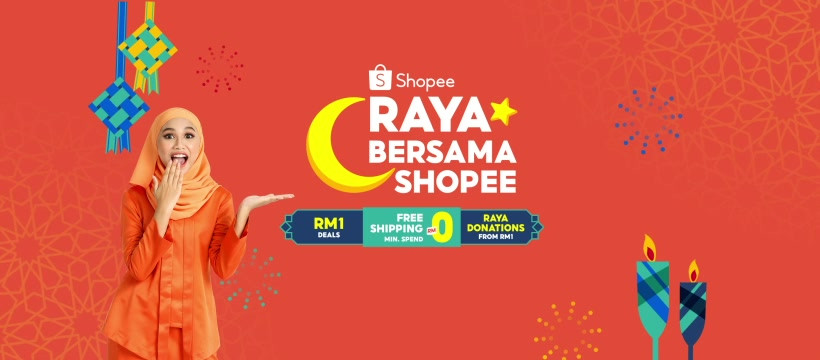 Lazada on the other hand featured their Lazat Bazaar (Delicious Bazaar) campaign. The campaign helps local bazaars sell their products online and also features same-day deliveries for hot meals and freshly baked goods from local favourite stalls and markets in selected areas across the Klang Valley.
Lazada's goal for this campaign was to help ease the hardships of local bazaar sellers and traders of having a loss of sales due to the pandemic and MCO by supporting them with exposure to online traffic on their e-commerce platform.
Various local Raya delicacies such as murtabak, lemang, rendang, laksa, joti john, nasi kerabu, and kuih-muih from Ramadan merchants are featured on the Lazat Bazaar. The hot meals and baked goods are mostly cooked-to-order and were delivered within the same day, or prepared and fulfilled the next day.
Aside from that, Lazada also launched their "Lazada Ada Sentuhan Raya" 5.5 Sale (Lazada Has The Raya Touch 5.5 Sale) which offered deals on a wide assortment of products.
Continuing with their "lowest price guaranteed" promise, the sale campaign also offered shop vouchers, free shipping deals, cashback deals, and a chance to win an iPhone 12. Lazada also featured their Crazy Flash Sale to draw more customers as selected items such as electronics, skincare products, home appliances and Raya apparel get discounted for as low as RM0.99.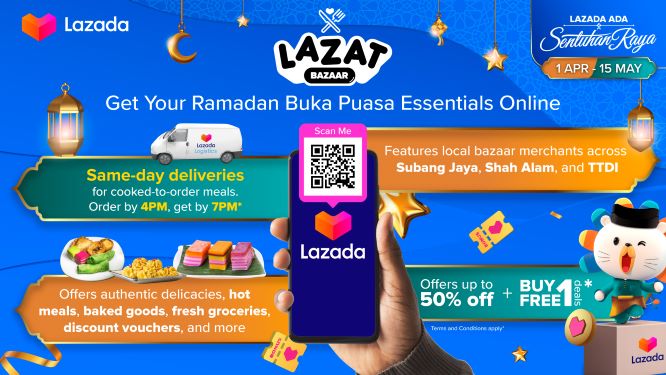 > Read more: Shopee trumped Lazada in Southeast Asia E-commerce market: A lesson of localization
New Raya & Ramadan Shopping Habits
Over the course of the first MCO, Malaysia's e-commerce economy sees an increase of new users as locals turn to online shopping to get their daily necessities and groceries. In Southeast Asia, the year 2020 saw 40 million new users as reported by Google and Temasek's e-Conomy Southeast Asia.
Prior to the spike of positive COVID-19 cases, Malaysia's government allowed the economy to operate at full capacity despite the fact that daily new infections were still at a high. Malaysians were able to dine in at restaurants, malls and brick-and-mortar stores were reopened, and Ramadan bazaars were allowed to operate. Most places still imposed strict SOPs and social distancing measures such as mosques and businesses that wish to avoid marking a new cluster at their premises.
During this time, Malaysia's economy saw a combination of offline and online sales that mostly benefited small brick-and-mortar businesses and SMEs. Customers got the most out of their Raya and Ramadan essentials from small shops and bazaars, from food and dates to new clothes for the whole family. Meanwhile, these businesses have also transitioned to the online platform to achieve a wider reach of customers, as well as play their part in curbing the rise of new COVID-19 cases.
The top selling products during the Ramadan period were mainly Raya related fashion and apparel, halal cosmetics, home and living products, as well as food related items such as Milo, dates, chicken, fish, beef, rice, and various local Raya delicacies to commemorate the blessed season.
During Ramadan, Muslims will have different daily routines and lifestyles. They wake up earlier at 3 o'clock in the morning for sahur prayers and to break fast. Work hours also tend to be shorter for Muslims as they fast during this period and will need to return home earlier to prepare for breaking fast.
A study conducted by iPrice showed that in 2019 and 2020, app and site visits experience an increase of traffic before work hours. This information suggests that some Malaysian Muslims choose to shop and browse online to pass the time before clocking in for work. Online traffic also increases in the evening after they have their iftar prayers and have broken their fasts. This information will be useful for online merchants and businesses to time their paid campaigns and advertisements on platforms like Google, Facebook, and Instagram among others.
> Read more: How Malaysians shop online
Raya & Ramadan Deliveries
Something businesses and merchants will need to take into consideration is the last-mile delivery services. During Ramadan and Hari Raya, courier service companies will shorten their operating hours and pickup times will change. Services will also stop during the first two days of Hari Raya which are designated public holidays.
Businesses, merchants and logistic partners will need to prepare themselves as orders continue to pour in and anticipate a spike in order volumes as Hari Raya approaches. A spike in order volumes could potentially stall courier operations and be unable to pick parcels up from some locations. To avoid a delay in deliveries and upsetting customers, businesses, merchants and logistic partners may need to personally drop the parcels off at a courier service hub.
> Read more: Top 10 Best Courier Services in Malaysia 2021
Overview
The Ramadan period and subsequent Hari Raya Aidilfitri holiday is one of the profitable seasons in Malaysia for businesses and merchants both big and small. As the Malaysian e-commerce economy continues to grow and more Malaysians shop online, businesses should grasp this opportunity to generate revenue. It is important to keep up with the trend and adapt to new platforms like how Ramadan bazaars are moving online.
More Reading
> Trends and Insights for Chinese New Year 2021 in Malaysia

> 12.12 Sale In Malaysia Break E-commerce Records