In the last century of Malaysia's internet growth, more than 26 million Malaysians are actively using the internet, and more than 80% of users between the ages of 16 and 64 are already shopping online. A GlobalData report revealed that Malaysia's cosmetics (and toiletries) market saw 6% current value growth in 2018, reaching US$ 227.1 million with the country's e-commerce cosmetics market contributing to the growth. 
Online shopping has made international brands easily accessible to Malaysian consumers. As such, Malaysians have a wider range of choices for cosmetics to choose from when shopping online. Some of the largest existing international brands in Malaysia are Maybelline, Mary Kay and Silkygirl, while there are premium cosmetics brands such as Mac, Estee Lauder and Artistry that have the most market share in the country's e-commerce cosmetics market. The Malaysian e-commerce economy also puts an effort in spotlighting homegrown cosmetic brands such as Eilanto, DUCK Cosmetics and Mineraw among other SME cosmetic brands.
> Read more: Popular Product Categories in Malaysia of 2020 
Despite the competitive scene, international brands such as Althea and Sephora still enter the Malaysian market for it's ceaseless exposure by Malaysian cosmetic consumers who are constantly exploring, trying and looking for the right brand. Here are some of the top key consumer trends to get you started to your expansion to the Malaysian e-commerce cosmetics market.
Convenient Packing and Unique Features
According to a study conducted by technology company Kisi, Malaysia has the worst overall work-life balance among 40 major cities in the world. With the rising number of Malaysians leading active and busy lifestyles, more consumers are looking for smaller packing sizes and squeezable tubes that are convenient to be carried around while on the go.
A study conducted by Euromonitor, smaller-sized squeezable plastic tubes and rigid plastic containers with uniquely designed pumps and closures are expected to continue to attract consumers' interests. The main reason is due to the increasingly busy lifestyles of Malaysian consumers who seek convenient, space-saving and portable cosmetic products that are easily carried around and applied.
Additionally, unique packaging design continues to be a crucial and distinct factor for cosmetics players to remain competitive. Products that feature dual usage such as Maybelline's Master Flush Stick, combines a blusher and a soft sponge applicator on both ends of the product, eliminating the need to carry a blusher and sponge separately. This type of product with dual functions lure the ever busy Malaysian consumers who seek convenience and the need to reduce baggage while on the move.
Cosmetic products featuring space-saving and practical functionality with bold colours and unique designs will continue to remain as strong trends in the cosmetic industry. This factor would play a huge role in the decision making among Malaysian consumers when it comes to choosing brands. As online shopping becomes the main channel for Malaysian consumers, merchants in the cosmetic industry will need to adapt to the online platform by coming up with packing designs with attractive visuals and upload clear images (and/or videos) that highlight the product features and dimensions on every product pages to overcome the absence of the physical aspects of in-store shopping, which will ultimately help to the brand stand out in Malaysia's e-commerce cosmetics market.
> Read more: Knowing your sales channels in Malaysia
Skincare Benefits
Pertaining to increasingly busy lifestyles, cosmetic products with skincare benefits are increasingly popular and in-demand by Malaysian consumers as these products are not only time-saving but cost-saving as well.
Malaysia's tropical climate with hot sunny days all year round leave Malaysians exposed to sunlight for long hours. The country's rapid urbanisation also affects the air quality in busy cities and towns. These factors influence some local consumers to seek brands that produce cosmetic products with two-in-one features such as foundation with sunscreen or anti-pollution skincare with a flawless finish.
Halal Cosmetics In Demand
Having a Muslim majority population, the demand for halal certified cosmetics in Malaysia is high. According to a report in 2016 on the Ministry of International Trade and Industry (MITI) website, halal cosmetics and personal care products are the fastest growing consumer segment in Malaysia and it's e-commerce cosmetics market.
The Halal Industry Development Corporation (HDC) has stated that there are currently more than 100 certified halal cosmetics and personal care companies, proving the movement and change to more inclusive cosmetics brands for Muslims not only for consumers in Malaysia but also everywhere in the world.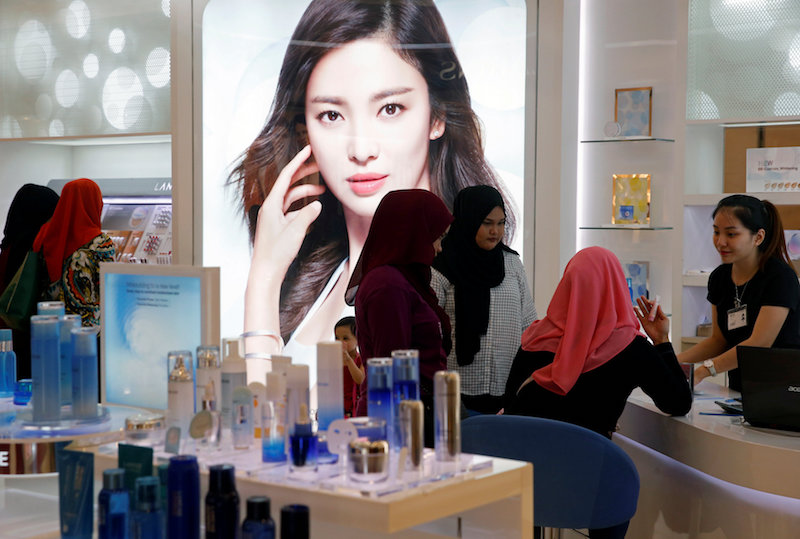 In a survey conducted to understand the perception towards cosmetics products in Malaysia, it has been found that all of the Muslim perticipants showed a positive perception towards halal certification. The survey also reported that Muslim consumers find it a vital factor to check if a cosmetic product is halal prior to completing the purchase.
Afterword
When entering the e-commerce cosmetics market in Malaysia, it is crucial for international players to understand, familiarise and know their potential customers in the country to help their brand stand out and better their e-commerce debut. While Malaysia appears as a saturated market with many strong foreign brands and up-and-coming local brands, the e-commerce cosmetics market is still growing with many opportunities for newer merchants to enter the market, especially if you're able to appeal to the demands of the local consumers.
More Readings
> Malaysia: The Dominating Ecommerce Market in SEA

> Top 6 Best Ecommerce Websites in Malaysia 2020