Shopping has always been a Malaysian's favourite lifestyle past-time. With the increase of mobile phone and internet penetration, along with the increasing numbers of digitisation of local businesses, the e-commerce economy in Malaysia is steadily growing.
About 9 in 10 Malaysians 15 years and older use the internet and on average, they spend more than eight hours a day online. Out of the 26 million Malaysians using the internet, 80% of users between the ages 16 and 64 are already shopping online. That percentage is expected to increase following the new norm of online shopping caused by the coronavirus outbreak and subsequent Movement Control Order (MCO) set by the government which forced people across the country to stay at home to prevent the infectious virus from further spreading.
Malaysia is a lucrative market for e-commerce merchants both locally and internationally. Understanding the buying patterns and knowing the popular product categories among Malaysians will help e-commerce merchants improve their chances of success when penetrating the market.
> Read more: Malaysia, Your Next E-Commerce Destination
Popular Product Categories During COVID-19
Ever since the pandemic hit the country, shoppers in Malaysia started prioritising different items from their usual shopping habits.
A survey conducted by Statista shows that the most purchased product category is food and groceries, followed by personal hygiene products and household cleaning products. These purchases are reflective of the concerns among Malaysians about their well being during the pandemic outbreak, as well as the change in lifestyle when the MCO was put into action and most Malaysians had to stay at home.
Statista also notes that a survey conducted by Rakuten Insight says that 55% of Malaysian respondents purchased grocery items online as of May 2020, in comparison to only 3% of the same respondents who bought alcoholic beverages.
A separate survey by Janio and vase.ai shows that 69% of Malaysians are buying essential food and household items, while 27% are still buying other items besides food, such as skincare and health supplements, DIY tools, and other work from home related items that were driven by ongoing promotions and sales.
Demand for hand sanitisers and face masks rocketed within a week, creating opportunities for merchants who sell health management products. However health management doesn't stop at that, products like health supplements and vitamins witnessed an increase in demand as well, as shoppers seek to maintain or improve their immune system and overall health to avoid the chances of getting infected with COVID-19.
> Read more: What E-commerce consumers are buying amid the coronavirus pandemic
Other Popular Product Categories
As Malaysians are slowly adapting to the new lifestyle, purchases for other products categories are slowly starting to see improvements in contrast to the drop of demand during the early and middle stages of the MCO.
Despite an overall drop in sales of clothing and accessories, the fashion and apparel category is still in demand. A Commerce.Asia study found it unexpected that undergarments for women had increased by 909% in sales. Following close behind are cosmetics and beauty products.
Likely due to the new working conditions when companies implement work from home practices, sales for electronics that help make telecommunication run much smoothly such as computer monitors, headphones or headsets and other computer accessories increased. Google Trends report shows that search traffic for keyword "computer monitor" saw its largest spike in traffic in 5 years around the time of the MCO.
Another notable product category is DIY items for home repairs and the sort. Malaysians who were affected by the MCO noticed the importance of having access to DIY hardware and tools to fix and issues at home such as broken pipes or lighting outages.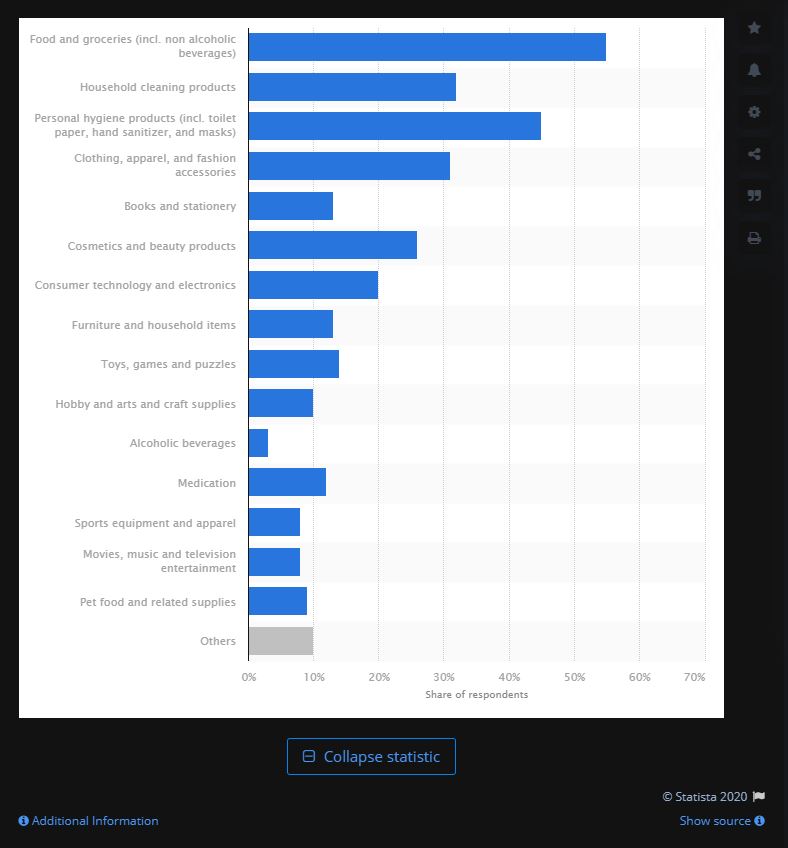 > Read more: Southeast Asia's demand for luxury brands spikes amid Coronavirus pandemic
Final Words
Despite the statistics of shopping in 2020, most Malaysians have actually cut down on shopping during the MCO. The Department of Statistics Malaysia predicts that initial spending levels will likely gradually return after the MCO ends and a COVID-19 vaccine is issued across the country.
As the coronavirus has affected the entire year, the top popular product categories in Malaysia are mainly food and groceries, healthcare and supplements, and hygiene products. Others significantly popular product categories are household cleaning products, DIY items, and electronics.
With a stronger preference for online shopping now, Malaysians are also showing greater expectations for online merchants and logistics partners and courier service providers to be more communicative and reliable during the e-commerce experience. E-commerce merchants should look into working with a reliable 3rd party logistics and e-commerce solutions provider to offer their customers the most satisfactory e-commerce experience for stronger revenue growth.
More Readings
> Malaysia's Ecommerce Economy Thrives During COVID-19

> Malaysia: The Dominating Ecommerce Market in SEA