Embark on building online business, creating a retailing website and multi-channel selling strategy. Business retailer starters want to deploy sales on multiple channels using omni-channel platforms but confusing whether to choose between Haravan or Sapo.
>> Read more: Multichannel vs. Omnichannel retail: The differences

>> Read more: Ways to Optimize Fulfillment for Omni-Channel E-Commerce Businesses
Boxme here to help you by identifying the difference together with pros and cons of the most popular e-commerce development websites in Vietnam 
What is Omnichannel ?
Omnichannel is the integration of all physical (offline) channels (stores, chain stores) and digital channels (online) such as e-commerce platforms Tiki, Shopee, Lazada, Sendo, … or Facebook / Google sales channels for unified customer experience. According to Frost & Sullivan, omnichannel is defined as "a high-quality, seamless and easy customer experience that occurs within and between communication channels.
>> Read more: Multichannel vs. Omnichannel retail: The differences
In the simplest way, omni-channel is to build both online and offline stores that synchronize in all access channels to sell products to customers and centralize management in one place.
>> Read more: Ways to Optimize Fulfillment for Omni-Channel E-Commerce Businesses
Accordingly, we can evaluate the choice of the Omnichannel platform based on the sales channel system that the haravan or sapo system is connected to.
>> Read more: Who is the leading eCommerce platform in Vietnam?
Scale 
Sapo Web is one of the products of Sapo Technology Joint Stock Company (formerly DKT company) that has been developed since 2008 to now with more than 67,000 customers using the service. Sapo is headquartered in Hanoi, offices in Ho Chi Minh, Da Nang, Hai Phong, Binh Duong, and Tay Nguyen … with several hundred employees.
Haravan, although being a late comer than Bizweb (Sapo), Haravan has been thriving in the Vietnam market with a drastic development and advancement. Haravan's headquarters in Ho Chi Minh City and on the homepage also figures that there are more than 50,000+. Thanks to the rapid development, Haravan is gaining significant popularity in the Vietnam market as one of the leading e-commerce development websites.
>> Read more: Vietnam Ecommerce platform: Who to choose?

>> Read more: Who is the leading eCommerce platform in Vietnam?
Interface
In this area, both e-commerce development websites share the commodity in the interface. Both units have a huge number of themes, different customization features, and are compatible on all different interfaces. In terms of the interface provided by both platforms, I think they are equal because they both took and reconstructed quite a lot of samples from foreign website samples.
At the same time, both e-commerce development websites are open platforms for developers to sell their skins on.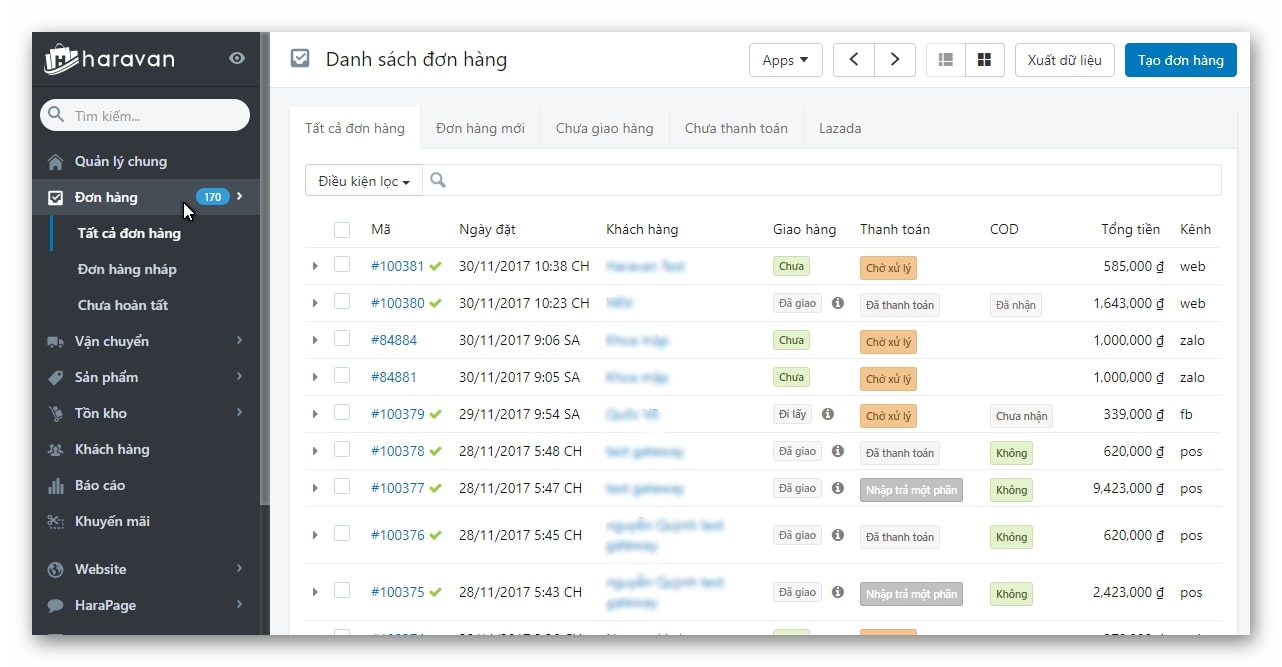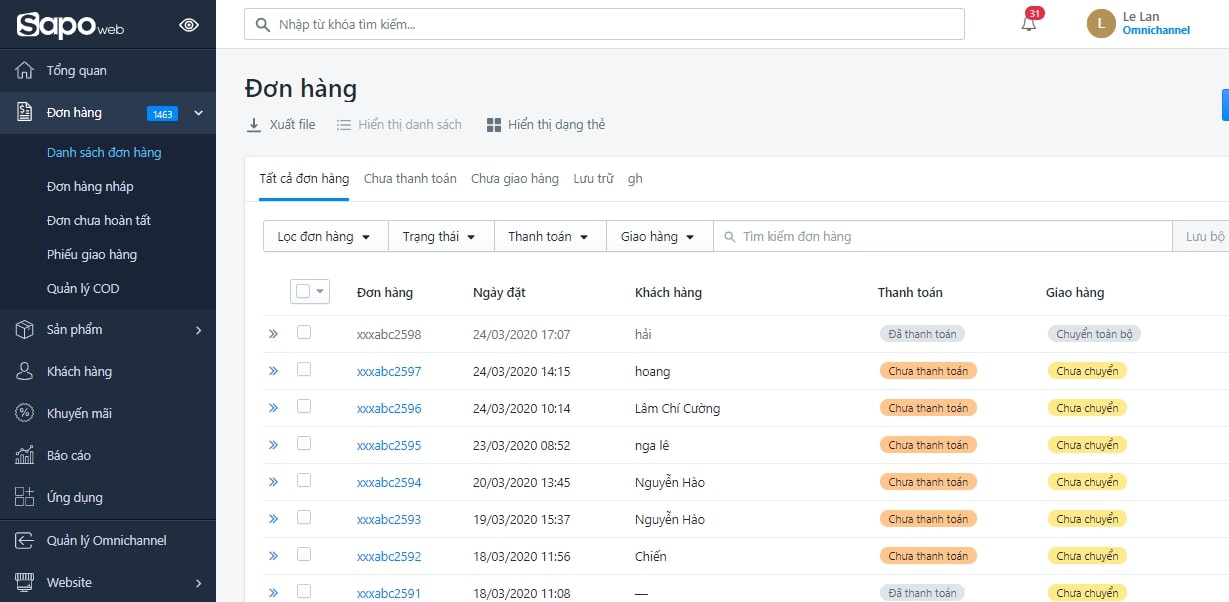 The interface uses Responsive features to be compatible with many different devices.
If with Sapo, the partner's interface costs more, but it feels more diverse and stable. With Haravan, the advantage of being a free interface, brings the optimal cost.
Price 
In order for customers to fully experience all of the e-commerce development website's features before making any decision, both Sapo Web and Haravan allow users to have free-trial in 15 days.
About price, both units once again share the same pattern in price with no to little difference 
Sapo Web package is priced at 229,000 VND / month + 1,500,000 original website creation fee. When customers sign up for 2 years or more, you will receive 10% off and start-up free. Thus, the cost is about 5,088,000 VND for a 1-year package and 6,458,000 VND for a 2-year subscription.
Haravan Advanced Website package costs 500,000 VND / month. Annual payment at the price of VND 6,000,000 / year
Customer service
Both units are highly appreciated by customers for the quality of service and customer care. Each unit has a customer support portal. So if there is any problem related to poor service quality, customers can directly report them to the center for support.
> Read more: Is Your Fulfillment Process Actually Delivering on Your Customer Promises?

>> Read more: How to choose the right courier service? Here are tips you need to know
Special features 
These are the listing of significant features that both e-commerce development websites are thriving on
Security SSL: HTTPS and SSL settings for the website are completely free, customers can be absolutely assured of absolute security of HTTPS and SSL with international standards. Consequently, customer's private information is highly protected from viruses and hackers.
Automatically connect with local courier delivery services: Sapo and Haravan are both open platforms that allow third parties to join the system to assist customers in online transportation and payment.
Integrate Google Analytics and Google Shopping: This feature helps website administrators have an overview of investment in advertising with sales revenue.
Assistance on multi-channel development 
>> Read more: Offline Vs Online Store: weakness & strength
Cons 
Sapo: Sapo web users have some troublesome in terms of limited usage of about 5GB, if users want to expand more usage, there will be an additional cost to buy storage.
Haravan: Haravan has a user limit of 10, which poses certain difficulties for multi-chain stores. Additionally, Haravan does not support email marketing, reports, and statistics like Sapo Web, does not support SSL for lower packages and high multi-channel sales costs, up to 899 thousand VND for a month of use.
More readings?