The year 2020 proved to be one one of the most challenging seasons for the Malaysian economy as the country faced tough challenges to combat the COVID-19 pandemic that spread across the country. Due to global economic challenges and closures of borders, the country's GDP recorded a -5.6% growth.
With the rollout of COVID-19 vaccinations across the globe, Malaysia will be able to look forward to making an economic recovery. The Malaysian government has made great progress with the recently launched MyDigital initiative and the Malaysia Digital Economy Blueprint. The plan is focused on accelerating the country's progress as a technologically advanced economy.
One of the highly recognised prominent economies that play an important role in creating a path towards Malaysia's economic recovery is e-commerce.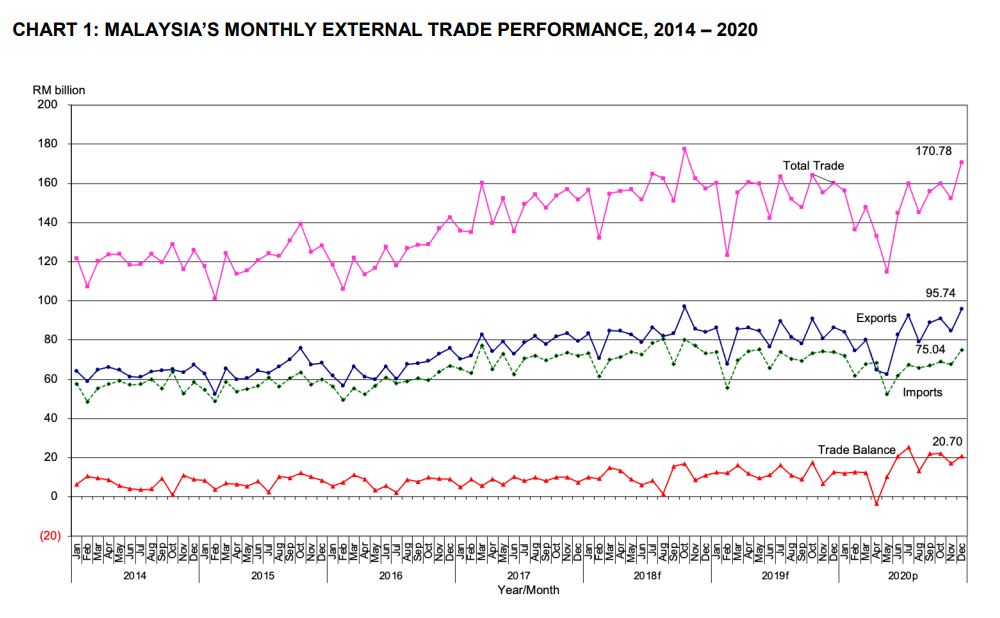 Level Playing Field For SMEs & MSMEs
Large enterprises have always been historically the focus of the global trading system and institutions as they were the only entities with the resources and capacity to utilise global supply chains and markets.
In recent years however, thanks to the developing e-commerce industry, the barriers to accessing larger and more robust markets are receding and small to medium enterprises (SME), businesses and entrepreneurs are beginning to leverage technology and global marketplace platforms to reach consumers in new ways.
E-commerce platforms like Shopee and Lazada are allowing SMEs and even micro businesses to open with minimal start-up costs. Larger e-commerce platforms like eBay can even help these MSMEs compete in global markets. This is made possible because these e-commerce platforms helped reduce the cost of distance by helping businesses connect with the world online. This ability to access global market opportunities is made available to micro to small and medium enterprises (MSME) in advanced and emerging economies across the globe, thus making it a more inclusive model of trade compared to the traditional models of trade.
The involvement of SMEs and MSMEs would serve as a good foundation for Malaysia's economic recovery.
Adapting To Online Platforms During Pandemic
Over the course of the first Movement Control Order (MCO), many brick and mortar businesses had to learn to transition onto online platforms to mitigate the negative impact the lockdowns had on them, as well as to adapt to the change in consumer behaviour. This led to an exponential growth in Malaysia's e-commerce economy.
> Read more: Malaysia's Ecommerce Economy Thrives During COVID-19
Various e-commerce platforms in Malaysia offered help to these struggling businesses by launching initiatives to help brick and mortar businesses to learn how to sell online. Shopee and Lazada helped at least 70,000 SMEs kick start their online store on their own respective platforms to continue selling to consumers across Malaysia. These initiatives also serve as incubation programs to help these new online sellers to learn the ropes of online selling. Other platforms including Carousell and eBay also played their part in helping businesses in adapting to the changes caused by the global pandemic.
These initiatives helped many businesses in Malaysia including MSMEs to stay afloat and grow with the income earned from online sales, which in turn would contribute to economic recovery from the negative effects of the MCO implementation.
As the Malaysian Digital Economy Blueprint steps forth, MSMEs will play a crucial role in achieving the full potential of the digital economy which will contribute to the country's GDP.
> Read more: Carousell Malaysia Steps Up Amidst COVID-19 Pandemic
Bridging The Gap Between Industries & Global Marketplaces
Malaysia's total exports amounted to RM980.99 billion (US$ 238.51 billion) and manufactured goods contributed up to 86.4% in 2020, while SMEs in the manufacturing sector contributed up to 34.6% to the sector's GDP. The exports sector witnessed a decline marginally by 1.4% compared to the previous year due to the unfavourable situation caused by the impact of the COVID-19 pandemic.
However in the second half of 2020, Malaysia's exports rebounded, increasing by 4.8%. This suggests that there is considerable demand for Malaysia's manufactured products in the global marketplace, putting SMEs in a strong position for further growth in the industry.
By accessing global e-commerce marketplaces like eBay and Amazon, Malaysian manufacturers are able to directly access consumers in over 190 countries with over 185 million active buyers on these international e-commerce marketplaces.
On eBay itself, Malaysia is recognised as a manufacturing hub for the "automotive" and "furniture" product categories. On smaller scale regional e-commerce platforms, Malaysia also exports niche food and fashion products because of the brand presence some SMEs and MSMEs have in neighbouring countries like Singapore and Indonesia.
> Read more: Malaysia Launches 1st Online Bazaar
The Next Course Of Action
On the road to Malaysia's economic recovery, one of the main steps to be taken would be to double the efforts of supporting businesses and entrepreneurs to bring MSMEs and SMEs onto the e-commerce platform.
Most existing businesses and entrepreneurs who are new to e-commerce would require guidance to set up their online business profiles on the various e-commerce platforms as well as learn digital marketing strategies and familiarise themselves with consumer behaviour and online markets. To guide and help them grow, incubator programs hosted by e-commerce platforms would be necessary.
Young entrepreneurs who are technologically informed would also benefit from these incubator programs as they serve as a learning platform and also a gateway to tap into existing consumers on the e-commerce platform. The incubator programs would also serve as a space for SMEs and businesses that are already online to scale up and unlock more growth opportunities both locally and globally.
During the MCO in 2020, many e-commerce platforms launched initiatives that serve as incubator programs to help brick and mortar businesses go online. In April 2020, Shopee launched a RM15 million Shopee Seller Support Package to help businesses transition and sell on their platform. In the same month of last year, Lazada launched Pakej Pintar Niaga (Smart Business Package), an extension of their existing Pakej Kedai Pintar 2.0 (Smart Shop Package 2.0) with the same intention of helping sellers get on board their platform.
Moving forward in the present day changes that have been established, e-commerce platforms and experienced online sellers will need to continue to offer and provide help to newcomers to the e-commerce sector.
An important improvement that needs to happen is also the change of business owner's mindset. Many older and experienced brick and mortar business owners face fears about the complexities in learning and adapting to the e-commerce environment when it comes to digitising their business. In most cases, the fear comes from not having adequate information and understanding about how e-commerce platforms work.
Only after that change is achieved can incubator programs come in to help these older businesses learn the ropes of the e-commerce industry and trade.
Final Words
To help the country's economic recovery proceed swiftly, Malaysia will need to put effort into helping local entrepreneurs, businesses, SMEs and MSEMs strengthen the e-commerce sector and industry.
An improvement of Malaysia's e-commerce industry will not only ease economic recovery, but will also serve as a catalyst that will boost and grow Malaysia's economy on the global stage as a regional digital economy hub.
As technology continues to increasingly make the world borderless and seamlessly connected, e-commerce will be the primary form of cross-border trade and transform the global economy.
More Reading
>> Malaysia in 2021: Current trends, growth, and opportunities

>> Seize the opportunity and shift of customer's needs of Malaysia in 2021