Since the coronavirus (COVID-19) outbreak in February, many Malaysians' lives have been affected by the global pandemic. With a nationwide lockdown and several stages of Movement Control Orders (MCO) put into motion, Malaysians find themselves staying at home more often  to help curb the spread of the infectious virus. Despite difficult times during the coronavirus pandemic, the growth of the e-commerce economy in Malaysia rose stronger than ever.
When the MCO was first implemented, nearly all economic activities were put to a halt. The only sectors allowed to continue operating were the essential services, which e-commerce happens to fall under. As shopping malls and most shops were forced to close, Malaysians turned to online shopping to get their daily necessities and groceries. The change of living habits encouraged Malaysians who have never shopped online before to learn how to do so, creating a new boom for Malaysia's e-commerce economy.
>> Read more: Malaysia: The Dominating Ecommerce Market in SEA
Change Of Online Shopping Habits
In the first quarter since the MCO was implemented, Malaysia saw a surge of 149% year-on-year Gross Merchandise Volume (GMV) growth. Ganesh Kumar Bangah, the founder and executive chairman of Commerce.Asia said that e-commerce continues to be one of the few industries that would thrive under such challenging circumstances. The e-commerce sector in Malaysia is expected to see a 20% growth, contributing up to RM170 billion to GDP for the year 2020.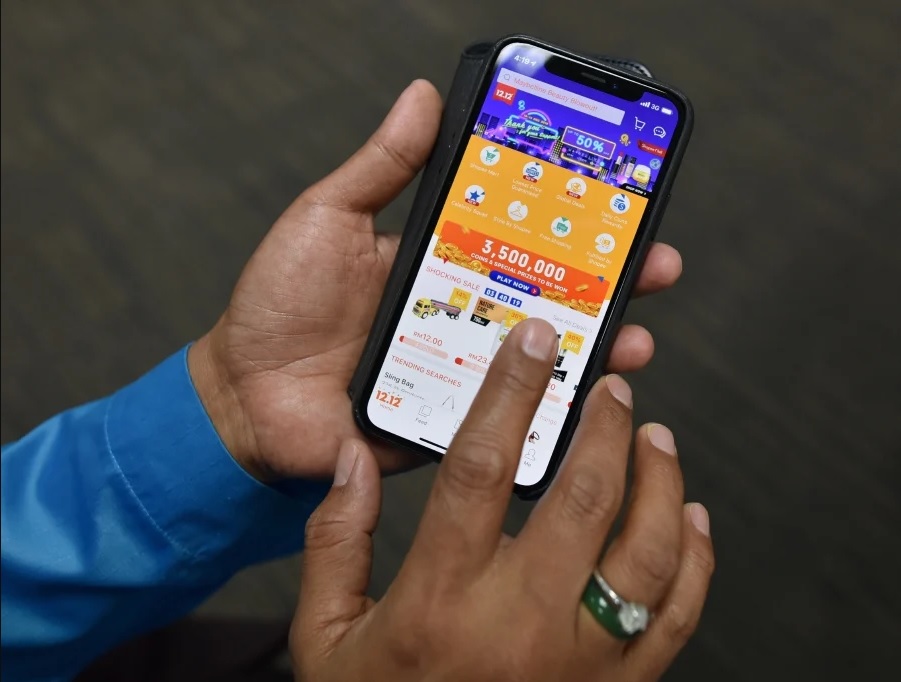 Most purchases during the MCO were practical such as essential items, groceries and health products, however there is significant growth in other product categories signifying that there are changes in the shopping behaviour of Malaysians while adapting to the coronavirus outbreak. Experts foresee a permanent change in consumer behaviour with Malaysians preferring to make their purchases online even after the pandemic comes to an end.
>> Read more: Southeast Asia's demand for luxury brands spikes amid Coronavirus pandemic
Opportunities For SMEs In E-Commerce
As Malaysians flock to online marketplaces for their shopping during the pandemic, small and medium enterprises (SME) worked to digitalise themselves to keep up with where the crowds are at. Some companies that have established websites upgraded their website to host their own online store, while some approach the mobile-first culture and built their own mobile apps. Micro enterprises on the other hand went with the social commerce approach and set up their online presence on social media platforms, mainly Instagram and Facebook.
>> Read more: How Malaysians shop online
E-commerce companies like Shopee and Lazada have taken initiatives to help SMEs establish their online presence, as with food delivery companies such as Beepit and Grab Food Malaysia that helped small restaurant owners and businesses continue serving their customers. The initiatives prove to be successful as many SMEs who adopted the online platform have become successful over the few months since MCO started.
Lazada Malaysia managed to get more than 17,000 new SMEs to participate in their Pakej Kedai Pintar stimulus programme. The programme offered beneficiaries access to Lazada University training and micro-loads, an alternative funding and skills training stream. With this initiative, SMEs on Lazada saw an overall growth of more than 110% in sales.
>> Read more: 8 e-commerce platforms in Malaysia to sell on
Moving Forward With The Coronavirus Pandemic
The coronavirus pandemic and MCO has put a halt on many sectors of the Malaysian economy. Thankfully e-commerce was able to continue thriving and help businesses avoid halting operations during these trying times. This achievement shines a positive light on the growth and recovery of the economy. It also presents an opportunity for business owners to rethink their operations and recovery strategies against any possible future shocks. Furthermore, the global pandemic shows that business owners will need to uphold their responsibility to prevent the spread of infectious diseases and viruses among their operations, team and staff, that could hinder not only their own company but also the entire country's progress.
In current times of uncertainty, one thing for certain is that business owners should start thinking about growing their online presence. E-commerce proves to be a lasting investment, and establishing a strong online presence will help grow businesses beyond their local boundaries. Going cross-border will be a breeze especially when partnered with the right third-party logistics and automation solutions provider.
More Readings
> Easily expand your business to Malaysia with Boxme Global

> Boxme Global's operation in response to Covid-19
About Boxme: Boxme is the premier E-commerce fulfillment network in Southeast Asia, enabling world-wide merchants to sell online into this region without needing to establish a local presence. We deliver our services by aggregating and operating a one-stop value chain of logistic professions including: International shipping, customs clearance, warehousing, connection to local marketplaces, pick and pack, last-mile delivery, local payment collection and oversea remittance.