During the movement control order (MCO) that was implemented across Malaysia in 2020 to combat and prevent the spread of the novel COVID-19 virus, many entities and sectors were terribly affected by the lockdown. Whilst e-commerce marketplaces like Shopee and Lazada continued to grow, C2C marketplace Carousell Malaysia took a hit instead.
COVID-19's Impact On Carousell Malaysia
Carousell, a Singaporean-founded web-based platform promotes itself as a C2C second-hand online marketplace for users to sell their pre-loved goods to new owners. The platform mostly generates revenue through programmatic advertising, media ads and their own internal coin system. During the MCO however, Carousell Malaysia saw a drop in media dollars from advertisers especially through big brands. The reason is believed to be related to the reduction of consumer spending during the peak of the COVID-19 pandemic.
Surprisingly however, smaller advertisers came in to make up the difference in advertising. Local retailers selling furniture, home entertainment systems, and others started advertising on Carousell Malaysia to offer new essentials for Malaysians who were now stuck at home during the MCO.
During the MCO period, Carousell Malaysia also saw a drop in demand for fashion and luxury-related transactions which were normally the primary product categories on the platform. Instead, Carousell Malaysia saw a spike in demand where users were seeking goods of other product categories such as toys & games, gym equipment, home appliances & decorations, and electronics.
Carousell Malaysia recorded 1.2 million searches for work from home related equipment during the MCO period (February to June 2020), with more than 690,000 transactions for second-hand items and an average of RM1,396 (US$336.76) profits for the average Malaysian selling on the platform.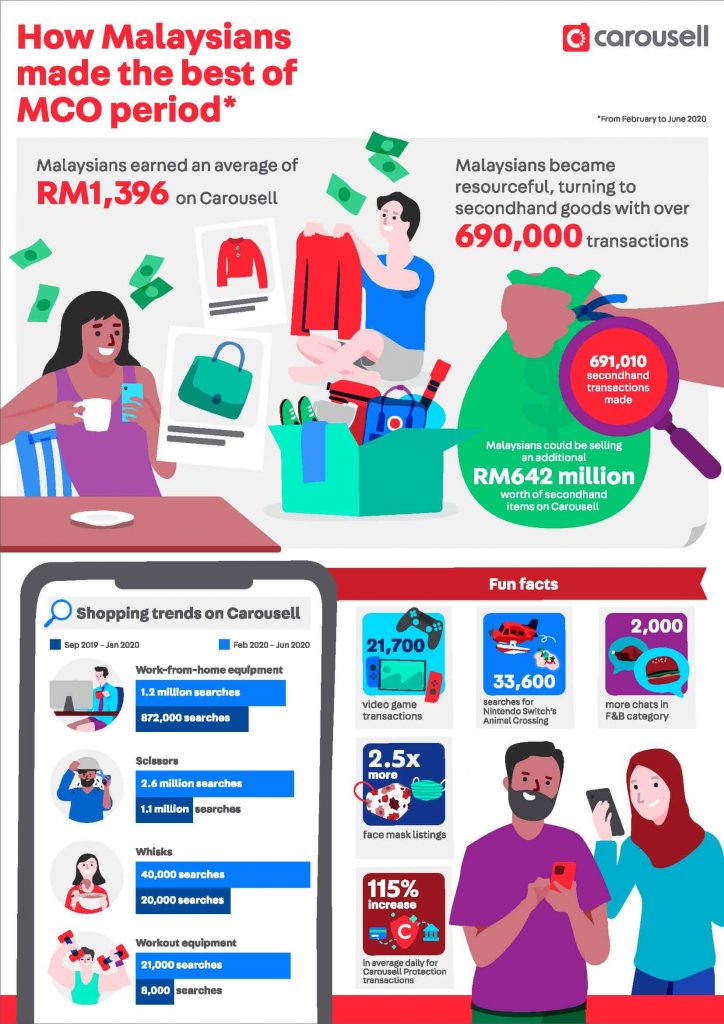 Evolving to Overcoming Obstacles
Throughout the pandemic and MCO, business and SMEs found themselves adapting to the online platform to survive. For Carousell Malaysia, the company had to learn to be flexible to adapt to various obstacles that came their way.
When the MCO was implemented, Malaysians were not allowed to travel interdistrict and further than 10km from their homes. The restriction meant that some Carousell sellers may experience difficulty when sending out their products to buyers, and also be unable to offer cash on delivery (CoD) options for buyers to inspect the product in-person before proceeding with the transaction. To overcome this issue, Carousell Malaysia worked with Poslaju, Malaysia's national courier service to provide pickup and delivery services for their sellers via shipping integration on their platform. The integration makes it easier for sellers to send out their products and for buyers to track their order shipping status within Carousell's platform.
Another issue Carousell Malaysia worked on was to curb scalpers from taking advantage of desperate Malaysians while keeping the C2C experience running smoothly. When there was a shortage of face masks and hand sanitizers, the platform noticed users scalping prices for these new essential items across most e-commerce platforms. While they don't usually step in to control the price of products featured on their platform, Carousell Malaysia worked with the Ministry of Domestic Trade & Consumer Affairs to manage the ceiling price of these new essential items by implementing AI to identify scalpers and flag them to help remove their overpriced product listings.
> Read more: Malaysia's Ecommerce Economy Thrives During COVID-19
Collaborations To Help Others
As Hari Raya was around the corner during the MCO, Carousell Malaysia partnered with Unilever Food Solutions to launch #TetapBuka Online Ramadan Bazaar to help local business owners to sell food items on the platform. The campaign allowed users to support local business owners during the fasting month while enjoying takeaway services with no additional charges.
Following the success of the Ramadan campaign, Carousell Malaysia partnered with the Malaysia Digital Economy Corporation (MDEC) to launch the #TetapBuka Carousell Business Grants initiative. The grant worth RM1 million was open to all local retailers and SMEs registered with the Companies Commission of Malaysia (SSM) to have access to CarouBiz Lite Package, the Carousell Protection digital payment system, and the opportunity to be advertised on Carousell Malaysia's main page.
In September 2020, Carousell formed another partnership with MDEC to jointly launch the government's Short-Term Economic Recovery Plan (PENJANA) e-commerce initiative called PENJANA Micro and SMEs (MSMEs) E-commerce Campaign. The initiative entails free Advertising Credits for 2,000 micro-sellers and SMEs on Carousell, as well as Buyer Discount Voucher subsidies by Carousell Malaysia and PENJANA. 
Overview
In light of the successes Carousell Malaysia was able to achieve during the MCO amidst the COVID-19 pandemic, it is proven that the C2C platform is quick to adapt to unprecedented circumstances. A different example of adapting to situations is how Carousell Hong Kong was able to help businesses continue operations during the 2019-2020 protests to provide a flexible way of making sales.
As more and more businesses look to online platforms to continue operations and generate sales, e-commerce platforms like Shopee, Lazada, and even Carousell will continue to grow. Carousell Malaysia also hopes that more Malaysians will learn to intuitively sell and buy pre-loved goods to help nurture a more sustainable and eco-friendly nation.
More Reading
> Popular Product Categories in Malaysia of 2020

> Top 6 Best Ecommerce Websites in Malaysia 2020