SexyLook is the number one skin care brand in Taiwan and is present in 28 countries around the world. By 2017 after launching in Vietnam, SexyLook encountered many barriers when doing E-commerce business. This problem greatly affects SexyLook's success, especially in a language and culture like Southeast Asia.
About SexyLook
SexyLook is a brand that satisfies most of the skin care customer's demands. The brand's products have won many reputation awards such as: "BEST PRODUCTS, SERVICES FOR CONSUMERS 2017" in Vietnam, SNQ National Quality Symbol Award in Taiwan, Award Monde Selection's Grand Gold award, most recently honored as the best-selling mask line of Medicare 2019 and a series of other prestigious awards,etc.
>>> Read more: [Infographic] The Development Of E-Logistics Industry In Southeast Asia
Challenge in penetrating Vietnam
Previously, SexyLook built E-commerce websites for each region and established a centralized marketing team in Taiwan to operate the online retail segment. But since entering the Vietnamese market in 2017, SexyLook has faced strict competition from E-commerce platforms, customers prefer buying on the E-commerce platforms rather than buying on the website. This led to a major change in the brand's previous success.
At this time, Sexylook had to build its own warehouse management process to handle orders, while struggling to find how to operate on the platforms to launch products closer to customers. Until processes are sustainable, how to effectively manage the self-operated warehouse and optimize the sales channels operation to save cost, time and operate most effectively is the next SexyLook's challenges.
>>> Read more: 5 Ways To Boost Sales For Your E-Commerce Store In 2022
Boxme's solution
Cooperating with Boxme as a 3PLs partner since 2020, SexyLook has had certain successes in the Vietnam E-commerce market.
Remove difficulties in warehouse operation
With a professional warehouse system and advanced technology, Boxme helps SexyLook achieve commitment with customers, especially for the cosmetic industry, shipping according to date is a challenge if self-operated.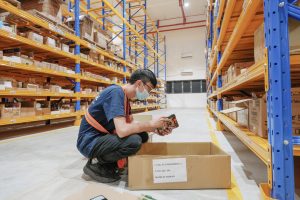 "Thanks to Boxme, SexyLook handled warehouse self-operation and managed human resources. SexyLook doesn't worry about periodic warehouse management and isn't afraid of bulk orders requiring urgent delivery or large campaigns." Ms. Ho Thu, Representative of SexyLook in Vietnam shared.
In addition, Boxme also has a transparent B2B and B2C order processing, with a specific commitment time, satisfying the requirements of the platforms and the fastidious customers. With fulfillment services, Boxme has improved SexyLook's supply chain and reduced delivery time thanks to professional automated operations, central warehouse network and partnerships.
>>> Read more: E-Commerce Trends in Southeast Asia First Half of 2022
Removing difficulties in omni-channel sales management
Through Boxme in Southeast Asia, SexyLook discovers and uses Omisell as an automated operation solution on the E-commerce platform. Omisell helps SexyLook manage its entire operations automatically with advanced inventory and order management features. Instead, SexyLook focuses on investing in marketing to increase sales, become a top seller on E-commerce platforms.
All SexyLook's orders on 4 sales channels Haravan, Lazada, Tiki and Shopee are automatically synchronized to Omisell and if the products are in stock, the order information will be automatically sent to the Boxme warehouse for packaging and delivery automated to the customers.
In addition, SexyLook's management team can easily track the status of all orders, inventory status to promptly supplement, advanced synchronization and out-of-stock warming features to help quickly update the product's quantity on all sales channels. The ability to create custom reports also makes it easy for the SexyLook Vietnam team to report the revenue to the headquarters in Taiwan.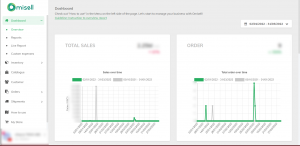 Using Boxme's services helped SexyLook process 1,832 orders in the 11th November campaign, revenue increased 3 times without any shortage of human resources. The expansion of sales channels on Lazada and Tiki platforms also achieve high-record revenue of SexyLook's Vietnam in 2021.
>>> Read more: [Case Study] Highlands successfully transformed business model during the pandemic
Conclusion
Using Boxme's fulfillment and Omisell omni-channel sales management has helped SexyLook connect the entire value chain of the Vietnam E-commerce. At the same time, it helps expand business and sales channels in the easiest way without any barriers.
Ms Ho Thu – representative director of SexyLook Vietnam also recommend suggestions for companies facing similar situations: "Choosing to use Boxme's services, SexyLook can optimize marketing and focus resources on sales and brand development. Understanding the difficulties of self-operating, Sexylook is willing to introduce Boxme and Omisell to their partners, customers."
Related Posts
>>> [Case Study] Boxme supports Tokidoki remove operation difficulties in E-commerce business
>>> [Case Study] Boxme supports Dongwon to build successful custom B2B and B2C management system
>>> [ Free Download ] Southeast Asia E-Commerce Calendar 2022 – Boxme Global