About Dongwon
Dongwon F&B is a Korean brand specializing in providing nutritious food products for public health. With the slogan "customer-centered in business development orientation", Dongwon has achieved great success in Korea and increasingly expanded to other countries such as the US, Japan, and China in Europe and Southeast Asia.
Dongwon penetrated Vietnam with the role of the exclusive representative to distribute Dongwon F&B products to supermarket chains, agents,…

In 2019, the market began to transform the retail industry and fierce competition of E-commerce platforms. Realizing the potential opportunity to expand the market, Dongwon started to participate and build brands in the retail industry, but lacked experience in managing and operating B2C orders.
Dongwon corporated with Boxme with an opportunity to get support in logistics services. Available facilities, human resources and system processes help Dongwon transform quickly and comprehensively in doing business in Vietnam.
>>> Read more: 5 Ways To Boost Sales For Your E-Commerce Store In 2022
Difficulties in the first stage of transformation
Expanding the business to Vietnam, Dongwon mainly focuses on the B2B business model. Therefore, when cooperating with Boxme and moving to B2C, Dongwon's operating processes and systems have many changes.
From a traditional warehouse operator brand to an e-commerce retail brand, Dongwon has been guided and used the system provided by Boxme, which saves time, effort and reduces errors of human resources.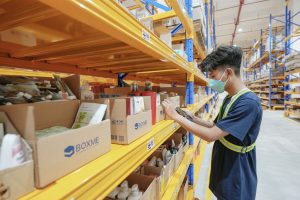 During the cooperation with Dongwon, Boxme has continuously improved and developed the system and operating process in accordance with the distribution of products and B2B orders. For B2C orders, Boxme will store, pack and deliver to Dongwon's customers.
Boxme owns a Multi Warehouse system and provides a system of modern facilities and international standards. Brands can use Boxme's multi warehouses without incurring any additional costs. This helps optimize the delivery process and the time the order reaches the buyer is fast.
>>> Read more: E-Commerce Trends In Southeast Asia First Half Of 2022
Stand out in the market
Dongwon's B2B orders require different expiry dates, especially large orders for supermarkets, trade centers, convenience store chains, etc. Accordingly, Boxme has built an inventory management system according to expiry dates, custom options choose the specified expiry dates when exporting B2B orders, this is a feature that is not available in other logistics systems.
"With the warehouse and operation system that Boxme is providing, Dongwon realized these costs are suitable for Dongwon's business. Especially, Boxme always reviews detailed analysis reports of inventory, orders, and revenue so that Dongwon can easily embrace business results in each period." – Representative of Dongwon in Vietnam said.
>>> Read more: 2022 E-Commerce Challenges Maintaining Consumer Loyalty
Conclusion
Cooperating with Boxme helps Dongwon break down all barriers when expanding business to Vietnam. Then the brand can take advantages of resources more effectively, focusing on research and development of new products with the slogan "creating many new values for the community's health"
Related Posts
>>> [Case Study] Highlands Successfully Transformed Business Model During The Pandemic
>>> [Infographic] The Development Of E-Logistics Industry In Southeast Asia
>>> [ Free Download ] Southeast Asia E-Commerce Calendar 2022 – Boxme Global