The new record for J&T Express for the harbolnas party 12.12 reaches 20 million packages !!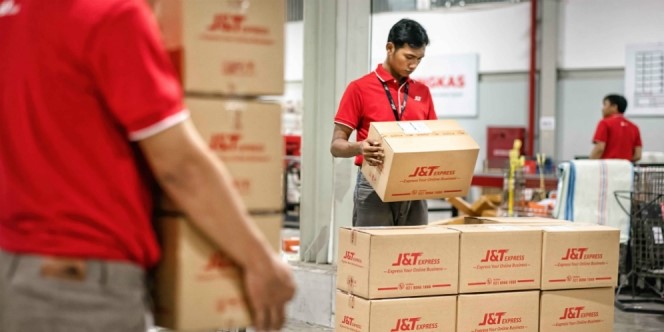 J&T Express managed to break the package delivery record on December 12, 2020 in the context of the National Online Shopping Day (Harbolnas). December 12th is a special date for Indonesians who like to shop online. Because, on that date every year is commemorated as National Shopping Day (harbolnas).
A number of e-commerce companies are vying to provide attractive discounts to the public. Surely on this occasion people do not want to miss the discounted items sold ecommerce.
Not only operating by delivery, J&T Express enlivens the 12.12 online shopping party by providing free shipping services throughout Indonesia without a minimum number of transactions that can be enjoyed on every delivery transaction at marketplace partners who work with J&T Express.
In addition, it can also increase the attractiveness of the community to use the advantages of J&T Express services that reach all corners of the archipelago.
Not playing this time a new record was printed by J&T with the delivery of 20 million packages as a result of the Harbolnas party 12.12. This success can't be separated from J&T Express's efforts in cooperating with a number of e-commerce platforms by facilitating technology-based delivery services.
J&T Express Robin Lo said that package delivery needs are still dominated by consumers from Java. In anticipation of this, it has prepared a sufficient fleet.
"Almost every Momentum Harbolnas, J&T Express shipments always record an increase. We continue to do our best to improve without compromising our service to customers. Harbolnas 12.12 this year, the volume of shipments doubled compared to last year," said Robin through the official release received by Kompas.com, Tuesday (12/15/2020).
According to him, Harbolnas 12.12 is one of the most populous shipments of J&T Express every year besides Lebaran. He confirmed that e-commerce boosted as much as 70% of J&T Express shipments. This is increasingly felt in line with the digital transformation for micro, small and medium enterprises (MSMEs) that are growing and expanding into online sales.
J&T Express's commitment to providing domestic delivery services is inseparable from the pandemic situation which is a scourge for everyone to keep each other in check, based on that, in its operational process J&T Express strongly supports health protocols in accordance with provisions regulated by the government and implements standard health protocols. 
To all employees, including sorting warehouse activities and the use of automatic sorting machines for the convenience and safety of packages reaching customers.
J&T Express certainly carries out strict SOP in operations, the obligation of employees to use masks and gloves, disinfect the sorting warehouse every week, and all packages that pass through the sorting machine will be disinfected.
J&T Express has anticipated shipments during the peak season during the pandemic, namely the provision of qualified warehouse infrastructure and facilities as well as additional employees since mid-2020 to minimize the overload of shipments.
The automatic sorting machine facility which has the ability to sort 30,000 packages per hour for 108 destinations is still a mainstay for the efficient delivery process. The use of machines can also reduce the touch of human hands to the packages sent so as to support the prevention of transmission of the Covid-19 virus.
More Readings?
>>>12.12 Shopping Festival – Sales record with impressive numbers
>>>Malaysia's Ecommerce Economy Thrives During COVID-19
>>>Tips for e-commerce business in Indonesia during a pandemic and New Normal
About Boxme: Boxme is the premier E-commerce fulfillment network in Southeast Asia, enabling world-wide merchants to sell online into this region without needing to establish a local presence. We deliver our services by aggregating and operating a one-stop value chain of logistic professions including: International shipping, customs clearance, warehousing, connection to local marketplaces, pick and pack, last-mile delivery, local payment collection and oversea remittance.