E-commerce platforms shipping
Nowadays, E-commerce is widely popular in Thailand due to the fact that consumers could easily access many desired products. Most online stores tend to have lower product prices compared to brick-and-mortar stores as the businesses don't have to pay for storefront rental. Even though consumers have to wait 1 to 3 days for delivery, lower pricing is one of the main reasons that most consumers turn to buy products online. The reliability of the brand and the professional logistics system are also considered important factors that turn consumers to buy online than in-store.
–> Read more: Seize The E-Commerce Opportunity In Thailand
There are various wide-known E-commerce platforms in Thailand: Lazada, Shopee, AliExpress, JD Central, etc. Usually, the available shipping options can be selected by customers after placing an order, provided by couriers that are partners with said platform. Several E-commerce platforms have their own logistics line as well.
For domestics selling and shipping:
The store only needs to pick and pack products following the customer's orders, as the delivery process will be handled by the shipping courier.
For cross-border selling and shipping:
Following each country's policies, the brand has to pack, label, and ship the orders by themselves. Therefore, most of the businesses decided to outsource fulfillment warehouse services that support international logistics activities.
–> Read more: The Most Popular E-Commerce Platforms In Thailand
Social media & others
Besides E-commerce platforms, statistics show that Thai consumers are likely to buy products on social media platforms such as Facebook, Instagram, Twitter as well as brand websites and online retailers. Noted that Thai consumers prefer buying products through chatting.
These channels don't have integrated logistics support compared to E-commerce platforms. Businesses have to manage the logistics process by themselves or outsource to another third-party logistics provider (3PL) if they deem it necessary.
Answer the 3 following questions when your brand is considering 3PL services: 
  – What is the maximum amount of order that you can fulfill in-house daily?
  – Are you expecting a spike in order volume as a result of expanding the business?
  – Are you running out of labors and warehouse space?
Online payment in Thailand
Having various payment channels to support customers create a seamless experience. There are popular payment channels that find public favor in Thailand including credit card, e-wallet, bank transfer, cash, and others.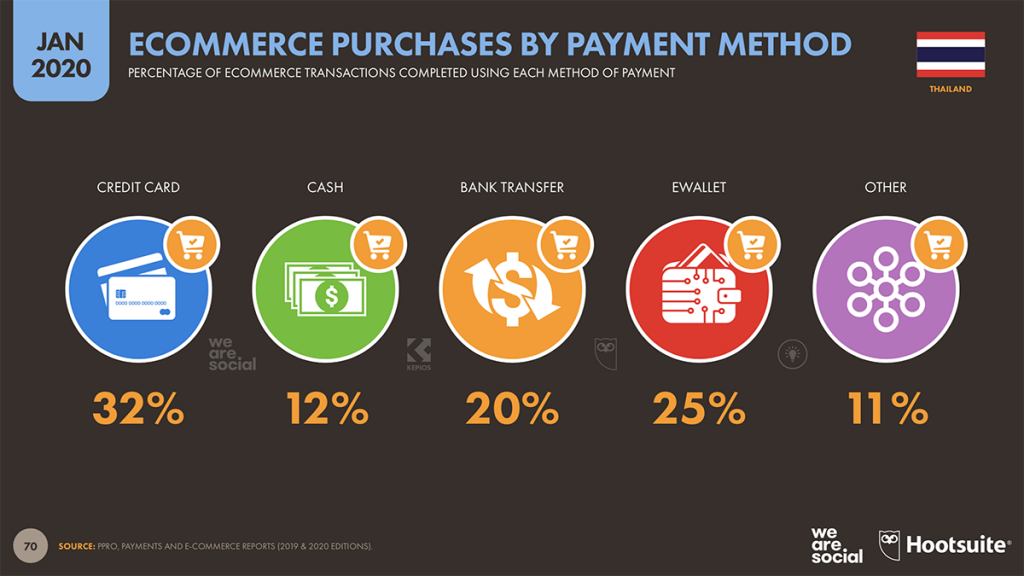 Due to the fact that Thai people are still concerned about the credibility of online purchasing, Cash-on-Delivery (CoD) payment is still widely accepted among Thai buyers. People prefer that they can check the item before paying, or some simply don't have access to online payment methods. Therefore, it is important for brands to offer various payment methods to appeal to all types of customers.
Boxme is the premier cross-border e-Commerce fulfillment network in Southeast Asia, enabling world-wide merchants to sell online into this region without needing to establish a local presence. We deliver our services by aggregating and operating a one-stop value chain of logistic professions including: International shipping, customs clearance, warehousing, connection to local marketplaces, pick and pack, last-mile delivery, local payment collection and oversea remittance.