Wrapping up the last double digit sale of 2020 for e-commerce is the 12.12 sale in Malaysia and the rest of Southeast Asia. E-commerce marketplaces and merchants witnessed a shopping frenzy as customers flocked online to take advantage of the 12.12 sale's bargains and discounts for year-end purchases. As a result, Malaysia's top marketplaces Shopee and Lazada have each made record breaking sales coming this festive period.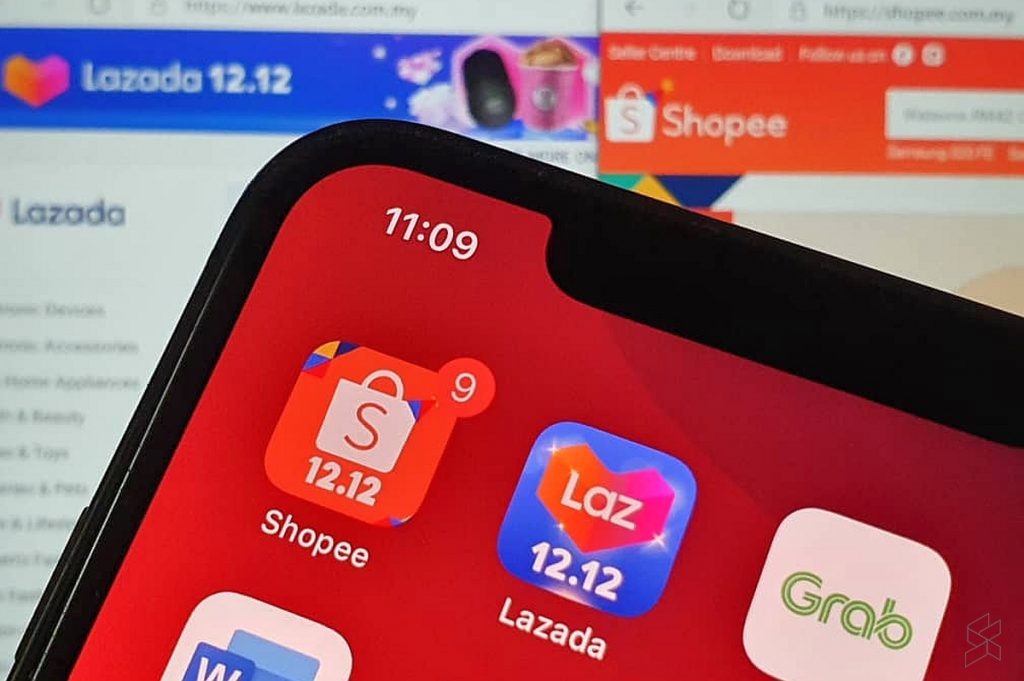 Shopee
After the sale, Shopee revealed that they have sold 12 million items on their platform within the first 24 minutes of the sale. This achievement is another groundbreaking sales record in Shopee's history in Malaysia.
At the peak of the sale, one million items were bought in a single minute from a selection of over two billion products. Shopee also reports that over 875,000 items were sold in Selangor alone during the first hour of the 12.12 sale. This includes one Malaysian shopper who single-handedly made 180 orders in the morning of the sale.
Lazada
Lazada Malaysia achieved their own record breaking performance of exceeding its previous year's whole-day sales in just under 12 hours. The company reported that sales for a few product categories increased by nearly 100% compared to last year.
Lazada announces that 80% more local LazMall brands and small and medium enterprises (SME) sellers participated in their 12.12 sale this year, and the number of local merchants that generated online sales also increased by over 80% year-on-year.
Read more: How Malaysia Handled the 11.11 Sale 2020 Campaigns
Popular Product Categories During 12.12 Sale in Malaysia
The 12.12 sale in Malaysia showed some very different popular product categories as compared to the rest of the year 2020.
Shopee's top selling products during the 12.12 sale are Home & Living products, school items, malt drinks, Health & Beauty products, and electronics & entertainment devices. Under the home and living category, 1.2 million home improvement and decoration products were sold, likely due to the work from home situation and the upcoming Christmas celebrations.
For school items, over 670,000 stationery items and more than 200,000 school uniforms, bags, shoes, pencil cases and more were sold. Shopee predicts that this is in preparation for when school reopens after the coronavirus pandemic subsides. Shopee says that Malaysians love Milo drinks as 120 packs of Milo were sold per minute in the morning of 12th December. The website also notes that 8 out of 10 performing Malaysian SMEs were electronics retailers, who achieved an average sales of over RM800,000 each.
Lazada on the other hand reveals that their top selling products are toys, sports equipment and electronics & mobile devices. The long-time e-commerce website suggests that the reason is that their shoppers are preparing to celebrate the festive season and gift shopping for friends and loved ones. Meanwhile, the strong performance of the sports & outdoors product category is likely an indication of Malaysians wanting to become more health-conscious as the New Year approaches.
Read more: Popular Product Categories in Malaysia of 2020
Mobile Payment Preference During 12.12 Sale in Malaysia
Over the course of the coronavirus pandemic and the subsequent Movement Control Order (MCO) where Malaysians have to stay at home, there has been an increase in the use for online and mobile payments.
Shopee records an increase in usage of their ShopeePay feature. According to the e-commerce platform, they recorded a surge of 18 times the usage of its in-app mobile wallet. Lazada also noted a 40% year-on-year increase in top ups to their Lazada Wallet feature. The surge in usage of mobile payments reflect the growing confidence in adopting digital payments among Malaysian online shoppers compared to only 2 years ago when shoppers were still concerned about digital scams online.
Final Words
The success of the 12.12 sale in Malaysia and the growing percentage of mobile payment adoption are strong indicators that the growth momentum of e-commerce in Malaysia is still growing strong and expected to continue increasing.
The success of the year end sales is strongly attributed to the increasingly digital local population where online shopping has now become a pervasive cultural phenomenon that's entrenched in the daily lives of Malaysians and the country's new normal.
With the surge in both numbers of participating local merchants, brands and SMEs on Malaysia's top e-commerce marketplaces also show an encouraging growth in the digitisation of the Malaysian economy.
Following the path of digitisation, local merchants, brands and SMEs should start to look toward a future of cross-border expansion and growth to reach new revenue streams and achieve international recognition. A strong and trustworthy 3rd party logistics and e-commerce solutions provider will be required to help ease operations and cross-border growth.
More Readings
> Malaysia: The Dominating Ecommerce Market in SEA

> Malaysia's Ecommerce Economy Thrives During COVID-19