Lunar New Year, or better known as Chinese New Year in Malaysia was vastly different in 2021 as compared to previous years. With the rising number of positive COVID-19 cases in the country and especially in the busy cities, the government extended the second Movement Control Order (MCO) to combat the spread of the infectious virus. Malaysians who celebrate the cultural holiday were not allowed to travel back to their hometowns or attend large gatherings. A long list of SOPs were imposed causing the festive mood to be dampened.
Social media analytics service website Wisesight shared the purchasing behaviour of Malaysians prior to Chinese New Year and the data suggests that despite the many restrictions imposed by the government, Malaysians are still excited to celebrate safely at home with their own families.
Online shopping has been on the rise in Malaysia, and the e-commerce economy has been steadily growing even before the pandemic hit the country. Given the changes ever since Malaysia went into lockdown, more brick-and-mortar stores turned to online platforms to sell their goods and services to continue making business and generating revenue, especially during holiday seasons like Chinese New Year and annual sale events like China's 11.11 Singles Day sale or 12.12 year end sale.
Chinese New Year Shopping Started In January
Based on the statistics in January 2021 shared by Shopee to Wisesight, among the top searched products on their platform are 100 Plus, fashion and accessories, and Chinese New Year decorative items. Some other searched products include bird's nest, abalone, and "bak kwa" (dried meat). These items annually experience a spike in searches as Chinese New Year celebrations are around the corner.
Shopee also reports that the most purchased products include furniture and decorations, electronics and basic necessities. Health and hygiene related products still remain a popular purchase, while luxury items are expected to drop in sales. Shopee predicts that sales in gift items are expected to rise as interstate travels are not permitted during MCO.
> Read more: Trends and Insights for Chinese New Year 2021 in Malaysia
Increase In Engagement With Retail Brands
According to Wisesight, social platforms for retail brands were active in terms of engagement from 13 to 25th January 2021. The total engagement for the top 13 brands recorded was 166,219 with an average of 12,786 engagements per day during the studied period.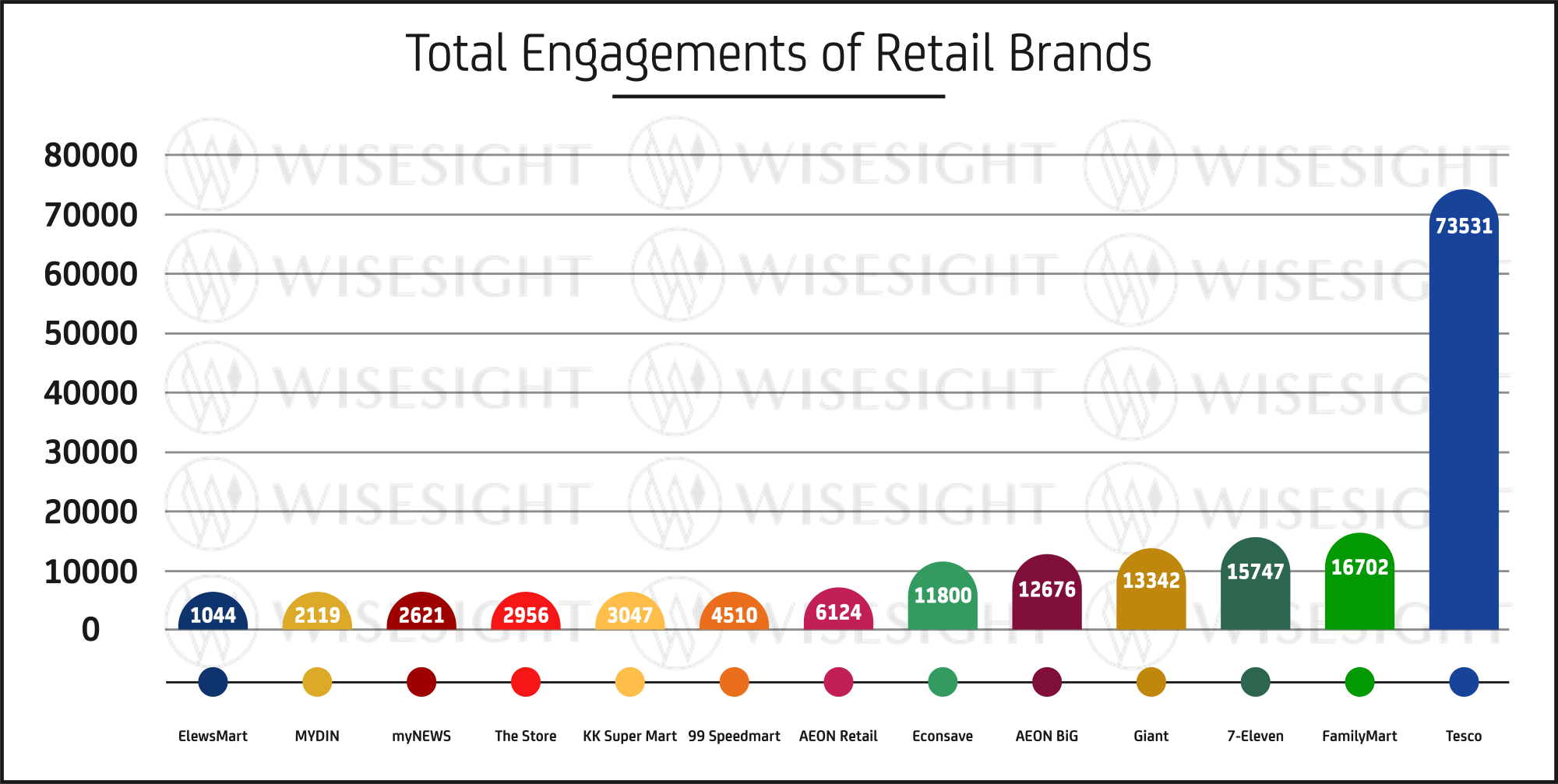 Top brands for online shopping include Tesco with 73,531 engagements, FamilyMart with 16,702 engagements, and 7-Eleven with 15,746 engagements. The data suggests that Malaysians are shopping for groceries and limited edition Chinese New Year themed goods from supermarkets and convenience stores in preparation for the festive season.
Online Shopping Still Strong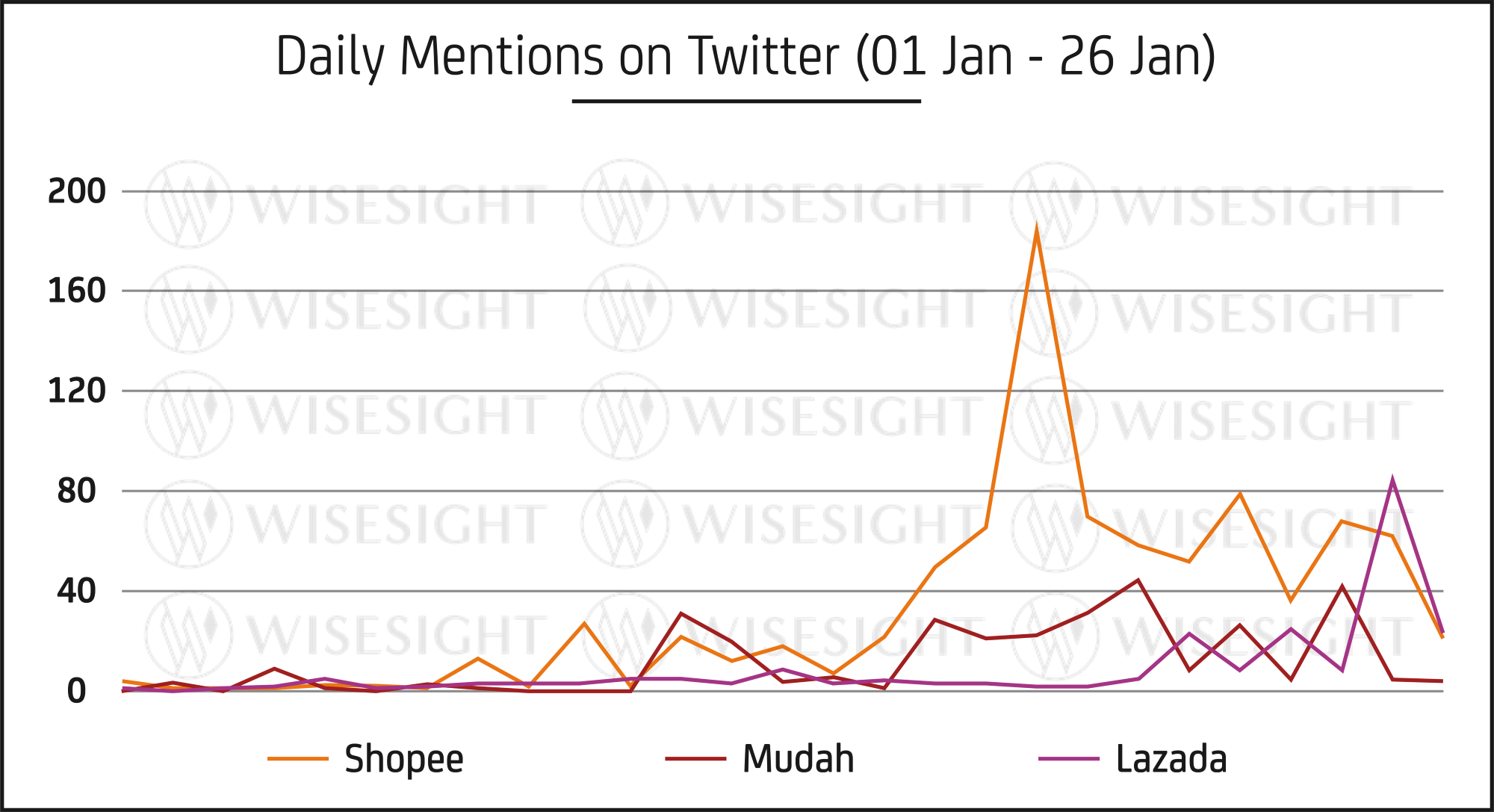 As for online shopping, Malaysia's top 3 online shopping platforms Shopee, Mudah.my and Lazada experienced a spike in brand mentions on Twitter. Wisesight suggests that online retail sales will not slow down during Chinese New Year preparations, and also advises businesses to continue to be mindful of the quality of products and services provided, especially when it concerns hygiene and SOP compliance. With Shopee and Lazada having rolled out their Chinese New Year sales event, the Malaysian economy is expected to experience good improvement from the contribution of the e-commerce sector.
> Read more: Malaysia's Ecommerce Economy Thrives During COVID-19
Afterword
Despite the implementation of the MCO and multiple restrictions against celebrating Chinese New Year, Malaysians are still actively online to seek deals and promotions. With the help and convenience of online shopping platforms, Malaysians will be able to purchase goods and products that are related to the festive holiday and have small celebrations safely at home.
More Readings
> [ Infographic] Vietnam retail sales surge ahead of Lunar New Year 2021

> Hitz products in e commerce in welcoming the Lunar New Year in Indonesia