Boxme's Fulfillment Tour is an event that provides the entire community operation hands-on experience of a typical Ecommerce Fulfillment warehouse system in the region.
Here, visitors will:
         1. Meet and discuss with Boxme experts about opportunities and challenges of E-commerce business in Vietnam market in particular and Southeast Asia in general.
         2. Direct experience Order Fulfillment process of top brands on E-commerce platforms.
1. E-commerce business in Vietnam
E-Commerce Potentials and Trends
Southeast Asian countries all recorded amazing E-commerce growth in 2021. As of the first half of 2021, the number of digital consumers in Southeast Asia is up to 350 million. Per capita spending also increased.
In particular, Vietnam's E-commerce is a potential market, which is a very good environment for E-commerce sellers to seek development opportunities.
According to a Statista report, the Gross Merchandise Volume (GMV) of Vietnam's e-commerce market reached $13 billion in 2021, accounting for 62% of the total value of the digital economy. By 2025, it is expected that the GMV of Vietnam's digital economy will increase by 2.7 times, reaching $57 USD.
>>> Read more: [Infographic] Vietnam E-Commerce Market Overview In 2021 & Future
1. Social/Live commerce
Not only a product marketing channel, social media platforms are increasingly completing the system to help buyers access shopping on their platforms. Messages such as "swipe up to purchase" or "store link in bio"
2. Omnichannel
Nowadays, buyers value convenience above all else. Businesses that invest in their omnichannel strategy will be in a better position to maximize sales and drive customer loyalty.
3. Conversion Optimization
The increasing cost of advertising and marketing after changes in user tracking policies of platforms such as iOS and Android will make businesses focus on optimizing conversions to make a difference.
4. Purchase Optimization
E-commerce has become the main purchase method for many businesses. They need to complete the buying and selling process as well as return handling.
5. Payment methods Diversification
New payment methods for E-commerce such as Buy Now – Pay Later, Online Installment, etc will boost merchant's sales.
>>> Read more: [Infographic] Cross-Border E-Commerce Market in Southeast Asia
E-commerce Logistics
In the e-commerce business, warehouse operation is always a difficult problem, especially for large-scale businesses with diverse types of goods. Once this problem is solved, businesses can achieve the maximized profits, reduce costs and improve customer satisfaction.
The question for most businesses when scaling up their business model is how to optimize and operate sustainable warehouses?
Accordingly, more and more businesses are looking for 3PL logistics units for support in the entire order operation.
In Vietnam, there are 3PL models of platforms such as Fulfilled by Lazada (FBL), Fulfillment by Tiki (FBT), which support warehouse and optimal orders processes arising from these two platforms. However, there are also challenges in the E-commerce orders management and operation. Many sales channels with different operation processes leads to many risks such as:
Late packing due to a spike in orders.
Many partners need to manage and connect.
Sellers have to allocate inventory to many places and face challenges in optimizing inventory and lack of flexibility in operating promotions.
The platforms apply a sanctions framework for shops that incorrectly update product inventory: point deduction, penalty or ban from participating in big promotions.
Shortage of human resources, etc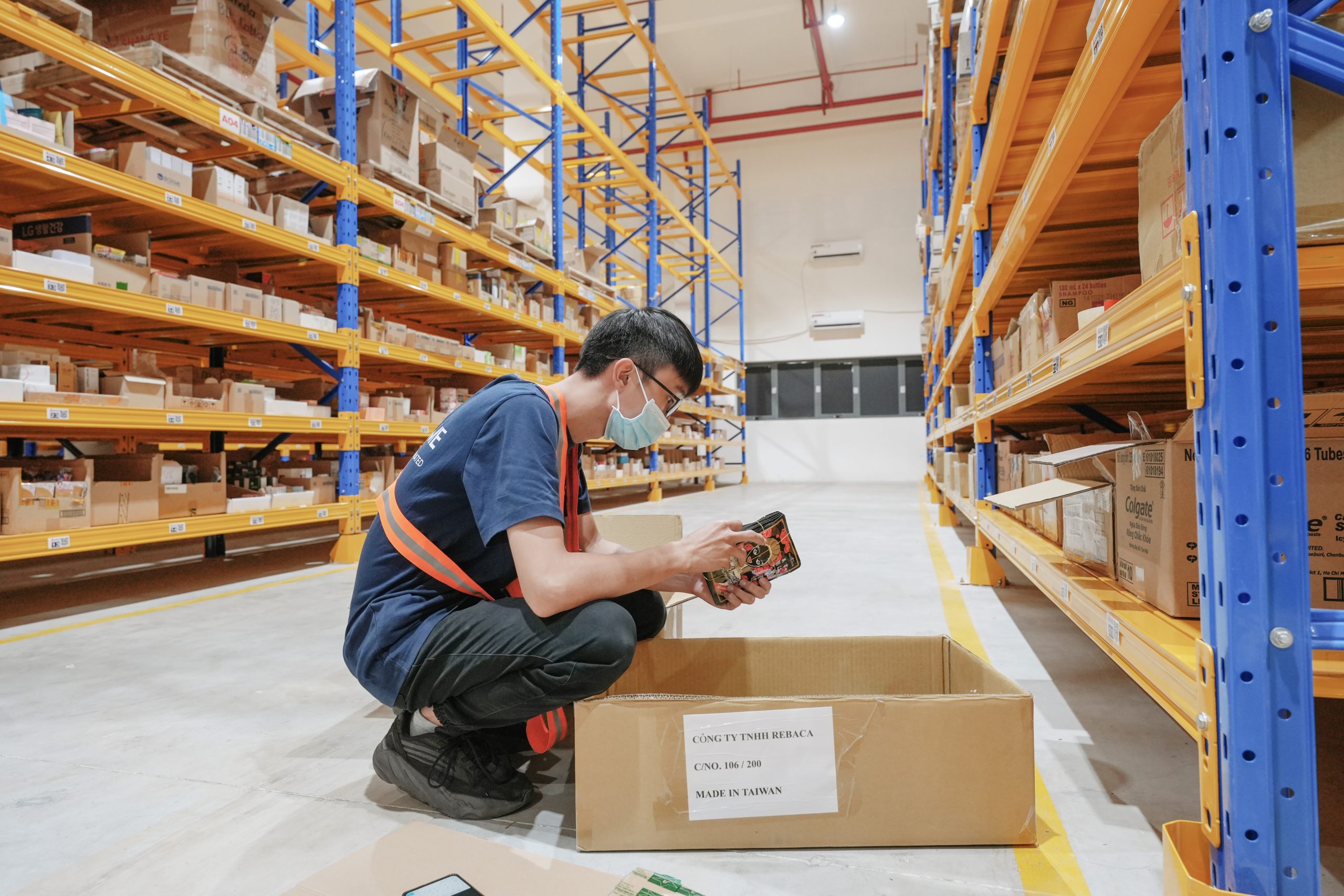 Understanding insights customers, Boxme has built the centralized warehouse model, supported E-commerce sellers to process orders from many different sales channels.
Operation: Building a consistent process for multi-platform operation, omni-channel sales in accordance with each business.
Technology platform: Boxme masters advanced technology platform, helps businesses connect multi-channel; centralized inventory management; integrated management system ERP, POS, Accounting; unify and automate the order processing; connect shipping couriers, orders fulfillment, etc
Inventory: Ensure multi-channel inventory and avoid risks such as oversell, undersell, dead stock, etc
>>> Read more: 7 Useful Tips For E-commerce Retailers In 2022 – Boxme
>>> Read more: 5 Ways To Boost Sales For Your E-Commerce Store In 2022
Case Study – Thegioiskinfood
In the context of prompt E-commerce development in Vietnam, omni-channel retail helps Thegioiskinfood to expand its market and reach new customers, however it inadvertently causes difficulties in centralized management of sales channels. In addition, doing business on the E-commerce platforms is increasingly "harsh", providing a satisfied customer experience is the successful key of sellers.
Accordingly, Boxme cooperated directly with representatives of Thegioiskinfood to design its own operation process in accordance with the brand's business characteristics, creating the difference of Thegioiskinfood.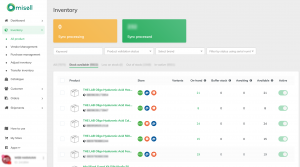 Automatically sync all orders of Thegioiskinfood on 5 sales channels Website, Facebook, Tiki, Lazada and Shopee to Omisell – omni-channel management software developed by Boxme. With 12.000+ SKUs and 6 sales channels. TGSF can easily launch promotions with many different programs without changing the operation.
2H Shipping Service – Shopee Instant: Freeship delivers 2H for orders over 100.000 VND. The Omisell system provides TGSF with fully automated service and optimization capabilities, even during big promotions like Megasale 11.11 when orders are overloaded.
Sustainable services: TGSF can operate stably with an average fulfillment time of 24 hours including big promotion days.
>>> Read more: E-Commerce Trends in Southeast Asia First Half of 2022
2. Experience an E-commerce warehouse operation process with "Fulfillment Tour"
Tan Thuan Fulfillment Center is Boxme's newest and most modern E-commerce warehouse in the region. With 3.000 SQM (2 floors) and the storage capacity of over 2.500 CBM, Boxme Tan Thuan warehouse aims to promote Instant Fulfillment service for brands with the ability to deliver orders in 2 hours through couriers partners such as Ahamove, Grab, Lalamove, Ship60…
Here, visitors can experience the warehouse & E-commerce orders fulfillment process for Boxme's customers and visit from the inbound area, goods storage area, cool warehouse, packing area and outbound area.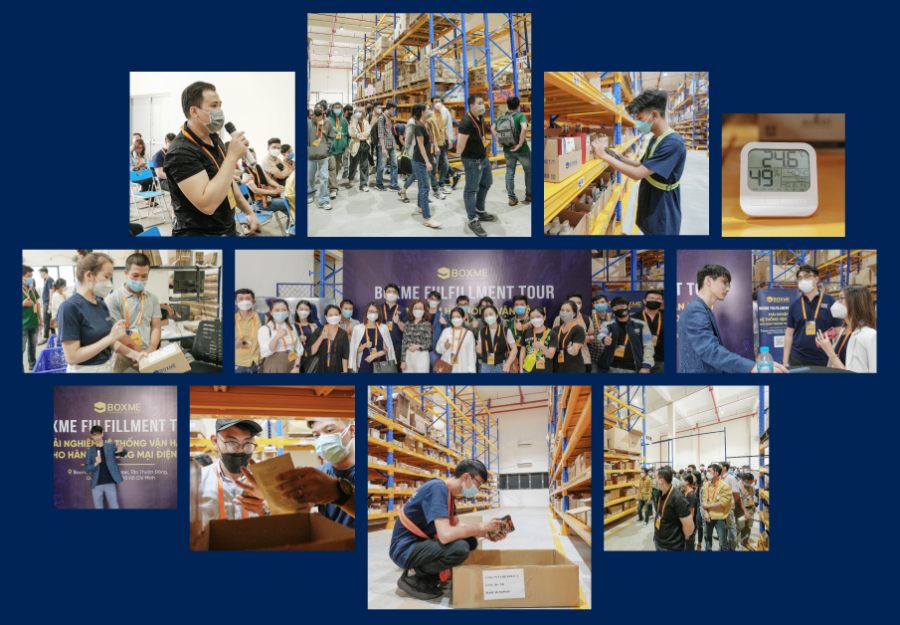 During the Fulfillment Tour, the Boxme team is always available to answer questions about Boxme's processes and policies. Some frequently asked questions are:
          How is the storage cost in Boxme charged?
          How many SKUs can Boxme store for each brand?
          Does Boxme guarantee operation during megasale occasions with a sudden increase in orders?
The event is expected to take place once a month at the Boxme's Fulfillment Centers and the upcoming Tour will take place in May 2022. We look forward to seeing you soon at the Boxme Fulfillment Tour.
About Boxme: Boxme is the premier E-commerce fulfillment network in Southeast Asia, enabling world-wide merchants to sell online into this region without needing to establish a local presence. We deliver our services by aggregating and operating a one-stop value chain of logistic professions including: International shipping, customs clearance, warehousing, connection to local marketplaces, pick and pack, last-mile delivery, local payment collection and oversea remittance.