Malaysia's e-commerce economy prospered exponentially during the COVID-19 pandemic, driven by many factors, mainly the encouragement of the government to shop online and stay home to stay safe. During the Movement Control Order (MCO), many Malaysians have learned how to start shopping online for daily essentials, groceries and seek services.
Even before the pandemic, Malaysia's e-commerce economy was already a boiling pot of opportunities. Driven by a relatively high internet penetration rate, Malaysia's US$4 billion e-commerce market experienced an explosive growth of 47.8% from 2014 to 2017, and a value increase of 39% alone in 2019.
New Norm Shopping Habits In Malaysia
Ever since the pandemic hit, Malaysians have been staying safe at home. The Movement Control Order (MCO) set by the government restricted traveling between districts and states, certain economic sectors were forced to shut down and only essential services were allowed to continue operating, restaurants were not allowed to have customers dine in, and a limited number of people from each household were allowed to go out to shop for daily necessities.
While staying at home to stay safe and abide by the SOPs, Malaysians turned to online platforms to do their shopping and seek services. This led to an unprecedented surge in e-commerce growth. The COVID-19 pandemic also accelerated Malaysia's adoption for electronic and digital payments.
> Read more: Malaysia's Ecommerce Economy Thrives During COVID-19
E-commerce Payment Options
As digitisation adoption in Malaysia continues to expand, Malaysians get to have various payment options when making a transaction regardless of being online, or at a brick-and-mortar shop, or even at a roadside stall.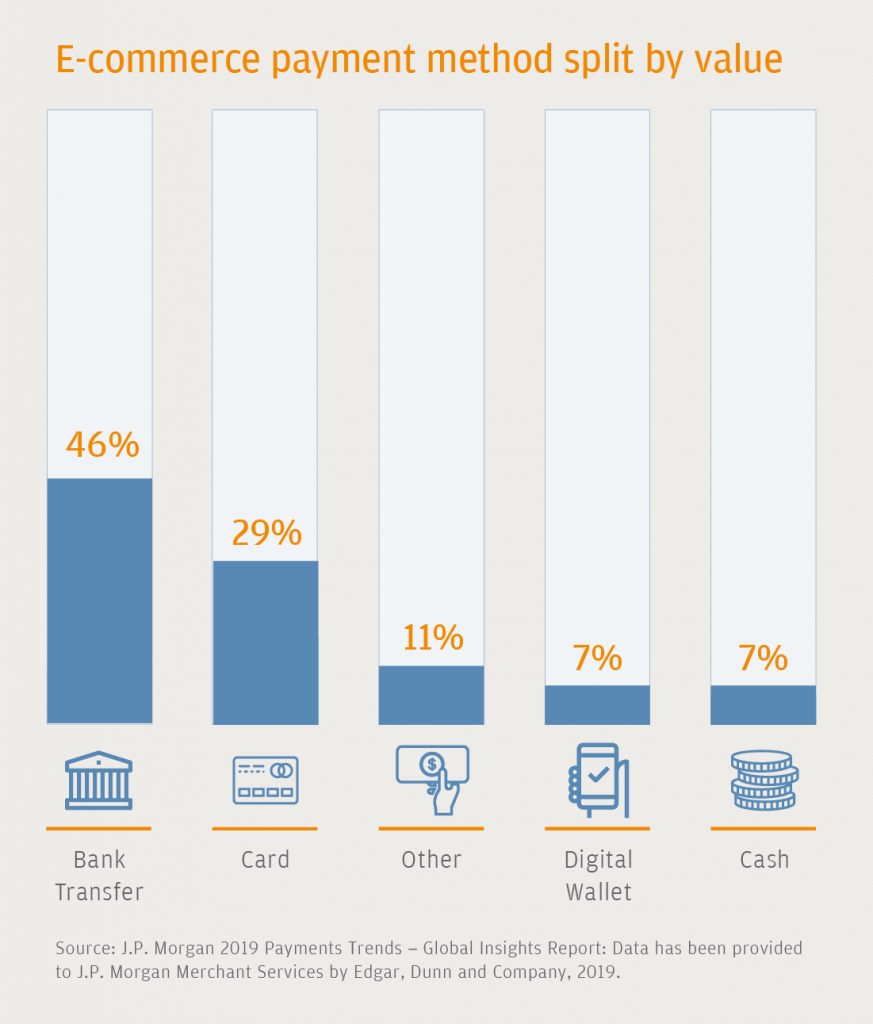 Bank Transfer
In the case of e-commerce payment, bank transfer is the most popular payment method in Malaysia. Financial Process Exchange (FPX), a Malaysia-based secure payment system, helped gain the public's trust with their convenient and secure payment system that allows customers to complete transactions online using their bank credentials. The payment system partnered with all if not most banks in Malaysia to help customers experience a smooth and seamless secure transaction when doing their shopping online.
Other secure payment systems such as eGHL, iPay88 and Stripe are also starting to take root in the market to help more businesses provide customers with smooth and secure transactions. Local banks are also starting to launch their own e-commerce payment options such as Maybank2U and CIMB Clicks. These banks have also produced their own mobile phone apps for easier banking activities, which borderlines with digital wallet payment methods.
Debit Cards / Credit Cards
Card payments remain a frequently used payment method among Malaysian consumers.
According to data from Bank Negara Malaysia (National Bank Malaysia), principal credit cards in circulation have gone up by 26% between 2015 and 2020, increasing from 7.2 million to 9.1 million credit cards. The number of credit card transactions increased by 42% between 2015 and 2020.
Despite the rise in popularity of digital wallets, credit cards are still going strong in growth. Credit cards in 2019 showed a decline of usage at 0.3 cards per capita, suggesting a reluctance to take on card-based personal debt. In that year, debit cards were the preferred payment option at 1.44 cards per capita.
However, over the course of the COVID-19 and MCO in 2020, Malaysians showed to favour credit cards over debit cards by 4 to 1, after having switched to using credit cards at the convenience of it's usage for e-commerce payments.
Some of the many factors that influence the growth of credit card growth include, aggressive marketing campaigns with alluring incentives, improved banking infrastructure, and increased point-of-sale card acceptance among Malaysians. It is also possible that the desperation and uncertainty in decreased household incomes played a role in helping the growth of credit cards as many Malaysians started losing their jobs during the peak of the COVID-19 pandemic in 2020.
E-wallets / Digital wallets
Digital wallets and e-wallets are growing and trending payment methods in Malaysia. Malaysia leads Southeast Asia in digital wallet use by 40% take-up, as compared to neighbouring countries, the Philippines (36%), Thailand (27%) and Singapore (26%).
The adoption of digital wallets and e-wallets were boosted over the duration of the COVID-19 pandemic in Malaysia when Malaysians were worried about virus transmission by banknotes and coins.
While there are differences between digital wallets, e-wallets and even mobile wallets, they are essentially the same digital form of payment but each with their own user benefits and conveniences. The naming terms are often used interchangeably among users.
Transactions made using e-wallets would be recorded digitally and automatically, providing an easy way for users to track their spending. Using digital wallets also meant that Malaysians didn't need to carry cash around as payment using mobile phones was proven to be very convenient in the mobile-first country.
This payment method is prevalent among the younger and more tech-savvy generation in Malaysia, and also among the slightly older tech-adapted generation that actively hunt and seek for discounts, bargains and deals that are frequently offered in various e-wallets. Presently there are approximately 50 different digital wallets available in Malaysia, each with their unique selling points and features.
Another encouraging point for digital wallets and e-wallets is that they have the same flexibility as credit and debit cards, as they can be used for both online and offline transactions.
The Malaysian government is also pushing for digital wallet adoption. The DuitNow QR initiative established by PayNet (Payments Network Malaysia Sdn. Bhd.) under the Bank Negara Malaysia's (National Bank Malaysia) Interoperable Credit Transfer framework aims to put Malaysia on the track for a more cashless future. The initiative also aims to encourage the adoption of digital wallets from large businesses to small businesses and even roadside stalls and market vendors.
DuitNow QR, the national QR standard, helps Malaysians make payments and send money instantly and securely using a standard QR code that works across most bank mobile apps and major e-wallets.
Cash Payments / Cash On Delivery (COD)
Amidst the growing digital payment trends, cash on delivery (COD) payment is still in demand. Previously one of the top preferred payment methods due to security concerns about online payment, COD method dropped in popularity when payment gateway systems improved their security and authentication processes.
Regardless, a percentage of Malaysian consumers still prefer to pay in cash for their online purchases because they prefer to see the actual product before making their final decision. During the MCO, many older generation Malaysians and first time online shoppers started to learn how to shop on e-commerce platforms. As they are new to the experience, they are not comfortable with online payment methods yet and thus would opt for the COD method.
Despite this small revival, COD payment is still projected to be overtaken by digital and e-wallet payment methods for e-commerce purchases by the end of 2021. Cash payment however will continue to prevail as many courier services still offer COD payment options.
> Read more: Top 10 Best Courier Services in Malaysia 2021
A New E-commerce Payment Method
Having said that, an e-commerce player will change the meaning of COD payment in Malaysia forever.
Popular e-commerce platform, Lazada recently launched a new cashless payment on delivery option. With this new cashless COD, customers can select this digital alternative and scan a DuitNow QR upon receiving their order via Lazada Express (LEX). It is the same as the traditional COD payment method except payment will be made via digital wallet.
This new e-commerce payment method is ideal for those who are still new or uncertain about online shopping and prefer the COD method while also helping them reduce physical contact.
With the help of cashless COD, Lazada is aiming to reinforce customer trust in digital payments, enhance consumer safety, and help increase e-commerce adoption.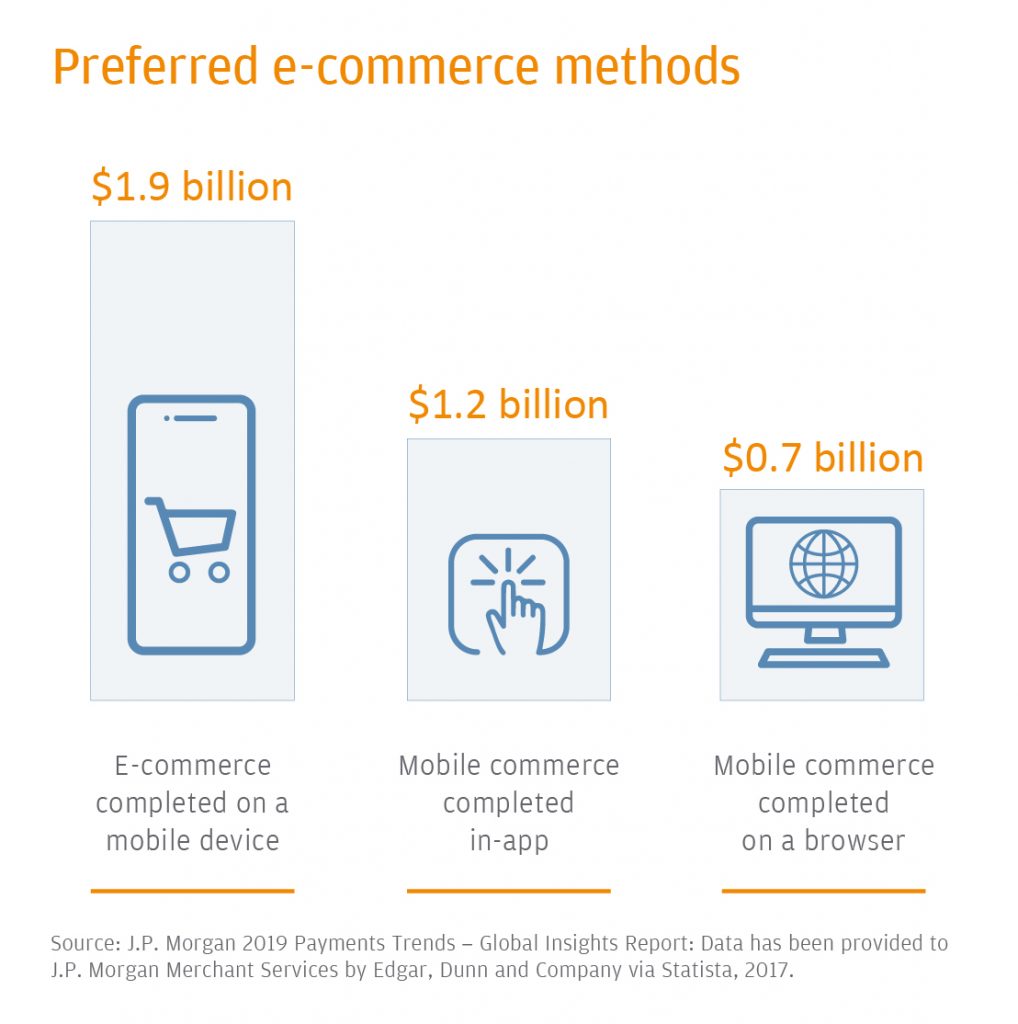 Overview
Malaysians are increasingly relying on e-commerce to purchase daily essentials, groceries and shopping as the COVID-19 pandemic continues to plague the country. The use of digital wallets and e-wallets are increasingly becoming the popular choice for e-commerce payment in Malaysia. The adoption for e-wallets may also spread even further among merchants because of how viable they are not only for the e-commerce market, but also for the traditional market.
Bank transfers are projected to continue its gradual growth, whereas credit cards may foresee a drop after the pandemic is overcome.
As the country continues to digitise on its path towards a cashless future, cash payments could eventually lose popularity in high density cities and be overtaken by e-wallets.
Businesses and merchants will need to adapt and digitise their business models to keep up with Malaysia's growing e-commerce environment.
More Reading
>> Malaysia's Economic Recovery Using E-commerce

>> Malaysia E-commerce Market Insight