Shopee is famously known for their monthly sales events. For the month of March, Shopee Malaysia launched their 3.3 Supermarket Sale, and in conjunction the e-commerce marketplace rolled out their Next-Day Delivery service. This initiative promises customers that their purchases on Shopee Mart will be delivered the following day after placing their order.
Customers who wish to apply the Next-Day Delivery service will need to place their orders before noon (12PM). By doing so, their orders will be delivered on the very next day which includes weekends (but not public holidays). The service only applies to any purchases on Shopee Mart with the Next-Day Delivery tag. All states in Malaysia except for Perlis, Kedah, Kelantan, Terengganu, Sabah and Sarawak will be able enjoy the service via the new integrated shipping service Shopee Xpress.
For the duration of the 3.3 Supermarket Sale, Shopee Malaysia announced that customers whose Next-Day Delivery orders fail to be delivered by the following day will receive a free shipping voucher that can be used on their next purchase.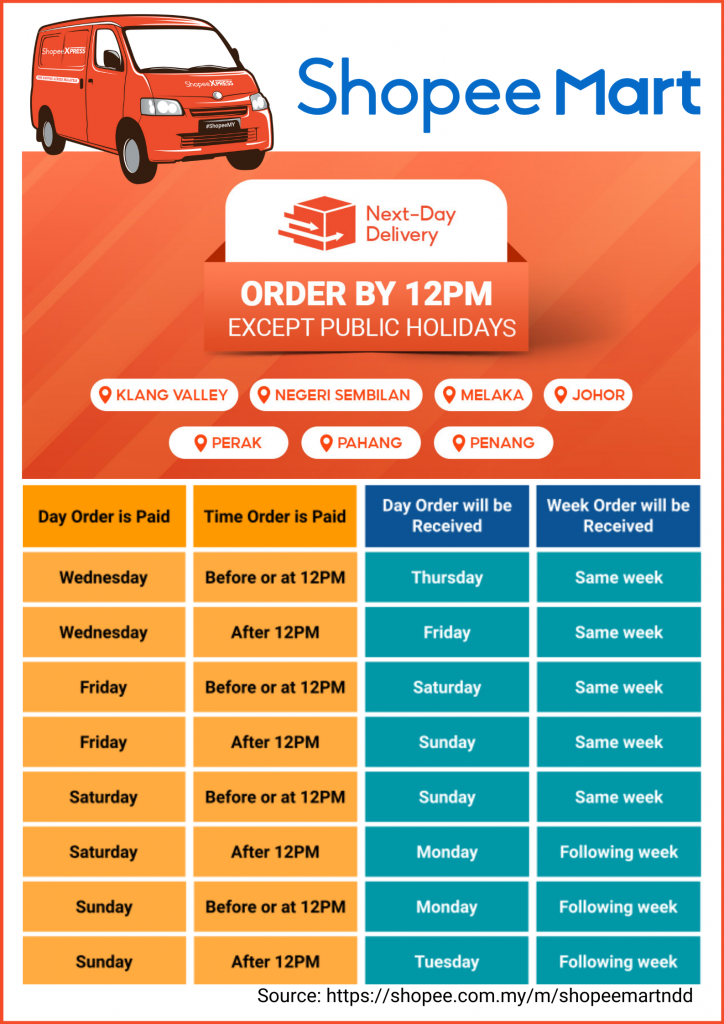 > Read more: 5 Tips on How to Boost Sales on Shopee in Malaysia
The 3.3 Supermarket Sale boasted promotions and deals such as free shipping with minimum spend of RM10, daily 50% off deals, as well as bargains from as low as 33 sen.
Shopee Malaysia's live streaming channel, Shopee Live also worked with local television program TV3 to utilize the best of TV shopping by putting together the 3.3 Supermarket Show which was aired at 9pm on 3rd March. The program featured interactive activities and more attractive deals for customers who tuned in during the showtime.
Expansion To Bring Next-Day Delivery Service
To achieve the capabilities of offering the Next-Day Delivery service, Shopee expanded their logistics infrastructure in Malaysia and integrated shipping service Shopee Xpress. The initiative also introduces 10 new Shopee Express drop-off points in Malaysia. Partnering with Parcelhub and MBE Malaysia brings the total number of drop-off points nationwide to over 300 locations.
Additionally, Shopee Malaysia also widened their network of warehouses, hubs and sorting centres in over 50 strategic locations in the country including areas such as Senawang, Bagan Serai, Batu Pahat, Simpang Ampat, and Bayan Lepas to increase delivery efficiency even to smaller towns and secluded locations.
The expansion comes after Parcel Monitor and iPrice Group found that last-mile delivery times in Malaysia saw a 119% increase amidst the implemented Movement Control Order (MCO).
Shopee believes that the newly introduced Next-Day Delivery service together with their logistic services, integrated payment systems (ShopeePay) and in-app features like Shopee Live and Shopee Chat will enhance customer experience on their platform, and overall further strengthen their e-commerce ecosystem in Southeast Asia.
More Reading
> Entering the Southeast Asia E-commerce market: Why Shopee?

> Shopee Tips & Tricks – How to boost sales in Shopee (Updated 2020)

> Shopee keyword tools – How to get to Shopee top keyword ranking