Malaysia's home improvement retailer Mr DIY has launched an e-commerce warehouse that features robots. The robotic e-commerce warehouse in Seri Kembangan, Selangor is the result of an investment of up to US$1.22 million (RM5 million) by Mr DIY Group to design and build a warehouse system that aims to boost the speed of its online order processes.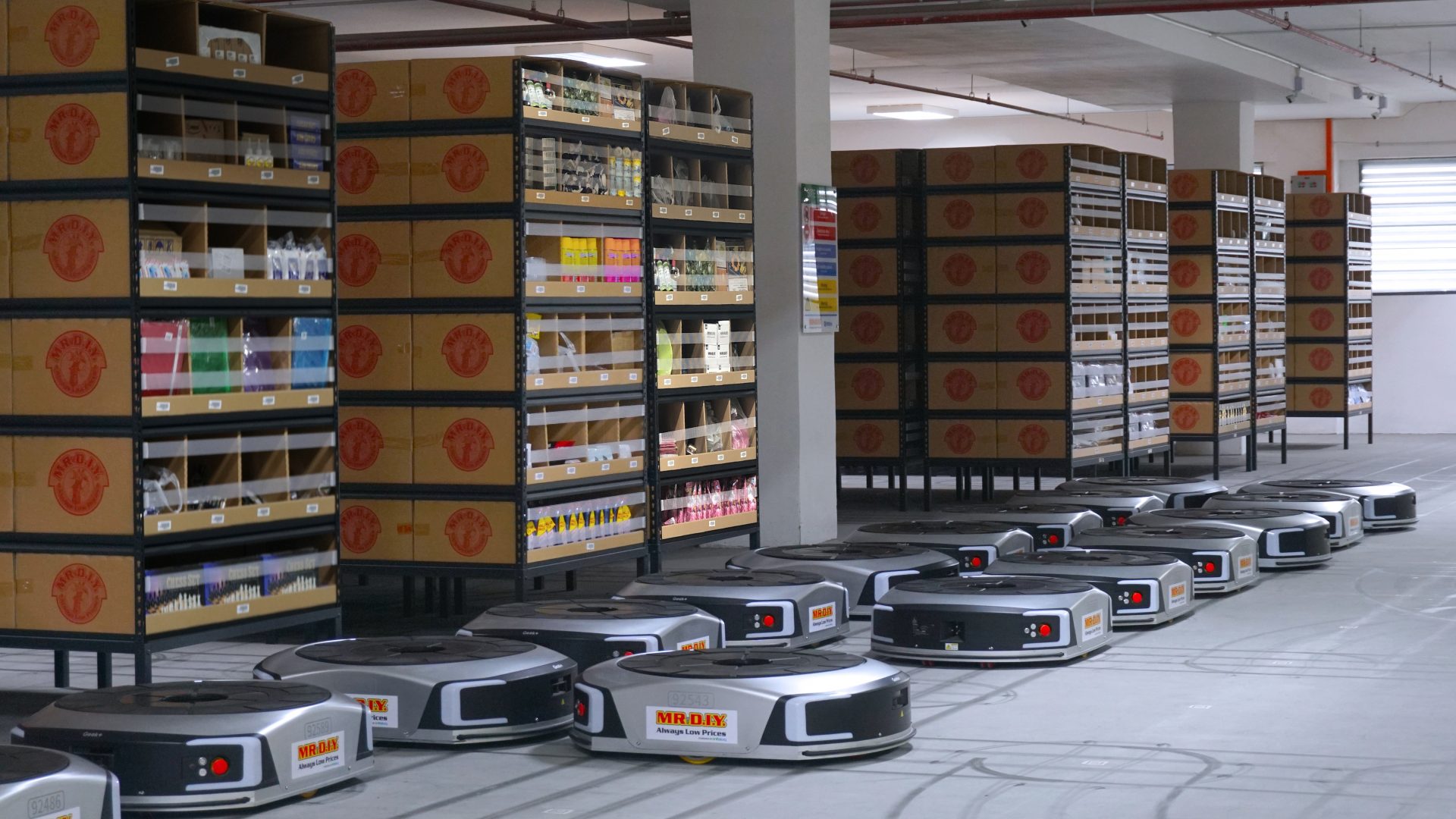 Robotic E-commerce Warehouse
The robotic e-commerce warehouse spans 65,000 square feet and is equipped with programmable robots that can fulfil online orders faster and result in a 200% increase in operational efficiency.
Mr DIY had started the design and construction of the robotic e-commerce warehouse in 2019 to adopt Fourth Industrial Revolution (IR4.0) technologies and to keep pace with the growing demand for online shopping, a trend that has been gaining traction in Malaysia in recent years.
The company's new robotic e-commerce warehouse enables warehouse employees to process online orders at triple the previous rate from manual to automated order processing, thus allowing customers to expect their orders to be delivered faster and earlier.
The automated functions of the robots help reduce the possibility of human error, and the innovative design of the warehouse system enables the robotic e-commerce warehouse to stock a wider range of products, giving customers a broader choice of more than 20,000 products online.
> Read more: Shopee Malaysia Rolls Out Next-Day Delivery Service
Robotic Assistance
The robots will help with the transporting of products from storage to the sorting area where the warehouse employees will do the picking process and transfer the items to pack, followed by getting them ready for delivery.
To achieve this, programmed tracks are installed to guide the robots around the robotic e-commerce warehouse. Specially designed shelves are used so that the robots can drive under them before lifting them up and ferrying the shelves full of products to where the sorting area is located.
This saves the warehouse employees time that would otherwise be spent scouring around the massive robotic e-commerce warehouse for products. Furthermore, all products are meticulously labelled to reduce human error.
> Read more: Malaysia's Ecommerce Economy Thrives During COVID-19
Humans Still Required
Mr DIY's robotic e-commerce warehouse opens up the opportunity to upskill their warehouse employees in robotics and automation, providing more opportunities for career development and advancement.
As automation in the robotics e-commerce warehouse shifts labour force away from low-skilled jobs previously carried out by warehouse employees, Mr DIY will provide training for their existing warehouse employees to upskill them in technical roles to manage and fix the robots when they require servicing. The warehouse employees will also perform in-between tasks that the robots are unable to do.
Despite the strategy to ramp up their e-commerce operations, Mr DIY do not intend to slow down in the brick-and-mortar sector. The retailer had announced that they will be looking to open 175 new stores in 2021 across their 3 brands – Mr DIY, Mr Toy, and Mr Dollar.
More Reading
> Top 10 Best Courier Services in Malaysia 2021

> Top 6 Best Ecommerce Websites in Malaysia 2020