Before the upcoming 12.12 sale festival, last month, there was the 11.11 sale festival that received great attention from shoppers. Many brands sold their products immensely.
For the 11.11 campaign this year, many records have been broken by the power of shopping among Thai people.
Then, Boxme has compiled new records and sales growth on 3 popular online marketplace platforms of Thai people involve with Lazada, Shopee, and JD central.
Lazada
, the best player this year 11.11 campaign

After highly investing in Lazada's 11.11 event promotion this year, finally, Lazada has achieved record-breaking sales!
Within the first 2 hours, Lazada got sales of over 1 billion baht in just 3 minutes.
And Lazada has sold more than 111 million baht.
In addition, Lazada also shipped very fast delivery record that the first parcel was delivered to the recipient at 8.01 am on the next day!
There are more than 450 sellers got sales of 1 million within 1 day.
The success of the shop this time, shows that Thai people are more interested in Japanese products which can be proved by the 13x growth rate of Japanese product sales. Moreover, the sales product that is grower than Japanese products is those from South Korea with sales growth of more than 25x!
     >>> Read more: The most popular E-commerce platforms in Thailand
Shopee
, the god of game promotions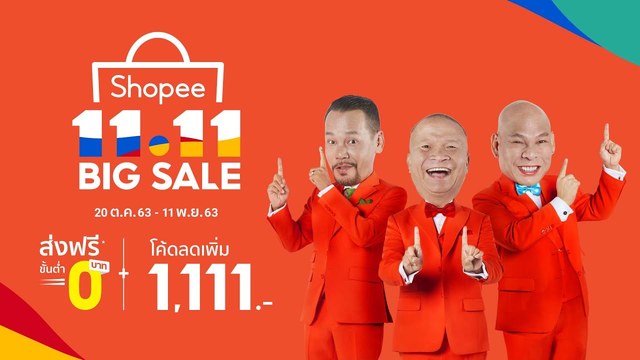 In addition to the discount codes that are widely distributed by each shop, this year Shopee also created gaming events to win discounts throughout 2020, including during the 11.11 campaign.
Shopee revealed that within the first hour of the 11.11 campaign, they achieved 20 million visits to the Shopee website.
The best-selling product categories are home appliances, beauty and personal care category (over 470,000 skincare products sold), and mobile & accessories category.
And the order amount with the highest value is up to 430,000 baht!
Shopee seems to focus on support shop from Covid-19 by this campaign helps first-time merchants get 10x more sales.
Although the feedback to the 11.11 campaign is not as good as the big competitor like Lazada, it seems that in the past 1 year, the use of Shopee has greatly met the needs of users. Until mid-November, Shopee was ranked as Thailand's Best Brand of 2020 by YouGov, the UK market research agency.
JD CENTRAL
, the best official brand marketplaces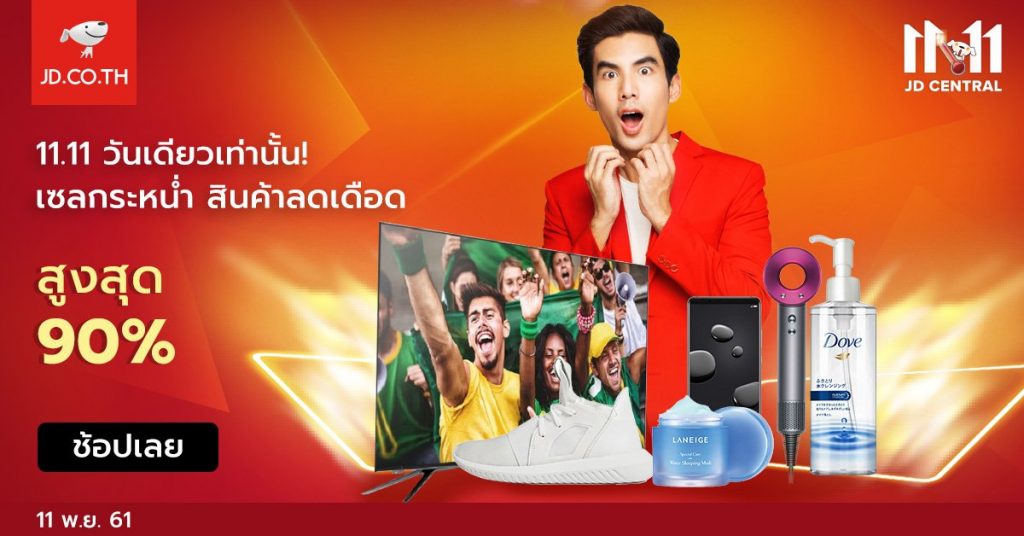 Although JD CENTRAL is the newest in the Thai e-commerce market,
In the 11.11 campaign this year, JD Central had a 90% discount promotion and a Super Flash Day that is a great deal, if they shop on 11.11, the product price will start at just 1 baht.
Before the campaign, JD central did not many promotions compared to the other 2 marketplaces that continued advertising. And there is also a rental of TV channels for the special campaigns.
>>> Read more: Boost Your Sales On Shopee With 16 Following Tips (Part 1)
          >>> Read more: Boost your sales on Shopee with 16 following tips (Part 2)
Price wars of online sales
Due to the Covid-19 epidemic in Thailand and other situations, the economy of Thailand has deteriorated greatly. Many industries have solved the problem by cutting prices for stimulating the economy and sell. Causing the competition at the end of the year to focus on the price, especially online selling both necessary and unnecessary products. Even delivery services, couriers are also very competitive in price.
           >>> Read more: Boxme supports foreign sellers enter Thailand's E-commerce market
About Boxme: Boxme is the premier E-commerce fulfillment network in Southeast Asia, enabling world-wide merchants to sell online into this region without needing to establish a local presence. We deliver our services by aggregating and operating a one-stop value chain of logistic professions including: International shipping, customs clearance, warehousing, connection to local marketplaces, pick and pack, last-mile delivery, local payment collection and oversea remittance.