On 15 May 2020, the Vietnamese government has released the master plan for E-commerce development for the year 2021 – 2025, also known as Decision No. 645/QD-TTg.
The master plan highlights the country's overall goal for the upcoming years as follows:
Become one of the top 3 countries with the most developed E-commerce markets in Southeast Asia through building a sustainable landscape for both local and cross-border commerce. 
55% of the population using E-commerce, with the average annual spending of online goods and services reaching USD600. 
25% growth rate for B2C E-commerce revenue, amounting to USD 35 billion by 2025, accounting for 10% of total retail sales for consumer goods & services.
Read more:
–> Why Vietnam Is Your Next E-Commerce Stop
–> [Infographic] Vietnam's E-Commerce Landscape 2020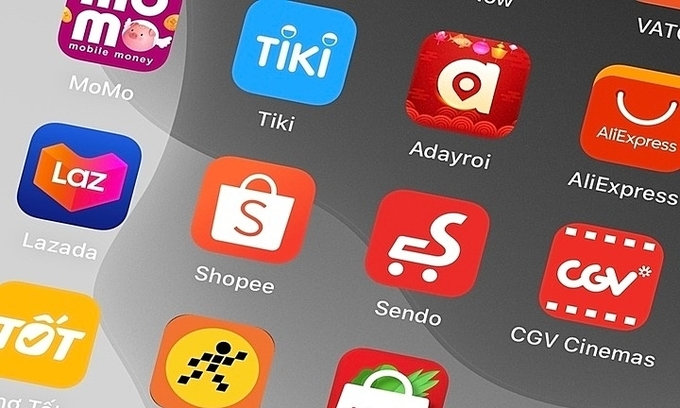 Major E-commerce marketplaces in Vietnam
Other sectors also need to achieve these set-out goals to better support E-commerce:
Online payment: non-cash payment is expected to be used in half the E-commerce transactions, in which 80% is conducted through third-party payment service providers.
Logistics: Decrease the logistics costs of national shipping and last-mile delivery to an average of 10% the product cost.
Regional E-commerce usage: By expanding in both urban and rural areas, the Vietnamese government hopes to encourage E-commerce activities in 50% of the total wards nationwide. The gap between urban and rural areas is expected to narrow down as well, with half the E-commerce transactions happening in the two biggest cities Hanoi and Ho Chi Minh, while the other half belongs to other regions. 
E-commerce platforms: 80% of E-commerce websites are integrated with booking services. 70% of E-commerce transactions are invoiced digitally for record-keeping purposes. 
 –> Related post: Top E-Commerce Platforms In Vietnam To Sell Cross-Border
Business integration: To empower small and medium enterprises (SMEs), the master plan targets that 50% of SMEs will be joining E-commerce platforms, including social media with shopping features. Mobile commerce is also another main focus, aiming for 40% usage from SMEs.
Human resources: Vietnam is running short on competent employees to work in the E-commerce industry. Therefore, it's a target in the future to enroll 1,000,000 people in the working class in E-commerce-related courses, developed and instructed by half the educational institutions across the country. 
The government will support this master plan by taking actions following 4 crucial points:
Perfect the law system to best benefit the E-commerce industry
Enhance E-commerce management and organization ability
Increase customer's trust in E-commerce
Improve E-commerce infrastructure and supporting services
According to Google & Temasek's study of Southeast Asia's Internet eConomy in 2019, the annual growth rate for Vietnam's E-commerce sector is a remarkable 81%, ranked as the second-highest in the region after Indonesia. Now valued at USD 5 billion, the sector is predicted to keep growing rapidly to reach USD 23 billion by 2025.
Boxme is the premier cross-border e-Commerce fulfillment network in Southeast Asia, enabling world-wide merchants to sell online into this region without needing to establish a local presence. We deliver our services by aggregating and operating a one-stop value chain of logistic professions including: International shipping, customs clearance, warehousing, connection to local marketplaces, pick and pack, last-mile delivery, local payment collection and oversea remittance.