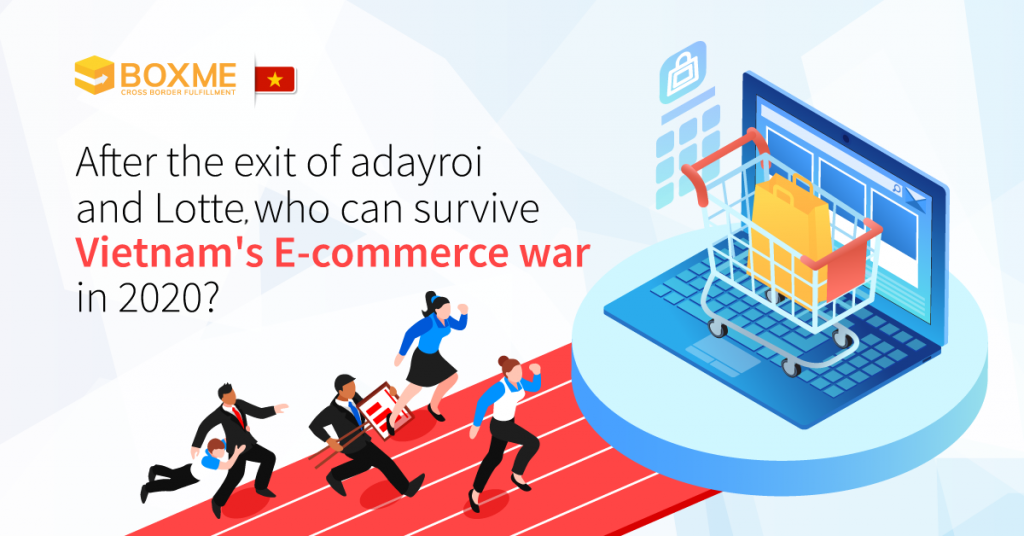 According to Google and Temasek's report for the Internet economy in Southeast Asia, Vietnam is well on track to become the second-largest market in the region, right after the highly populated Indonesia. With a rapid annual growth rate of 62% in the last 4 years, Southeast Asia's E-commerce sector is predicted to reach $153 billion in 2025.
->> Read more: E-commerce: now the largest Internet economy sector in Southeast Asia
This growth is partially contributed by the fierce competition between E-commerce sites for market shares, both locally and internationally. All players are burning an enormous amount of money through advertisements and promotions to capture buyers. In this money-burning race, some have decided to give up and leave the competition, even firms with strong financial resources.
The exit of Robins, adayroi and Lotte
At the beginning of 2019, Robins, formerly known as Zalora Vietnam, announced the termination of their online website Robins.vn, downsizing to offline operation only. Just one week ago, adayroi.com, a subsidiary of Vietnamese conglomerate Vingroup also announced its complete withdrawal from the E-commerce sector to merge with VinID (a supermarket app also from Vingroup) to build an online-to-offline retail model. A few days later, Lotte Vietnam shut down its E-commerce site Lotte.vn as well in order to prepare for operational restructuring.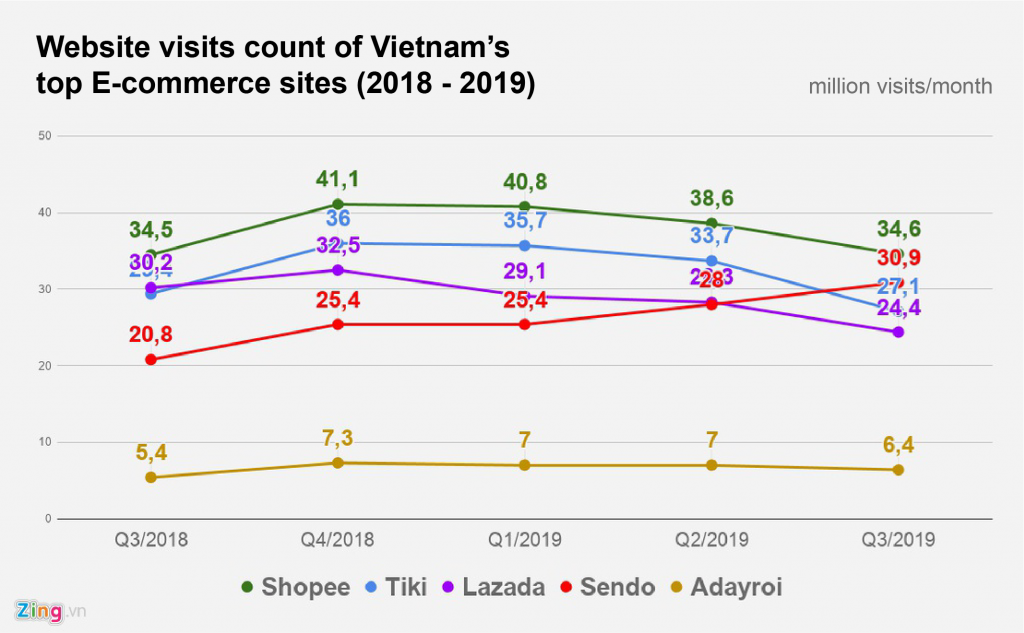 All three websites' operations are deemed ineffective, according to statistics from iPrice and SimilarWeb. Lotte and Robins never made it to the top websites/applications with most visits or active users. Adayroi ranked fifth, but with figures significantly lower than the top 4. While adayroi only has 6-7 million website visits each quarter, other platforms are maintaining the rate of 20-40 million. So who is this "Top 4", and will they continue the battle in 2020?
2019: Top 4 E-commerce sites in Vietnam
According to the report, the four leading E-commerce portals in Vietnam are Shopee, Lazada, Tiki and Sendo. While the leading two Shopee and Lazada are international cooperations, local startups Tiki and Sendo are not backing down from the game.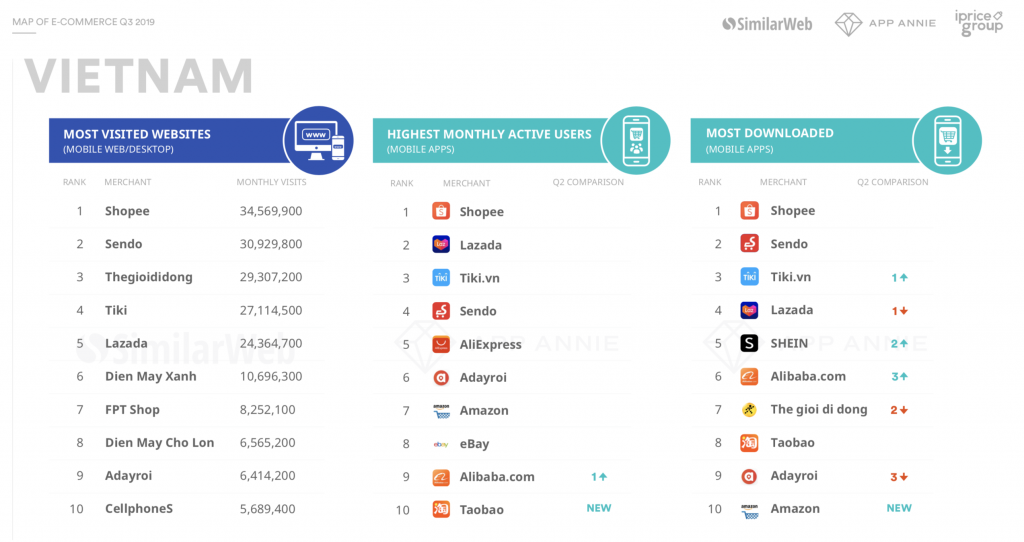 In 2019, there is no definite winner since the rankings are always changing. According to the table above; Shopee, Lazada, and Tiki all had a surge in website users at the end of 2018, but the numbers have been decreasing ever since. In contrast, Sendo burst forward, claiming second place in website visits with 10,000 million more visits each month just within a year.
In terms of mobile, Shopee still dominates the market until the third quarter of 2019. However, other platforms are focusing on this sector as well with significant growth from Sendo and Tiki.
->> Read more: Sendo Vietnam: E-commerce is not all about big cities
Finance
All firms are losing money in the E-commerce race. So do the top 4 of 2019 have enough resources to prepare for 2020?
Shopee, launched in 2015, is a Singaporean platform under Sea Group (formerly known as Garena). The platform quickly expanded all over Southeast Asia and Taiwan, backed by China giant's Tencent. Lazada, another Singapore-based company, was founded in 2012 by Rocket Internet and is now a part of Jack Ma's Alibaba empire.
On the other hand, VNG's Tiki was able to draw investment from JD.com, another Chinese E-commerce major player. FPT's Sendo also secured a USD 61 million investment in Series C financing with investors from all over the world.
Armed with strong financial backing, all four sites are likely to enter 2020 with full force, making the E-commerce scene in Vietnam even more intense. With the market not reaching its mature stage, it's hard to tell who will become the winner of this 80-million-people country.
Boxme is the premier cross-border e-Commerce fulfillment network in Southeast Asia, enabling world-wide merchants to sell online into this region without needing to establish a local presence. We deliver our services by aggregating and operating a one-stop value chain of logistic professions including: International shipping, customs clearance, warehousing, connection to local marketplaces, pick and pack, last-mile delivery, local payment collection and oversea remittance.