E Commerce Celebrates Independence day, Up To 75% Off
In order to celebrate Indonesia's 71st Independence Day, a number of eCommerce in the country provide special promos for consumers. Because of the covid19 pandemic, many people avoid crowds to shop to the store directly, the existence of ecommerce people can still shop safely and still be able to enjoy discounts.
August 17th is a special moment to celebrate Indonesia's Independence Day. Before the pandemic usually the local community held various kinds of competitions, and many promos were given by sellers to participate in celebrating Independence Day, but since the pandemic people could not feel it all except the sellers who trade in ecommerce. Many give discounts from the beginning to the end of August.
The promos offered are also diverse, such as discounts exceeding 50 percent and cashback. Here is a list of e-commerce companies ranging from Shopee to Bukalapak to try out special product offers on August 17.
Here are some ecommerce that enliven Indonesia's Independence Day:
1. Shopee Indonesia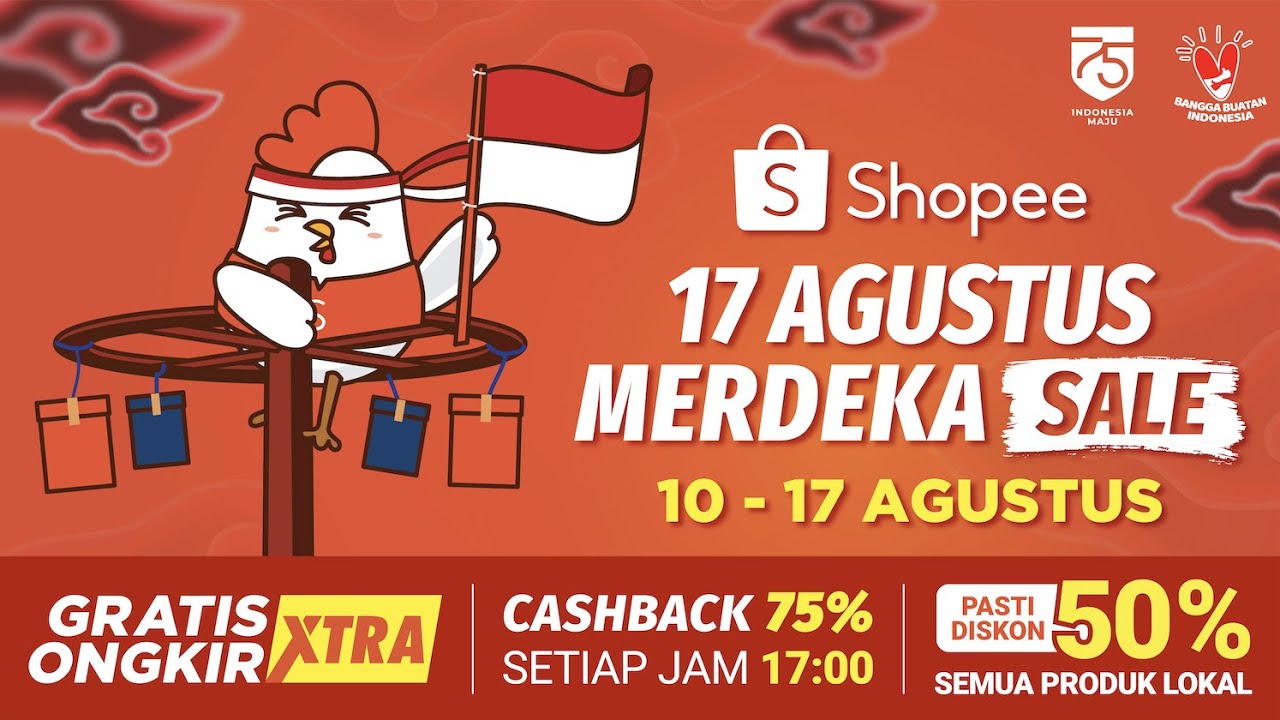 Shopee provides discounts of up to 74 percent on nusantara creation products. This special discount is provided on a special page that provides 74 local products. This discount can be enjoyed on August 13-20.
In addition, through its Instagram account, Shopee has started offering rp10 thousand all-round products from August 12 to August 18. You can get 32-inch Xiaomi Mi LED TV products to 40-inch Sony LED TVs.

Shopee also organizes competitions for their followers on Instagram, by typing the word "Want" in the comments field of all-round television product posts and including special hashtags.
2. TOKOPEDIA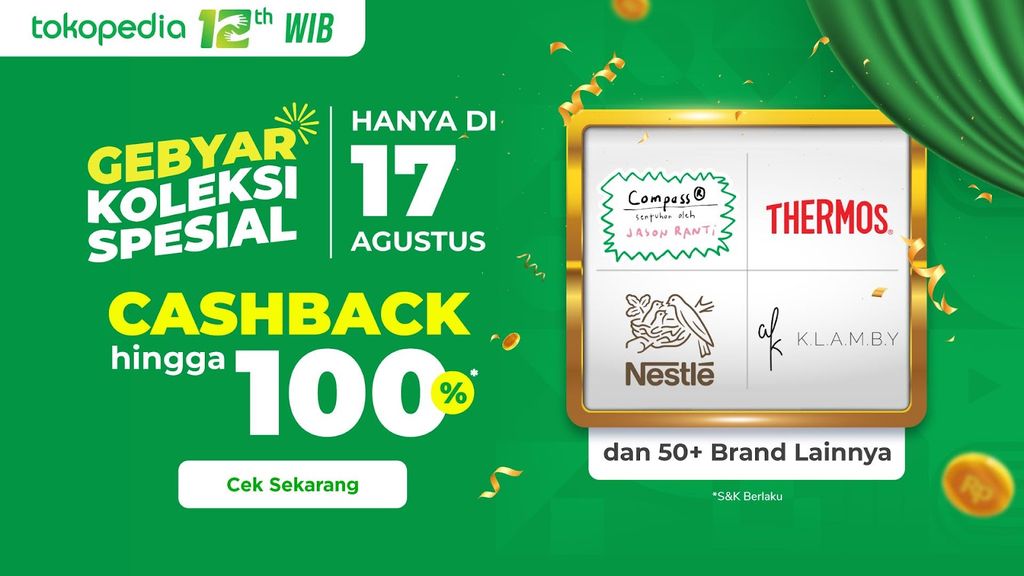 Tokopedia actually does not give much special discounts to welcome August 17. However, because this moment coincides with the anniversary of e-commerce, users can still enjoy various discounts given from August 15 to August 17, 2019.

Through its official website, the company offers discounts ranging from 10 percent to 50 percent. Especially skin care products for women, Tokopedia set a discount of 50 percent that will take place.
3. Blibli.com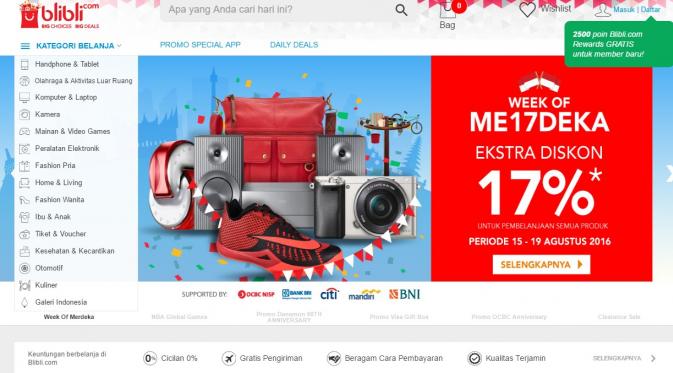 Indonesia's original online store Blibli.com,provides a purchase promo on Independence Day called Week of Me17deka. This promotion is valid for the shopping period of August 15-19, 2016.

This eCommerce provides an extra discount of 17 percent or a maximum of Rp 200 thousand for the expenditure of all its products. However, to get discounts, consumers must use the credit cards of a number of registered banks, namely OCBC NISP, Bank BRI, Citi, Mandiri, and BNI.
Keep in mind, this 17 percent Discount Extra promo is valid for tens to hundreds of first-time buyers according to the provisions of each bank.
4. Matahari Mall
eCommerce Matahari Mall also provides an Independence Day discount promo called Sale-Bration 17% Off by entering the code MERAHPUTIH17.

Even so, to get this discount, consumers must spend with a minimum value of Rp 300 thousand.
5. Bukalapak
Bukalapak offers cashback promos, discounts up to postage discounts for certain products. You can even buy a motorcycle with a discount of Rp500 thousand.

In addition, you can use the free postage voucher code starting from August 1 to August 31, 2019. You can also register insurance in Bukalapak with a discount of Rp300 thousand and gold voucher Rp100 thousand.
6. Lazada Indonesia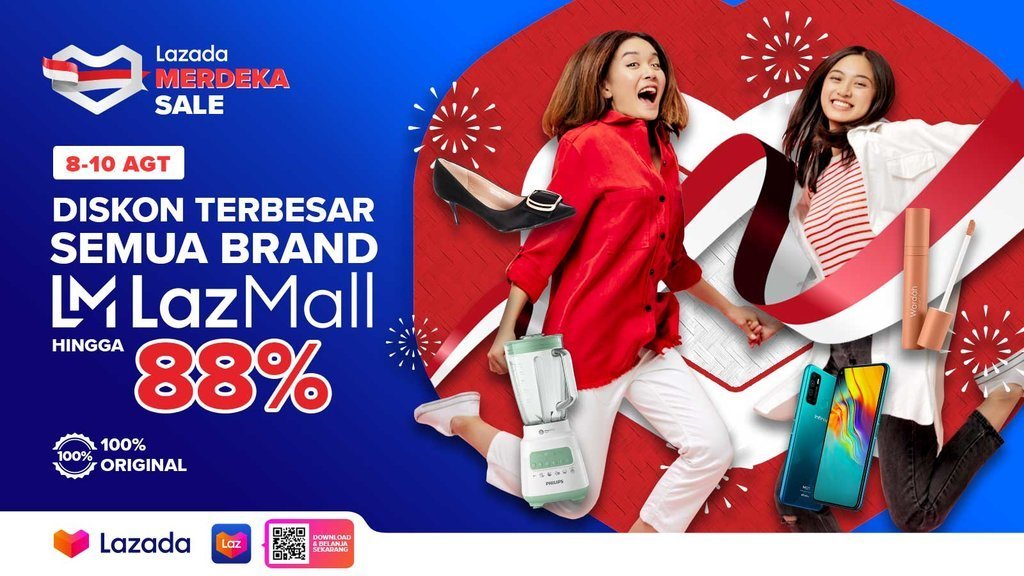 To enliven the celebration of Independence Day, Lazada Indonesia gave the promotion of the Red and White Spirit. This promo period is valid from August 12-17, 2016. The promotional price offered starts from Rp 149 thousand for certain products. As for products such as electronics or fashion,consumers can get discounts of up to 75%.
>>>5 Most Visited E-commerce in Indonesia 2021
>>>Compare marketing strategy of Lazada and Shopee 2021
About Boxme: Boxme is the premier E-commerce fulfillment network in Southeast Asia, enabling world-wide merchants to sell online into this region without needing to establish a local presence. We deliver our services by aggregating and operating a one-stop value chain of logistic professions including: International shipping, customs clearance, warehousing, connection to local marketplaces, pick and pack, last-mile delivery, local payment collection and oversea remittance.