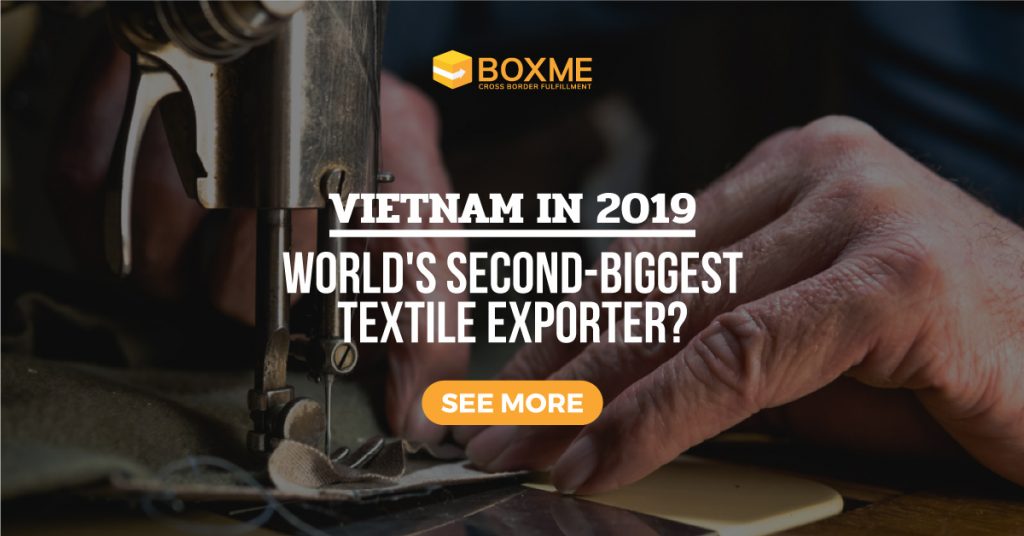 A quick recap
Ever since the economic reforms of the early 1990s, one of Vietnam's key economic products has been textile and garment manufacturing. During the transformation from an agricultural to an industrial country, this sector has been creating millions of job opportunities for rural workers, forming a consistent chain of supply for domestic and international demand.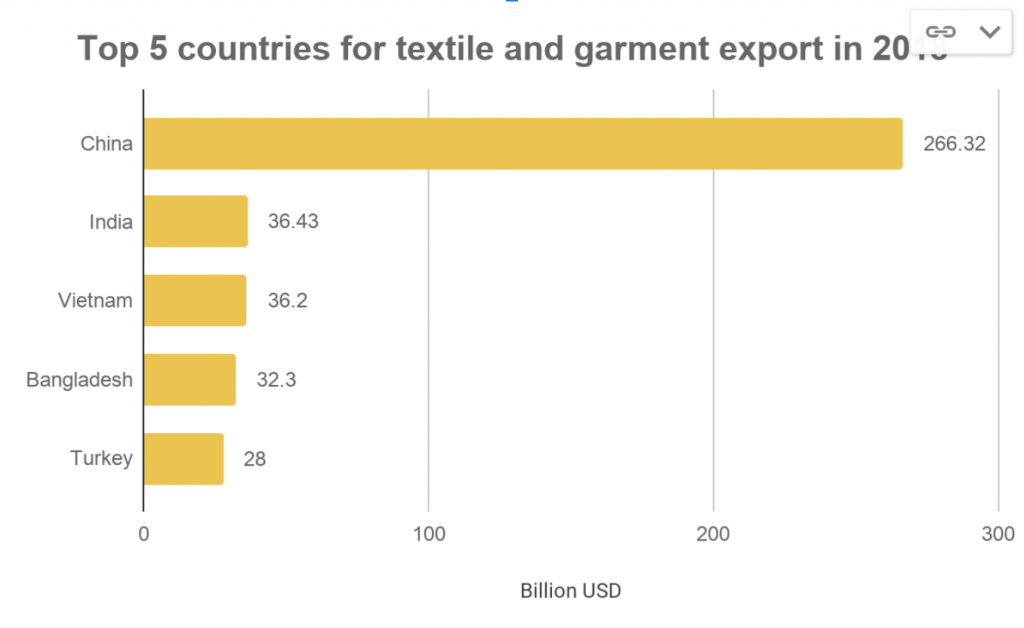 Source: UNCTAD
2018 was an exceptional year for Vietnam, surpassing Bangladesh and Turkey to enter the top 3 world exporters of textile and garment with $36.2 billion worth, just below China and India. According to United Nations Conference on Trade and Development (UNCTAD), "Made in Vietnam" textile and garment export has been growing with a persistent rate of 15% percent over the course of five years, with the main customer being the USA.
>> You might be interested in: Export potential in Vietnam: PART 1 | PART 2 | PART 3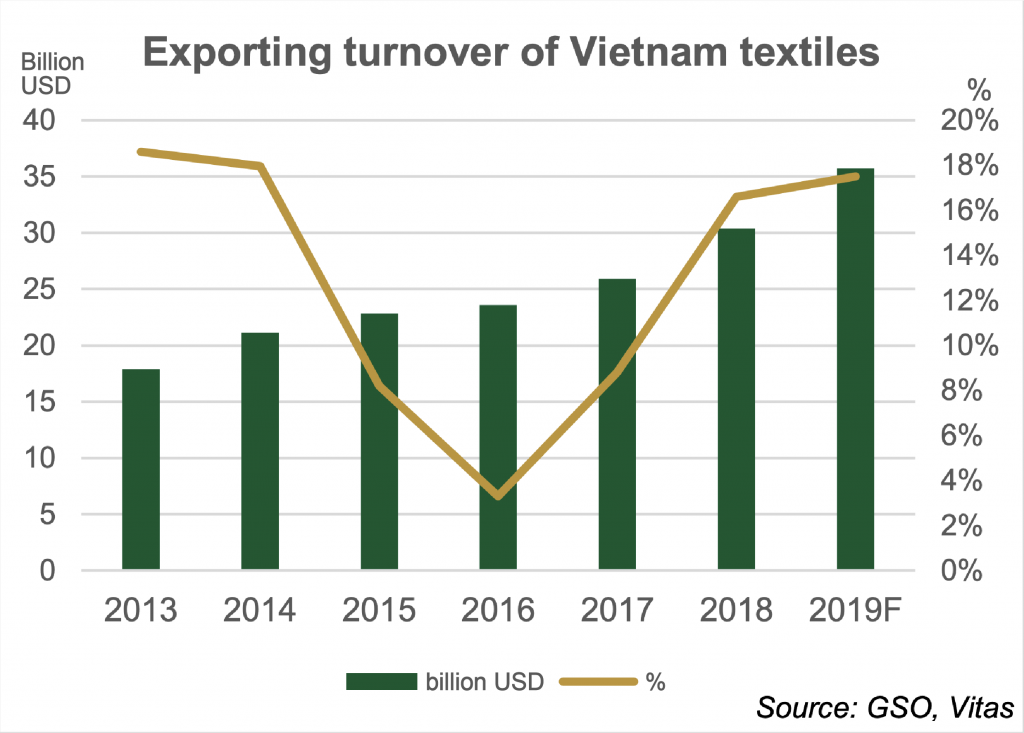 2019 expectation
In 2019, the industry expects an export turnover rate of $40 billion. While India's export rate has been stagnated around $36 billion, completing this target will rocket Vietnam to become the second-biggest exporter in the world, right after the giant China.
There are many reasons for Vietnam to be optimistic about this goal. First of all, the Comprehensive and Progressive Agreement for Trans-Pacific Partnership (CPTPP) already came into effect by January this year. Under the implementation of CPTPP, Vietnam's trade with members of the partnership like Canada and Mexico will increase. Other Free Trade Agreements (EVFTA with EU, VJFTA with Japan) are also expected to bring up the number of export goods and boost foreign investment.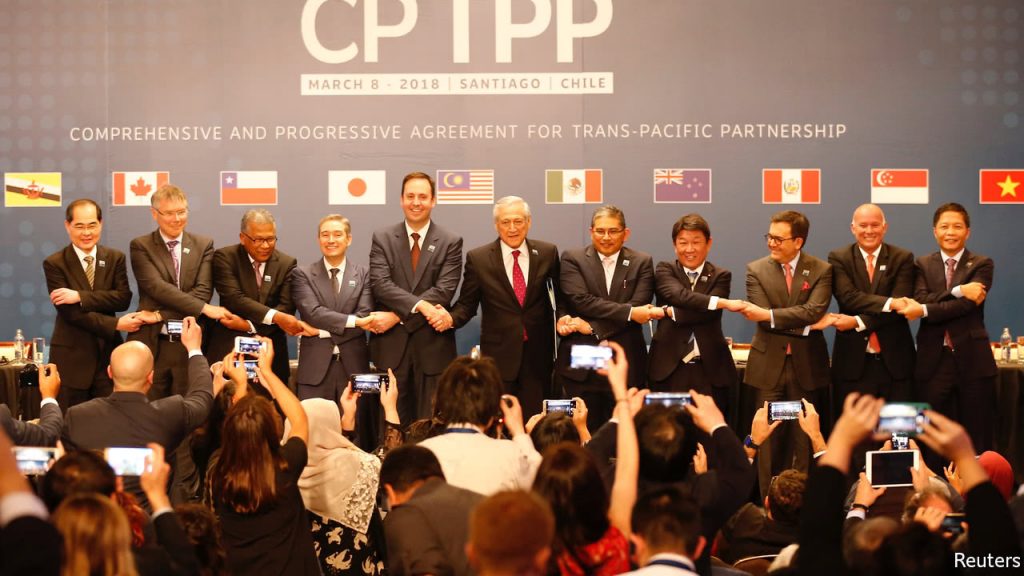 CPTPP countries members during a meeting in Chile
Secondly, many manufacturers in China are considering shifting production to Vietnam as the US-China trade war prolongs and the costs are significantly smaller. While Vietnam can't compete with China in terms of industry maturity and expertise, the low cost of labor and operation still retains some manufacturers' attention. In 2019, Vietnam's monthly minimum wages vary from $125 to $180 depending on regions, which is nearly half of China's ($145 to $358).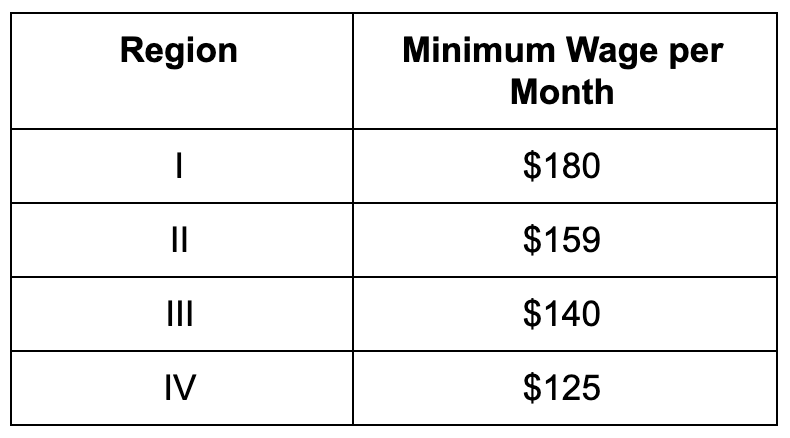 Minimum Wages proposed by Vietnam's National Wage Council in 2019
Limits to overcome
However, one major disadvantage of Vietnam is that the country lacks the capacity to produce credible textiles. About 2/3 of fabrics in the industry are imported mainly from China, which limits the gains of manufacturers as workers only complete the last phase: using pre-existed designs to turn imported materials into finished products. In the long term, Vietnamese garment companies have to step up their games by localizing input materials. With the rise of many local clothing brands and the support from the government, it is believed that this action, once finished will be the turning point for Vietnam's textile and garment industry.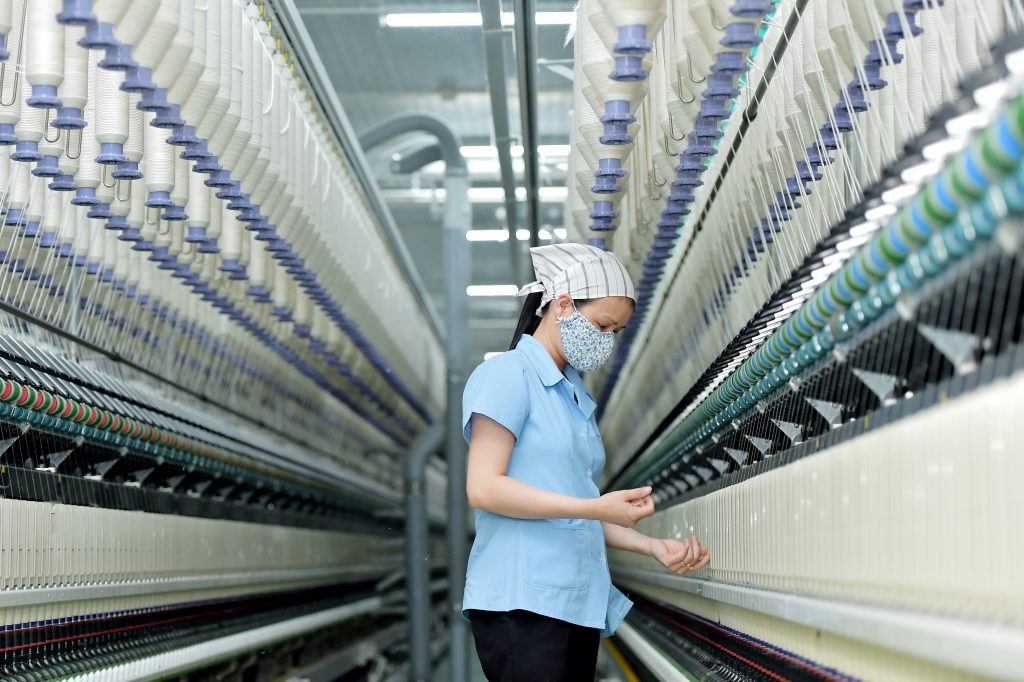 Vietnam's textile and garment industry has plenty of room to grow (Source: WWF)
[vc_separator color="orange" align="align_left" style="dashed"][vc_column_text]One of the key strategies for this industry to grow further is to help Vietnamese enterprises exporting fashion products "Made in Vietnam" grow further and be able to target global markets. Along with the rising trend of cross-border e-commerce, Boxme has taken its steps in building a complete fulfillment ecosystem in South East Asia where any Vietnamese brand can easily enter and penetrate other markets within the region like Thailand, Indonesia without any constraint, especially in terms of logistics. Further, Boxme is opening its fulfillment hub in China (Hong Kong, Shenzhen and Dongguan) while enlarging its partnership network to help Vietnamese brands to go global within this year. The company shares the same hope to see not only Vietnamese products but Vietnamese brands to be recognized on a global scale really soon.
The time is now!
[/vc_column_text]
[vc_raw_js]JTNDJTIxLS1IdWJTcG90JTIwQ2FsbC10by1BY3Rpb24lMjBDb2RlJTIwLS0lM0UlM0NzcGFuJTIwY2xhc3MlM0QlMjJocy1jdGEtd3JhcHBlciUyMiUyMGlkJTNEJTIyaHMtY3RhLXdyYXBwZXItYTkxNTk3YzUtMzU5ZC00ZjcxLTlhMTctMDJiNzUwMWVmYWRjJTIyJTNFJTNDc3BhbiUyMGNsYXNzJTNEJTIyaHMtY3RhLW5vZGUlMjBocy1jdGEtYTkxNTk3YzUtMzU5ZC00ZjcxLTlhMTctMDJiNzUwMWVmYWRjJTIyJTIwaWQlM0QlMjJocy1jdGEtYTkxNTk3YzUtMzU5ZC00ZjcxLTlhMTctMDJiNzUwMWVmYWRjJTIyJTNFJTNDJTIxLS0lNUJpZiUyMGx0ZSUyMElFJTIwOCU1RCUzRSUzQ2RpdiUyMGlkJTNEJTIyaHMtY3RhLWllLWVsZW1lbnQlMjIlM0UlM0MlMkZkaXYlM0UlM0MlMjElNUJlbmRpZiU1RC0tJTNFJTNDYSUyMGhyZWYlM0QlMjJodHRwcyUzQSUyRiUyRmN0YS1yZWRpcmVjdC5odWJzcG90LmNvbSUyRmN0YSUyRnJlZGlyZWN0JTJGMjE0MTUyOCUyRmE5MTU5N2M1LTM1OWQtNGY3MS05YTE3LTAyYjc1MDFlZmFkYyUyMiUyMCUzRSUzQ2ltZyUyMGNsYXNzJTNEJTIyaHMtY3RhLWltZyUyMiUyMGlkJTNEJTIyaHMtY3RhLWltZy1hOTE1OTdjNS0zNTlkLTRmNzEtOWExNy0wMmI3NTAxZWZhZGMlMjIlMjBzdHlsZSUzRCUyMmJvcmRlci13aWR0aCUzQTBweCUzQiUyMiUyMHNyYyUzRCUyMmh0dHBzJTNBJTJGJTJGbm8tY2FjaGUuaHVic3BvdC5jb20lMkZjdGElMkZkZWZhdWx0JTJGMjE0MTUyOCUyRmE5MTU5N2M1LTM1OWQtNGY3MS05YTE3LTAyYjc1MDFlZmFkYy5wbmclMjIlMjAlMjBhbHQlM0QlMjJMZXZlcmFnZSUyME91ciUyMFNvbHV0aW9uJTIyJTJGJTNFJTNDJTJGYSUzRSUzQyUyRnNwYW4lM0UlM0NzY3JpcHQlMjBjaGFyc2V0JTNEJTIydXRmLTglMjIlMjBzcmMlM0QlMjJodHRwcyUzQSUyRiUyRmpzLmhzY3RhLm5ldCUyRmN0YSUyRmN1cnJlbnQuanMlMjIlM0UlM0MlMkZzY3JpcHQlM0UlM0NzY3JpcHQlMjB0eXBlJTNEJTIydGV4dCUyRmphdmFzY3JpcHQlMjIlM0UlMjBoYnNwdC5jdGEubG9hZCUyODIxNDE1MjglMkMlMjAlMjdhOTE1OTdjNS0zNTlkLTRmNzEtOWExNy0wMmI3NTAxZWZhZGMlMjclMkMlMjAlN0IlN0QlMjklM0IlMjAlM0MlMkZzY3JpcHQlM0UlM0MlMkZzcGFuJTNFJTNDJTIxLS0lMjBlbmQlMjBIdWJTcG90JTIwQ2FsbC10by1BY3Rpb24lMjBDb2RlJTIwLS0lM0U=[/vc_raw_js][vc_row][vc_column][vc_column_text][/vc_column_text][/vc_column]