The ever-changing trend of e Commerce is both scary and exciting.
Every year, there are changes in the landscape that may help us grow our businesses, or new challenges that we may not be able to keep up.
Whatever ups and downs you may have encountered this year, the e-Commerce market is still expanding bigger and brighter as ever.
As we enter a new year, we're here to give you an exclusive sneak peek of the e-Commerce growth trends in 2019 and beyond. We have curated the following list of the hottest 10 international growth trends to spark new ideas, overcome the hurdles, and get you ready to win and maintain a successful e-Commerce business for the years to come.
1/ Global e-Commerce Retail Sales to Hit $4.9 Trillion by 2021
New studies projected that the worldwide retail e-Commerce sales will reach a new high by 2021.
E-Commerce businesses should anticipate a 265% growth rate, from $1.3 trillion in 2014 to $4.9 trillion in 2021. This shows a future of steady upward trend with no signs of decline.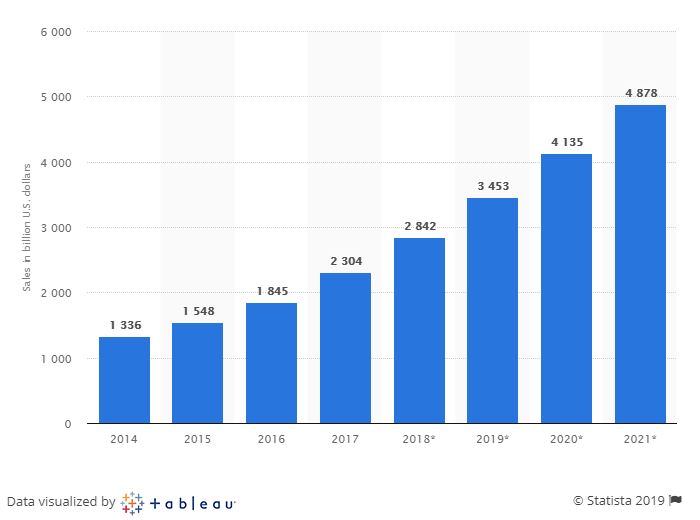 But, what's even more interesting is the global e-Commerce sales have been steadily eating up the worldwide retail market. In fact, by 2021, it will account for 17.5% of the total global retail sales.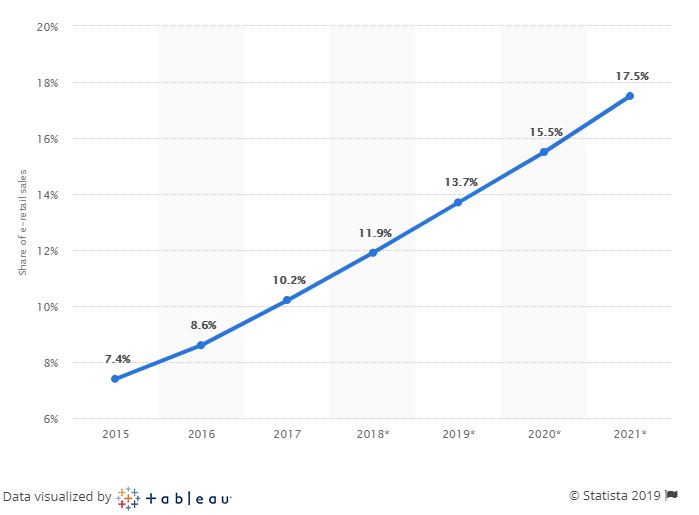 If you think about it, that portion is still a small chunk of the global retail sales. This means more opportunity for growth in the future.
To capitalize on this e-Commerce trend, physical stores must embrace infrastructures to bring their businesses from offline to online, while online businesses must find new ways to further elevate their brands online.
2/ Omnichannel Shopping will Become more Prevalent
As the lines blur between the physical and digital environment, multiple channels will become more prevalent in customers' path to purchase.
This is evidenced by 73% of customers using multiple channels during their shopping journey.
What it means for e-Commerce is to understand how their customers buy, which marketing channels do they engage with, and their motivations and main drivers to purchase.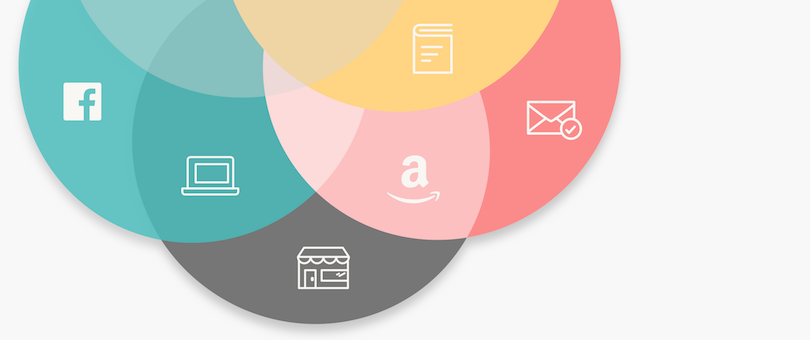 (Source: Shopify)
In the simplest sense, omnichannel shopping means decoding what, where, when, why, and how people are purchasing the products you sell on a particular channel.
There are many ways where multi-channel shopping is on the works. For instance, people can research a product online and then buy in-store, or buy products online and pick up in-store.
The more channels your shoppers use, the more likelihood of an increased average order value. For example, customers who used more than 4 shopping channels spent 9% more in the store, on average, when compared to those who used just one channel.
Every single touchpoint is important, because it puts every single piece of the puzzle into a whole story. Knowing your customers' touch points before they purchase will better inform your brand of how to promote your products and allocate your marketing budget.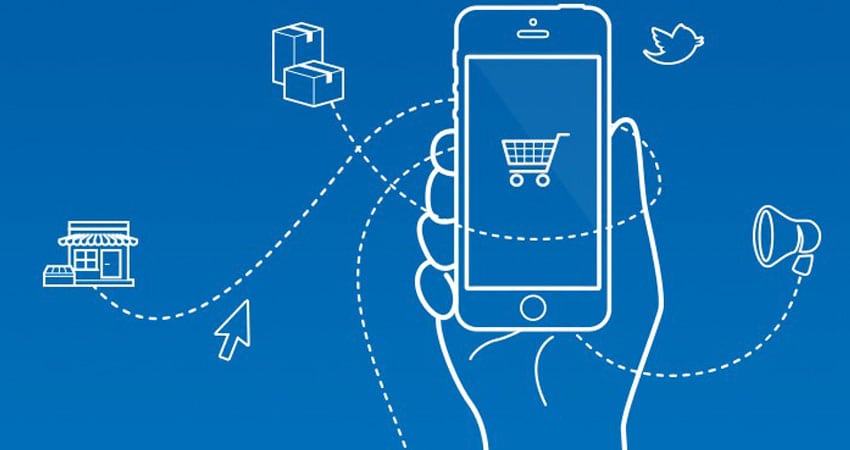 (Source: MultichannelMerchant)
In 2019, ensure that you integrate your offline and online attributes into a single and coherent multi-channel shopping. Create convenient purchase touchpoints for customers who research online and purchase offline. Adopt to click and collect strategy, where shoppers can purchase online and pick it up in a store close to them.
This also means that your offline and online data should be in-synced, so that you will get a quicker and more informed business decision.
3/ Social Shopping is on the Rise
More and more people are doing their shopping on social media platforms.
With the improvement of social media's selling capabilities, social media platforms are more than just advertising channels. People can now conveniently and quickly purchase products on their chosen social media platform.
Instagram, Twitter, Pinterest, Facebook, and YouTube are among the social media channels which rolled out the "buy" buttons and made significant improvement in their social selling features.
For instance, Instagram launched its 'shoppable post' feature, allowing businesses to enable product tags in their posts and product stickers in stories. When people tap to view a product tag on your post, or a product sticker in your story, they will see the following:
An image of the product

A brief description of the product

How much the product costs

A link where they can purchase the product
This e-Commerce trend cuts the time and effort for shoppers to make their purchase on social media, making them shop more productively.
This makes big implications of widespread use among businesses. So as early as now, set up your social media posts to social selling and think of more creative ways to use social platforms to elevate your presence.
4/ The Center of e-Commerce is Shifting from the Western Hemisphere
Once a giant, the United States' share of the total global e-Commerce retail market is projected to decrease by as much as 16.9% in 2020.
One of the main drivers of the decrease is due to the rise of globalization and the improvement of technology and infrastructure from the non-western regions.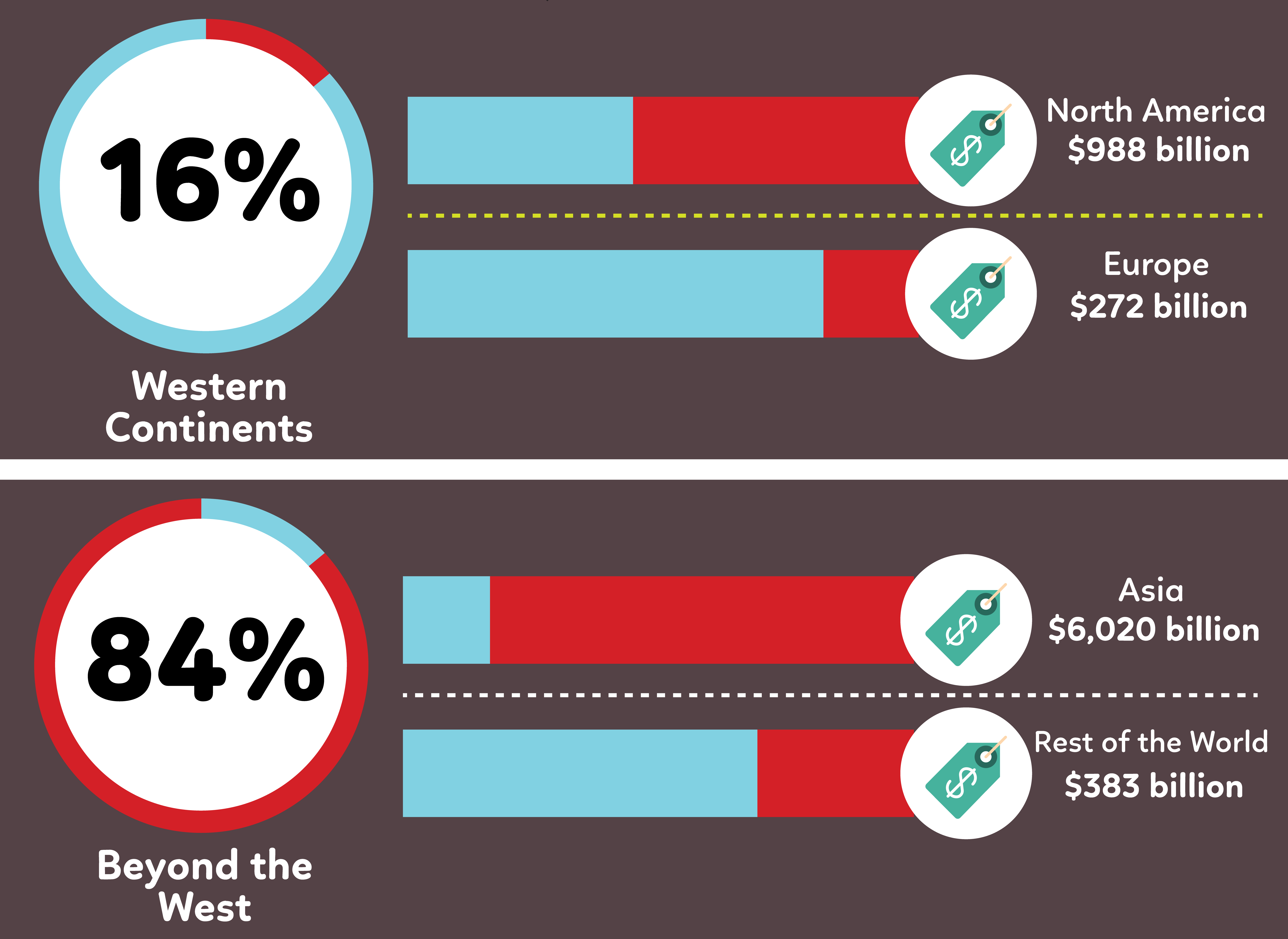 This e-Commerce shift means businesses must adopt an international approach to make sure of their global accessibility and convenience.
Of course, adapting to a global business model doesn't mean you have to make a physical presence outside your local country. What you can do is to look for trusted partners in a country or region where you have a high demand.
For example, Mondelez International, maker of Oreos and Cadbury, partnered with ChannelSight, to bring their products across 25 new markets by linking over 130 retailers' websites.
If you're on the lookout, Boxme would be happy to fill in the role. We are the premier cross-border e-Commerce fulfillment network in Southeast Asia, enabling world-wide merchants to sell online into this region without need to establish local presence. Click here for more information.
5/ Domestic Shoppers Go Cross-border Shopping
Interestingly, shoppers are increasingly looking for products online outside their home country.
In fact, 57% of online shoppers reported having made an online purchase from an overseas retailer in the last six months.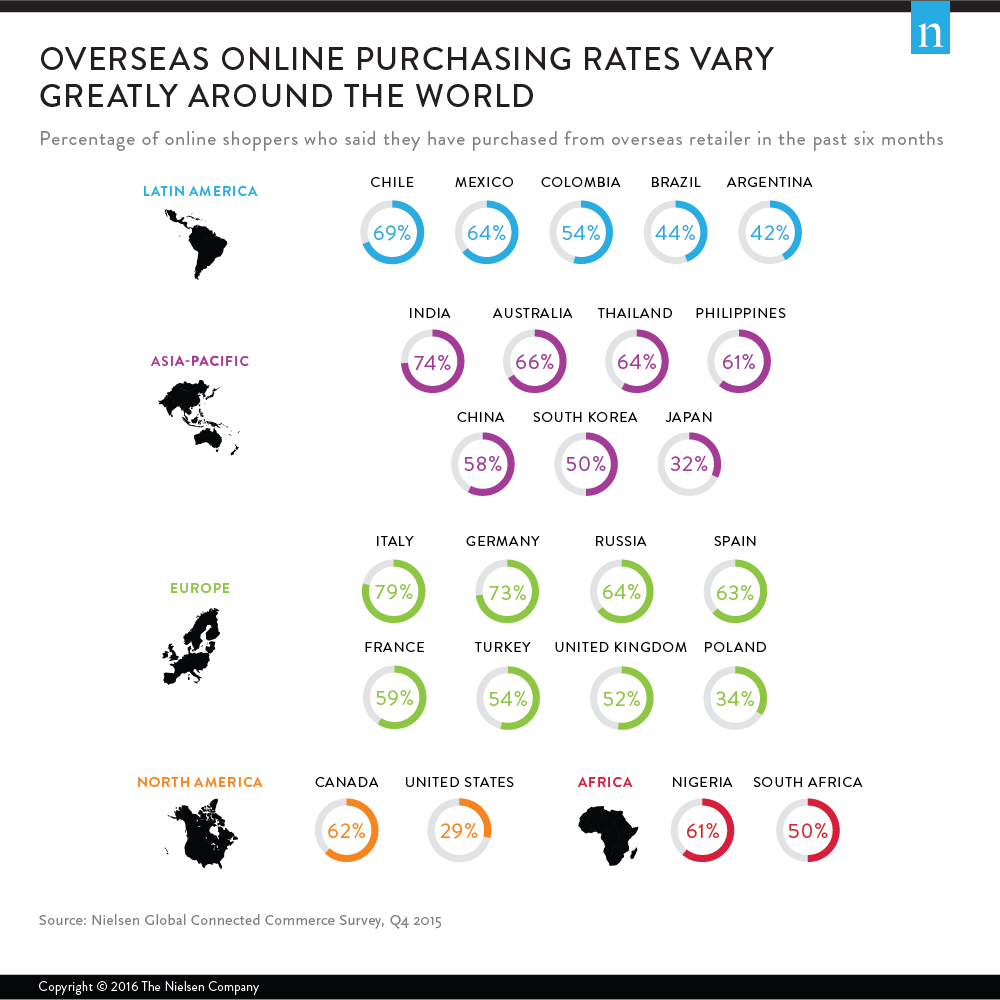 The average percentage of consumers who made overseas purchases by continent: 63.4% Europe, 57.9% Asia-Pacific, 55.5% Africa, 54.6% Latin America, and 45.5% North America.
This growing e-Commerce trend is connected to what we've told previously about going global. Aside from making sure you are strengthening your global e-Commerce presence, don't forget to invest in infrastructures and technologies which will help you adapt to overseas buyers more conveniently.
6/ B2B e-Commerce is a Bigger Giant
B2B (business-to-business) e-Commerce is the online selling and marketing of products from one business to another. And when compared to the B2C (business-to-consumer) e-Commerce industry, B2B eCommerce is projected to be two times higher than B2C by 2020.
In the US alone, B2B e-Commerce sales will hit 1.184 trillion dollars by 2021.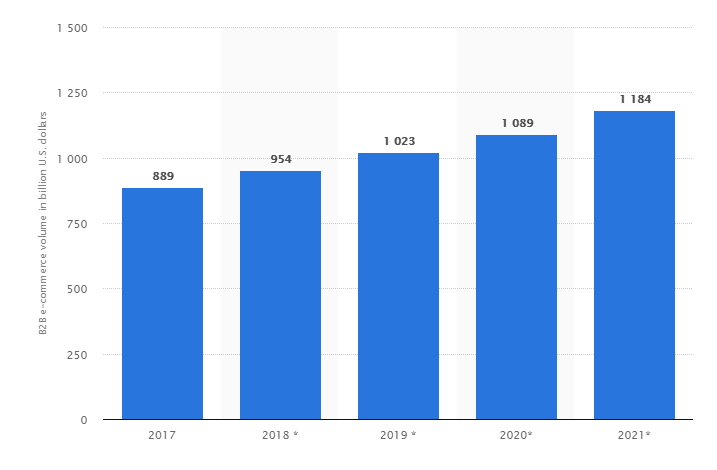 (Source: Statista)
The predominance of B2B e-Commerce means that B2B businesses must improve and simplify their shopping journey, channeling the B2C ordering experience.
The B2B shopping experience is a lot more complicated than that of a B2C buyer. Because of the nature of the transaction, B2B buyers usually need to go through various steps, including sales representative interaction, negotiations, and approvals before they can make a successful purchase.
In short, B2B e-Commerce businesses must adapt to a more seamless transaction building, advanced functionality, quote management, price negotiation, easy ordering, order and inventory management for the B2B market.
7/ E-Commerce Personalization will be a Standard
E-Commerce personalization has become a huge trend among businesses over the past couple of years, but in 2019 and the succeeding years to come, it won't just be a mere trend.
As customers expectation of personalization increases, personalization will become an e-Commerce standard. In fact, 33% of customers have ended their relationship to a business with insufficient or no personalization in place.
(Source: Accenture)
Moreover, personalization has evolved into a more sophisticated marketing strategy. Gone are the days when that personalization is just about acknowledging a customer by name. Now, e-Commerce personalization is about dynamically displaying unique and individualized shopping experience to a customer.
This is done by analyzing personal information which ranges from demographics, browsing behavior, buying history, and other data relevant to their shopping journey.
There are lots of ways to implement e-Commerce personalization. For instance, you can create targeted cart recommendations, so that once shoppers add an item to their cart, you can display relevant products based on the items on their cart that they might be interested to purchase as well.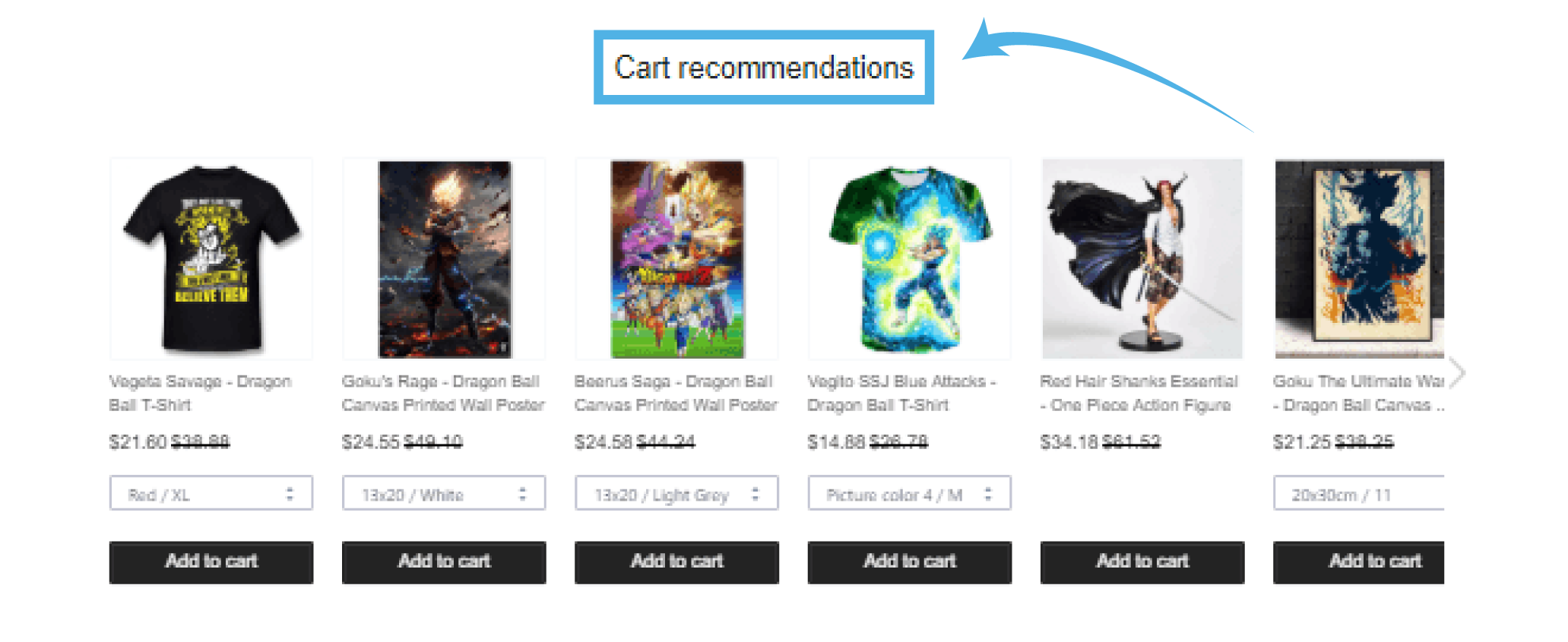 8/ Mobile Shopping Revolution
Mobile is continuously shaping the landscape of customer engagement.
For the past couple of years, the mobile market has already matured and already reached 70% of e-Commerce traffic by the end of 2018.
This growing ubiquity of mobile usage in e-Commerce is due to the desire of shoppers to accomplish their transaction without having to go through a desktop. They want that convenience of shopping right at their fingertips.
With their mobile devices, shoppers can now browse, research and purchase products, whenever and wherever they want.
->> See also: How to Maximize e-Commerce in this Current State of Southeast Asia
With mobile accounting to $175.4 billion in revenue by the year 2020, mobile shopping will still be as relevant in 2019 and the next couple of years as ever.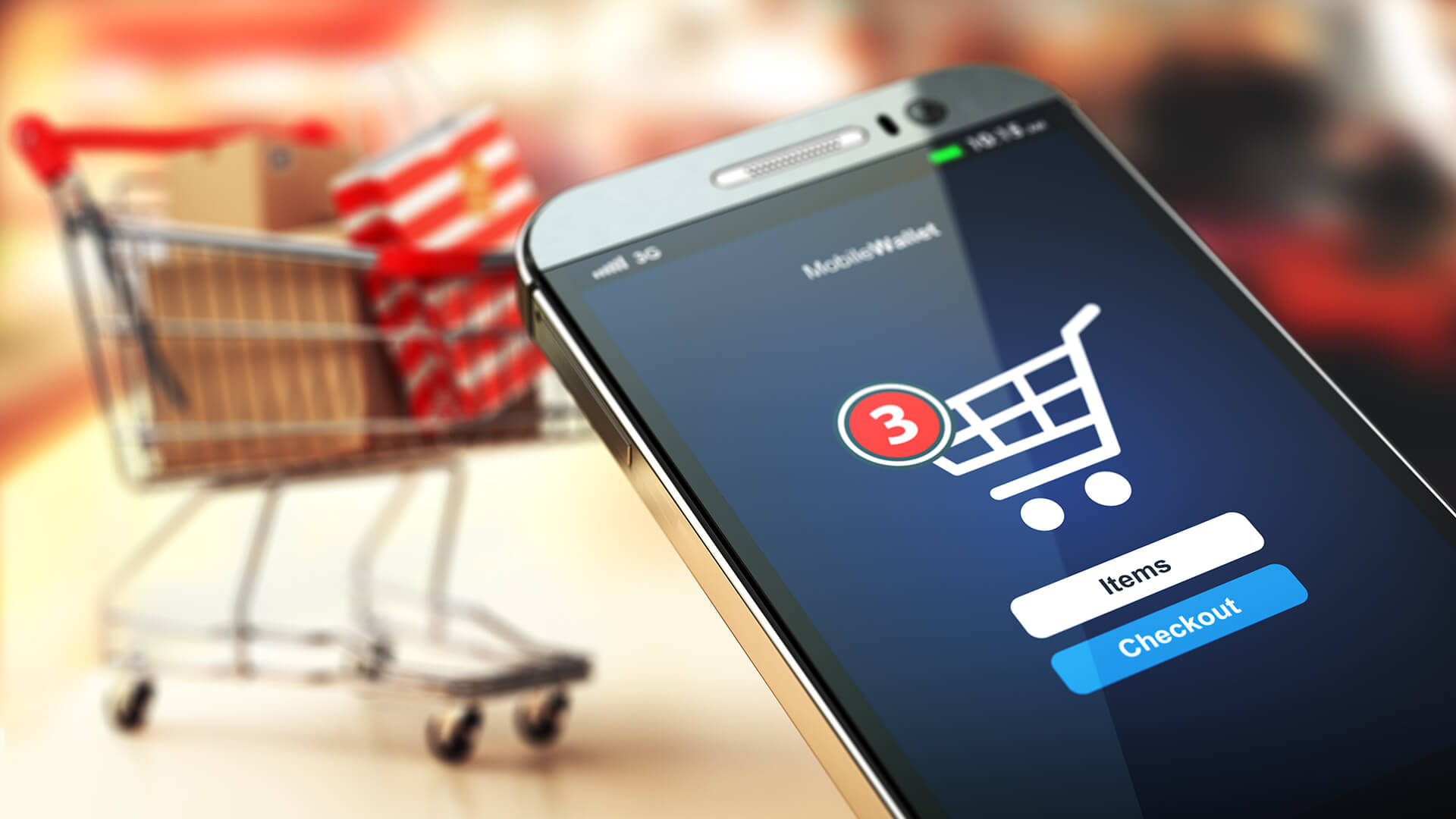 (Source: Dazeinfo)
This means you should join the mobile shopping revolution by taking these following actions:
User-friendly mobile checkout. Joining the mobile shopping revolution doesn't have to be daunting. As a first action, you can review the speed, seamlessness, and user-friendliness of your mobile checkout process.
Start your mobile app now. If you still don't have your own mobile app, now is the time to build your own. There's an immense opportunity for potential revenue to go after, because 54% of consumers already used an app for their shopping activities. With new technologies, building your own app isn't as tedious as before. Now, there are tools to help you convert your online website into a sleek and powerful mobile app.
Apply App Store Optimization (ASO). For those who already have their own mobile apps, make sure to apply ASO techniques to increase your app's visibility in the app store's search results.
Use push notifications to promote and re-engage. With mobile, you can send push notifications, like special promotions or exclusive discounts, to your customers. Push notifications are also useful in re-engaging with your inactive customers.
->> See also: 8 Marketing Tips & Tricks for an Efficient Online Business
9/ Voice Commerce is on the Horizon
A very recent trend to the e-Commerce world is the rise of voice technology.
The introduction of voice devices, like Amazon Echo and Google Home, has already led to new ways on how people interact with brands through voice-activated online browsing.
This voice browsing has been widely adopted by customers and now, voice commerce is on the rise too.
Voice commerce is the term used to describe any transaction with a business that occurs using a voice device. This opened a new channel for e-Commerce businesses to sell and grow their businesses.
In fact, it is estimated that by 2020, voice commerce will generate a total of $40 billion in sales in the U.S. alone. And Amazon already activated its voice purchasing last 2016 by allowing users to purchase holiday items using Alexa.

(Source: Beeketing)
10/ New Payment Options will Emerge
Payment options are one of the essential drivers why customers will push a transaction.
Without the available payment channel of their choice, they won't purchase from your online store. This is why to stay competitive, take notice of new payment forms which your potential buyers demand.
Currently, digital wallets, such as Google Pay, Paypal, Apple or Samsung Pay are widely implemented by e-Commerce businesses. These digital services allow people to make purchases through electronic transactions, thus allowing more frictionless shopping experience.
And people are demanding these kinds of digital payments. In fact, 70% of people expect that digital payments will overtake cash and cards by 2030.
But, another payment option that's been cooking up a storm for a while now is cryptocurrency.
So far, we can see cryptocurrencies being used for large business transactions. However, Overstock recently partnered with ShapeShift to accept more than 60 cryptocurrencies as payment at its online stores.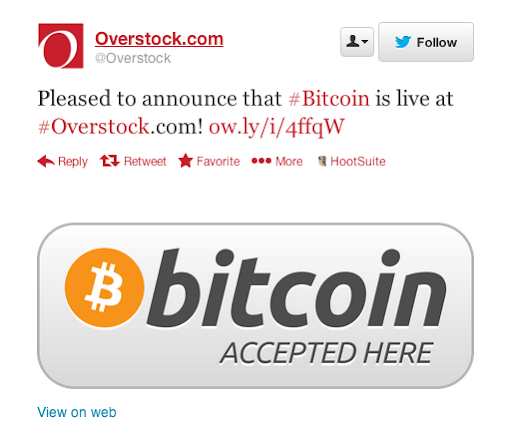 The Future is Clear
E-Commerce is an ever-expanding world.
With intensifying purchasing power of global consumers, the proliferation of social media users, and the continuously progressing infrastructure and technology, the future of e-Commerce in 2019 and beyond is still more vibrant as ever.
Arm yourself with our 10 international growth trends to help you get ready with the changes of the coming years and elevate your e-Commerce business in 2019 into a new height.
YOU MIGHT ALSO BE INTERESTED IN:
->> Dropshipping vs FBA 2019 – Which One is Better Starting Out?
->> Analyzing Southeast Asians' Participation on 2018 Singles' Day (PART I)
->> A Potential US Withdrawal from the UPU Treaty is Looming and What It Means for China-based e-Commerce Businesses