In order to ensure the quality and accurately determine the condition of the goods upon arrival at the warehouse, Boxme applies the QC Regulation (with fees) according to the standards for all returned products.
Customers can also directly view the QC results on the return order system.
For return orders – orders with the RE order code, after being returned, will undergo quality control (product quality check). After inspecting the product quality, Boxme will notify the results through the system. After being announced on the system, customers have 24 hours to choose between Importing the goods into the warehouse/Not importing the goods into the warehouse.
If customers agree to import the goods into the warehouse after QC, Boxme will proceed to import the returned goods into the warehouse for the customer. If customers do not respond to the notification after 24 hours, Boxme will proactively proceed to import the items into the warehouse.
How to use Quality Control feature?
Step 1:
After logging into your account, on the main screen, you will select "Orders" and choose "Return".
The system will display a list of return orders and the corresponding information for each order, including:
Order
Status
Type
Product
Quantity
Total fee
Note with specific order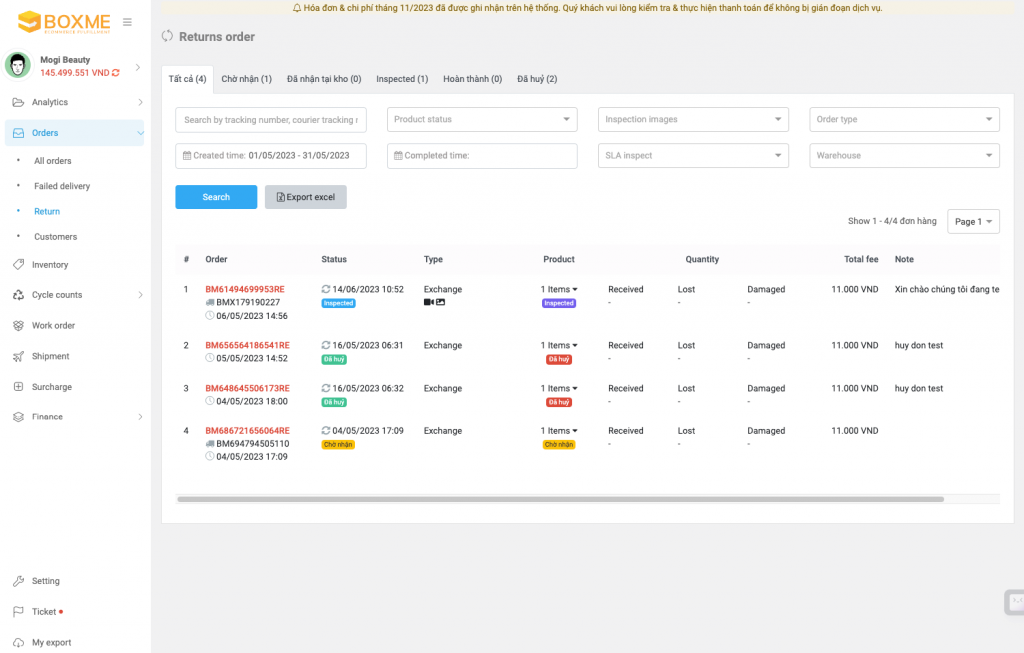 Step 2:
To track detailed information and updates on the status of the products after QC, customers can select "Orders" from the menu. The main screen will display complete return information and the QC status of the products.
The return information will include:
Information of which Warehouse receiving returns (including address/phone number of the receiving warehouse)
Order information (including return order code/shipping code/cost/status/reason/creation time/warehouse receiving time/counting SLA)
Additionally, Boxme also includes images and notes in the QC Results section to help customers easily assess the condition of the goods and make decisions regarding whether to import the returned goods into the warehouse or not.
After inspection, customers can choose to "Approve" or "Reject" the import into the warehouse for each return order.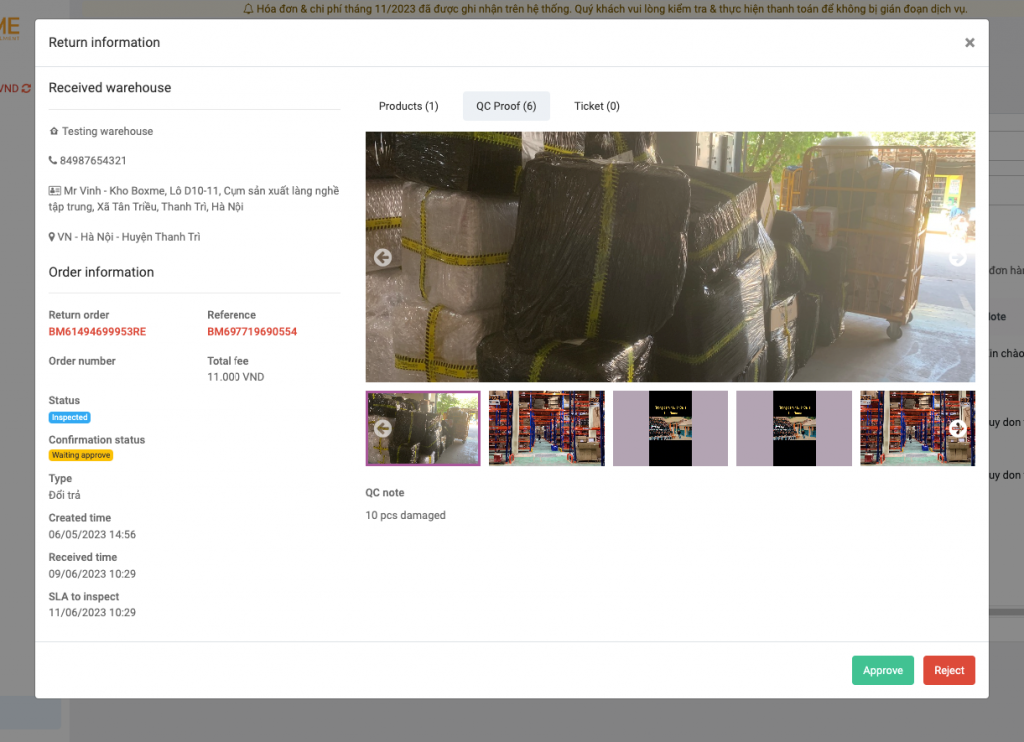 Read more about the latest update, service at:
About Boxme: Boxme is a leading e-commerce support logistics service provider in Southeast Asia, helping to deploy a series of online sales campaigns for more than 600 typical brands in the region such as Tefal, Panasonic , AHC, Merzy, Colgate, Highland…