Boxme always wants customers to feel safe when using our service so we strive every day to optimize the operation process of our service. For the convenience of sellers, Boxme would like to inform customers of our services and product in 06/2023.
1. Regulations on product quality control
The classification of Category D goods aims to clearly distinguish responsibilities and the quality of goods stored in Boxme's warehouse, differentiating them from new. At the same time, it enhances transparency and reliability for customers when using Boxme's services during the entire period.
However, alongside that, we have also received much feedback and contributions from customers regarding the confusing nature of Category D labels and the poor experience for buyers. We have noticed that labeling goods as D1, D2, and D3 can create some negative experiences for recipients, compromising aesthetics or raising doubts for buyers.
Starting from June 15th, 2023, Boxme will discontinue labeling goods as Category D on customer products. Customers can rest assured that the classification history of goods and their storage locations in the system can be provided during each inventory check or complaint.
Currently, Boxme continues to improve the classification process during warehouse intake, quality testing of returned goods at the Boxme warehouse, and clearly identifying Category D positions on shelves for each customer with fully prescribed labels to best meet the transparency management needs for customers' products.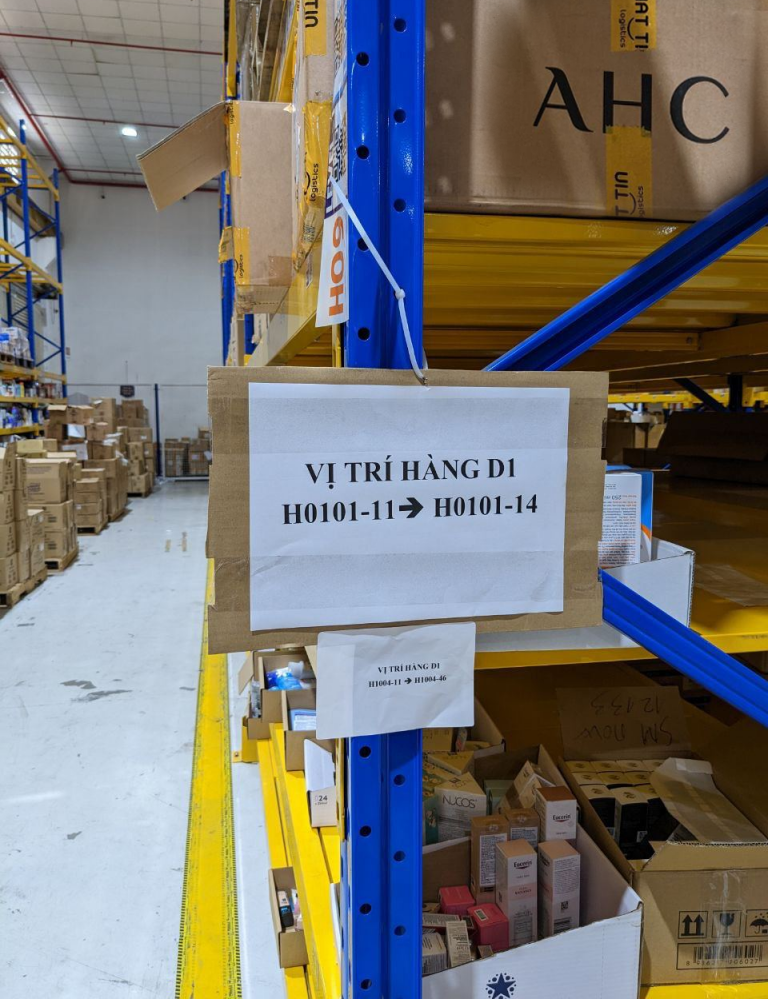 1.
Starting from June 1st, 2023, Boxme will implement the Quality Control (QC) regulations, which will incur a fee, for all returned goods to accurately classify the condition of incoming goods. Customers can view the QC results directly on the return order management system.
Product Quality Testing Standards (Applicable to incoming goods or returns)
2. Changing packaging standards, and reinforcing goods with inflatable bubble materials.
To reduce environmental pollution from plastic waste, Boxme is implementing the following improvements in the reinforcement and packaging standards for goods using inflatable foam:
For small and lightweight cosmetic products that require reinforcement with bubble wrap, a single wrap will be applied. Similar products can be wrapped together, and paper padding will be used instead of the current method of inserting items.
For household appliances, large items, and fragile goods: We will apply a double layer of wrapping before placing the items in cardboard boxes and paper padding will be used for cushioning.
For products that specifically require "Bubble Packaging," we will use large-sized inflatable foam for packaging and use PE film to secure the package, ensuring both safety and aesthetic appeal.
Priority will be given to the use of recycled plastic and bio-based materials in packaging production.
The "Bubble Packaging" method will not be applied to small products with a total of three dimensions less than 70cm.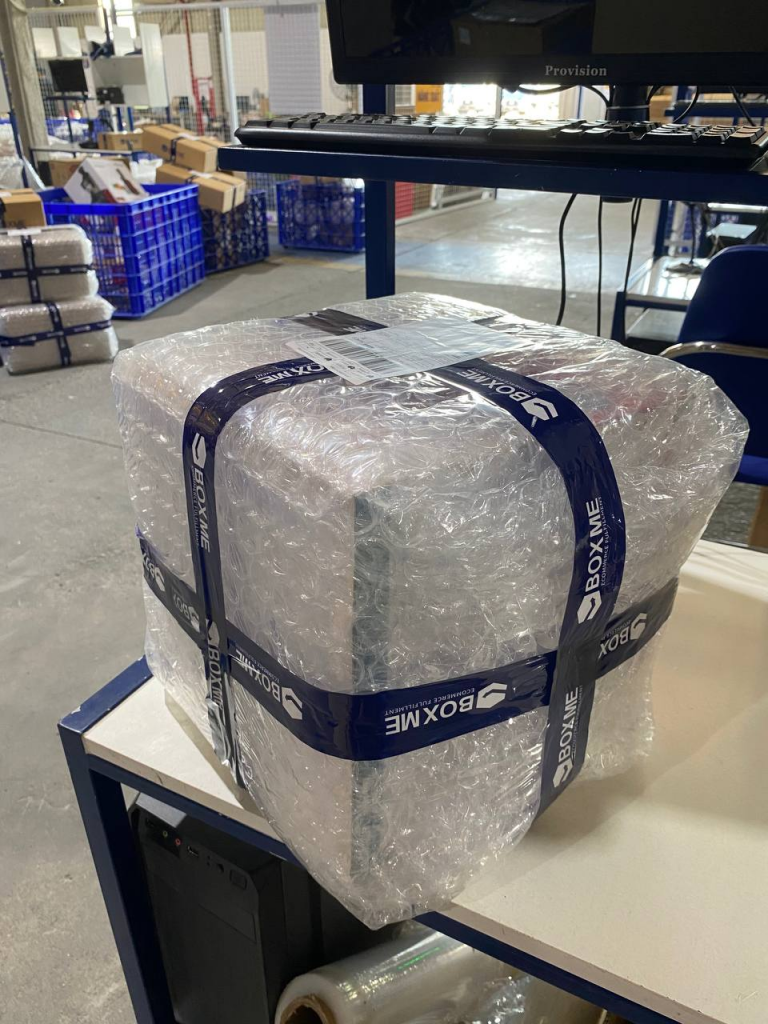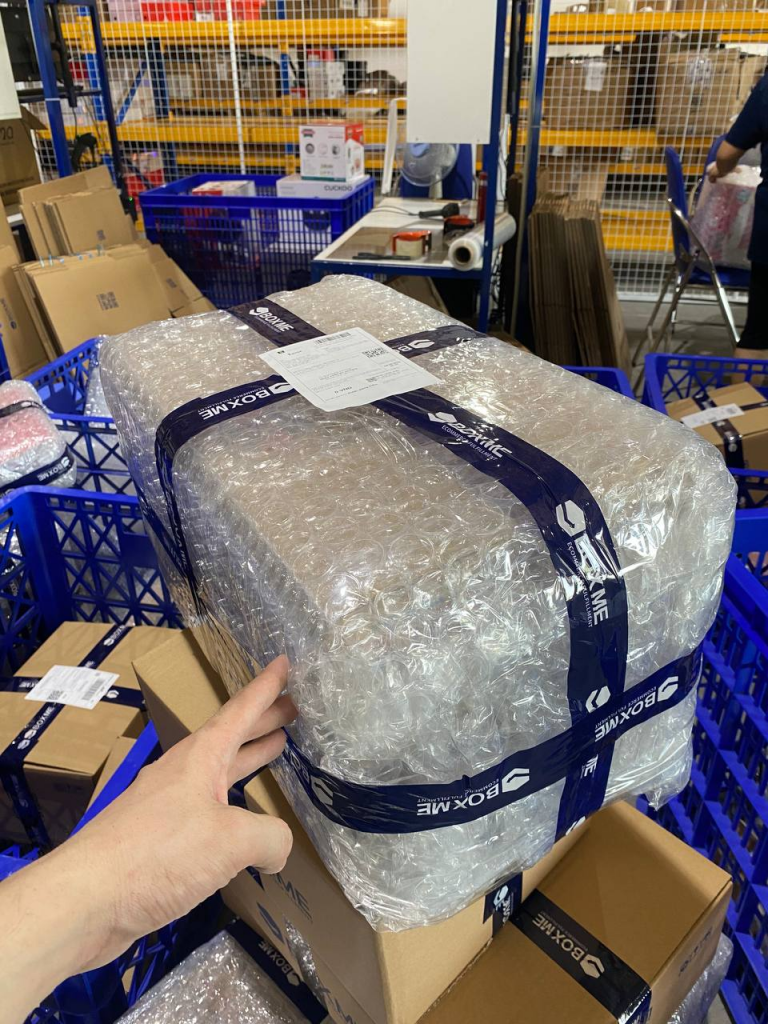 To protect the environment and minimize plastic waste, Boxme also encourages customers to invest in environmentally friendly materials such as paper and cardboard instead of recycled plastic products. This contributes to creating a sustainable living environment.
3. Consolidating commitment to order processing for regular orders
To provide a consistent perspective on the service quality of Boxme, we are consolidating the commitment to order processing for regular orders, which includes two criteria.
| | |
| --- | --- |
| Before | Since 01/07/2023 |
| Commit packaging within 6 working hours and handing over to the shipping carrier as per the commitment within 24 hours from the order's occurrence. | Commitment to hand over to the shipping carrier within 24 hours from the order's occurrence (including Sundays but excluding public holidays). |
4. Regulations on scheduling the delivery of batches of goods to the warehouse
Scheduling delivery is a mandatory requirement before the batch of goods is delivered to the warehouse. This helps Boxme proactively allocate resources to receive and warehouse the goods as per the commitment. Also, don't worry if the delivery time is different or changes, as Boxme is always ready to serve during working hours.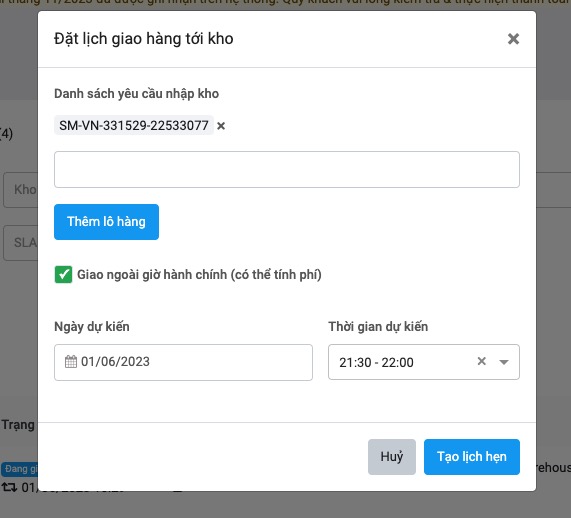 Customers can also check the status of their delivery requests to the warehouse. For each batch code, there will be displayed information about the status, expected delivery schedule, warehouse location, and the selected quantity.
Customers can also proactively Cancel a batch, Change the delivery schedule, or Cancel the delivery schedule with simple actions.