The Multi-channel Fulfillment (MCF) service by Amazon provides fulfillment service for sellers outside the Amazon website. To put it simply, when selling on a different channel, you can send part or all of your inventory to Amazon's Fulfillment Centers for assistance in handling, packing, and shipping.
The MCF format is suitable for sellers who want to focus on business development without having to deal with daily logistics problems.
The fulfillment process   

Merchants can store their products at Amazon and fulfill orders on multiple sales channels that are compatible with Amazon. Orders can be tracked in the Seller Central with an integrated real-time tracking system, and products will be stored in Amazon warehouse for convenient management.
To use the MCF service, the merchant must have a Fulfillment by Amazon (FBA) account. Once an order is processed, the cost will be paid for by the account's available balance or linked credit card.
Step 1: Create a product on Amazon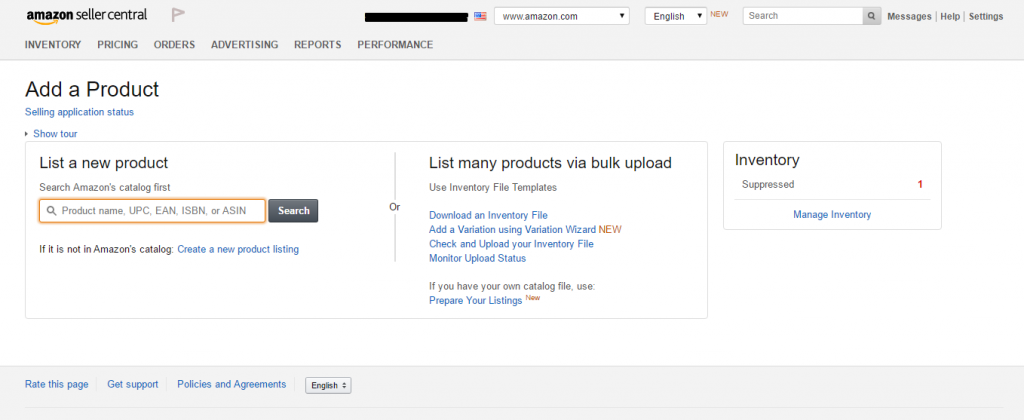 Sellers can start by choosing a category, updating the information, the selling price, and the SKU of the product. Estimate the time for your product to arrive at Amazon warehouse to select the accurate date to start selling, and remember to opt for Amazon's fulfillment service (Fulfilled by Amazon).
Step 2: Create a Fulfillment order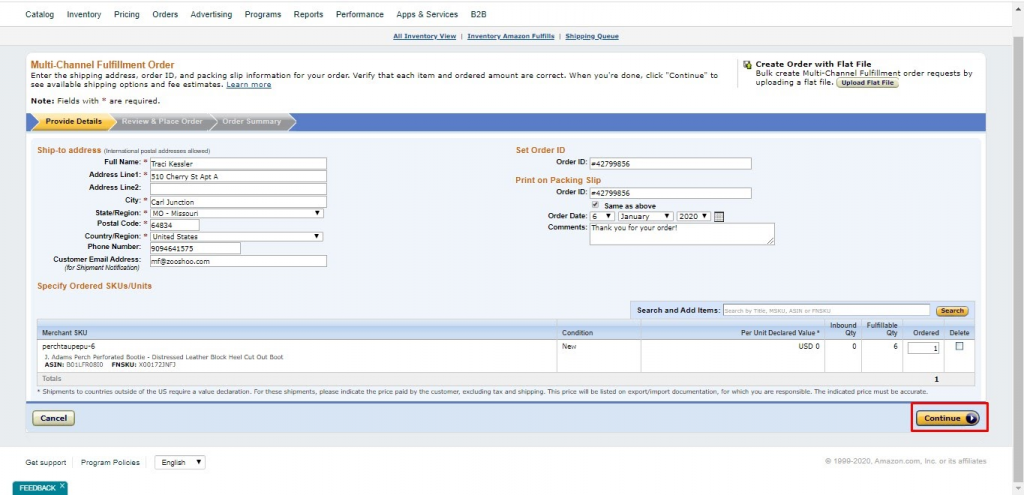 Go to "All Inventory" on your Amazon account and select "Create Fulfillment Order." Fill in all the necessary information such as recipient information, shipping method, etc. To create multiple orders at the same time, sellers can use the flat file provided by Amazon.
Step 3: Manage shipment
MCF usually has three types of shipping for you to choose from: standard (3-5 business days), express (2 days) and priority (the next day). Buyers will choose the shipping method, while what sellers can do is design a packing slip with the company's logo and information. This is a plus point compared to the FBA service to make the packaging more brand-customizable.
Handle return & canceled orders
Unlike FBA, handling return & canceled orders in MCF is the responsibility of the seller. Sellers can decide to re-stock products or send them back to the manufacturer depending on each order, as long as it remains consistent with Amazon policy.
MCF orders can be canceled within 15 minutes since being created in "Manage Orders." After this time, Amazon reserves the right to decline a cancellation request. For out of stock products, Amazon will update the status as "Unfulfillable" and will not process these orders until new products arrive.
Advantages and disadvantages of Multi-channel Fulfillment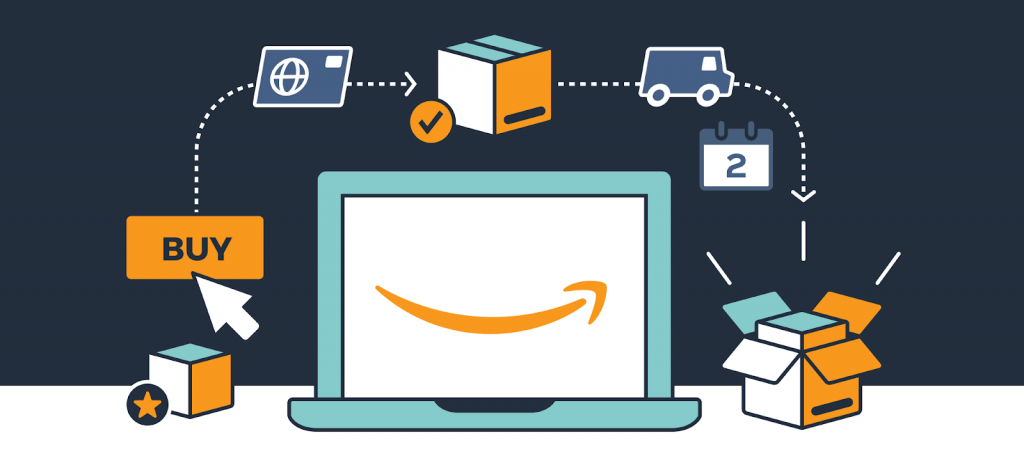 Advantages
Warehouse management: Inventory management is the most outstanding advantage of MCF service. Since all products are shipped and managed in Amazon warehouses with the most advanced system, you can always keep track of your inventory across all sales channels. This helps you adjust your sales strategy in time and ensure that service quality is well-maintained.
Clear-cut cost: Amazon provides a very precise fee table for the MCF service. When creating an order on the system, Amazon will also provide you with an estimated fulfillment fee.
Service quality: Amazon is the leading logistics provider with more than 75 fulfillment centers across the US and more than 125,000 employees. Whether your output is a few tens or a few thousand orders a day, Amazon has the resources to process and deliver these orders to customers within the committed time.
Disadvantages
Branding difficulties: Amazon does not provide customized packaging services. All parcels will be shipped in boxes with Amazon logo. The only thing you can customize is your brand's information and logo on the packing slip printed by Amazon.
Long-term storage fees: For items in low demand, storing at Amazon may not be a good option. Amazon items that are more than 181 days in stock will be charged, and if you do not manage your inventory carefully, the fee can add up very quickly with a wide variety of products.
Product & channel restrictions: Amazon's product policy is quite strict. For products deemed dangerous like lithium batteries, aerosols, flammable or perishable goods, Amazon has strict requirements for warehousing and the costs will also be higher than normal. Moreover, because of the above-mentioned packaging policy, several sales channels such as eBay, Walmart and Jet are now rejecting products coming from Amazon's fulfillment warehouse.
Handling return & canceled orders: With the FBA model, Amazon will deal with any return or canceled orders as the product is sold on their site. However, with the MCF model, this feature is not supported by Amazon and sellers will have to handle it.
Final words
Amazon's MCF model is the typical model for multi-channel fulfillment and is currently being applied in many countries around the world. Offering a simple inventory and order management system along with high-quality shipping service, however, the MCF model is still limited in terms of product and branding.
In the Southeast Asian market, Omisell is the pioneer in providing multi-channel fulfillment solutions. Integrating with major sales channels, leading shipping couriers and Boxme Global's fulfillment service, Omisell helps sellers to automate inventory and order processes for seamless management. Try Omisell for free.
You might be interested in:
>> How To Speed Up Your E-Commerce Order Fulfillment

>> Warehousing Vs Fulfillment: Which Logistics Solution Is Right For Your Business?
Boxme is the premier cross-border e-Commerce fulfillment network in Southeast Asia, enabling world-wide merchants to sell online into this region without needing to establish a local presence. We deliver our services by aggregating and operating a one-stop value chain of logistic professions including: International shipping, customs clearance, warehousing, connection to local marketplaces, pick and pack, last-mile delivery, local payment collection and oversea remittance.