With the aim to improve the service and deliver better customer experience, starting from May 2021 Boxme will automatically update VAT invoice information and payment due date (for postpaid customers) on Boxme system. So that customers can actively manage and download their VAT invoices.
Specifically, from May 2021 onwards, Boxme system will update customers' usage bills including shipping costs (including collection fees, insurance, reimbursement,…) and fulfillment fees (including storage, handling, and packaging charges) for a period of 1 week from the 25th of each month, for charges incurred from the 24th of the previous month to the 25th of the current month.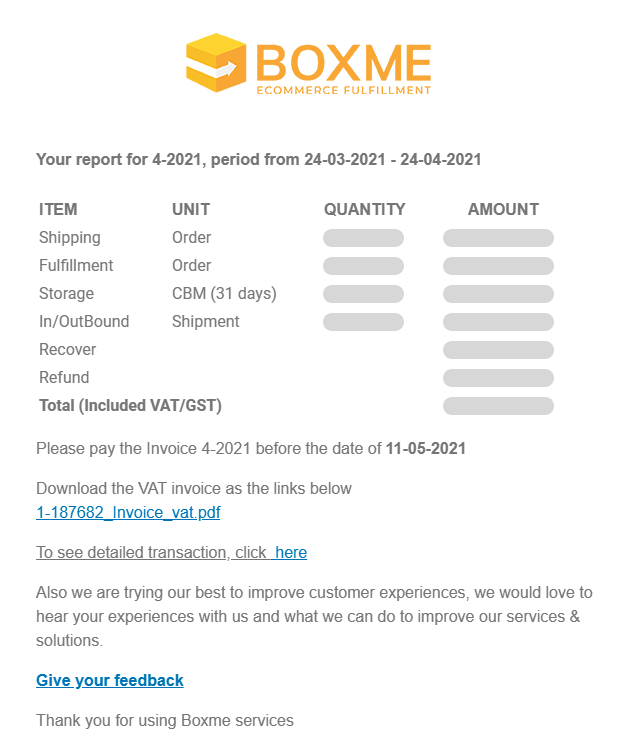 As soon as the invoices are updated on the system, will the customer receive the information via registered email. Customers can easily download detailed invoices by email.
Alternatively, customers can access their order management system (OMS), select the left menu, go to the invoice section to export their VAT invoice, with a detailed list of service fee.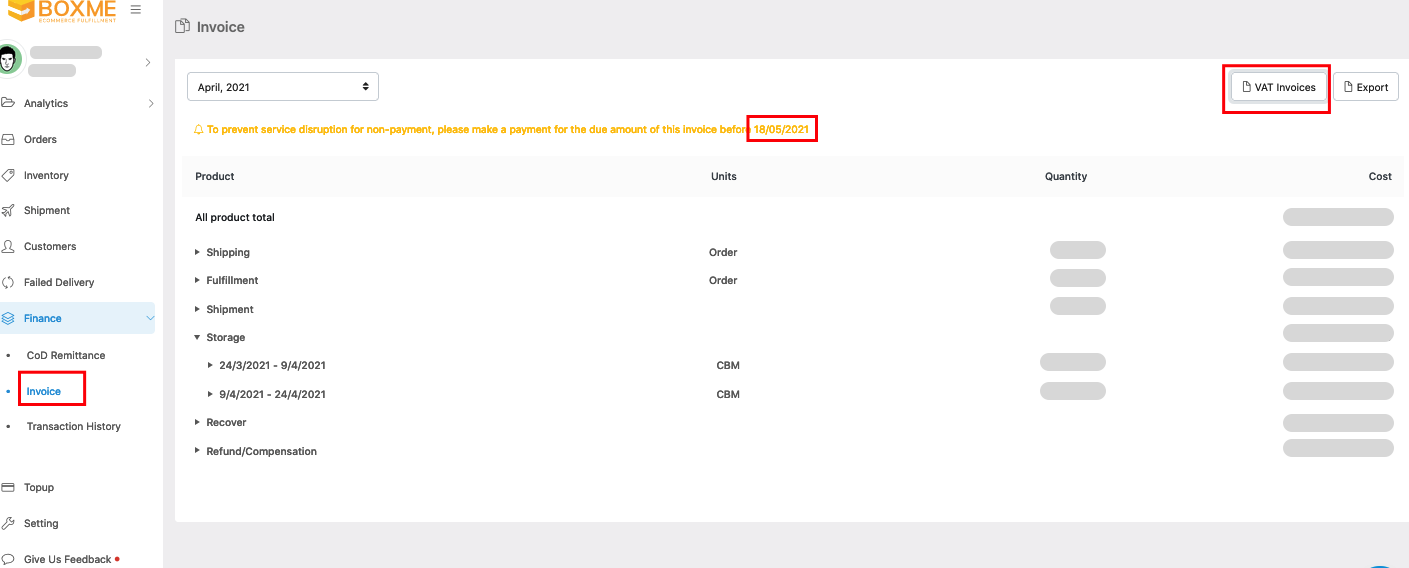 Note: For post-paid service customers, the payment is due no later than 14 days after receiving invoice. If customers fail to make the payment after the period of 14 days, the system will automatically close the remaining balance and order creating feature. As soon as the customer make payment, the system will automatically reopen the balance and all features as normal.
If you have any questions, please contact one of our customer success manager or chat with us within OMS system. 
About Boxme: Boxme is the premier E-commerce fulfillment network in Southeast Asia, enabling world-wide merchants to sell online into this region without needing to establish a local presence. We deliver our services by aggregating and operating a one-stop value chain of logistic professions including: International shipping, customs clearance, warehousing, connection to local marketplaces, pick and pack, last-mile delivery, local payment collection and oversea remittance.