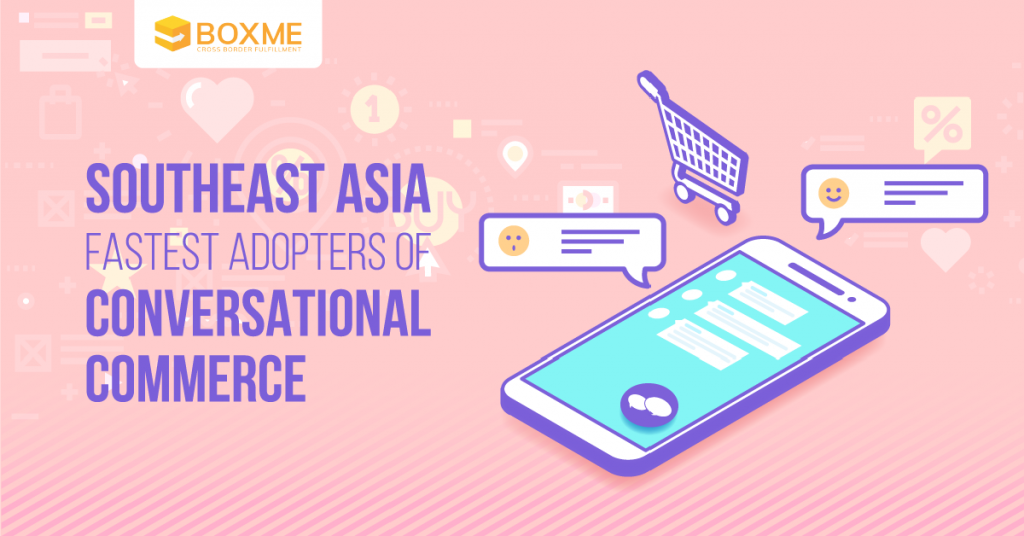 What is conversational commerce?
The term refers to the method of using chat or messaging apps to sell goods and services online. Combining the convenience of online shopping with a personal take, conversational commerce is being embraced by customers across the world, with Southeast Asians being the leaders.
Southeast Asians as the fastest adopters
Surpassed countries like the US, Mexico, India and Brazil in terms of both awareness and adoption, Southeast Asian customers have a strong preference for conversational commerce, as a study by Facebook and Boston Consulting Group reveals. The study surveyed approximately 9000 online shoppers, with more than 5000 of them coming from the SEA region. Among the respondents, customers from Thailand and Vietnam engage the most in conversational commerce, with the figures being 40% and 36% respectively. Other SEA countries also occupy a high percentage: Indonesia (29%), Malaysia (26%) and the Philippines (23%).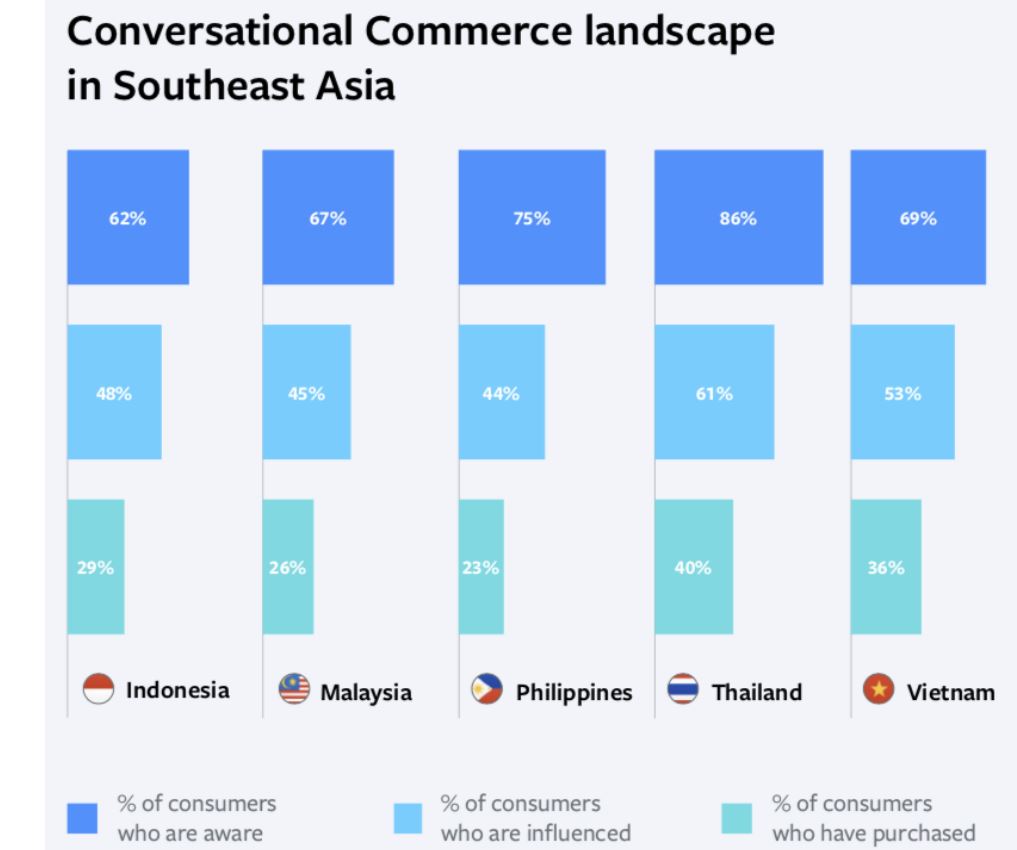 Traditional E-commerce is on the verge to be bypassed, as 45% of shoppers declaring that their first online purchase is driven by conversational commerce. Meanwhile, the figure is only 27% in the US. Furthermore, 72% of customers in Southeast Asia are aware of conversational commerce when only 49% of shoppers across other countries have heard about this term.
Primary demographic and platform
Conversational customers come from a diverse age group, however, the majority of them are middle-aged women living in a middle-income household in the city, as stated in the research. As the main caretaker in the family, women have high spending demand and strong purchasing power within the household. As a portion of this group is stay-at-home moms, they also have more free time on their hands to engage in conversational commerce. The categories that utilize conversational commerce the most are clothing (67%), followed by food delivery (36%) and footwear (32%).
Undoubtedly, the most popular platform for conversational commerce in SEA is Facebook. 9 out of 10 respondents from Indonesia said that they use the app to conduct a purchase. In general, social media and E-commerce are the two leading platforms with 47% and 44% in turn, while brand websites only account for 9%. The two most common payment methods for online shopping are cash-on-delivery and bank transfers, with Malaysia as an exception (credit cards and bank transfers).
A personal touch
The study also reveals why conversational commerce is such a success in Southeast Asia. 57% of respondents say that they chat to acquire additional information regarding the product, while 35% negotiate the price and 34% want to establish trust through conversation. From these figures, we can conclude that most Southeast Asian shoppers don't fully bank on online shopping, so they turn to message as a way to get more information and confirm their judgment. The method has become a tool for brands to gain trust from their customers as well, from ensuring transparent prices (50%), answering questions (48%) to on-time delivery (48%).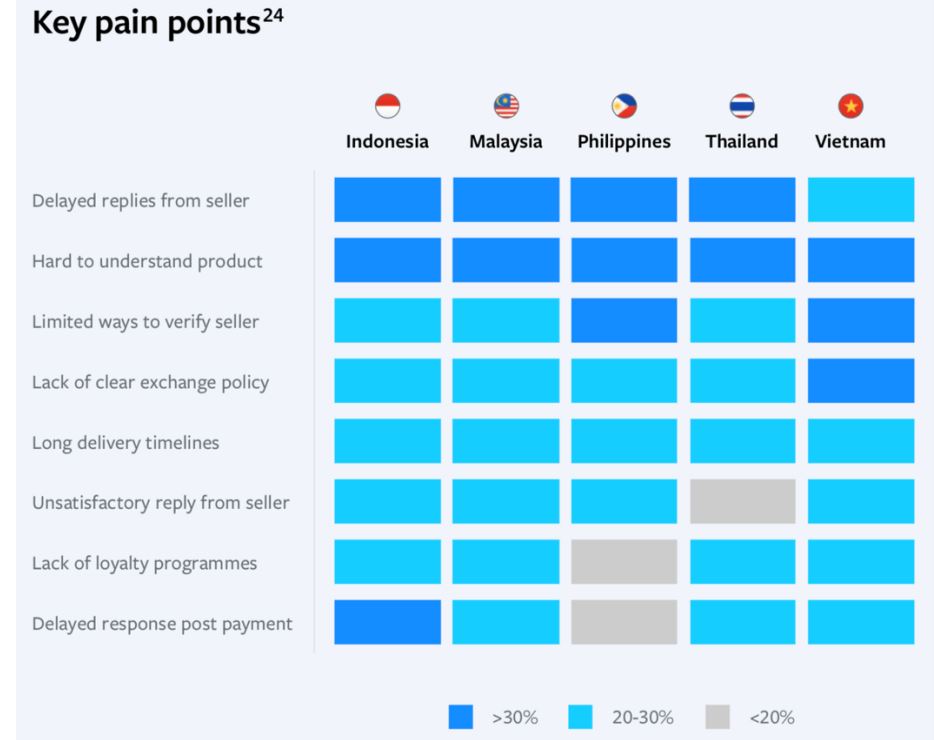 More than half of the buyers (60%) are comfortable using chatbots to get basic product details and delivery status. However, for complex matters like product suitability, price negotiation, and handling complaint, customers prefer to communicate with a human being. 
->> See also: E-commerce Insights: How Southeast Asians shop online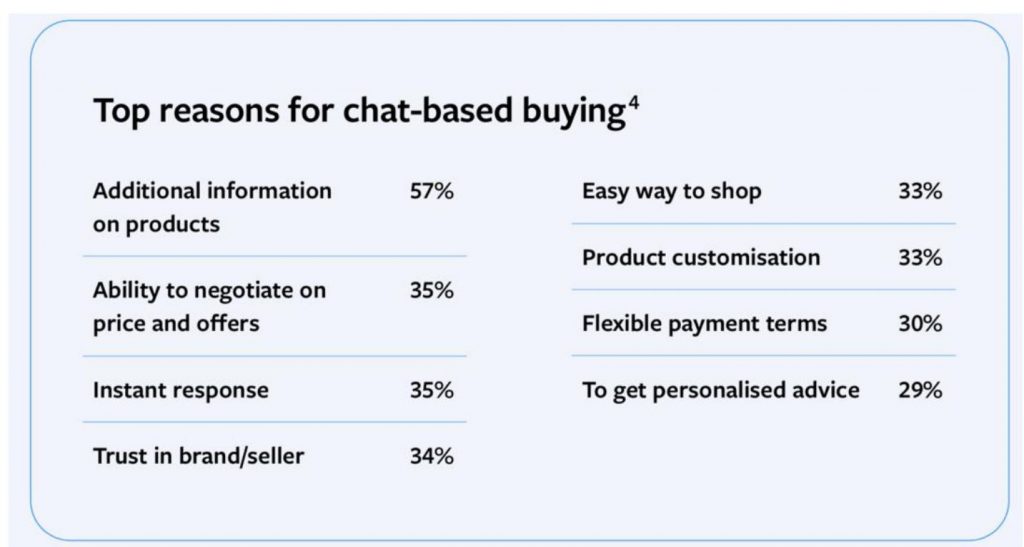 This new form of commercial behavior is growing momentum across the world as a powerful tool to engage potential customers, before and after the purchasing decision. As shoppers are time-strapped than ever and thrive for a personalized experience, conversational commerce can develop E-commerce in a way that the traditional form never could.
->> You might be interested in: E-commerce: now the largest Internet economy sector in Southeast Asia
Boxme is the premier cross-border e-Commerce fulfillment network in Southeast Asia, enabling world-wide merchants to sell online into this region without needing to establish a local presence. We deliver our services by aggregating and operating a one-stop value chain of logistic professions including: International shipping, customs clearance, warehousing, connection to local marketplaces, pick and pack, last-mile delivery, local payment collection and oversea remittance.