On 12/08/2022 in Hanoi, NexTech Group and Ngan Luong Intermediate Payment Gateway Joint Stock Company have announced an investment of over 150 billion VND to BOXME (a premier ecommerce fulfillment company in Southeast Asia). The new investment will facilitate BOXME to quickly expand the scale of fulfillment centers in Vietnam to maximize the demand for order fulfillment and shipping services of e-commerce businesses, bringing BOXME to become the largest logistics service provider in Vietnam.
As a pioneer in logistics e-commerce in Vietnam, providing reliable fulfillment services with an extensive warehouse system and advanced technology with automated order fulfillment, BOXME currently has 3 large fulfillment centers in Vietnam with a scale of more than 12,000 m2, with a processing speed of more than 50,000 orders per day during mega campaigns of many major e-commerce platforms.
The COVID-19 pandemic has brought many consequences, but it is a premise for developing e-commerce in Vietnam. As a result, the demand for warehousing and transportation has increased significantly. According to the information from BOXME, during the 2 peak years of the pandemic, the revenue tended to increase instead of economic downturn. In the first half of 2022, BOXME has reached the total number of 2021 orders and is expected to grow more, 2 times compared to the previous year.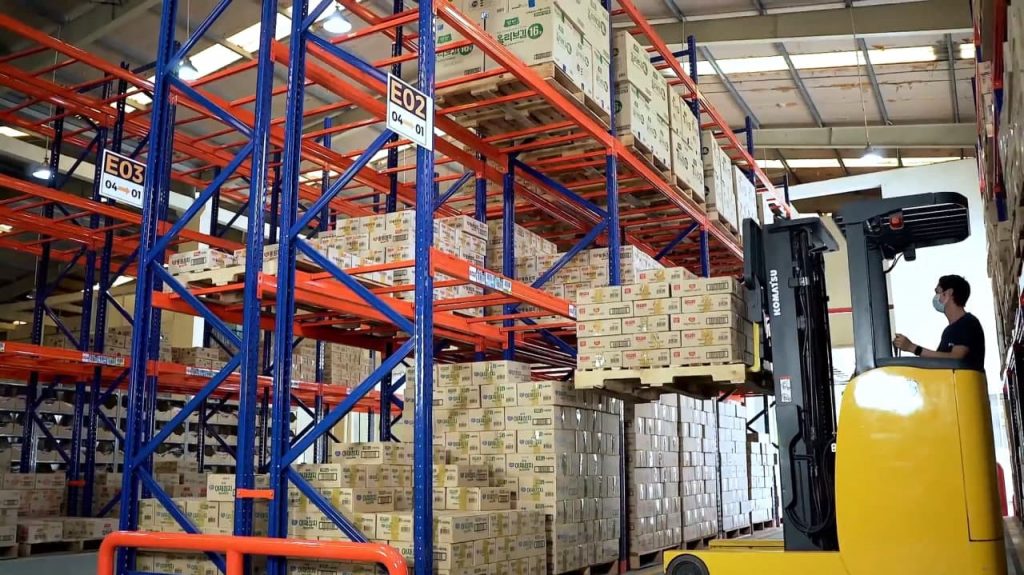 "The COVID-19 epidemic is a challenge, but also an opportunity, for e-commerce businesses in general and logistics Vietnamese e-commerce in particular. During the 2 peak years of the epidemic, our operations and dispatchers had to work at maximum capacity to process the number of online orders. With this investment, BOXME aims to expand logistics centers to 30,000 m2 in Vietnam with the ability to process 150,000 orders a day" – Mr. Han Van Loi – CEO of BOXME said.
According to Shark Nguyen Hoa Binh – Chairman of NextTech group: " The explosion of e-commerce has led to the development of e-commerce logistics (order fulfillment, delivery)"
with high-quality service. This requires businesses to invest in a highly automated and methodical process to optimize costs as well as ensure stable operating capacity. Realizing that BOXME's team is ready for expansion, NextTech Group and Ngan Luong poured more capital to help BOXME invest in expanding the infrastructure of logistics centers in Vietnam to meet the needs of customers, providing the increasing needs of e-commerce businesses in the domestic market.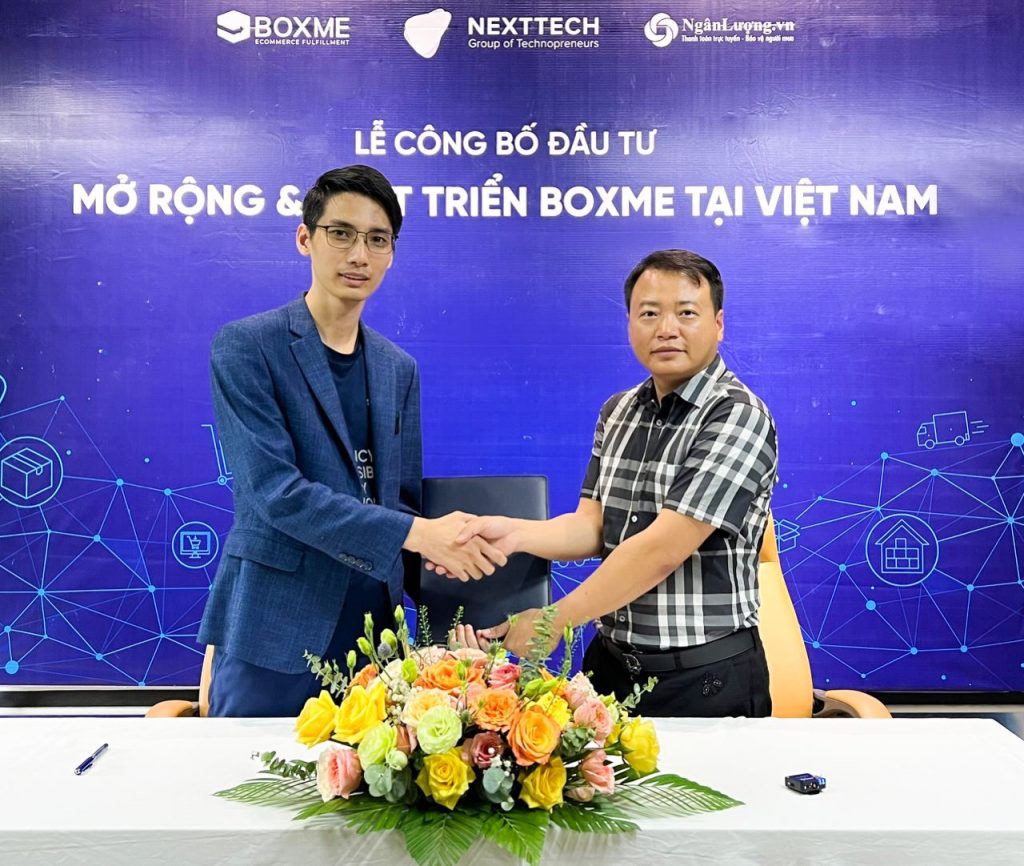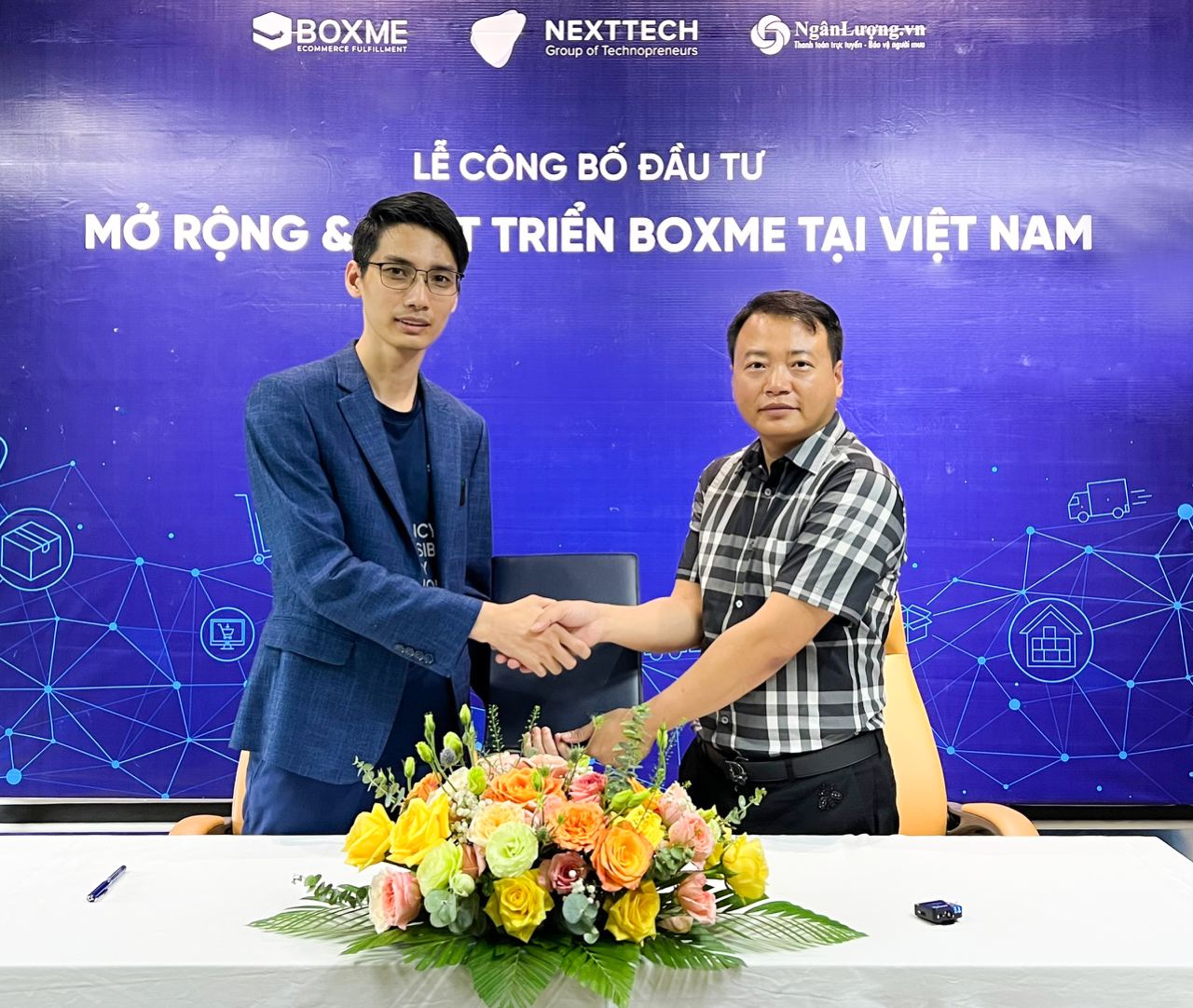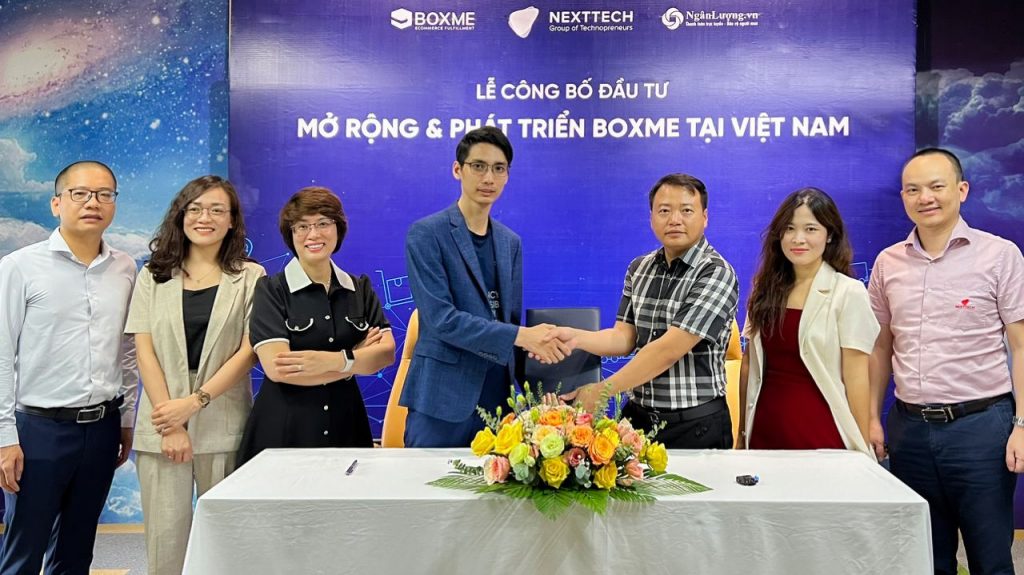 According to a report recorded by Google, in 2020, more than 40 million people in Southeast Asia connected to the internet for the first time, up 4 times compared to 2019. In which, the group of users made their first online purchase. accounting for more than 30% of total e-commerce users of the year.
Southeast Asia's e-commerce industry in 2020 recorded sales reaching 62 billion USD, up 63% compared to 38 billion USD in 2019. It is expected that this number will continue increasing at a rate of about 23% per year and will reach $172 billion by 2025.
Vietnam is one of the top countries in Southeast Asia recording rapid e-commerce growth. With the effects of the pandemic, in just two years, Vietnam has become one of the most potential countries to develop e-commerce and logistics in the region (according to Vnexpress).
With this investment in BOXME, NextTech Group as well as Ngan Luong expect BOXME to become the leading logistics technology enterprise in Southeast Asia, bringing professional logistics service experiences to customers, facilitation and simplification of business expansion of regional and international e-commerce enterprises.
Reading more news about this event:
>> https://vtv.vn/cong-nghe/startup-dich-vu-hau-can-boxme-nhan-khoan-dau-tu-150-ty-dong-20220812154032762.htm?fbclid=IwAR3tJBmU15XTVk6g7anmCh9BaGbwj4aN-t1RIIA8KJCUUpVVXD10z61JqF0
>> https://congthuong.vn/tap-doan-nexttech-va-ngan-luong-dau-tu-hon-150-ty-vao-startup-boxme-nham-phat-trien-hau-can-thuong-mai-dien-tu-217006.html
>> https://thoibaonganhang.vn/nexttech-va-ngan-luong-cong-bo-dau-tu-hon-150-ty-dong-vao-startup-dich-vu-hau-can-boxme-130156.html
>> https://vietnamfinance.vn/shark-binh-rot-hon-150-ty-vao-startup-dich-vu-hau-can-boxme-20180504224272448.htm
About BOXME
BOXME is the leading e-commerce logistics company in Southeast Asia. With 9 logistics centers in Vietnam and Southeast Asian countries, Boxme is providing services for more than 600 famous brands such as Panasonic, Colgate, King Power, Tefal, No1, AHC, Thegioiskinfood, Merzy…
BOXME provides many solutions such as:
Omni-channel management: ( B2C): Store your product at any Boxme warehouse and leave all the logistics matters to us. No matter if you are selling in Thailand or Vietnam, Shopee or Lazada, we will manage your inventory, pick, pack and ship your products to the end customers for you automatically with the most optimized cost and time.
Global Shipping: Connect with more than 50 shipping companies and provide a variety of delivery services (Instant, Express, Standard, Transport, Full-truck …)
B2B Fulfillment Solution: You can connect retailers through automated EDI. Boxme supports packaging, label printing, shipping … according to the requirements of each retailer.
Merchant Plus: BOXME provides a warehouse management system for superior control of operations and allows businesses to combine with BOXME's network of warehouses, shipping partners, and customers.
Read more: https://boxme.asia
About NextTech
Belonging to the first generation of technology startups in Vietnam since 2001, NextTech Group has nearly 20 years of starting a business from nothing and becoming an ecosystem of nearly 20 electronic services operating in Vietnam and Another 8 markets in Southeast Asia and China in 4 areas: e-commerce, financial technology, logistics, and education. Once described by Technode in China as "Vietnam's Alibaba", NextTech was voted in the Top 10 enterprises affecting the development of the Internet in Vietnam for 10 years. Owning many famous technology brands such as mPoS.vn, NganLuong.vn, … NextTech currently has nearly 2,000 employees and annual electronic transaction output is estimated at 5 billion USD.
About Ngan Luong Intermediate Payment Gateway Joint Stock Company
Ngan Luong is the most popular online payment gateway, with 35 million online transactions, and more than 100 thousand trusted websites and mobile applications used daily. Ngan Luong and Alepay help Online sellers easily accept all e – payment channels including NAPAS ATM card, Visa/Master/JCB/Amex international card, instant bank transfer, scan code QR, especially supports swiping cards at stores via mPoS machines. In addition, Ngan Luong supports most types of payment methods in Vietnam.
Reading more news about this event:
>> http://bizhub.vn/corporate-news/nexttech-and-ngan-luong-fundboxme-to-expand-its-operations_336411.html
>> https://vneconomy.vn/startup-dich-vu-hau-can-boxme-duoc-rot-them-hon-150-ty-dong-mo-rong-quy-mo.htm
>>https://diendandoanhnghiep.vn/startup-boxme-nhan-dau-tu-hon-150-ty-dong-tu-nexttech-va-ngan-luong-228848.html
>> https://thesaigontimes.vn/nexttech-va-ngan-luong-dau-tu-hon-150-ti-dong-vao-cong-ty-hau-can-boxme/
>> https://theleader.vn/boxme-nhan-dau-tu-150-ty-dong-tu-nexttech-va-ngan-luong-1660456910915.htm
https://theleader.vn/boxme-nhan-dau-tu-150-ty-dong-tu-nexttech-va-ngan-luong-1660456910915.htm