To ensure the transparency of Boxme's service and to serve customers in the most thoughtful way, Boxme would like to announce the 2021 New Year holiday schedule as follows:
Holiday time:
Holiday time at Boxme Vietnam Office: From 10/2/2021 to 16/02/2021
Working schedule at Boxme Vietnam Warehouse:
Import Calendar:
Shipments arriving before and during 06/02/2021 will be handled for warehousing and stocking up before 09/02/2021
Shipments to the warehouse after 06/02/2021 to 09/02/2021 will be handled for storage after Tet holiday.
Shipping calendar:
Orders created before 14:00 on 09/02/2021 will be packed and handed over to the same day carrier.
Orders created after 14:00 on 09/02/2021 will be processed after Tet.
Pickup and Shipping Schedule: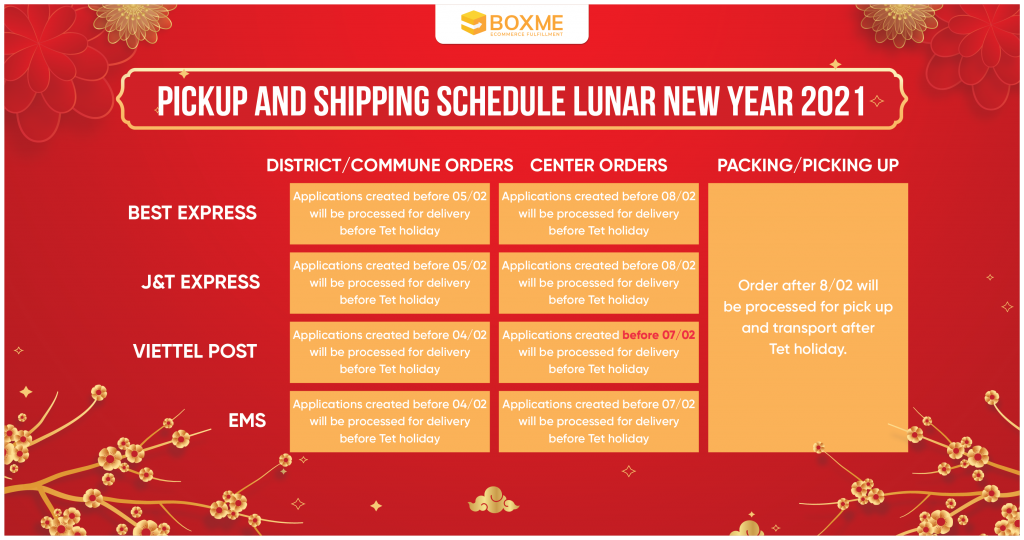 Tet holidays in the other SEA countries
Indonesia: Closed on 12/02/2021
Philippines: Closed on 12/02/2021
Malaysia: Off 12/02 and 13/02/2021, working again from 15/02/2021.
Note: The international operation department still operates normally throughout TET holiday, and the customer care department is still on duty.
Please email support requests to: [email protected] or our customer support team to get support and answer questions as quickly as possible!
Boxme Global would like to respectfully wish you a happy new year with good health, success, and prosperity. Happy new year 2021.