[vc_row][vc_column][vc_column_text]Dropship has opened up the door for entrepreneurs all over the world to establish their thousands dollar worthy businesses without needing as much upfront capital as before.
These days direct dropshipping on Shopify through renowned suppliers such as AliExpress, SaleHoo, etc.. has become a common practice. Indirect dropshipping is also a popular approach to doing business, with the presence of highly regarded platforms like Amazon, eBay, Magento, Etsy, etc.. and especially affordable, 7 – 10 day single order shipping services being offered on a global scale.
Defining 'indirect dropshipping'
->> Everything you need to know about your Vietnam dropshipping business
As we've already covered on the above article, direct dropship is the form of business that allows you to sell without actually stocking inventory – your supplying partners will take care of that for you.
All you have to do is try and find yourself a reliable dropshipping supplier(s). Upon receiving an order for a product, they will be responsible for shipping it to your end customer based on your selling information.
This form of selling, despite becoming more and more popular among sellers, unfortunately proves useful only on certain e-Commerce platforms that are optimized for dropshipping and allow direct API integration with whatever wholesale platforms the dropshippers are working on.
Shopify in recent years has emerged as the premier dropshipping providers, along with household names like Amazon & eBay, although the latter two haven't established enough valuable features to support this kind of doing business.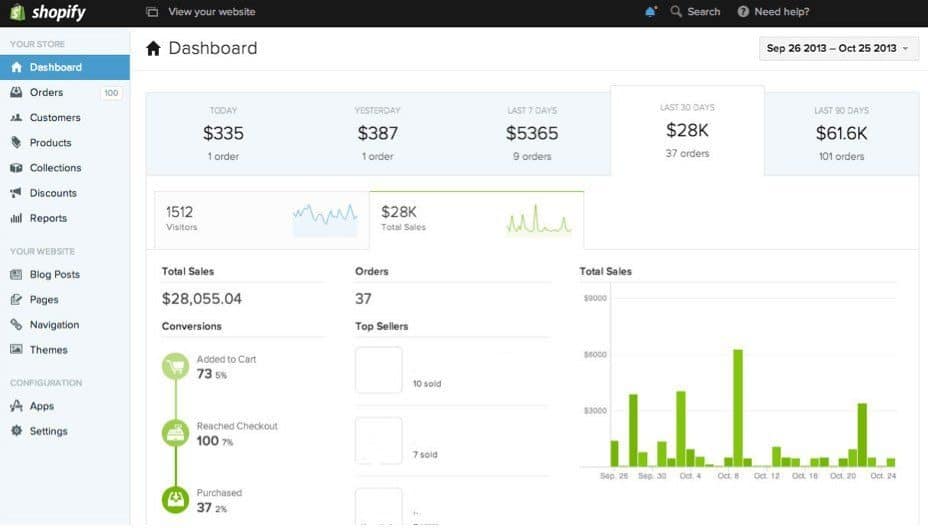 (Source: Digital.com)
Indirect dropship follows the almost exact same pattern; the only difference is that products will not be sent directly to buyers by suppliers, but instead will be handled by a specialized third-party collaborator.
This alternative successfully solves the biggest problems that keep dropshipping entrepreneurs awake at night, especially those working with suppliers from Vietnam: Delivery and warehousing.
Unlike Chinese giants, most Vietnam-based suppliers can't afford a huge network of warehouses and don't have the necessary resources to deal with related matters as well.
Some dropshippers choose to import their desired products into Vietnam before unloading them into the US to make sure they are fitting and thoroughly checked, and also to cut cost and delivery time in the process.
This approach makes sense if your supplier comes from China (operating on AliExpress, for instance), since shipping from China to Vietnam bears several upsides, namely affordable price and fast delivery (at approximately 2 – 3 working days).
With indirect dropshipping, not only can you still try your hands at Shopify but you could also practice your business on Amazon, eBay, Magento, Etsy, etc.. without worrying about your account being locked out for policy violation and other headscratching problems.
Why should you practice indirect dropshipping in Vietnam?
As already mentioned, importing into and warehousing your products in Vietnam before dropshipping them on Amazon, eBay, etc.. would give you an edge on the market:
You get to check products' quality and even try them beforehand, minimizing the risks of damage, loss and so on.

Much faster shipping time (10 to 20 days) comparing to direct dropshipping via China Post, ePacket (21 – 60 days).

Two/three times cheaper than using Aliexpress's fast delivery option.
->> Fast and economical international single order shipping & dropshipping from Vietnam – is it possible?
Leverage our offer!
Shipping single orders weigh

below 0.5lb

and

1lbs

to the US

for $8

and

$9.5

, respectively.

Ultra fast delivery time at approximately

10 to 14 days

.

Full-tracking – Keeping a close eye on your order at all time using USPS order ID or Boxme's order ID on the system.
Running your business twice as cost efficient with Boxme! Come and see what's good
[/vc_column_text][/vc_column][/vc_row][vc_row][vc_column][vc_raw_js]JTNDJTIxLS1IdWJTcG90JTIwQ2FsbC10by1BY3Rpb24lMjBDb2RlJTIwLS0lM0UlM0NzcGFuJTIwY2xhc3MlM0QlMjJocy1jdGEtd3JhcHBlciUyMiUyMGlkJTNEJTIyaHMtY3RhLXdyYXBwZXItZDBlOTg0MDgtZTMyZi00ODE3LTgwZmMtZTlkMzkzNjI3ZjgxJTIyJTNFJTNDc3BhbiUyMGNsYXNzJTNEJTIyaHMtY3RhLW5vZGUlMjBocy1jdGEtZDBlOTg0MDgtZTMyZi00ODE3LTgwZmMtZTlkMzkzNjI3ZjgxJTIyJTIwaWQlM0QlMjJocy1jdGEtZDBlOTg0MDgtZTMyZi00ODE3LTgwZmMtZTlkMzkzNjI3ZjgxJTIyJTNFJTNDJTIxLS0lNUJpZiUyMGx0ZSUyMElFJTIwOCU1RCUzRSUzQ2RpdiUyMGlkJTNEJTIyaHMtY3RhLWllLWVsZW1lbnQlMjIlM0UlM0MlMkZkaXYlM0UlM0MlMjElNUJlbmRpZiU1RC0tJTNFJTNDYSUyMGhyZWYlM0QlMjJodHRwcyUzQSUyRiUyRmN0YS1yZWRpcmVjdC5odWJzcG90LmNvbSUyRmN0YSUyRnJlZGlyZWN0JTJGMjE0MTUyOCUyRmQwZTk4NDA4LWUzMmYtNDgxNy04MGZjLWU5ZDM5MzYyN2Y4MSUyMiUyMCUyMHRhcmdldCUzRCUyMl9ibGFuayUyMiUyMCUzRSUzQ2ltZyUyMGNsYXNzJTNEJTIyaHMtY3RhLWltZyUyMiUyMGlkJTNEJTIyaHMtY3RhLWltZy1kMGU5ODQwOC1lMzJmLTQ4MTctODBmYy1lOWQzOTM2MjdmODElMjIlMjBzdHlsZSUzRCUyMmJvcmRlci13aWR0aCUzQTBweCUzQiUyMiUyMHNyYyUzRCUyMmh0dHBzJTNBJTJGJTJGbm8tY2FjaGUuaHVic3BvdC5jb20lMkZjdGElMkZkZWZhdWx0JTJGMjE0MTUyOCUyRmQwZTk4NDA4LWUzMmYtNDgxNy04MGZjLWU5ZDM5MzYyN2Y4MS5wbmclMjIlMjAlMjBhbHQlM0QlMjJXYW50JTIwRnJlZSUyMEFkdmlzZSUyMG9uJTIwSG93JTIwdG8lMjBEcm9wc2hpcCUyMGZyb20lMjBWaWV0bmFtJTNGJTIwQ29udGFjdCUyMFVzJTIwTm93JTIyJTJGJTNFJTNDJTJGYSUzRSUzQyUyRnNwYW4lM0UlM0NzY3JpcHQlMjBjaGFyc2V0JTNEJTIydXRmLTglMjIlMjBzcmMlM0QlMjJodHRwcyUzQSUyRiUyRmpzLmhzY3RhLm5ldCUyRmN0YSUyRmN1cnJlbnQuanMlMjIlM0UlM0MlMkZzY3JpcHQlM0UlM0NzY3JpcHQlMjB0eXBlJTNEJTIydGV4dCUyRmphdmFzY3JpcHQlMjIlM0UlMjBoYnNwdC5jdGEubG9hZCUyODIxNDE1MjglMkMlMjAlMjdkMGU5ODQwOC1lMzJmLTQ4MTctODBmYy1lOWQzOTM2MjdmODElMjclMkMlMjAlN0IlN0QlMjklM0IlMjAlM0MlMkZzY3JpcHQlM0UlM0MlMkZzcGFuJTNFJTNDJTIxLS0lMjBlbmQlMjBIdWJTcG90JTIwQ2FsbC10by1BY3Rpb24lMjBDb2RlJTIwLS0lM0U=[/vc_raw_js][/vc_column][/vc_row]
WANT TO LEARN MORE?
->> Why are dropshipping margins so tight and How to maximize the profits it brings?
->> [Q&A] What are the problems of dropshipping from Vietnam to the USA? [PART I]