[vc_row][vc_column][vc_column_text]The order execution process is one of the most, if not THE most, significant stages in the operations of an online e-commerce shop, especially for customers, who are eagerly waiting for their shipment to arrive.
In order for casual buyers to become loyal customers, one should focus not only on attracting them to the shop but also on great during-and-after-sales service, so that they have positive memories regarding your shop and the order execution. What should we bear in mind?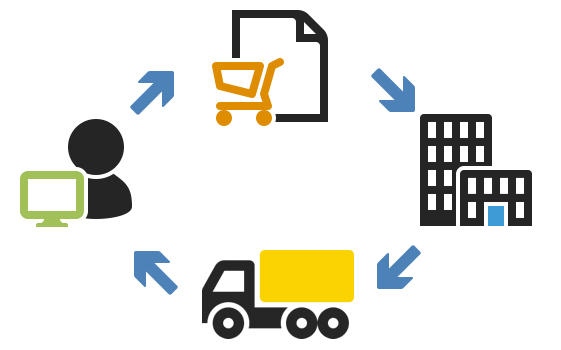 (Source: Opal)
Stages of the order execution
Customers have the first contact with your shop when they choose products and then several next when their order is completed and a payment for it is made. Right after making a payment, an order is given the unhandled status in the e-commerce system. After that, the entire process will be connected with logistics starts.
The order execution process starts once all data has been completed correctly. If products are in stock, they will start to be collected, i.e. a warehouseman who has been assigned an order will proceed to collect the products that have been specified in that order.
After that, all products are placed on a packaging table; a packer closes a given package, double checks to see whether all the information is correct and then prepares the package for a courier. At the same time, a label for the courier is generated in accordance with the form of shipment selected by the customers. The ready package waits for the arrival of the courier in a specially designated zone and then it is released to them. Following this, the order status changes to the executed status and the customer gets his hands on the package usually within 24 to 48 hours.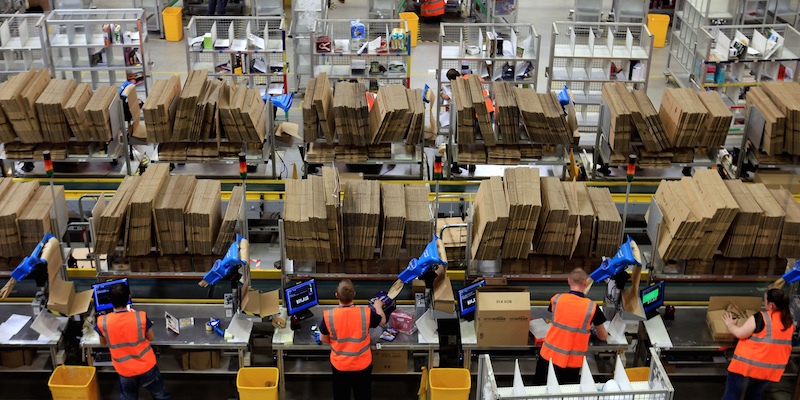 (Source: E-commerceOrderFulFillment)
Although it seems that the process connected with logistics is not very important, keep in mind that everything exerts an influence on the customer's impressions. This part is in fact very significant from a consumer's perspective, as customers have already done everything required on their part: Chosen the goods, made payment for them and now only wait for their shipment. The time of the order execution, packaging quality and information that customers receive in the course of the order execution all have an influence on their overall brand experience, and on whether they will place a new order in the same shop again. Therefore, it is critical that these experiences are positive as a result of the best possible order execution. Efficient logistics therefore contributes to the ultimate goal that customers are satisfied at each stage of the order execution.
The most frequent statuses, which appear in the course of the order execution in popular shop platforms, are as follows:
Unhandled – customers have placed an order and it is already in the system, but the process of its execution has not started yet.
Waiting for shipment – this status appears only when a given product is not available in stock and must be delivered, for instance, from a wholesale store.
Executed – products are being collected.
Packing – products have been delivered to a warehouse and are being packed.
Ready for shipment – this status means that all products have been collected, verified and packed, and are waiting to be released to the courier.
Sent – this status appears when products have been collected by the courier, after which the status of a given order may be checked in accordance with a waybill that customers have received.

(Source: Complemar)
How can we manage it effectively?
It is worth dividing the execution processes into smaller stages, as then we will be able to evaluate each step separately and check the results it brings.
According to statistics, apart from the price, customers draw the most attention to order execution speed, packaging, time of delivery and contact with a seller at each stage of the order execution.
An appropriately packed and secured package, especially when it contains an individual remittance, is an additional advertising medium. Customers are starting to draw more attention to the packaging in which a given product is supplied to see if it is an ordinary cardboard box or if it is filled with old newspapers or perhaps brand leaflets. The dimensions of the box must also be adjusted to the product, since too big a box means that the product will move inside while in too small a box there might be too little space for filling materials and protection of the products.
A courier company is also very significant for the customer. Ensuring that they have choices to wage between is a must. Every customer will draw attention to a wide range of reasonably priced suppliers. Very often, due to the limited possibilities to choose from, customers decide to buy the product in another online shop instead.
The next significant aspect is the availability of the goods, as customers draw attention to the fact whether shipment will take place that day or in a month. It is good to have a prepared stock of products, especially those that are highly sought-after. Thanks to this, the time of the order execution is significantly shorter and we are not dependant on the wholesale store (it may not always have all the products in stock).
Personal contact – adding a leaflet with a discount on the next order, a service manual or a return form prepared in an original manner to the package may make customers smile when they open their package. It is also nice to sign the package manually and write for example: "This package has been prepared for you by ABC". In such a situation, customers feel that they are not treated anonymously and they know that the package has been prepared especially for them. They also start to associate a particular person with a given shop. It is not an anonymous large company any more. It might be a specific warehouseman who packed their stuff. This option is also useful when a package encounters problems, as when it turns out that not all elements have been collected or it has been done in a careless manner, we are able to determine who was responsible for the execution phase.
After-sales service – customers who have placed an order would like to receive their package on the day of the order placement. In certain cases, after paying an additional charge, this is possible, but it usually takes 1–2 days. It is worth trying to reduce this period of time to a minimum.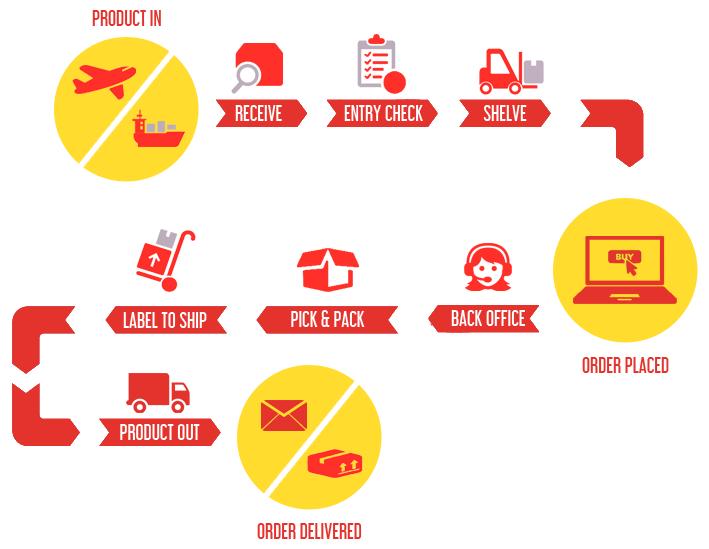 (Source: SwissMailSolutions)
Customers often call to ask what the status of an order means, where the package is, whether money from their payment have been obtained, etc. It is, therefore, worth training employees so that they answer all inquires patiently and help customers not only before the purchase but also after the completion of a transaction.
Customers who are satisfied are the customers who will for sure return to our shop. An improved logistics process is also very important for an online shop since due to process optimisation the shop may work faster and handle more orders daily, frequently saving time and money (e.g. on hiring new staff). If you have any problems with it, you can always delegate the overall fulfillment issues to specialists and you can deal with what you do best, i.e. sales.
[vc_separator color="orange" align="align_left" style="dashed"][vc_column_text]BoxMe is the premier cross-border e-Commerce fulfillment network in South East Asia, enabling world-wide merchants to sell online into this region without needing to establish local presence. We are able to deliver our services by aggregating and operating an one-stop value chain of logistic professions including: International shipping, customs clearance, warehousing, connection to local marketplaces, pick and pack, last mile delivery, local payment collection and oversea remittance.
If you have any question about Boxme Asia or how we can support your business, please contact us directly by referring to our hotline. We are glad to be of service![/vc_column_text][/vc_column][/vc_row][vc_column][/vc_column][vc_row][vc_column][vc_raw_js]JTNDJTIxLS1IdWJTcG90JTIwQ2FsbC10by1BY3Rpb24lMjBDb2RlJTIwLS0lM0UlM0NzcGFuJTIwY2xhc3MlM0QlMjJocy1jdGEtd3JhcHBlciUyMiUyMGlkJTNEJTIyaHMtY3RhLXdyYXBwZXItYWI5ZjU3MjEtZjZkNC00YzhmLTk5YWUtOGMxNWFlZGNlZmEwJTIyJTNFJTNDc3BhbiUyMGNsYXNzJTNEJTIyaHMtY3RhLW5vZGUlMjBocy1jdGEtYWI5ZjU3MjEtZjZkNC00YzhmLTk5YWUtOGMxNWFlZGNlZmEwJTIyJTIwaWQlM0QlMjJocy1jdGEtYWI5ZjU3MjEtZjZkNC00YzhmLTk5YWUtOGMxNWFlZGNlZmEwJTIyJTNFJTNDJTIxLS0lNUJpZiUyMGx0ZSUyMElFJTIwOCU1RCUzRSUzQ2RpdiUyMGlkJTNEJTIyaHMtY3RhLWllLWVsZW1lbnQlMjIlM0UlM0MlMkZkaXYlM0UlM0MlMjElNUJlbmRpZiU1RC0tJTNFJTNDYSUyMGhyZWYlM0QlMjJodHRwcyUzQSUyRiUyRmN0YS1yZWRpcmVjdC5odWJzcG90LmNvbSUyRmN0YSUyRnJlZGlyZWN0JTJGMjE0MTUyOCUyRmFiOWY1NzIxLWY2ZDQtNGM4Zi05OWFlLThjMTVhZWRjZWZhMCUyMiUyMCUzRSUzQ2ltZyUyMGNsYXNzJTNEJTIyaHMtY3RhLWltZyUyMiUyMGlkJTNEJTIyaHMtY3RhLWltZy1hYjlmNTcyMS1mNmQ0LTRjOGYtOTlhZS04YzE1YWVkY2VmYTAlMjIlMjBzdHlsZSUzRCUyMmJvcmRlci13aWR0aCUzQTBweCUzQiUyMiUyMHNyYyUzRCUyMmh0dHBzJTNBJTJGJTJGbm8tY2FjaGUuaHVic3BvdC5jb20lMkZjdGElMkZkZWZhdWx0JTJGMjE0MTUyOCUyRmFiOWY1NzIxLWY2ZDQtNGM4Zi05OWFlLThjMTVhZWRjZWZhMC5wbmclMjIlMjAlMjBhbHQlM0QlMjJMZWFybiUyME1vcmUlMjBBYm91dCUyME91ciUyMFNvbHV0aW9uJTIyJTJGJTNFJTNDJTJGYSUzRSUzQyUyRnNwYW4lM0UlM0NzY3JpcHQlMjBjaGFyc2V0JTNEJTIydXRmLTglMjIlMjBzcmMlM0QlMjJodHRwcyUzQSUyRiUyRmpzLmhzY3RhLm5ldCUyRmN0YSUyRmN1cnJlbnQuanMlMjIlM0UlM0MlMkZzY3JpcHQlM0UlM0NzY3JpcHQlMjB0eXBlJTNEJTIydGV4dCUyRmphdmFzY3JpcHQlMjIlM0UlMjBoYnNwdC5jdGEubG9hZCUyODIxNDE1MjglMkMlMjAlMjdhYjlmNTcyMS1mNmQ0LTRjOGYtOTlhZS04YzE1YWVkY2VmYTAlMjclMkMlMjAlN0IlN0QlMjklM0IlMjAlM0MlMkZzY3JpcHQlM0UlM0MlMkZzcGFuJTNFJTNDJTIxLS0lMjBlbmQlMjBIdWJTcG90JTIwQ2FsbC10by1BY3Rpb24lMjBDb2RlJTIwLS0lM0U=[/vc_raw_js][/vc_column][/vc_row]