About Zara
Zara is a brand of Spanish origin and is headquartered in Arteixo, Gallicia. Zara was founded in 1975 by Armancio Ortega and Rosallia Mera. Zara is the flagship store of Inditex, which also has several other famous brands such as: Massimo Dutti, Pull and Bear, Oysho, Uterqüe, Stradivarius and Bershka.
Zara alone takes approximately 2 weeks to develop new products and launches about 10,000 designs every year. Armancio Ortega first opened the Zara Store on a main street in the centre of A Coruña in Galicia, Spain. The store turned out to be quite successful, so Armancio opened several more stores in Spain. During 1980, Ortega began to change design, manufacturing and distribution processes to reduce lead time and react to new trends in a faster way, in what he calls "instant mode". In 1980, the company began its international expansion through Porto, Portugal. In year 1989 they entered the United States and France in 1990. And to date, Zara has been found in 73 countries in the world including in Indonesia. Zara has several types of clothing, ranging from women (Woman and TRF), Men (Men), kids (Zara Kids), Zara Home to cosmetics. Zara is mainly located in Spain (329 stores), and France (114 stores). While in Indonesia, Zara has 13 stores.
Louis Vuitton Fashion Director Daniel Piette describes Zara as "the most innovative and devastating retailer in the world." By CNN, Zara is also called "Spanish success story."
History of ZARA entering Indonesia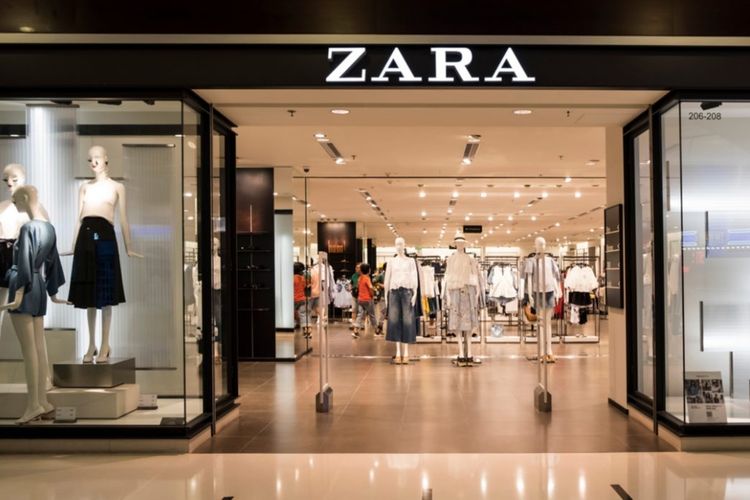 The fashion business in Indonesia is now a very promising industry because the demand for fashion is increasing. Realizing this trend in the early beginning, Zara made the move to enter Indonesia on 18 August 2005. Their journey in Indonesia is not separated from the efforts of PT. Mitra Adi Perkasa Tbk. (MAP) – a company that distributes fashion, sports, and lifestyle products – in convincing the Inditex party to open its outlets in Indonesia. MAP wants to be able to have the exclusive rights of Zara since 1999, but due to condition instability in Indonesia back then, the new Inditex entitles the MAP to open a network of Zara outlets in Indonesia in 2005. After opening in 4 shopping centers within Jakarta, Zara also opened a store outside the city. Precisely in the year 2010, Zara opened a store in Mall Paris Van Java – a shopping center in the city of Bandung.
For Zara products, MAP brings in directly from Spain with the model of the disconnect system, which means that if there is a Zara product that is not sold, it is the risk of the business to be borne by MAP. Zara's presence in Indonesia has been phenomenal for MAP since Zara has soon received enthusiastic acclaim in the Indonesian fashion market. Besides, the Spanish fashion brand also has a positive influence through its outlets and products that are exclusive to the image of the MAP company as a retail network company and distributor of global brands in Indonesia.
ZARA fashion motto
Zara is capable of grabbing the hearts of Indonesian consumers because it has a different working system with other brands of fashion. Zara not only creates demand for the latest trends by holding fashion shows, but by studying and observing market demand across Zara outlets. The result of the observation was processed into a design or fashion plan and then produced in a short time. La Coruna, Spain is the center of the fashion Zara product design with around 200 designers who are always traveling between countries to see the development of community fashion trends. This effort is done to accelerate production movement and also to capture consumer wants and needs as the market changes.
One of Zara's uniqueness is to offer a one-stop shopping point for their customers. The clothes and accessories needed by the female, male, and child consumers are filled in the outlets, so once dating to Zara it will be able to meet fashion needs for the whole family. Additionally, Zara's excellence is also portrayed through a concept called freshly baked clothes, in which Zara positions its products as fragile (perishable) products. That is, Zara products are changed every week with new designs to provide freshness to the buyer.
Speed and efficiency are a source of Zara's success because everything is sure to stay on track by making Zara the first in the market with the latest fashion products. With a high turnover rate, it will be very difficult to find similar fashion products in approximately 73 countries that survive more than a week or two. With always-new fashion products that total up to about 11 thousand designs a year, Zara's consumers often become impulsive buyers and routinely visit Zara outlets. According to a survey conducted by Zara in Spain, an average Zara customer visits and shopping at their outlets 17 times a year.
ZARA promotion strategy
Experience at Zara outlets is a major marketing platform, as Zara leaves the old approach that often performs image development through television and high-media advertising. One way Zara is promoted is through the power of trusted brands and local retail. Zara outlets are usually located at prime locations and designed with a magnificent and contemporary interior, which are major forces to appeal to the consumers.
To build its brand image, Zara always strives to make their brand the most wanted and talked about. Zara itself comes from the word 'Thara' which means feminine and extraordinary. In addition, the use of logos, symbols, and consistent colors related to Zara also shows the level of exclusivity of Zara, representing the personal reflection of their customers in the products.
Another special thing about Zara is giving exclusivity to the layout of each store. Each outlet is designed to create a special atmosphere that will give consumers a happy feeling when buying Zara. The use of window display is one of the most effective ways to attract consumers. The window display changes once every 2-3 weeks. The front of Zara's outlets is maximized using the mannequin statues covered with Zara outfits and accessories of the latest trends.
Another strategy is to conduct a promotion or discount. The program is closely supervised by the head office in Spain, ranging from magnitude to time, including cooperation with third parties such as banks or e-commerce platforms.
When running promotion campaigns, the number of consumers in Zara outlets is limited. This is done to prevent the store from getting too crowded, giving consumers a comfortable space to shop and try out Zara products. The elements that Zara takes from production to promotion are an effort to appear as close as possible to their consumers and to increase Zara's brand loyalty.
Boxme is the premier cross-border e-Commerce fulfillment network in Southeast Asia, enabling world-wide merchants to sell online into this region without needing to establish a local presence. We deliver our services by aggregating and operating a one-stop value chain of logistic professions including: International shipping, customs clearance, warehousing, connection to local marketplaces, pick and pack, last-mile delivery, local payment collection and oversea remittance.