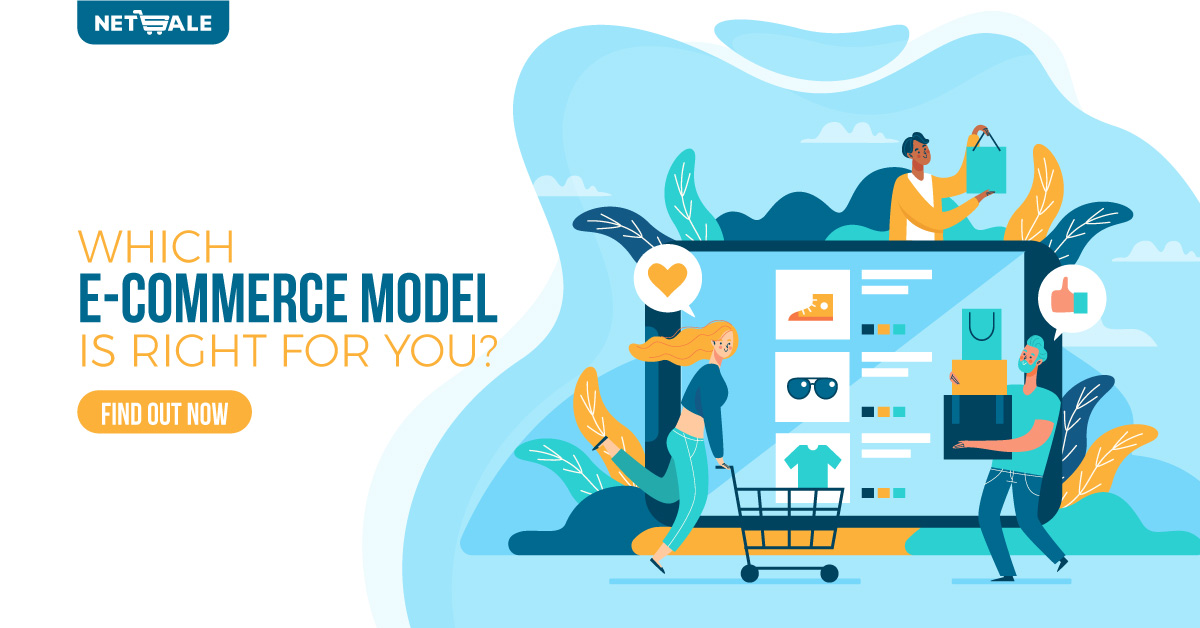 According to Statista, the number of digital buyers is predicted to reach 1.92 billion in the year 2019, which is a quarter of the world population. The revenue for online purchases is rising rapidly as well, expecting to reach $3.45 trillion and account for 13.7% of retail sales worldwide. In the long run, it is estimated by 2040, 95% of purchases will be conducted online. 
What are all these big numbers implying? That there's no better time to start building your online store than NOW. 
Nowadays, there are plenty of models to choose from when starting an online business. The question is, which model is your perfect match based on your ideas, resources and targets? In this article, we will cover the pros and cons of 5 basic E-commerce models, and it's up to you to decide what's best!

 I. Brand
Brand model is the most simple model: a business selling their own products to customers via online channels. 
Pros: In this model, you are in control of pretty much everything: from product design and manufacture, pricing and promotions, to after-sale service. The freedom allows you to shape the customer's brand experience, which tightens the business-customer relationship a lot faster, as well as gaining brand recognition and loyalty. If you are confident about your product and marketing strategies, creating your own brand to sell directly guarantees a consistent stream of demand with a high sales margin
Cons: The cost of starting a brand new business can be extremely high, depending on what area you are taking on Initially, the brand has to spend upfront a lot of capital for long-term use. On the other hand, there are chances that your business will start low at first or might not breakthrough at all – you have to be aware of these risks. At the same time, competition will be tough so your business always has to be innovative to stay on top of the game.

II. Retail
A retailer offers a variety of products from different brands on their online store. Commonly, the retailer will purchase the product by the wholesale price, then resell it for higher and keep the difference.
Pros: The key to success for a retailer is choosing the right product to market and sell. If your products are of high demand and come from a reliable brand, tapping to the right audience means immediate success. Compared to the brand model, selling retail requires a lot less investment as you don't make the product yourself. 
Cons: Retailers don't have complete control over the supply chain of the products. With each different brand the store carries, there are different manufacturing processes directly affecting both quantity and quality of the products. Furthermore, manufacturers sell to many other retailers as well so you have to face even tougher competition regarding price and service.

III. Subscription
For the subscription model, the customer pays the brand a recurring fee to receive their products on a basis (weekly, monthly, quarterly, etc.). This model is suitable for selling digital services or small and short-term items like food or cosmetics.
Pros: You can easily predict the volume of demand your store needs to keep in stock based on the number of subscriptions. Your consumers don't have to be 'brought back' as they are already committed to purchasing from you multiple times, therefore retention rate is the last thing you need to worry about. Cash flow is consistent and you are able to build a strong relationship with buyers over the course of time.
Cons: This E-commerce model is not applicable to all products. Your revenue is persistent, but landing a long-term customer might be hard and costly at first. Moreover, the loyalty of a customer is never guaranteed as they can cancel your business anytime. Thus every subscription order you send out has to be high-quality and captivating enough to keep them interested, which can be a challenge at times. Lastly, there is nearly no upselling scenario in this model since the subscription price is set in advance.

IV. Dropshipping
In this model, when a customer places an order, the store's only responsibility is forwarding the order to the supplier. Afterward, orders will be shipped directly from the manufacturer to the customer, hence waiving the need for a brand to have an in-house inventory. 
Pros: The sky is the limit for trying out new products to sell because you don't have to purchase anything until an order is set. Costs and risks are minimized as you save tons of money on inventory and manpower. And if your business starts to show progress, scaling up operation isn't too much work as well since handling logistics is your suppliers' work – you simply just have to order more products. 
Cons: Dropshipping is easy to start – so you are not the only one doing it. Competition is fierce so you either resort to a low price with low profit margin or build your brand strong enough for buyers to accept higher pricing. Since the shipment is not coming from you, your brand is not fully in control of customer experience or any accidental errors. And if a customer purchases multiple items on your store, the stacked shipping fees will be a problem. 
->> Experience dropshipping now with Netsale by Boxme

V. Try Before You Buy
Commonly used in the fashion industry, this try-on model allows customers to order several products at once, see what suits them best and return the unfits. 
Pros: It gives E-commerce a physical approach: a chance for buyers to experience and choose the product while saving them a trip to an actual store. Ultimate customer convenience and satisfaction is the reason why this model succeeds. The relationship between the brand and its clients is also elevated through this customized service, granting a chance for brands to understand and engage customers better. 
Cons: Shipping fees will double in this model as customers have to send back their unwanted goods. Cash flow and inventory management can be troublesome due to constant returns.
—–
As we already covered the 5 most common E-commerce models, have you decided on the one you wish to try out?
These articles might be useful for your business:
->> The Advantages and Disadvantages of Outsourcing Logistics & Order Fulfillment
 ->> 5 e-Commerce Order Fulfillment Strategies to Fast Track Your Business Growth

BoxMe is the premier cross-border e-Commerce fulfillment network in South East Asia, enabling world-wide merchants to sell online into this region without needing to establish local presence. We are able to deliver our services by aggregating and operating an one-stop value chain of logistic professions including: International shipping, customs clearance, warehousing, connection to local marketplaces, pick and pack, last mile delivery, local payment collection and oversea remittance.
If you have any question about Boxme Asia or how we can support your business, please contact us directly by referring to our hotline. We are glad to be of service!