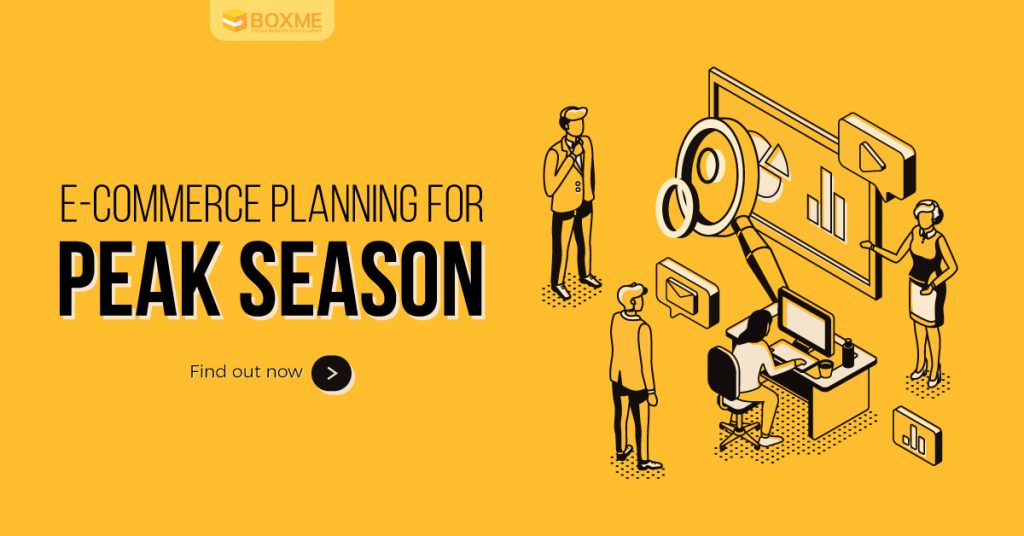 For the E-commerce world in Southeast Asia, peak season begins in October and the hype continues until Lunar New Year. E-commerce parties like Singles' Day 11/11, Double 12 on 12/12, Christmas and two New Years, any retail business should be ready to meet the high demand of the region.e
Planning should be underway already, but if you are behind schedule, take a look at our checklist to help you become more prepared for this time of the year!

1. Review operations
Before planning, take a look at your firm's operation in the last peak season period. Did the volume of sales meet your target? What was the customers' satisfaction rate and return rate? Was there any area that requires improvements? Base on last year's performance, you will be able to set a new goal in mind and find solutions for past mistakes.  
2. Potential products and demand
Research current trends and dig deep into suppliers' offerings to find products with the highest potential for this peak season. Some of the best-selling categories are Electronics & Accessories, Clothing, Health & Beauty, Household appliances; so you might want to look into that. Run a few tests and surveys to define the approximate conversion rate and volume of demand for each product. 
3. Sales channels and promotions strategy
This is one of the most important steps since it will bring your product to the public audience. Omni-channel selling is the trend now with store presence across all channels, from website to social media and E-commerce platforms. Take your competitors into the equation to decide on the most appealing deals without losing profit margins, or add more values to make your product stand out.
>> Marketing tips for your online business
4. Labor, recruitment, and training
Peak season means a lot of extra work, thus you should take time to consider if the current amount of staff can handle for the upcoming tasks at hand. Ask yourself about what you did last season in terms of recruiting and training and what can be improved this year. Hiring seasonal labor is a common solution, but it also comes with compulsory training for newcomers.

5. Workflow and process
Some of your staff have never experienced this peak season before. Review and update your work process to keep it as simple as possible. Break down the process to smaller tasks, from product posting, promotion, customer consulting, order placing to after-sale service and assign tasks accordingly. Your skilled employees should be handling more complex tasks to leave room for newcomers to get used to the working environment.
6. Product availability 
Make sure in advance that your suppliers have enough stock at hand to fulfill your potential sales target. It's never harmful to find a few more alternatives to supply your storage in case there is any shortage. Stock up on potential products that you are confident to offer same-day delivery as an ultimate offer to your customers. 
Take a look at our guide to verifying reliable E-commerce sellers: PART 1 | PART 2
7. Product storage
There is no time better to look for amazing deals to fill up your stock since everything will be on sale. However, the question here is finding enough space for all the products without having to pay much for storage. You can reach out to logistics and fulfillment services in the area for a quote, but be quick since these places are also swamped with orders right this moment!
8. Packing & shipping
A recent study shows that shipping time has a direct relationship with customer satisfaction rate, and delivery continues to be a challenge for carriers in Southeast Asia. The preparations and estimated time for each type of delivery (store pickup, normal delivery, expedited delivery, etc.) should be in place before communicating out to your customers.
It is highly necessary to contact your shipping carriers in advance to ensure that they are able to handle the capacity during peak seasons and whether there is any type of additional cost to take into the equation. Your in-house process for labeling and packing should be reviewed as well.
9. Planning & outsource
Having all the information at hand, it's time for you to draw a detailed plan. Be practical about what kind of task your in-house team can handle and what should be outsourced to save cost and manpower. Fulfillment centers are one of the best options out there, offering all ranges of services with connections to hundreds of carriers. For example, Boxme provides cross-border and last-mile delivery, along with fulfillment and dropshipping system for business of any scale. 
We hope that our advice will be of great help to your business to get through peak season! 
Boxme is the premier cross-border e-Commerce fulfillment network in Southeast Asia, enabling world-wide merchants to sell online into this region without needing to establish a local presence. We deliver our services by aggregating and operating a one-stop value chain of logistic professions including: International shipping, customs clearance, warehousing, connection to local marketplaces, pick and pack, last-mile delivery, local payment collection and oversea remittance.